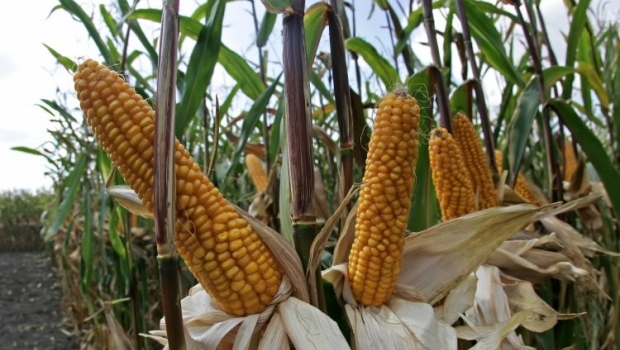 Photo from UNIAN
Ukrainian corn hit a six-week high of $185.25/mt Monday, as assessed by S&P Global Platts, tracking global wheat prices.
Global wheat prices, especially in the Black Sea and Europe, have climbed rapidly over the last few weeks as wheat production estimates are revised lower due to drought and persistent hot and sunny weather, according to S&P Global Platts.
For instance, Russian deep sea 12.5% protein wheat was assessed at $224.25/mt Monday, up over $12 on the week, as sellers restrict supply on concerns of a serious shortage of high-protein material.
Baltic and German wheat was pricing at a $20/mt premium to Russian wheat while Australian White Premium wheat hit a historic high of nearly $270/mt.
Fields reserved for livestock to graze have lost nutritional value prompting farmers to use feed grains stored for winter months ahead of time, increasing demand for grains at present, sources said.
This is most evident in recent new crop corn trades, which have been trending higher each trade.
Read alsoUkraine exports 1.5 mln tonnes of grains since start of 2018-2019 MY
Ukrainian Panamax port FOB first-half December-loading Handysize cargo was heard traded Thursday at $192-$193/mt (111 cents/bushel over the December Chicago futures contract), up from a previous trade of $185.13/mt a week earlier.
Much of the forward buying has originated from Europe: Germany and Poland in particular.
Some of this could also be attributable to the 25% tariff applied on US corn by China and the EU which could lead to stronger demand for Ukrainian corn.
With global fundamentals expected to be tighter this marketing year, new crop traded prices could well reach $200/mt soon, sources said, and go on to top March's 21-month high of $209/mt.