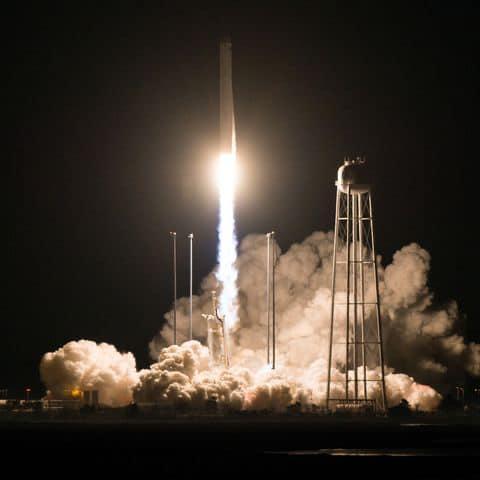 Ukrainian Embassy to the U.S. on Facebook
The American/Ukrainian medium-class Antares launch vehicle, whose stage 1 core structure had been designed by Ukraine's Pivdenne (Yuzhnoe) Design Bureau and manufactured at Pivdenmash (Yuzhmash), successfully launched from NASA's Wallops Flight Facility in Virginia on Saturday, October 3,
That's according to the Ukrainian Embassy in the U.S.
Lifted by the Antares launcher, a robotic Cygnus spacecraft, is hauling 7,624 lbs. (3,458 kilograms) of cargo that includes scientific equipment, an experimental space toilet, food, hardware and other supplies for the Expedition 63/64 astronauts living and working on the International Space Station, according to Space.com.
Read alsoZelensky compares Pivdenmash rocket plant with Elon Musk's companyUkraine's Ambassador to the United States Volovymyr Yelchenko was invited to attend the Antares launch, Ukrainian diplomats wrote.
"Antares is comprised of two stages and the Cygnus cargo spacecraft (third stage). The Antares Stage 1 Core Structure was developed by Pivdenne SDO and manufactured by Pivdenmash in cooperation with Ukrainian enterprises such as Hartron-ARKOS (Kharkiv), Kyivprylad (Kyiv), Hartron-Yukom (Zaporizhia), CHeZaRa, Rapid (Chernihiv), and others. The prime developer and integrator of the Antares launch vehicle is Northrop Grumman Corp. of the United States," Pivdenne wrote in a press release.
"Under the Antares program, the Ukrainian companies completed the entire work package related to design, development, and manufacture of the Stage 1 Core Structure hardware commissioned by NASA," the release reads.
"The Antares launch vehicle was prepared for launch, tested, and launched by specialists from Pivdenne SDO, GP PO Pivdenmash and Khartron-ARKOS. Under the contract, Pivdenne provided technical support to the launch and received and processed telemetry in real time. Ukrainian specialists performed the full scope of operations under their responsibility.
Read alsoRFE/RL: U.S.-Ukraine produced rocket lifts off, takes supplies to International Space StationIt is noted that "this year rocket's preparation for launch, which always takes place in the United States, saw additional challenges over the COVID-19 pandemic and restrictions on international travel. In April, the embassy actively helped the U.S.-based Northrop Grumman set up a separate special flight to bring a team of experts from Ukrainian space enterprises to the United States."
"Without their participation, launching Antares on schedule would have been impossible," diplomats stress.
Antares launch: Details
One of the most anticipated items onboard is a new space toilet, formally known as the Universal Waste Management System. The astronauts on the space station will test the $23 million commode for future use on station and by future crews on missions to the moon.
The Cygnus is carrying a number of other investigations as well. For example, the radish-growing experiment Plant Habitat-02 aims to expand our knowledge of growing plants and food in space.
Another experiment will help scientists develop more effective and safer cancer treatments. While Testing cancer drugs in microgravity could help reveal treatments that "make good candidates for safer, more effective, and affordable medicines to treat leukemia and other cancers," NASA wrote in the same statement.
Another experiment will use a customized 360-degree camera that launched to the station in December 2018  to create an immersive virtual reality experience that will allow people to experience what life is really like inside the space station and even "outside" on spacewalks.
And a different investigation will examine a unique process that could help astronauts on the space station to produce water and energy by converting the urea in human urine into ammonia.
Northrop Grumman named this Cygnus spacecraft the S.S. Kalpana Chawla, paying homage to astronaut Kalpana Chawla who, along with six other astronauts, died in the 2003 Columbia space shuttle tragedy.
Chawla also flew on Columbia in 1997 as a mission specialist and primary robotic arm operator. She was the first woman of Indian origin to ever go to space.
NG-14 is the 14th launch for Cygnus and the spacecraft's 13th mission to the space station.
Northrop Grumman Corporation has been cooperating with Ukrainian space companies for several years already. The corporation places annual orders for two launchers.