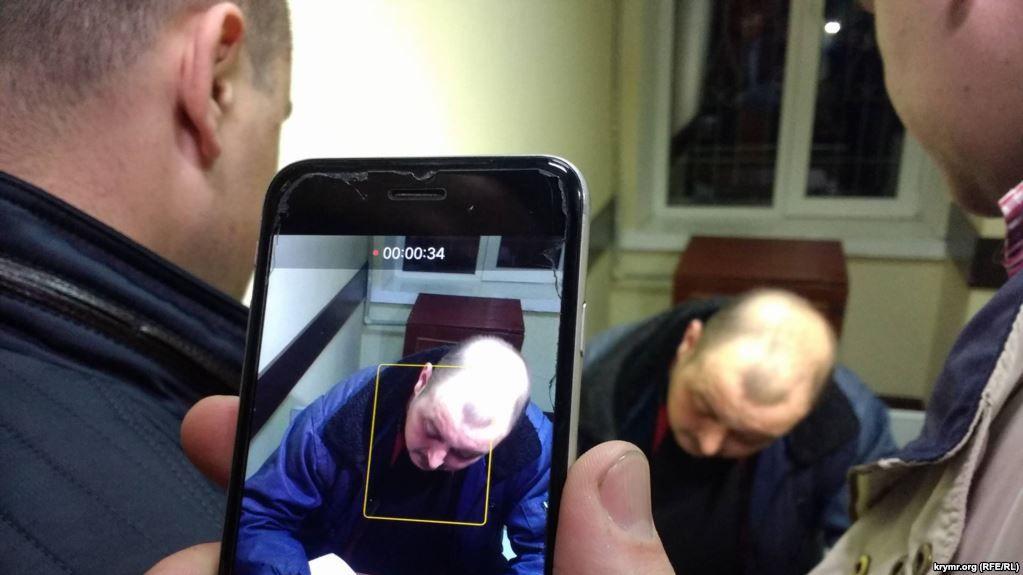 Horbenko went to hospital immediately after the release / Photo from krymr.com
Ukraine's Kherson city court ruled on the evening of April 5 not to arrest the captain of the Crimean-registered Nord fishing vessel, Volodymyr Horbenko, until next hearings on April 6.
The judge satisfied the lawyers' motion for the release, as the detention period of the suspect for selecting a measure of restraint had expired, the lawyers of the Nord crew said, the news outlet Krym.Realii reported.
After the release, Horbenko, accompanied by his lawyers, went to a local hospital for health checks, as he did not feel well.
Read alsoAdmiral Ihor Kabanenko: Situation with "Nord" fishing vessel may be a planned provocation by Russia to "legitimize" deployment of its naval group in the Azov Sea
Hearings on his pretrial restriction did not begin on April 5 on time, as the suspect had not been delivered to the courtroom. Prosecutors said the judge's schedule was tight, while the lawyers claimed the captain had not been brought to the courtroom for unknown reasons.
It was decided to reschedule the hearings, but the situation changed. "It took them several hours to decide to consider the case or not. The lawyers continued insisting that Horbenko had been remanded in custody unlawfully. The eventual outcome was his release," 112.ua reported.
The hearings will resume at 13:30 Kyiv time on April 6.
The Nord ship with a 10-men crew was seized by the Ukrainian Border Guard Service in the Sea of Azov on March 25 on charges of infringements on the Ukrainian entry/exit rules for the occupied territory. The vessel, which was registered in Russian-occupied Crimea, was sailing under the Russian flag. All of the crew members allegedly had Russian passports. The vessel and the crew were brought to the Ukrainian port of Berdyansk.
The Prosecutor General's Office of Ukraine announced that the captain of the Nord, who turned to be a citizen of Ukraine, was indicted under Part 2 of Article 332 (violation of entry/exit rules into/from temporarily occupied territory of Ukraine) of the Criminal Code of Ukraine.
Moscow demanded the immediate release of the "illegally" detained crew and the return of the vessel to its legitimate owner, accusing Ukraine of "piracy."
Moscow also threatened to use Russia's Black Sea fleet and its aviation to ensure secure navigation in the Black Sea and the Sea of Azov.