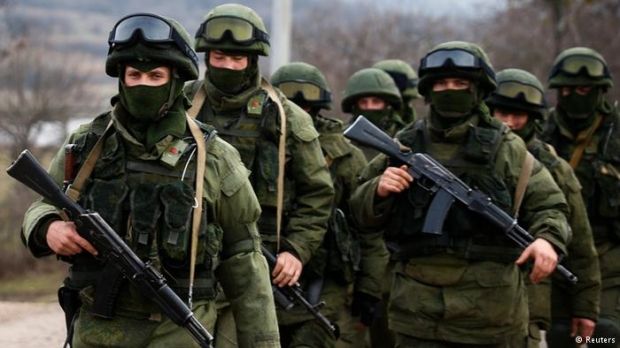 REUTERS
In early 2013, Valery Gerasimov, Chief of the General Staff of the Russian Armed Forces, presented a report titled "New Challenges Demand Rethinking the Forms and Methods of Carrying out Combat Operations" at the Russian Academy of Military Science conference. Exactly a year later, the world saw Russia's annexation of Crimea followed by the war in Donbas, writes Husarov, who is a Reserve Colonel who served as a deputy head of a structural unit at the Main Directorate of Intelligence of the Ministry of Defense of Ukraine, leading a psychological operations division within a Ukrainian contingent in Iraq.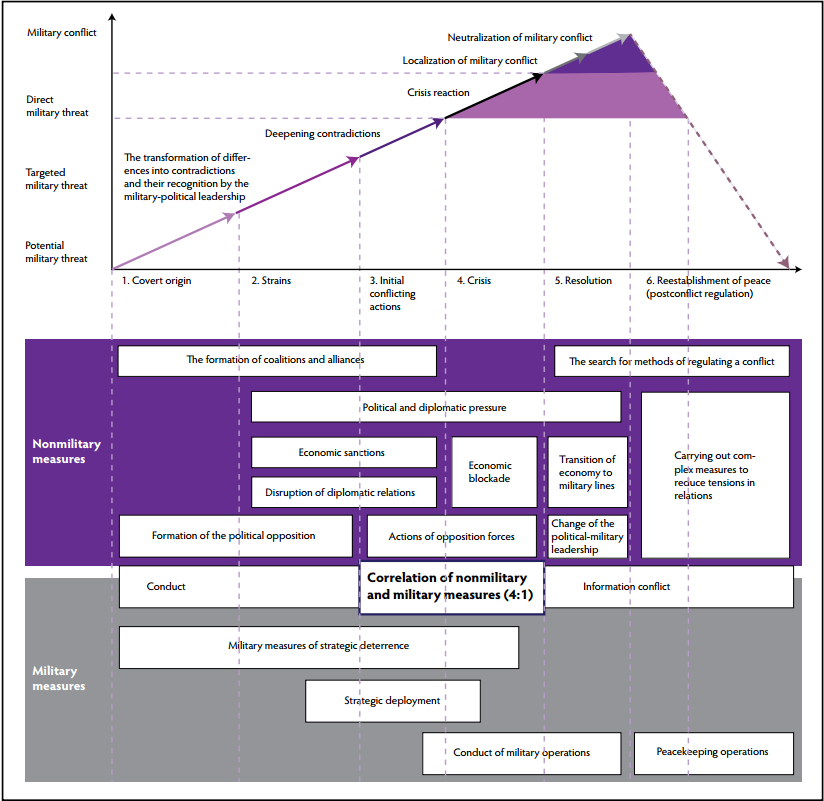 Graphic from Gerasimov's article in the February-March 2013 issue of the Voenno-Promyshlennyy Kurier (Military-Industrial Courier), translated by Charles Bartles / Euromaidanpress
After Russia's occupation of Crimea and some of the Donbas areas, few people could still view Gerasimov's chart as a sheer scientific coincidence. Having seen reduced military activity in the Donbas, Russian military and academic circles are discussing scenarios to move the aggression in eastern Ukraine into the "resolving the conflict" phase.
Read alsoU.S. Ambassador: Russia's hybrid war against Ukraine ongoing for 25 yearsIn short, the Russian media are shaping discourse on ways to "ease tensions" with Ukraine. To that end, the media have significantly reduced its aggressive content.
In recent months, the so-called "post-conflict resolution" has become the leitmotif in the Kremlin's discourse.
Throughout the year, during closed conferences held at Russian military academies and round tables, military and political experts discussed Moscow's ways out of the war foisted upon Kyiv and searching for acceptable scenarios for Ukraine.
Read also1st Deputy Rada Speaker suggests Normandy format could be expandedTheir common and distinctive feature is finding ways to preserve informational influence in a new non-military format.
It's become customary to invite former Ukrainian officials (e.g. Vitaliy Zakharchenko, Ukraine's Minister of Internal Affairs, and Mykola Azarov, Prime Minister of Ukraine) to these forums as consultants, who know well about the subtleties of Ukrainian politics, diplomacy, and economy. High-ranking Ukrainian oligarchs who fled the country are also used by Moscow as a serious information-political resource. In this way, the Russian government is trying to develop a new arsenal of non-military influence on Ukraine's political situation – otherwise, new "keys" to Ukraine.
Read alsoUgly things Moscow might do if Ukraine is consigned to Russia's sphere of influenceSome Russian experts believe that these actions are aimed to violate the subjectivity of Ukraine's development, consolidate domestic tensions, replace the ruling elites, and support the opposition leaders who are ready to be managed from the outside.
In its essence, the doctrine of "managed chaos," adopted by Russian intelligence services as a critical component of contemporary war theory, coupled with Russia's new geopolitical principles, turned into a guide to subvert the Ukrainian government.
In nearly all Russian theoretical writings on soft-power, Russian experts emphasize the development of external management forces in Ukraine.
Public opinion leaders among the ruling elite, the opposition, and religious organizations are seen as the key channels of influence.
Read alsoPinchuk proposes Crimea trade for Donbas peace, drawing harsh criticism - Kyiv PostThe increasing military and civilian casualties obviously compel experts to viewing the Donbas conflict only as a military threat. However, one should look beyond that, the expert believes.
The Russian forces seek to achieve information objectives. The main task of the Russian leadership is to impose a protracted war on Ukraine, which over time would:
exhaust Ukraine's treasury;
prevent the restoration of the economy;
encourage the Ukrainians to accept admissibility of federalism;
divide the Ukrainian society;
create the myth of the invincibility of the Russian army;
fuel public distrust in Ukraine's military-political leadership;
reduce people's patriotism.
By implementing technologies of managed chaos,  Russia is searching for the right keys to establish control over Ukraine.
Read alsoMcCain brands Russia's U.S. election hack "act of war"The replacement of the key elite players with "managed" candidates is viewed as the principal pillar of its strategy. The NGOs of Ukrainians and political centers in Russia supported by Russian intelligence services are already preparing candidates.
Their task is to create a wave of managed chaos, which would lead to the collapse of the system with no need for further military escalation. Moreover, as a catalyst for managed chaos, Russian subversion efforts are focused on internal socio-economic and ethnic tensions in Ukraine, pervasive corruption ties, income inequality, and a lack of social guarantees. Unfortunately, Ukraine has long ignored this series of tensions, reinforcing public distrust in the government.