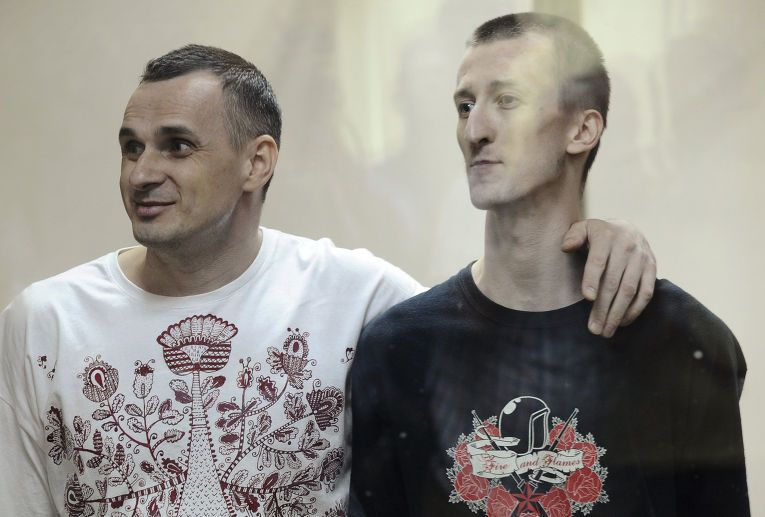 REUTERS
In a letter published Friday, relatives and activists urged Macron to "express to Vladimir Putin our demand to free all the political hostages of the Kremlin," The Local reports.
The letter was published on a website called Let My People Go that monitors the cases of 44 Ukrainian citizens imprisoned "for political reasons."
Read alsoRussia refuses to extradite political prisoners Sentsov, Kolchenko to Ukraine
Those Ukraine view as political prisoners in Russia include Ukrainian film director and scriptwriter Oleg Sentsov, who has been sentenced to 20 years in a Russian prison colony on terrorism charges over arson attacks in Crimea.
In the most high-profile case, combat pilot Nadiia Savchenko was last year jailed for 22 years over the deaths of Russian journalists in east Ukraine. She was exchanged soon afterwards for two Russian soldiers.
Read alsoRoman Sushchenko's 9-y-o son writes letter to Putin, begs for father's releaseThe letter was signed by Igor Kotelianets - whose brother Yevgen Panov is awaiting trial - as a representative of all the "families of the Kremlin's political prisoners."
Kotelianets' brother is accused of plotting attacks on targets including a chemical factory in Crimea.
He was shown confessing on Russian television last year in security force footage with bruises and cuts on his face. He later said he had been beaten and tortured.
The letter was also signed by Crimea rights activist Olga Skrypnyk and journalist Mykhailo Gonchar.
Read alsoMacron to receive Putin in Paris – mediaThe authors urge Macron to strengthen sanctions against Russia "due to the persecution, illegal detention and torture of dissidents in the occupied territory," referring to Crimea.
The letter said the writers were "sad" that Macron was hosting Putin since his "regime oppresses Ukrainian citizens living in the territories occupied by Russia."