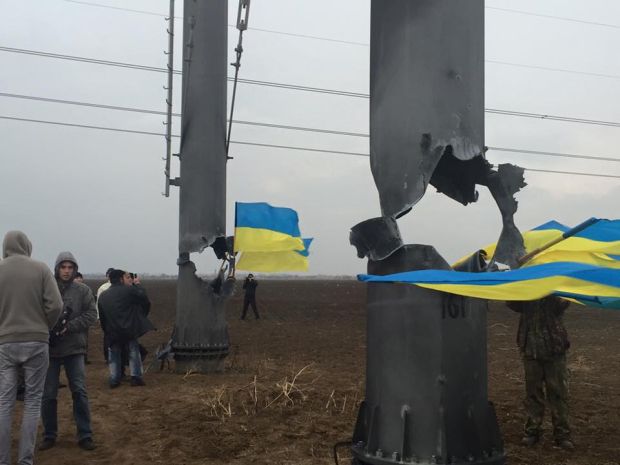 The damaged electricity pylons near the Crimean border have been destroyed in a new blast / Photo from facebook.com/kivailya
"An explosion has been heard in Chaplynka. The damaged pylons have been destroyed," journalist, Editor-in-Chief of Crimean Tatar TV Channel ATR Osman Pashayev wrote on Facebook.
Reports about the explosion were confirmed by chief of the Interior Ministry's narcotics control department Ilya Kiva, who was in charge of a law-enforcement operation after the electricity pylons were damaged in blasts in the early hours of November 20, as a result of which two of the four facilities were disabled.
The four transmission pylons belong to the power grids supplying electricity to Crimea and some areas in Ukraine's Kherson and Mykolaiv regions.
The site was cordoned off by the police after the first explosions. A repair team arrived at the site on Saturday morning to earth the wires.
The site of the explosion is close to the venue where Crimean Tatar leaders and public activists have been staging a blockade of Russian-occupied Crimea. They call on the Ukrainian authorities not only to cease food shipments to the peninsula, but also to suspend the electricity supply there.
The activists deny any involvement in the incident.