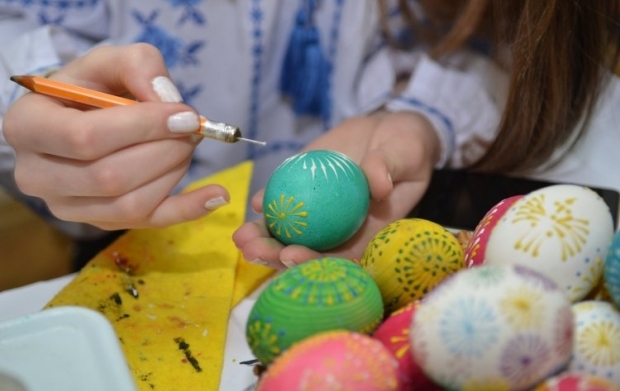 Photo from UNIAN
The St. George's Avenue Church received funding from the Ontario150 fund to host Ukrainian Easter Egg workshops – called pysanky – for students, teaching them about the ancient tradition and significance of the paintings and their meanings, The Sault Star wrote.
Pysanky writing is an art form from Eastern Europe, which eventually developed religious significance with Ukrainian Catholics.
Artists user a stylus called a 'kistka' to write with beeswax on a white eggshell, using a design pattern. The wax resist pattern is then dipped in dye, the wax removed and another layer of wax added, with each layer forming part of the pattern.
Progressively dark colored dyes are used throughout the process, creating a vibrant painted egg.
Read alsoUkraine, Canada sign defense agreementIn their traditional form, the eggs were an important part of the Ukrainian culture and were given as gifts to friends and family to bestow good wishes. Each symbol represented a different wish, said Roma Shewciw.
Shewciw and Sandra Sharko, both of Sudbury, Ont., are serving as facilitators of the art lessons at the church hall. Throughout the week, more than 200 students and adults will have the opportunity to try their hand at the art form and learn a little bit about the Ukrainian culture.
"We thought, what better way to celebrate our parish's 100th year," said Fr. Jerry Lazoryk.
Shewciw said that traditional designs were also based on the region of the Ukraine a family was from but in recent years, the art form has grown to become more of a creative art, with history preserved in the technique itself.
Shewciw and Sharko have been facilitating classes for the Ukrainian Senior Centre in Sudbury for two decades.