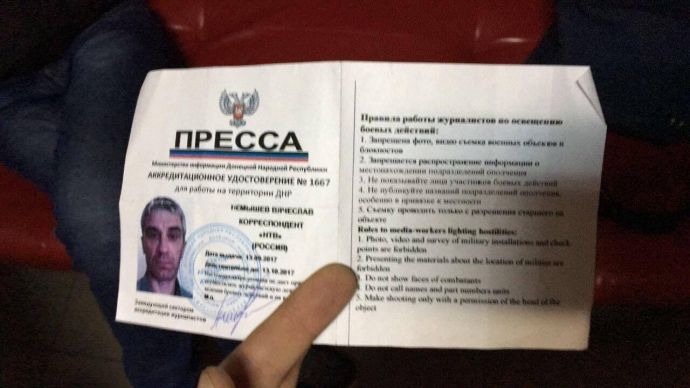 SBU
"The Security Service of Ukraine has decided to forcibly return to Russia the propagandist from the Russian NTV television channel Vyacheslav Nemyshev," the SBU said.
Read alsoUkraine's recon spots Russian mercenary in new Ukrainian military uniformIt is noted that the Russian citizen was detained by police in Kyiv on October 4, for committing a minor offense. In the process of IDing the detainee, the law enforcement officers have found on him an accreditation certificate issued by the so-called "ministry of information policy of the Donetsk People's Republic", the so-called "military accreditation".
"This became the basis for attracting SBU operatives to the probe. The SBU found that Nemyshev "worked" in the temporarily occupied territory of Ukraine from the spring of 2016 until the autumn of 2017. He prepared a number of false anti-Ukrainian reports at the request of Russian curators and in the interests of the top-level militant leaders, to justify and popularize in the media their illegal activities," the SBU said.
Read alsoKyiv police detain Russian NTV correspondent reportedly with "DPR" accreditation (Video)It is reported that due to the act to the detriment of Ukraine's national interests, after the completion of a relevant procedure at 04:00 on October 5, Nemyshev was forcibly returned to Russia across the Senkivka border checkpoint.
"The propagandist is banned from entering Ukraine for a period of three years. According to the agreements reached and to prevent artificial accusations by Russia of the alleged harassment of Russian journalists, the SBU informed on the fact representatives of international and domestic human rights groups working in the field of protecting freedom of speech," the department said.