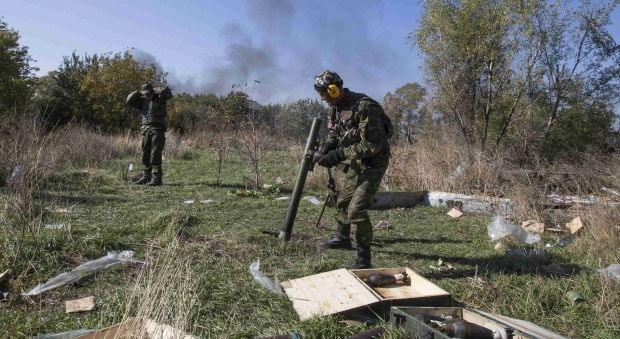 REUTERS
Since the beginning of the Joint Forces Operation (JFO) in Donbas on May 1, Russian-backed militants have suffered huge losses – namely, 115 troops were killed and 149 were wounded.
The Ukranian Armed Forces of Ukraine (AFU) also suffered losses: eleven soldiers were killed and 81 – wounded in action. The enemy significantly increased the number of shellings, according to the Segodnya newspaper.
It is noted that May was marked by an unprecedented escalation at the front line. Due to the provision of U.S. lethal weapons to Ukraine and the change of military operation format, the militants and the Kremlin controlling them have really begun to believe in the advance of the Ukrainian Armed Forces in Donbas. The enemy not only fiercely shelled Ukrainian army positions, but also did not hesitate targeting civilian areas.
It is emphasized that all the losses that the AFU inflicted on the enemy were only a result of a return-fire, which does not contradict the Minsk agreements. The Ukrainian forces have not yet conducted active offensive operations, according to the report.
Read alsoOSCE SMM drone spots about 100 tanks near Russian-occupied LuhanskIn addition, Russian terrorist forces not only regularly violated the ceasefire, but also actively used heavy weapons – tanks, 122mm and 152mm artillery systems, 82mm and 120mm mortars, and Grad multiple rocket launchers. In the enemy attack on the village near the town of Horlivka, a teenage girl was killed.
Data on casualties per weeks:
April 30-May 6. Ukraine reported 13 WIAs; militants lost 11 fighters, while 23 people were hospitalized;.
May 7-13. Ukraine suffered first casualties (2 KIAs), and 23 WIAs; militants lost 16 men, while 34 were wounded.
May 14-20. The Ukrainian army lost three soldiers and 16 were hospitalized; Seventeedn enemy troops were killed and 32 wounded.
May 21-27. Four Ukrainian soldiers killed and 23 wounded; militants suffered the largest losses with 60 killed and 45 wounded.
May 28-30. The Ukrainian military reported 8 WIAs; eleven militants were killed and 15 wounded.
Also, two SBU's Alpha elite spec-ops unit operatives were killed in Donbas. The group were on a mission when they came under the artillery fire.