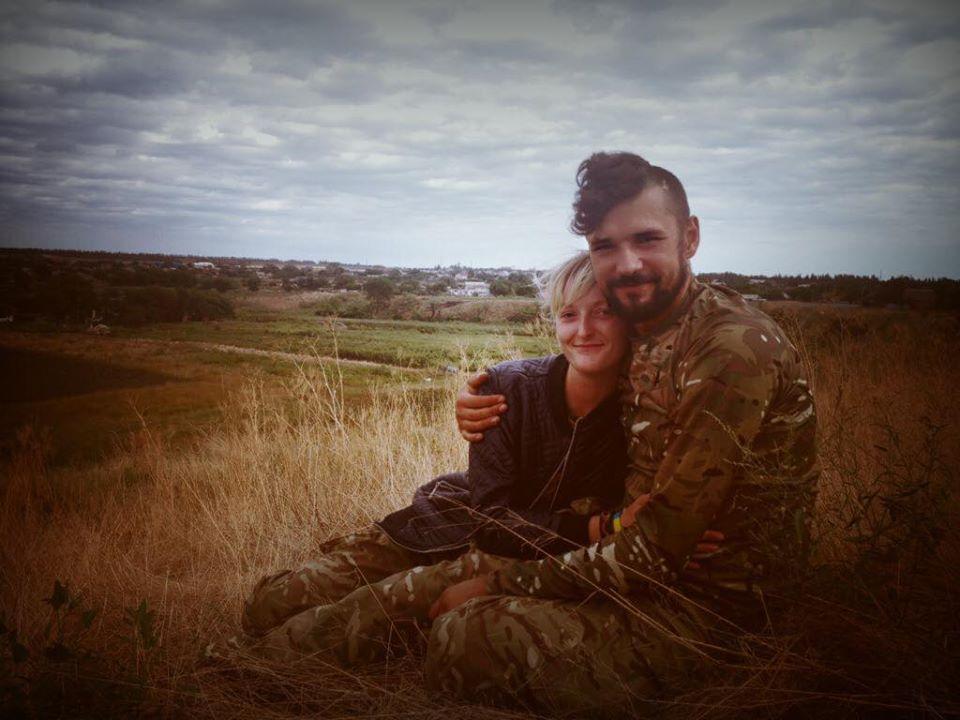 Wartime love story: Donetsk woman meets man from Right Sector unit
16:20, 09 December 2019
6 min.
1199
Viktoria and Anatoly Kotelenets have told UNIAN their story of love during wartime that strives among the ongoing hostilities. When the two met, "Romeo" was a fighter with the "Right Sector group, while "Juliet" was a Donetsk native.
Before the war, Viktoria, 30, had completed bodyguard courses and worked at the secret service under the Ministry of Internal Affairs of Ukraine in Donetsk. Anatoly, 32, had lived in Pryluky, where he was a sound engineer, construction worker, and security guard. In the spring of 2014, the woman quit service and moved to Kostyantynivka (a pro-Ukrainian girl's family found it hard to stay in Donetsk, the city engulfed in pro-Russian madness). And around this time Anatoliy (call sign Catalan) joined the Right Sector as a machine gunner.
In the winter of the same year, Vika returned to Donetsk to work as a sales assistant. Although she failed to find a job in the territory controlled by Ukraine. And Tolik at that time was deployed in the area of Pisky.
"On January 19, 2015, I was at home, bored. And then someone came to my page on the social network and sent me some poetry. I usually did not pay attention to such things. Yes, he was handsome in a picture and, as it appeared, in real life, but there are many handsome guys around, right?" says Vika.
personal archive
She says she forgot about that message, and accidentally remembered it after a couple of days. "I was with my friends, and I said: 'Some military writes me! The guy wants romance. Let's have fun with the boy!' And we started to come up with replies. It began with: 'You're cool,' and ended with: 'Let's talk by phone'," Vika admits. "He dialed me, and as soon as I heard his voice, I realized – that's it, I fell in love. From the first 'hello,' I realized that this is my man, and I will not give him to anyone."
Many months after that evening, Vika accidentally peered into her beloved's messenger. And to her surprise (and rage), she found out that he had been sending poems, as she says, to anyone at random." "We had a great fight," Vika laughs now.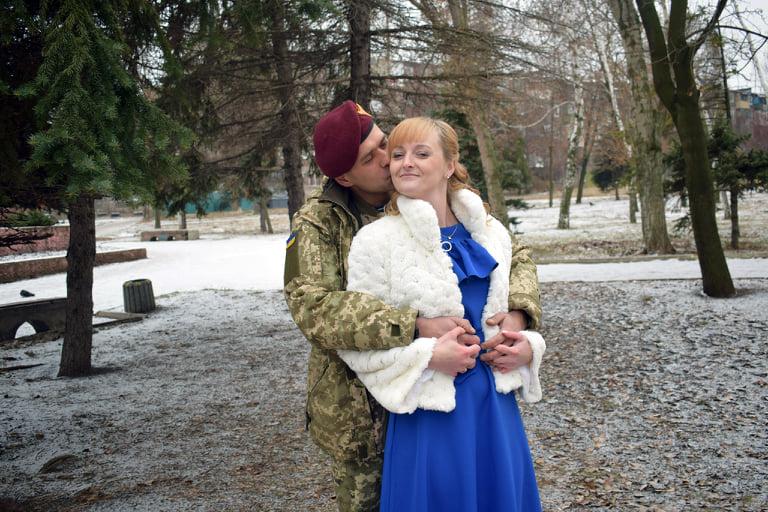 personal archive
Tolik, however, says that he sought distraction, to talk with new acquaintances about something other than war.
"We were running from there as Kenyan athletes"
Vika and Tolik started calling each other often, talking all night.
"We had those 'romantic' calls. We would be talking, and in the background there were sounds of shelling. Several times he disappeared for a day or two. Imagine how worried I was," Vika admits.
Former sniper, Marine Corps officer Olena Bilozerska in her book "The Diary of an Illegal Soldier" tells how Catalan fought that year. One of the chapters begins with a group of volunteers crossing the front line, approaching the enemy positions near Opytne, waiting for the militants to appear. Finally, militants appear by the lake.
"We saw that a group was coming for some water, three people with bottles ... When they approached, Sailor opened fire. He shot the first man from that group – two bullets at the lung-heart level. Then I joined in, then Swede – with his grenade launcher," recalls Catalan.
One wounded Russian fell in the reeds. "We pull him out, and since we were sporting different uniforms, he immediately began: 'Guys, I'm one of you' – 'Of course, you are. What's your name?' - 'Pasha' – "Now we will help you and take you to medics. Get up, otherwise evil Ukrainians will come and things will go bad.' We started to run. I'm in full gear, with a lot of ammo and a machine gun... Everyone was running like mad saigas. Mazepa and I were helping this Pasha. We only managed to run 50 meters and heard 122mm and 152mm shells bursting behind us. In short, we were running from there like Kenyan athletes," continues Catalan.
The Russian was wounded in the arm and leg. After such a marathon, he began to run out of breath, and one of the guys "encouraged" him in Ukrainian: "Get up, otherwise I'll take your eye out." Probably only after that did Pasha begin to realize that there were no Muscovites around..
A military vehicle drove up. A handsome guy came out sporting a bulletproof vest and a helmet, carrying a machine gun.
personal archive
After several weeks of telephone conversations, Tolik told Vika: "I can't live without you. Come as fast as possible." The girl agreed. But that night there was such a heavy shelling at Donetsk Airport that the house where she lived was all shivering.
The window was shattered by a blast, fragments fell on its residents.
"I write him an SMS: 'Probably we will not see each other again.' Tolik encourages me: 'You will survive. I will meet you.' I hardly could wait till the morning. I got on the first bus. I arrived at our checkpoint in Maryinka – he was not there. I called him – no service. I think: 'He fooled me. Where am I going? Why?" Vika admits.
Tolik was late due to the fact that his unit went into the "gray zone" that morning. He got in touch when Vika was already halfway to Kostyantynivka, so he asked to get off at the very first bus station.
"I came out in Pokrovsk and waited. He didn't come for a long time. It was cold. It was already night time. I called – again, there was something wrong with his phone. Finally, a military SUV drove up, and a handsome guy came out, sporting body armor and helmet, with a machine gun… And my heart melted, as they say. He was so manly, with a beard. I looked at him admiringly: "Probably he lifts." A few days later he came to me sporting civilian clothes. And my thoughts were already different: 'Lord! Don't they feed you?" Vika laughs.
The couple began to see each other almost daily, but this was not enough for them.
"Tolik tells me once: 'That's it, I can't live without you. Come to our unit' – 'What are you talking about? I'd like to, but what will be my function?' – 'You will be our cook' – 'I know how to cook, but I can't stand it.'- 'You will be a cook. Pack up," Vika recalls.
That's how the Donetsk woman joined the Right Sector and got a call sign "Fortuna".
At first, everyone looked at me, a Russian speaker, with distrust
personal archive
A girl from Donetsk could not but arouse suspicion. "At first, everyone was looking at me, a Russian-speaker, with distrust. I already started to make fun of it. One time a fighter approached me: 'Who are you?' -  'I'm a separatist.' – 'Meaning?' 'Well, I am. For some reason, they brought me here to your base.' -  'Are you really a separatist?' – 'I really am.' - 'But why do you live in Catalan's place?'" Vika recalls, laughing. "They did not take me seriously for a long time. There were all kinds of rumors that I was a 'spy.' But then I found in myself atalent of an investigator."
Actually, Vika did not serve as a cook for long. And after she was dismissed from this position, literally, two weeks later, she became head of security in the unit. A little later, Vika and her comrades helped police tackle drug crimes in several mining towns.
"Once, we raided a drug dealers' squat and called up the police. But I for some reason felt I should dig more into one of those junkies. Something was wrong about him. As a result, we found a flash drive with his photos showing him sporting military uniform, posing alongside separatists. We brought him to the base and were going to hand him over to the police the next morning. As a result, our commander just let him go (I don't know why though). There was a scandal over this fact, so the Catalan and I decided to quit," says Vika.
Before returning to peaceful life, the couple got into a road accident. It happened on the eve of the 2016 New Year. The volunteers lacked cash to change the wheels and repair the brakes. As a result, the car lost control and ran into a tree. Vika sustained a serious head injury, while Tolik had a fracture.
"After that accident, I suffered from amnesia. But I remembered that Tolik was at the same hospital with me. So I photographed the entrance to the part of the clinic he was staying at and his ward number so as not to get lost in the hallways. The memory loss got me so bad that I couldn't remember the floor I needed as soon as I got on the elevator. But I remembered that my significant other's leg is fractured and that he needed me there," says Vika.
Tolik adds that he was even afraid to let her beloved go to the store, and for a long time she moved using notes that had to be shown to taxi drivers.
I can't say that everything was peaceful in our relation. We had our share of fights. I even used to move out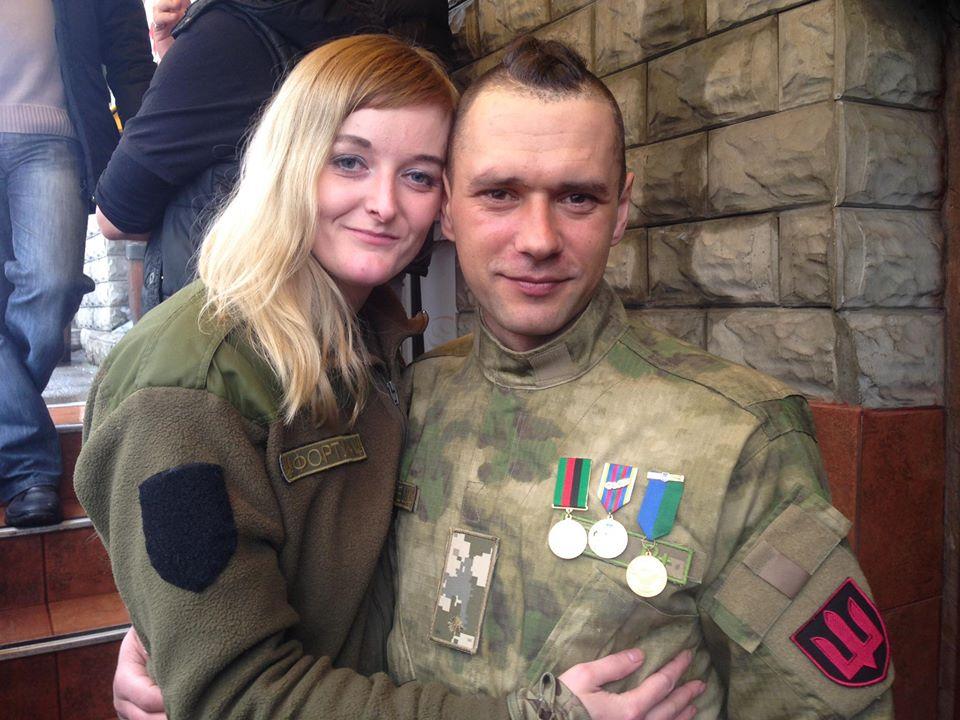 personal archive
Back in 2015, Tolik proposed to Vika. It wasn't too romantic though – no flowers and no ring – as the atmosphere was not too appropriate. But it was only last year when the couple finally got married. By this time, Tolik had finished officer training courses and become a junior lieutenant of the Armed Forces. He rushed into the wedding ceremony directly from his base, without even changing into a suit. And he was called back to the base right from the party. When their daughter was born, he was deployed bear Shchastia, so he wasn't around on her birth day, only being able to come visit his family later for a short 48 hours. He has been serving with the army to this day.
Vika is going to be on maternity leave for three years, and then sign a contract with the Armed Forces of Ukraine. Looking at their joint photos, it seems that Vika and Tolik are the perfect couple.
"I can't say that everything was peaceful in our relation. We had our share of fights. I even used to move out. He's annoying sometimes. He doesn't speak much... I have a completely different temper. I don't know what I found in him and why we're still together. Probably, we just love each other," Vika admits. Tolik silently nods in agreement.
Friends say that the couple is a perfect match.
"I saw how Tolik changed after meeting Vika. He was a man of war who easily risked his life. He was lonely and restless. I couldn't imagine him in civilian life, and I thought that if this war ended, he would go look for a new one. But he was eventually domesticized. He signed a contract, he is not rushing to the front line, being ready to serve in the headquarters as well. Vika returned him to a peaceful life. But she also became different thanks to him. She doesn't want to take risks either, she became calmer... and is happy to cook for her beloved husband. She likes to meet him at home, he likes to come back home to her. This is a classic love story with a happy ending," says Olena Bilozerska. Their story of a Donetsk-based woman meeting in social networks a man from the Right Sector and joining him at the front line is worthy of a script. They could have died, but, fortunately, their red and black romance saw a wedding and a beautiful child.
Vlad Abramov
If you see a spelling error on our site, select it and press Ctrl+Enter