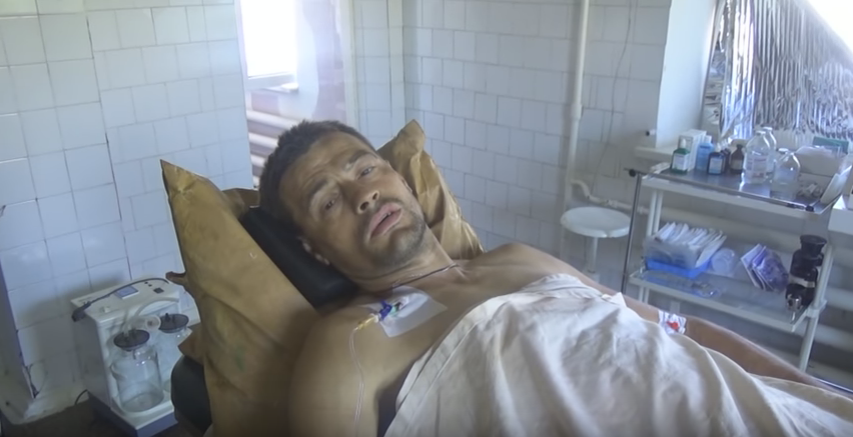 He said he was ordered to cover positions held by "DPR" militants / A screenshot
The soldier, who is a citizen of Russia, said during an interrogation that he had been fighting in Ukraine since March 2016, serving in the so-called Slovyanska brigade as a troop commander of the 6th company of the 7th brigade of the 2nd motor rifle brigade.
"At the moment, I'm a commander of troop No. 1. I'm a senior lieutenant. I earlier wanted to leave here, wrote a number of [resignation] reports, but they did not let me go," he told the SBU, as seen in the video.
The Russian soldier claims he infiltrated into Ukraine through an uncontrolled section of the Ukrainian-Russian border in the town of Krasny Luch, Luhansk region. He said he was ordered to cover positions held by militants of the self-proclaimed Donetsk People's Republic ("DPR") near the town of Snizhne in Donetsk region.
"I'm appealing to all the Russians who are fighting and who have families - go home. This war makes no sense," he said.
Read alsoStrelkov creates movement for unification of Ukraine, Belarus and RussiaThe so-called Slovyanska Brigade was formed in the town of Torez in Donetsk region in November 2014. Its core consists of militants who earlier fought in the town of Slovyansk in Donetsk region under the command of the "DPR" former "Defense Minister" Igor Girkin, whose nom de guerre is Strelkov. The brigade is part of the "DPR" militia.
As UNIAN reported earlier, Ukrainian soldiers participating in the Anti-Terrorist Operation in eastern Ukraine captured three Russian fighters during a skirmish near Troyitske, and one of the Russians reportedly died from his wounds.
According to identification documents seized during the operation, the dead soldier, Natan Tsakirov, was a native of the Russian city of Omsk.