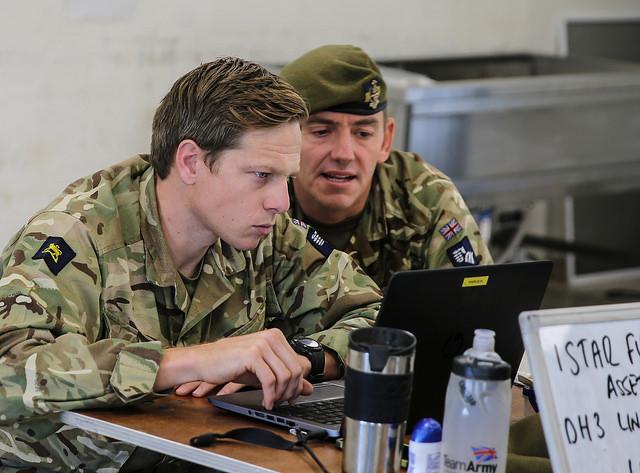 Flickr/7th Army Training Command Follow
British military forces reportedly practiced a cyberattack on Russia on Saturday to send Moscow into total darkness if Vladimir Putin's forces attack the West.
Military sources told the Sunday Times that the only other way of hitting Russia back would be to use nuclear weapons, according to Business Insider.
But cyber weapons reportedly give Britain the best chance of deterring Russia because the West no longer has small battlefield nuclear weapons.
The Sunday Times reported that the test to "turn out the lights" in Moscow - which will give Britain more time to act in the event of war - happened during the UK's biggest military exercise for a decade.
Read alsoInvestigative journalists discover data of 305 Russian GRU officers, incl. those expelled by the Dutch (Screenshots)
5,500 British troops took part in the desert exercise in Oman, where troops also practiced other war games to combat Russia's ground forces.
A combination photograph shows the lights of the St. Basil's Cathedral before (L) and after they were switched off for Earth Hour in Red Square in central Moscow, Russia, March 19, 2016.
The GBP 100 million ($130.5 million) exercise in the Omani desert reportedly involved 200 armored vehicles, six naval ships, and eight Typhoon warplanes.
Sources told the Sunday Times that in a series of mock battles, the Household Cavalry played the role of an enemy using Russian T-72 tanks.
Britain-Russia tensions are being tested at the moment over the fate of two Russian military intelligence (GRU) agents who Britain accused of poisoning former Russian spy Sergei Skripal and his daughter Yulia in March this year, and over accusations that Russia is behind a host of global cyberattacks.
On Thursday, British and Dutch intelligence exposed an operation by the GRU to hijack the investigation into the assassination plot against the Skripals.