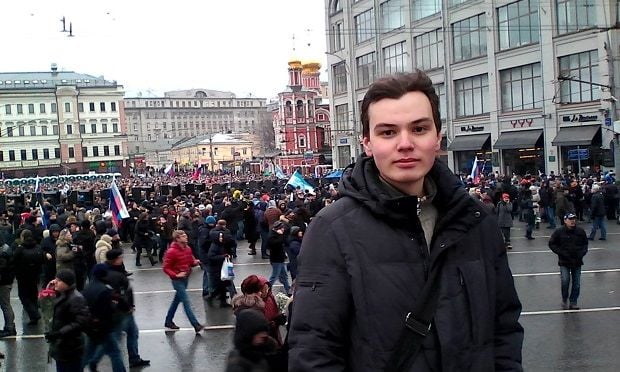 Vlad Kolesnikov was a young Russian disapproving of his country's actions in Ukraine / Photo from Vlad Kolesnikov's Facebook page
"Vlad's last message came on December 25, right after Christmas lunch as my children were noisily running out of the door for an afternoon walk," Claire Bigg wrote in her article.
'If I don't get in touch in the next 2-6 days, you can write [about me]. It means I'm dead,' it said. 'I took a lethal dose.' 'Sorry,' he added, thoughtful right until the end.
"A few hours later, police confirmed my worst fears: Vlad had passed away, killed by an overdose of prescription drugs. The teen who had been my daily online companion for weeks was now lying dead on the cold slab of some distant Russian morgue. His name was Vladislav Pavlovich Kolesnikov. He was 18," the journalist wrote.
The incident that sent Vlad's life tumbling down like a house of cards is absurdly, almost indecently trivial. But amid the hateful war-mongering now spilling from Russian television screens, even a kid's prank, it turns out, can be deadly.
On June 3, Vlad showed up at his school in the Moscow suburb of Podolsk with a T-shirt featuring a Ukrainian flag and the words: 'Return Crimea.' In Russia's current political context, this can safely be called an act of bravery.
Vlad was not Ukrainian. He was not a human rights defender or a political activist, either.
He was simply a young Russian who firmly disapproved of his country's actions in Ukraine. And unlike many others, he was not afraid of saying it out loud. A few weeks earlier, he had played the Ukrainian national anthem on his mobile phone during a compulsory visit to the military conscription office.
Several days after the T-shirt incident, he was assaulted by classmates.
Police officers came to question him. At the conscription office, military officials slapped him with a diagnosis: 'personality disorder.'
He was excluded from school. 'At his own request,' he was informed.
Worse still, his own grandfather, a former KGB officer in whose apartment Vlad was living in Podolsk, drove him out of the house.
He packed him off on the train to his father in the small town of Zhigulyovsk, in Russia's Samara region, threatening to wring his neck if he ever returned.
"I knew that he and his friend – who was interned in a psychiatric ward for more than a month after taking part in Vlad's pro-Ukraine stunt – had been considering suicide," Claire Bigg wrote.
According to the journalist, she had put Vlad in touch with a trusted friend, a civil society advocate, who alerted lawyers and foreign nongovernmental organizations that ran evacuation programs.
"I did everything I could to save Vlad, but I failed. We all failed him," the journalist added.
This is one of the last updates on Vlad's Facebook page where people now leave messages with condolences.
Всем привет! Давно сам лично ничего не писал, многие стал волноваться. Скажу только одно, положа руку на сердце — огромн...

Опубликовано Vlad Kolesnikov 7 ноября 2015 г.