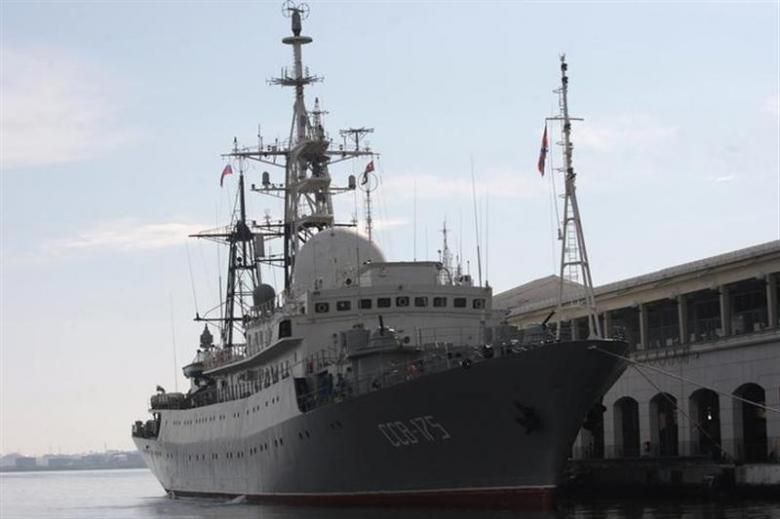 REUTERS / Stringer
The Russian ship was in international waters, 70 miles off the coast of Delaware and heading north at 10 knots, according to one official, Fox News reported.
The U.S. territory line is 12 nautical miles.
It was not immediately clear where the ship is headed.
Later Tuesday, a U.S. official confirmed to Fox News that Russia had deployed ground-launched cruise missiles to two locations inside the country in December. The New York Times first reported that the Obama administration had previously seen the missiles – then in a testing phase – as a violation of a 1987 treaty between the U.S. and Russia that banned ground-launched intermediate-range missiles.
Read alsoTrump names new National Security Adviser following Flynn's resignation (document)But Russia has pressed ahead with its program, apparently testing a Trump administration which has sought better ties with Moscow – but is also fresh off the loss of National Security Adviser Michael Flynn, who resigned Monday night in the wake of a scandal surrounding his communications with Russia.
Adding to the aggressive actions, Fox News confirmed a report from The Washington Free Beacon that four Russian jets buzzed the USS Porter on Friday.
"There were several incidents involving multiple Russian aircraft," Navy Capt. Danny Hernandez, spokesman for the European Command, told The Washington Free Beacon. "They were assessed by the commanding officer as unsafe and unprofessional."
The ship, the SSV-175 Viktor Leonov, last sailed near the U.S. in April 2015, an official said. It was also seen in Havana in January 2015.
Read alsoJets can't take off from Putin's only aircraft carrier – The TimesCapable of intercepting communications or signals, known as SIGINT, the ship can also measure U.S. Navy sonar capabilities, a separate official said.
The Russian spy ship is also armed with surface-to-air missiles.
"It's not a huge concern, but we are keeping our eyes on it," one official said.
This action by the Russian military follows recent missile test launches by Iran and North Korea.
Read alsoUkraine condemns launch of ballistic missile by North KoreaIn the past, Russian spy ships have loitered off the coast of Kings Bay, Ga., home to a U.S. Navy ballistic missile submarine base. During the Cold War, Russian intelligence gathering ships routinely parked off U.S. submarine bases along the East Coast
In September 2015, another Russian spy ship was spotted near the U.S. outside the submarine base in Kings Bay.
Outside of U.S. intelligence gathering satellites monitoring the Russian spy ship's voyage north, there are several airborne platforms along the East Coast that could be used by the U.S. military to monitor the Russian ship, according to one official.
Currently there are four U.S. Navy warships in the Atlantic off the coast of Norfolk participating in normal training, but none have been tasked with shadowing the Russian spy ship.
There are no U.S. Navy aircraft carriers nearby.
The USS Eisenhower, an aircraft carrier, is currently off the coast of Florida doing carrier qualifications, with young pilots making their first landings. Ike does not currently have strike aircraft.