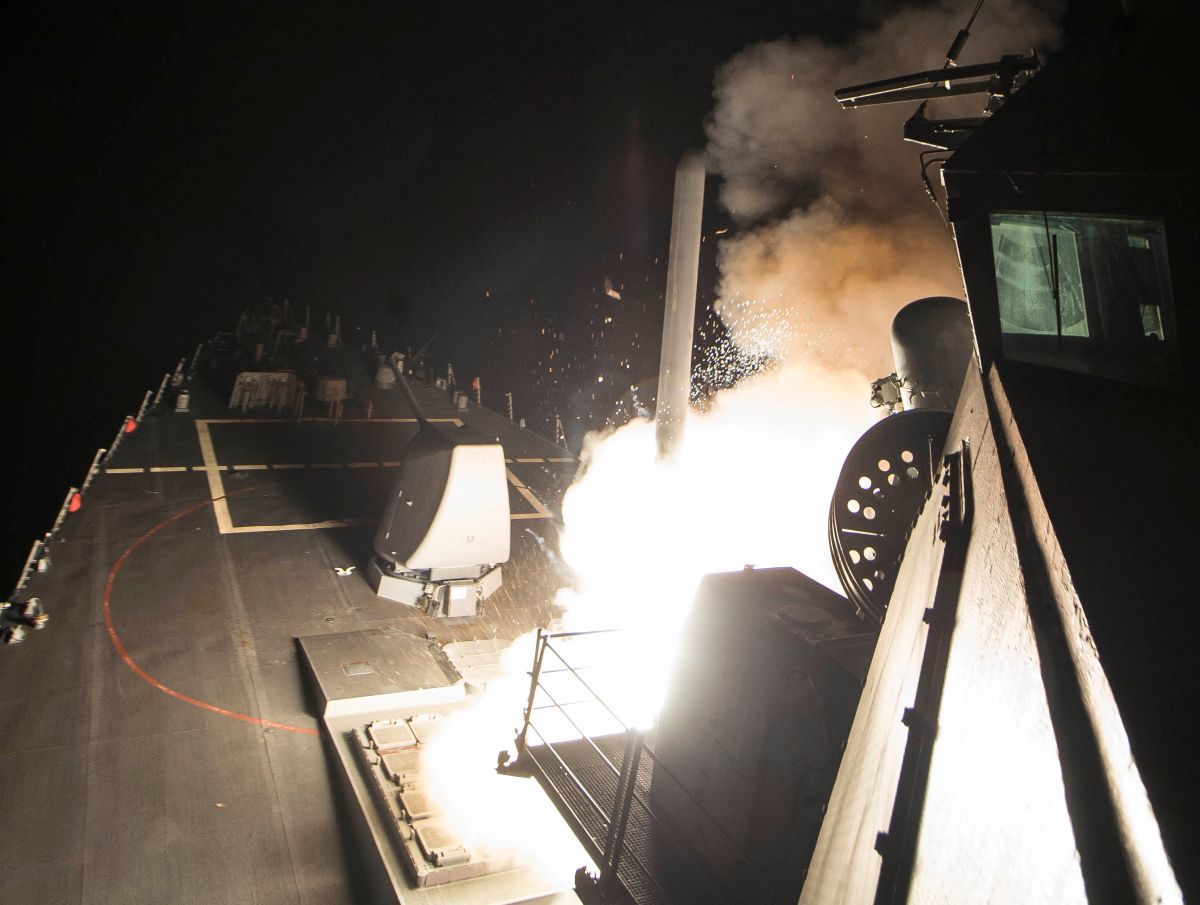 REUTERS
In a sharp escalation of the U.S. military role in Syria, two U.S. warships fired dozens of cruise missiles from the eastern Mediterranean Sea at the airbase controlled by President Bashar al-Assad's forces in response to the poison gas attack in a rebel-held area on Tuesday, U.S. officials said, as reported by Reuters.
Facing his biggest foreign policy crisis since taking office in January, Trump took the toughest direct U.S. action yet in Syria's six-year-old civil war, raising the risk of confrontation with Russia and Iran, Assad's two main military backers.
U.S. officials said they informed Russian forces ahead of the missile attacks and that there were no strikes on sections of the base where Russians were present. But they said the administration did not seek Moscow's approval.
"Years of previous attempts at changing Assad's behavior have all failed and failed very dramatically," Trump said from his Florida resort, Mar-a-Lago, where he was attending a summit with Chinese President Xi Jinping.
Read alsoAutopsy results show chemical weapons used in Syrian attack – mediaTrump ordered the strikes just a day after he pointed the finger at Assad for this week's chemical attack, which killed at least 70 people, many of them children, in the Syrian town of Khan Sheikhoun. The Syrian government has denied it was behind the attack.
Fifty-nine Tomahawk missiles were launched from the USS Porter and USS Ross around 8:40 p.m. EDT, striking multiple targets – including the airstrip, aircraft and fuel stations – on the Shayrat Air Base, which the Pentagon says was used to store chemical weapons.
The strikes occurred as Trump and Xi were wrapping up a dinner of Dover sole and dry-aged New York strip steak.
"Initial indications are that this strike has severely damaged or destroyed Syrian aircraft and support infrastructure and equipment at Shayrat Airfield, reducing the Syrian government's ability to deliver chemical weapons," said Pentagon spokesman Captain Jeff Davis.
The U.S. cruise missile attack was a "one-off," a U.S. defense official told Reuters, meaning it was expected to be a single strike with no current plans for escalation.
The attacks spurred a modest flight to safety in global financial markets, sending yields on safe-haven U.S. Treasury securities to their lowest since November. Stocks weakened in Asia and U.S. equity index futures slid, indicating Wall Street would open lower on Friday. Prices for oil and gold both rose, and the dollar slipped against the Japanese yen.