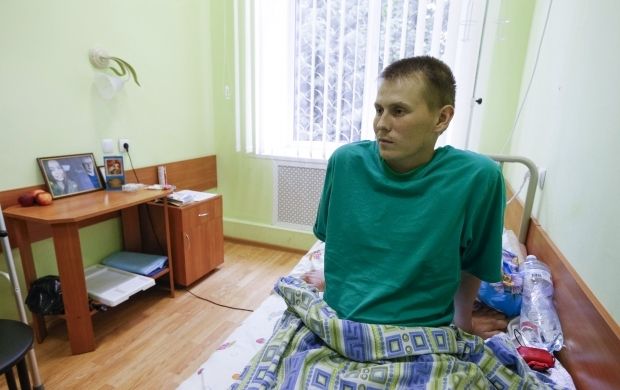 Fellow villagers of captured Russian sergeant: "If they got him, then the Russian troops really are in Ukraine"
08:35, 02 October 2015
4 min.
1087
UNIAN visited the native village of the Russian sergeant Aleksandr Aleksandrov, who was detained by the Ukrainian troops in combat near Luhansk and is now charged with committing a number of grave crimes.
This week in Kyiv, the trial started of the Russian citizens - Captain Yevgeny Yerofeyev and Sergeant Aleksandr Aleksandrov. Soldiers of the Russian special forces, as they confirmed for the Russian media as well, were captured in combat outside Luhansk in mid-May. Ukrainian Army Sergeant Vadym Pugachov was killed in that very battle.
The two Russian soldiers are accused of illegal entry into the territory of Ukraine, unleashing of war, and terrorism. At the first hearing, the judge prolonged the arrest of both officers of the Main Intelligence Directorate of the Russian General Staff.
UNIAN has found Aleksandr Aleksandrov's relatives, seeking to talk with them and try to understand what motivates the Russian military, when they go to kill the Ukrainian citizens in Donbas. So, to this end, we took off to see the home village of the captured Sergeant - Rozhky of Kirov region.
UNIAN journalists drove to Aleksandrov's home village Rozhky / Photo from UNIAN
It turned out that Rozhky has nothing in common with the stereotypical poor Russian hinterland. This is a rich village, with nice houses, a new soccer field, a school, and a kindergarten. The core local business is a gas pumping station owned by Gazprom, the energy giant which has long promised to make the Russian citizens' dreams "come true" [reference to Gazprom's TV ad]. Aleksandrov's father and older brother have also once worked at this station. "Generous" Gazprom "has set up a helipad outside the village. However, the company never bothered to even pave the road for the locals...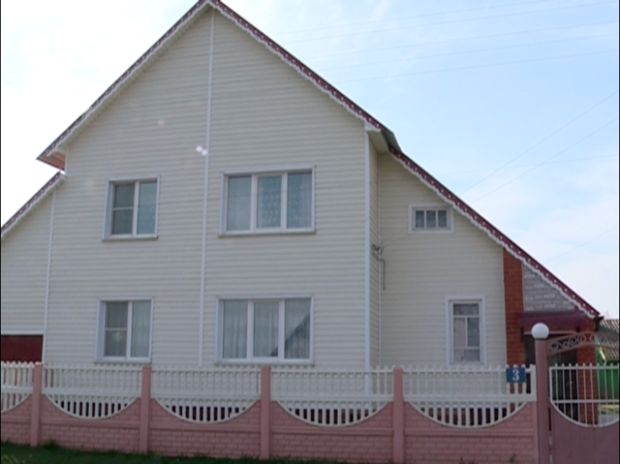 It was not difficult to find Aleksandrov's house / Photo from UNIAN
It was no difficult to find Aleksandrov's house (as it turned out, this is a two-storey house).-Despite the impressive size of Rozhky, everyone knows each other here.
Despite Rozhky's impressive size, everyone knows each other / photo: UNIAN
We found the parents of the captured sergeant – Zinaida Nikolayevna and Anatoly Aleksandrovich – furnishing their backyard. Once the mother heard we are Ukrainian journalists, she immediately turned hostile: "Let's not talk about anything; just turn around and leave. No comment. I don't want anything. I'm sick of you."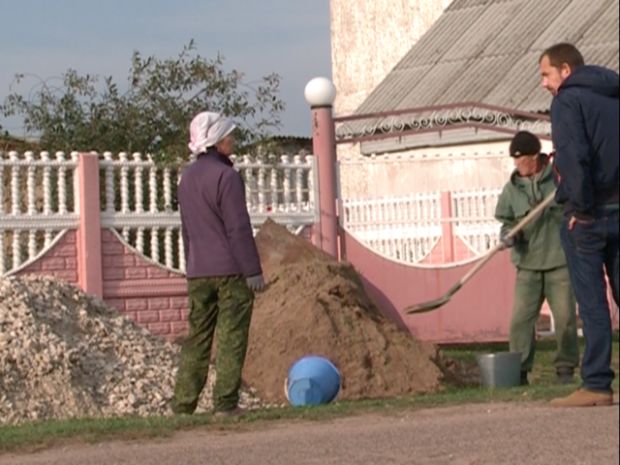 Parents of the accused sergeant - Zinaida, and Anatoly / Photo from UNIAN
We asked if they knew about the beginning of court hearings in Kyiv, whether they knew they can watch it online, and whether they want to go to Kyiv to visit their son. We didn't manage to convince them that such trip would be totally safe. "How would it help if I watched your Internet?" Zinaida wondered.
Aleksandrov's father – Anatoly Akeksandrovich / Photo from UNIAN
We stood at the gate for a good twenty minutes but failed to have a normal conversation. We didn't manage to ask the most important question, whether they realize that their son and thousands of his fellow troops went to Donbas kill Ukrainian soldiers. The question, whether they realize that their son will come back home sooner or later come back home while Vadym Pugachov's relatives can only cry on his tomb. "This information, which has passed through all the channels, I absolutely don't need it. It did not add any optimism, said Aleksandrov's father. "You agreed your visit with no one, came without warning, so I don't want to talk to you."
Parents believe that journalists are to blamed in this situation / Photo from UNIAN
As soon as we drove away from the house, it turned out that our camera had malfunctioned. We had to go back. The second meeting was more than tough – with a spading fork (literally), and threats to call the FSB [Federal Security Service]. It turned out that parents believe that the blame for this situation is ... on journalists who made the story public, and supposedly this is what prevents the exchange. Apparently, it never crossed their minds that Yerofeyev and Aleksandrov might be responsible for anything.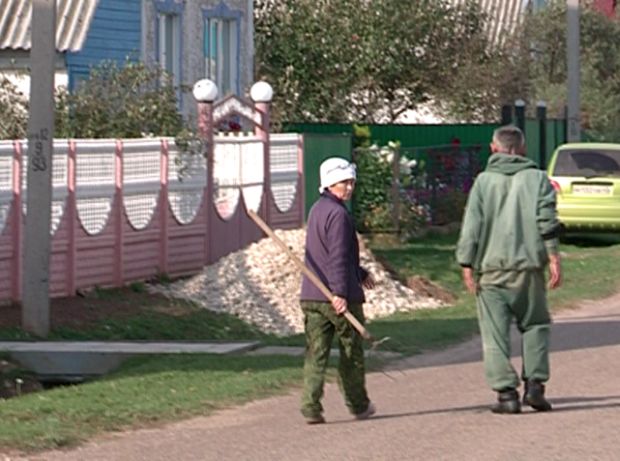 The second meeting was more than tough - with a spading fork / Photo from UNIAN
And what do the rest of the villagers think? As it turned out, the locals were quite open to us. We were not denied interviews, people were willing to speak on camera, despite the fact that every conversation began with the words: "We came from Kyiv."
Our small survey showed that the locals think positively about Aleksandr Aleksandrov, sympathize his family and hope for the exchange of the two captured soldiers for Nadia Savchenko and Oleh Sentsov. Here in the village, people have no clue of other Ukrainian citizens from the long list of prisoners in Russia.
Nobody tried to hide the fact that Aleksandrov is a Russian contractor. They said he "even took part in hostilities." However, when asked about the location of those hostilities, they just hide their eyes. Although, off the record, they just say straight - if he got caught, then the Russian troops really are in Ukraine. It's just that it's not common to talk about it. Two people voiced a more candid reason for his participation in the fighting in Donbas: he got married recently and needed money.
Our work has not gone unnoticed. A store clerk suspected something was wrong, when she saw us talking to the locals. She demanded to see our permit for filming and staged a "verification of documents." We did not break the Russian laws, and no permit is required for filming in public, which we explained to the saleswoman. However, it did not satisfy a vigilant citizen.
Anatoly, a village head, appeared shortly at a store. Apparently, he was called up by a store clerk. The government representative was very welcoming and sociable. He said that people try to support Aleksandrov's parents. He also said that for some reason, the parents travel to Togliatti (there is, in fact, is a military base of Special Forces, where their son served). He claimed he didn't know who is calling them there.
Village head asked us a lot about the war in Donbas. He said that he knows the "Russian version," but he would like to know the opinion from the other side of the front. As a result, he invited us to his office and treated with apples (we didn't have enough time for tea). Then Anatoly gave a tour of the village and showed us a monument to those killed in the Great Patriotic War, and also the Alley of Glory, designed for the 70th anniversary of the Great Victory. He was surprised to learn that such monuments in Ukraine are also in perfect condition, and nobody crushes them.
- So is it true that there's civil war in Ukraine? - asked the head of the village council.
- Well, if it's civil war, than what did Sergeant Alexander do there? - we asked in return.
Awkward silence ensued.
Roman Tsymbaliuk, Vadym Dmytriv
If you see a spelling error on our site, select it and press Ctrl+Enter