Ukraine's air shield: Taking off to 21st century
17:00, 26 August 2018
7 min.
1386
In recent years, the Ukrainian Air Force, together with the defense industry, was actively upgrading the fleet of combat and transport planes and helicopters, as well as air defense systems. Today, Ukraine's designers and manufacturers are ready to take the next step and move to the creation of new weapons.
Ukraine met the 27th anniversary of its independence with the new Army and Air Force. And this is not the same Armed Forces that defended our frontiers against Russian aggression in the spring and summer of 2014.
By today, the military potential has grown substantially, including to defend the country from potential aerial threats.
On the eve of Independence Day, UNIAN made a review of weaponry which is now at disposal of the Ukrainian Air Force to repel a potential air strike on the country.
Homeland's wings
One cannot imagine an air shield of any country without aviation, which at the first stages of Russian military aggression took an active part in battles in the skies over the Ukrainian Donbas, and now it is undergoing intensive repair and modernization of combat aircraft.
In early August, Air Force Commander Serhiy Drozdov said that this year alone, the fleet of military aircraft in Ukraine will be replenished by almost three dozen renovated and modernized units. It's about MiG-29 and Su-27 fighter jets as well as Su-25 attack aircraft, the core of Ukrainian Air Force. In addition, the state-owned arms producer Ukroboronprom is planning to modernize the Su-24MR aircraft.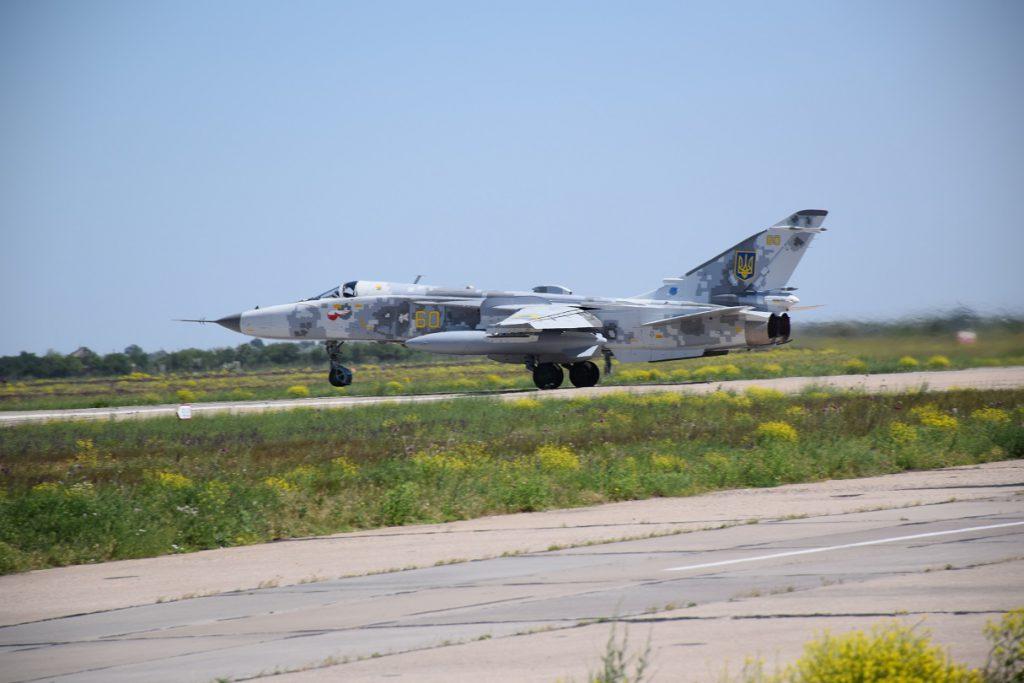 Su-24MR / Ukroboronprom
Modernization will allow using aircraft for a much long time. For example, Su-25 aircraft have been equipped with an Adros KUV 26-50 decoy thermal target discharger and an anti-radar passive interference system. Numerous changes have also been made in the aircraft's internal avionics.
In the near future, modernization of Su-27 and MiG-29 fighters will begin, to arm them with Ukraine-made air-to-surface and air-to-ship missiles, as well as guided bombs.
In addition to combat aircraft, the Ukrainian army uses military transport planes An-24, An-26, Il-76, while domestic defense enterprises are actively working on the modernization of the first two.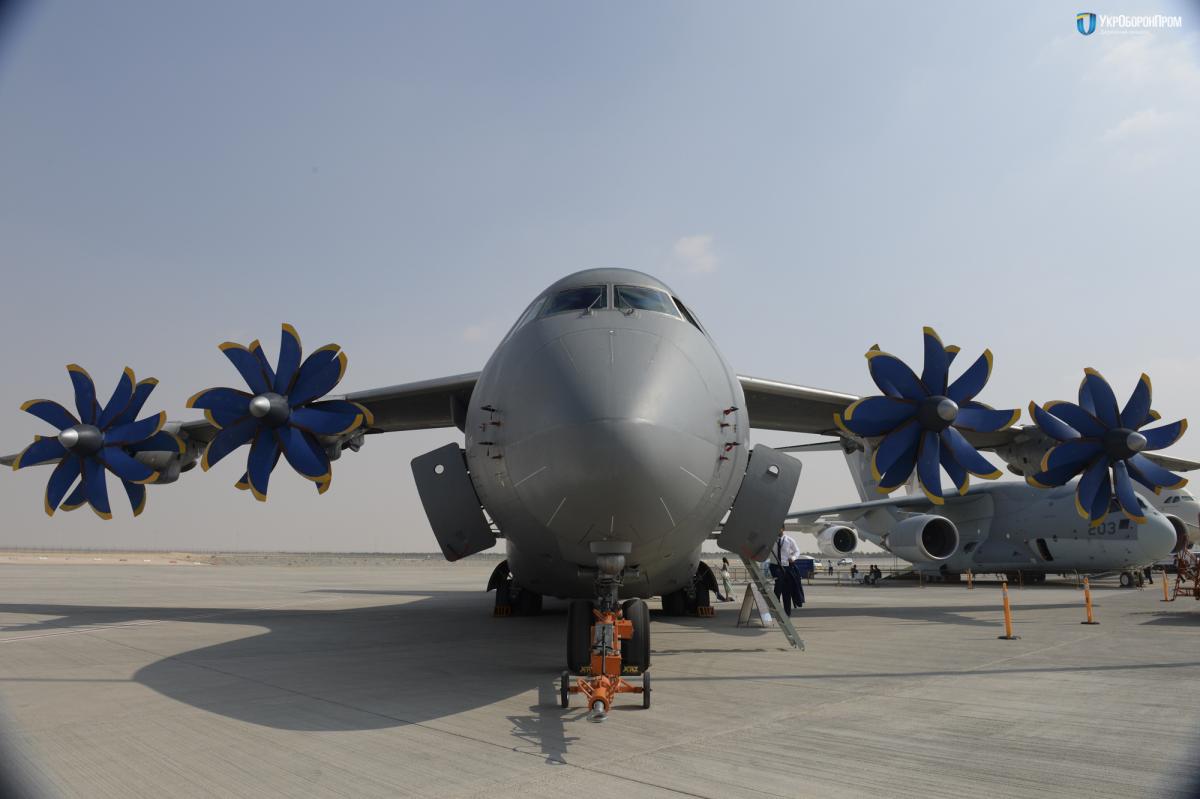 An-70 / Ukroboronprom
It is impossible not to recall a An-70 military transport aircraft produced by the state enterprise Antonov, which was accepted for service in 2015. Now, works have already begun on its significant modernization - installation of new avionics and getting rid of any Russian components.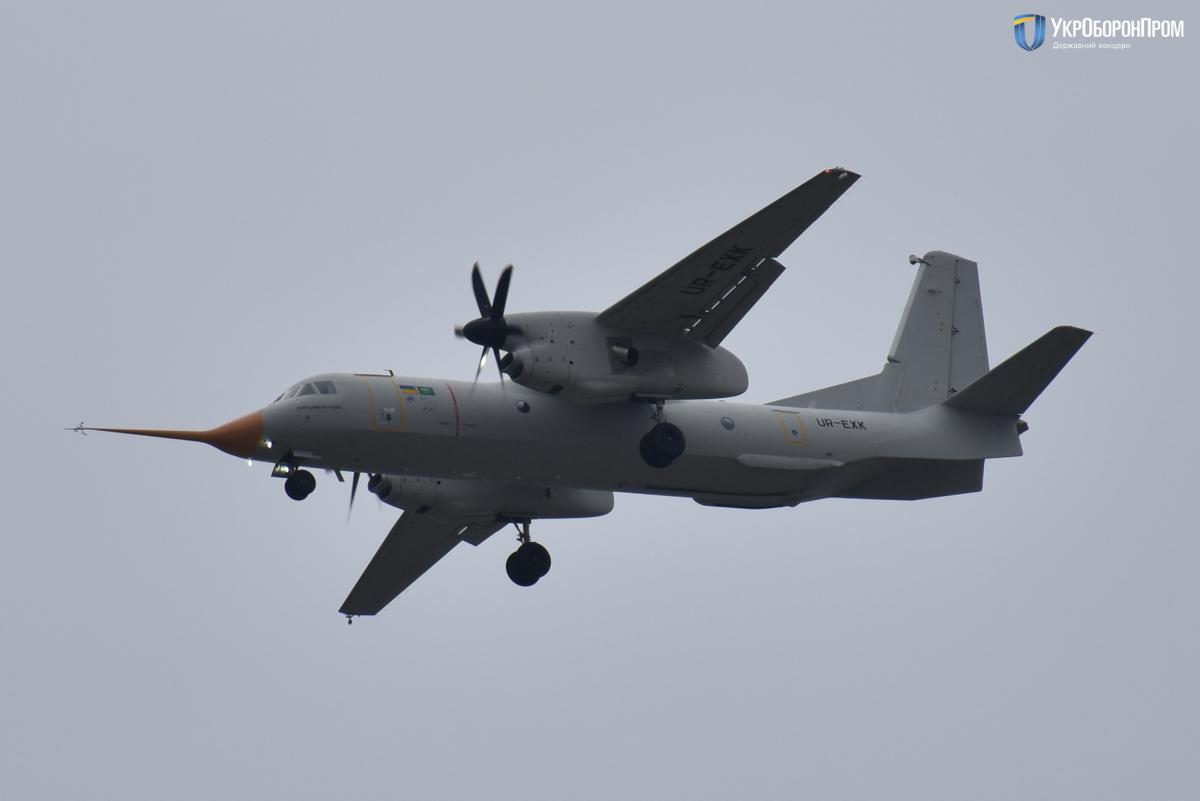 An-132D / Ukroboronprom
In addition, in just 18 months, Ukrainian designers created an An-132D transport aircraft, which took to the skies last spring. It is designed for medium-haul flights, and is able to perform a wide range of tasks, including transportation of troops and cargo. The cruising speed is up to 500 kmh, max cruising altitude is up to 9,000 m, with a maximum payload of up to 9.2 tonnes.
Also promising is a Ukrainian-Turkish project for the creation of an An-188 military transport aircraft in line with NATO standards.
Speaking about Ukrainian aviation, it is worth saying a few words about helicopters, which play an important role in strengthening the country's defense capability.
The Ukrainian army has a fairly large number of Mi-24 attack helicopters, but an important issue remains their modernization to meet today's challenges. The domestic defense industry has successfully coped with the task by carrying out a profound modernization of said helicopter type to practically make a qualitatively new one, an Mi-24P.
Konotop aircraft repair plant Aviacon went even further and in 2016 transferred to the army the Mi-24PU1 helicopters, acclaimed for increased protection, thanks to the establishment of the already mentioned ultra-modern protection system "Adros" by Nizhyn-based Progres Combine. The system tricks thermal-guided missiles so the helicopter is protected from portable anti-aircraft missile systems such as Igla and Stinger, as well as air-to-air missiles of R-60 and R-73 type. In addition, new more powerful domestic engines have been installed on the Mi-24PU1, while its capabilities have been significantly expanded due to modern sighting and navigation systems that allow performing tasks in total dark.
The Ukrainian army also uses Mi-8 helicopters, which Motor Sich upgraded to the Mi-8MSB version by replacing the engines with new, more powerful TV3-117VMA-SBM1V series 4E and completing partial modification and refurbishing of the fuselage, and installation of a new engine start system.
Aviacon recently transferred to the Army the modernized Mi-8MT helicopters with the new meteorological system, satellite navigation system and reserve radio station installed, while the Kyiv-based state enterprise Civil Aviation Plant 410 last year launched a program for overhauling and upgrading the Mi-8T helicopter to the Mi-8MSB type.
Ukrainian Army also has at its disposal Mi-2, Mi-14, Ka-27, and Ka-29 helicopters.
Air shield
In addition to controlling airspace with aviation, it is necessary to provide protection against the threat of enemy aircraft. This is the task of air defense forces, equipped with anti-aircraft missile systems. This is primarily aboutl Buk, Kub, and Tor systems, the S-300 medium-range anti-aircraft missile system, and the S-125 short-range anti-aircraft missile system.
Buk, Tor, and Kub systems are designed to combat maneuvering targets at small and medium altitudes, in fact, covering the surface from missiles, UAVs, guided aerial bombs, aircraft and helicopters. S-300 surface-to-air missile systems are capable of hitting various targets at various altitudes: from those below the possible flight altitude to those that exceed the altitude limit for targets. Their range is from several kilometers to 150-300 km.
Another representative of the air defense system is S-125M, modernized this year by Luch design bureau and Radioniks. The renovated system, named Pechora, was successfully tested this year. It has undergone a comprehensive modernization of all elements, including the upgrading of missiles, as well as the use of a new radar.
During the tests, air targets were hit by new 5B27D-M2 missiles with a semi-active radar homing head ensuring the detection and capture of an air target (type fighter jet) at a range of over 20 km. In addition, it greatly increases the accuracy of guidance and ensures that the missile hit even highly maneuverable targets.
At the initial stage, the missile moves along an aeroballic trajectory, which significantly increases the far boundary of the hit zone - with new missiles it is more than 40 km, while max altitude is 25 km.
Anti-aircraft defense of Ukraine is also represented by radar stations used for reconnaissance.
Automated electronic support (detection) system Kolchuga has a range of 600 km into the depth of the territory and 150 km along the front line. For aerial targets at an up to 10 km altitudes, the range into the depth of the territory is up to 800 km. Thanks to the lack of active emissions, Kolchuga cannot be detected by means of electronic reconnaissance.
Kolchuga / Ukroboronprom
P-18 Malachite radar is a modernized version of the P-18MU Terek that has been in service since 1971. This land-based mobile noise-proof radar station is intended for automatic detection of radar targets against the background of active and passive interference of natural and artificial origin. Put on the KrAZ chassis and a cargo trailer, the radar is able to detect targets moving at speeds of up to 1,000 meters per second.
The domestic defense-industrial complex is now actively working on the development of new radar systems, which are already being adopted by the Ukrainian army or will strengthen it in the near future. In this regard, it should be noted that the experts of the Iskra research and production facility (based in Zaporizhia) have manufactured and are this year testing the new 1L220UK counterbattery radar, the high-mobility meter range radar MR-1, the automated radio interference complex Mandat, and a mobile 3D radar 80K6T.
The 80K6T radar is designed to spot fire of air defense weapons and able to work with all antiaircraft missile systems that are in service with the AFU.
The main feature of the radar is a digital active phased array, the technology allowing detecting and accompanying targets at high resolution. At the same time, thanks to a single station alone, simultaneous measurement of the target position is done by range, azimuth, and altitude. The radar is able to detect aerial targets at a distance of up to 500 km, at altitudes up to 40 km, while simultaneously tracking up to 500 targets. This station can perform amid significant countermeasures of enemy electronic warfare.
Counterbattery radar 1L220UK is designed for reconnaissance of enemy artillery positions. It spots, at a distance of dozens of kilometers, the exact location of enemy cannons, mortars, multiple rocket launchers, anti-aircraft missile systems, and tactical missiles. This allows the Army getting the exact coordinates for a retaliatory strike, as well as to adjust fire of own artillery.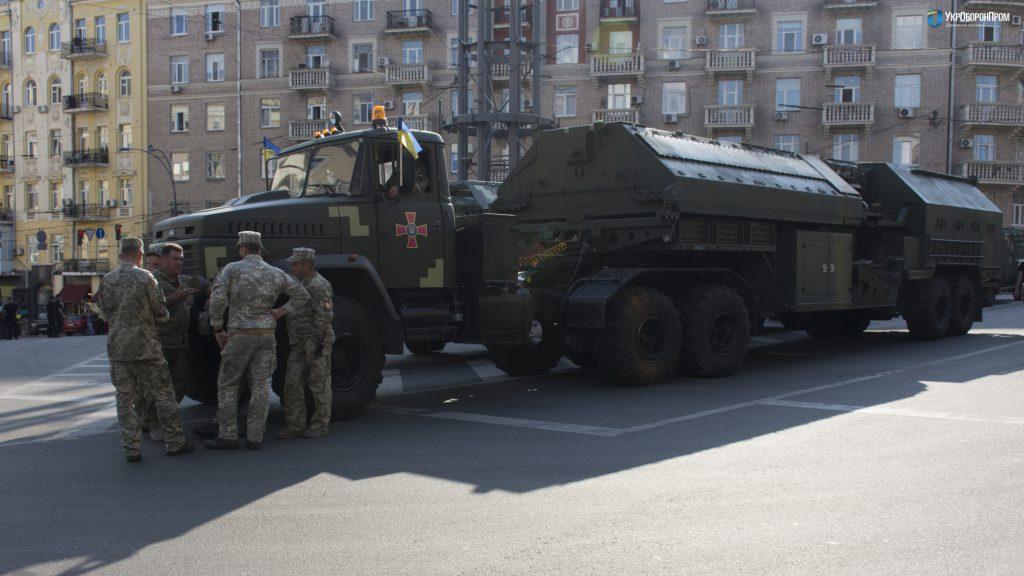 1L220UK counterbattery radar / Ukroboronprom
In addition, 1L220UK conducts surveillance of airspace, with an opportunity to spot enemy drones.
A highly mobile meter range radar MR-1 is designed to automatically detect air targets at a range of more than 400 km. The main feature of the MR-1 is the ability to see "stealth" aircraft, including fifth generation fighters.
The automated radio interference complex Mandat is intended for monitoring and suppressing enemy communications at frequencies from 1.5 to 1000 MHz, which allows to reliably hinder communication, including digital and encrypted, paralyzing the enemy's control system.
Mandat / Ukroboronprom
Also Iskra is now developing a special radar station DV1, designed to create a continuous radar shield along the Ukrainian border, as well as a new generation counterbattery radar Mangust.
Army of drones
Unmanned aerial vehicles are relatively new weapons, but Ukraine has made a significant breakthrough in this direction.
Antonov also supplies to the army a Horlytsia  UAV, the first domestic platform capable of carrying a strike load. In comparison with other drones of such type, Horlytsia is able to conduct longer air reconnaissance missions, remaining midair for seven hours. The tactical range is 120 km, practical range is 1,050 km, while max speed is 230 kmh.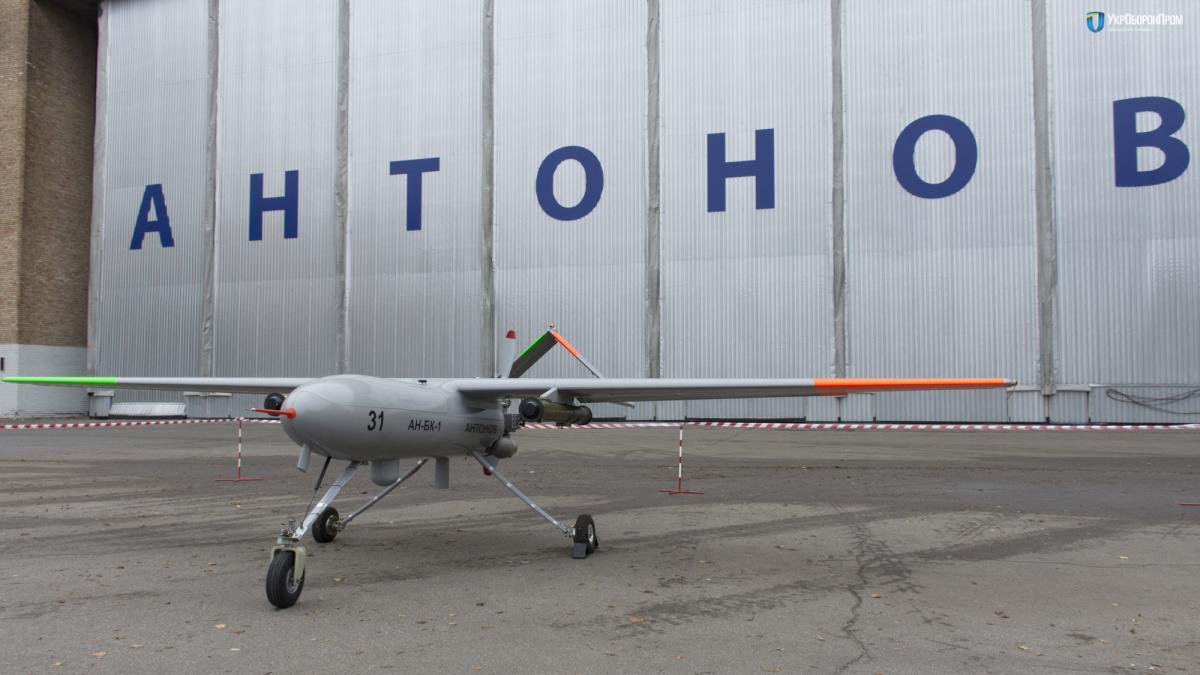 Horlitsia UAV / Ukroboronprom
The UAV is able to conduct optical-electronic aerial reconnaissance in the visible and infrared range. Horlytsia automatically recognizes, captures, and accompanies moving targets and strikes them with guided high-precision ammo. With the help of this UAV, it is possible to set up operational communications and support combat units performing tasks in the enemy's tactical rear.
The UAV is part of a promising mobile tactical unmanned aerial system. It will consist of four such unmanned aerial vehicles, a ground control station, and means for ensuring the takeoff and landing, transportation and repair.
In addition to Horlytsia, in early 2016 Ukroboronprom handed over to the Army the first purely Ukrainian unmanned aerial vehicle BpAK-MP-1 Spectator, which was created by Kyiv Polytechnica and JSC Meridian.
It is a system of 1-3 drones and a ground control station. The system has an optimal ratio of the weight of the payload per unit mass and high aerodynamic characteristics, which makes it possible to install recon equipment weighing up to 1.5 kg with the mass of the drone itself being just 2 kg. The drone can remain midair for two hours, with the maximum flight altitude of 2 km.
Due to its dimensions (length 1,295 mm, wingspan 3,000 mm), the drone can easily be transported even in a backpack. The minimum time to prepare the start from the disassembled state is up to two minutes. Another advantage is that the Spectator is launched from hand.
Developers of BpAk-MP-1 continued modernization of the UAV, and already in 2017, the Ukrainian army received a new Spectator-M, which border guards use to patrol the administrative border with the temporarily occupied Crimea. These drones are equipped with modern video and thermal imaging cameras, allowing the troops to monitor an area up to 50 kilometers wide at an altitude of up to 2,000 meters.
Compared to its predecessor, BpAk-MP-1, Spectator-M performs better, has greater payload and range.
***
All these capabilities are just the beginning in the formation of Ukraine's new army and air force. Further development of technology and production capacities of domestic defense enterprises will lead to the emergence of new elements of protection from aerial threats.
There is no doubt that the components of our air shield will be of interest to the modern world, also facing a wide range of threats. Moreover, foreign partners have repeatedly noted the high quality of Ukrainian weapons. The active development of this sector of the military-industrial complex will undoubtedly open new markets for high-tech products, give impetus to the development of the domestic defense industry, and bring into the treasury more foreign exchange earnings.
Ukraine already has means to protect itself and share its experience with the rest of the world.
Dmytro Shvarts
If you see a spelling error on our site, select it and press Ctrl+Enter