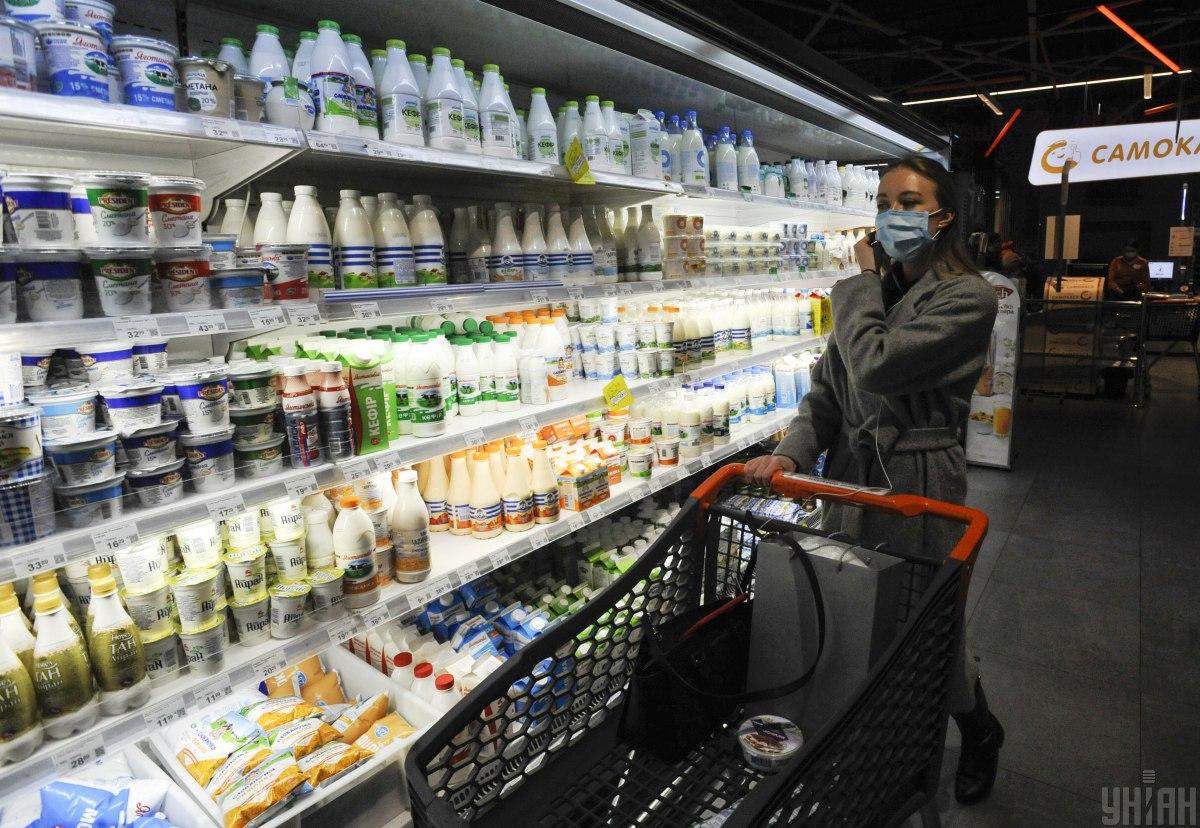 Hunger Games: is Ukraine facing a food crisis
14:20, 31.03.2020
6 min.
5829
The coronavirus pandemic posed a difficult task for the country's food system: to provide Ukrainians with essentials amid quarantine and austerity. UNIAN learned whether the agricultural sector will have a sufficient safety cushion to pass this test, and how much food prices will rise.
The coronavirus epidemic and strict quarantine imposed by the authorities, which will last at least until the end of April, have become a serious test for Ukraine and its citizens. Many were left without work or were forced to go on vacation at their own expense, and someone may not have enough savings even to buy food until the end of forced isolation.
Street food markets have been closed in the country, but grocery stores and supermarkets continue to operate, having received carte blanche to dictate their pricing policy to buyers deprived of choice.
Basic foodstuffs have begun to skyrocket since early March. The Antimonopoly Committee of Ukraine recorded a rise in prices in the regions of the country: for buckwheat – by more than half, millet – by a quarter, and sugar – by 16%. Vegetables also rose significantly in retail chains: almost 60% for potatoes, while onions and carrots doubled.
The national network of social supermarkets ATB raised the prices of cereals and the so-called "borsch set vegetables", attributing the increase to higher prices set by suppliers.
"This is due to a significant increase in production costs associated with quarantine measures and strict restrictions, as well as a change in prices for all imported components of the cost of goods, which is associated with the devaluation of the hryvnia," said Boris Markov, Director General of ATB.
The closure of street markets created problems for suppliers and farmers who had never worked with large retail chains, and also caused a shortage of some fruit and vegetables, which supermarkets do not specialize in.
However, on the other hand, according to retailers, there are sufficient stocks of lemons and garlic in Ukraine: they simply have nowhere to sell them, because in our country the majority of vegetables and fruit are sold in street markets, while in Italy, which suffered most from coronavirus, it's about 10%.
President of Ukraine Volodymyr Zelensky announced tough measures to prevent price hikes for food and essentials, but so far there has been no reduction.
"My average food bill for a couple of days increased by about fifty hryvnias, and this is only for the most necessary products – a five-liter bottle of water, bread, milk, and especially fruit," says Olena, a Poltava resident.
Sowing campaign amid force majeure
The cataclysm made many fellow citizens focus on basic needs, with food being one of the most important ones among them. Many began to ask questions: will there be famine and will farmers be able to feed the country and not lose their status of a major world food exporter and one of the main suppliers of hard currency to Ukraine?
Thanks to the warm winter, the sowing campaign this year began quite early in mid-March, but at the very height of spring field works, the government declared an emergency throughout the country, as well as introduced and then extended quarantine restrictions until late April.
The main task for agricultural holdings and farms was to organize work in the new crisis conditions. It is necessary to simultaneously solve seemingly incomparable tasks: to minimize social contacts and, at the same time, to ensure the implementation of a whole range of activities related to the sowing campaign.
"If one of the employees falls out of the working rhythm, people they contacted will have to be sent to self-isolation. And here is the question: who should replace them? After all, agricultural technology is becoming complex, people need to be trained for a certain period," said Alex Lissitsa, President of the Ukrainian Club of Agricultural Business Association.
Unexpected help could come from the side of the thousands of Ukrainians who had been working abroad and were now forced to return to their Homeland. Most of them will hardly again leave for seasonal field work in European countries in the coming months. Therefore, they will be able to fill workforce gaps during the sowing season, but many might need express training.
Photo from UNIAN
Another challenge for national agricultural producers is the significant import dependence of our sowing campaigns. Ukraine buys the lion's share of seeds, fertilizers and plant protection products abroad, and due to logistical difficulties and another fall in the hryvnia, these products will now cost much more than last year.
As UNIAN was told in the State Service of Ukraine on Food Safety and Consumer Protection, the security of agricultural enterprises in the North-West District is at about 70% of the need.
"This level of security is sufficient to implement a set of measures to protect crops in the early spring of 2020," the State Food and Beverage Service said.
However, the agency did not specify, what will happen in a longer perspective.
So far, according to market participants, quarantine introduced in mid-March has not greatly affected the course of spring field works.
"The uncertainty factor still prevails in all markets – both global and regional ones. Against this background, the sowing campaign started quite well in all regions of Ukraine. The negative impact of quarantine on agribusinesses' costs remains minimal," said Serhiy Feofilov, Director General of UkrAgroConsult.
Food security
According to the government's decree, enterprises critical to food security must continue smooth operations during the quarantine period.
The Ministry for Development of Economy, Trade and Agriculture is now discussing with relevant associations instructions for livestock complexes and processing enterprises on how to act in case employees are infected with coronavirus.
"We are developing the idea of ​​temporarily introducing a round-the-clock biosafety regime at such facilities and other recommendations to enable us to work, because animal feeding must be a continued process, as well as food production," said Deputy Minister Taras Vysotskiy.
While officials and experts are thinking about the rules of working in the new conditions, many companies have stocked up on antiseptics and have implemented their own safety rules at work.
For example, the largest poultry producer in Ukraine, Myronivsky Khliboproduct (MHP) agricultural holding, does constant temperature screening and does not allow employees with any respiratory illness to work places, also sending those who returned from foreign business or private trips in self-isolation.
Also, most manufacturers of bread and flour products started producing exclusively packaged products; supermarkets are now doing the same with their own baked goods.
And, perhaps, this tradition will gain a foothold in trade for a long time and prevent many viruses of getting into food products even after the pandemic is over.
Don't panic! There's enough food for everyone!
Photo from UNIAN
According to the Customs Service, there are no reasons for any food-related panic and hoarding of food products. In the first half of March alone, Ukraine increased food imports by a third to almost 160,000 tonnes.
Stats show there are large stocks of fruit, vegetables, and grains in warehouses across the country.
But the demand for agricultural products doesn't cease beyond Ukraine's borders, stimulating a rise in prices on the national market, too.
The Food and Agriculture Organization of the United Nations (FAO) believes that the spread of coronavirus threatens to reduce global food production and subsequent price hikes.
Moreover, the problem won't be about agricultural producers making less food, but rather about logistics as this food may not reach all categories of consumers in all countries.
"Already from April-May, disruptions in food supplies may start. Prices for meat, fruit, and vegetables may rise sharply. While at the onset of the epidemic there was a panic-driven hike in demand, after a fall in incomes, it will gradually decline, which will lead to a lower output," the FAO report said.
So far, the Ukrainian government is not going to limit exports of grain crops, sunflower oil, poultry, and other agriproduce, remaining among global leaders in such exports. After all, the consequences of such restrictions would be disastrous for businesses and block an important channel for the hard currency inflows.
Meanwhile, bakers and flour makers are warning that bread prices for Ukrainians may rise 20% in the near future due to rising world wheat prices. Note that Ukraine has already exported almost 18 million tonnes of wheat of the 28 million tonnes of the 2019 crop.
And here the choice remains with the producers: to supply the domestic market or opt for a more profitable way of selling grain for hard currency despite the fact that the dollar has jumped to UAH 28.
Perhaps, in these conditions, many Ukrainians thought about dealing with their families' food security on their own: to plant vegetables and herbs in their gardens this April and May.
Experts are convinced that the agricultural sector now, despite all difficulties, is in a better position even compared to many other sectors, being able to feed the country and millions around the world – if the situation is favorable.
"In a situation of uncertainty, it's difficult to predict. But the basic values, even if we have the worst situation since WW2, will remain unchanged – food is needed daily, unlike almost anything else," says FAO economist Andriy Yarmak.
Realizing this, Ukraine, like many other countries suffering from a pandemic, doesn't stop production of key resources, primarily food.
But another question is whether there will be anyone left to feed after the infection spread subsides, given the poor health care system and rising unemployment.
Anna Nagorna