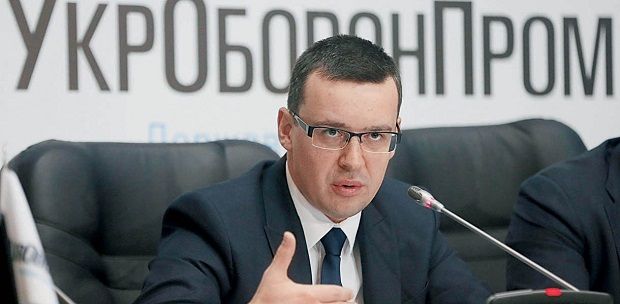 Ukroboronprom deputy chief: Javelins are a myth from action movies
09:00, 18 September 2015
9 min.
760
Interview
Serhiy Pinkas, deputy chief of State-owned Ukroboronprom, which unites major defense industry enterprises, has told about supplies of military equipment to the ATO zone, integration of Ukrainian arms industry with NATO, and connection between Porsche, Mercedes, Audi, and Ivano-Frankivsk-based Karpaty factory.
Earlier this year, the state concern announced more than 60 competitions for the posts of directors of controlled companies. Almost half of them have already been completed. How do you assess the results of this process?
There is some disappointment. Yes, indeed, part of the competition has been completed, and directors were appointed. But to be honest, I expected that we would see the inflow of young people, considering that we had simplified the selection conditions. On the contrary, we have mostly seen managers close to retirement age.
Have you checked the information from the contenders' CVs?
Of course. This was the reason for most denials. This is the negative side of the process.
But there are also positive sides. There were a certain number of candidates who are not yet ready to become leaders, but they could be part of our team. We decided to take such candidates for training.
What are the challenges the new leaders are facing?
Attention is drawn to the financial performance of the company - the yield, profitability, financial plans for the next period. The second task is performance of defense contracts. The third issue is the preservation of the team, full payment of wages and taxes.
It was reported that directors at the Kharkiv-based Malyshev plant and Lviv tank plant were dismissed for failure of defense procurement schedules. What is the situation now?
Two Dozor [Dozor light armored vehicle] prototypes have already been delivered from Lviv to our troops. By the way, they actually drove, without being towed, to the training site across the country. There are certain requirements of the customer - the Defense Ministry – regarding some spare parts. So, we, amend technical documentation, and all problem issues are resolved in the course of the testing. The plant is ready for mass production. We could actually start the production right away, but it doesn't make sense as far as we have no full conformation with the Army yet.
How long do you think the testing will run?
They started a month ago. According to preliminary estimates, it should be October or early November.
And what is the situation with Oplot tanks? Earlier this year, the concern management announced upbeat production plan of 40 tanks per year...
I can't say it's all rosy and easy with Oplot production. There are difficulties. On the other hand, a year ago they were not produced at all. Today, we already have a series.
About how many talks are you talking about?
I do not think that would be reasonable to say an exact number, because we have Oplots both in the defense order, and in a number of export contracts. We have already purchased metal for manufacturing a large batch of Oplots. The situation with the supply of components has also improved. In short, the pace may not be the highest, but let us live to see the end of the year, and then we will give official information.
How are things going with an export contract with Thailand considering existing problems?
As of today, we have met the interim deadline for supply of five units. The next deadline is December 31.
STUGNA BETTER THAN JAVELIN
In May, the president set a goal for Ukroboronprom management to make Ukraine one of the top 5 largest arms exporters in five years. Given that our primary reserve is the Soviet-era equipment, the question arises: How can we compete with the European partners to get to the top?
Weapons are just part of defense products. Let's take AN aircraft. What is the difference between its military and civilian version? Only the internal characteristics. How many aircraft was produced at the Antonov design bureau in recent years? Almost none! Aviation industry is certainly among those sectors we can compete in. We still have an almost completely closed production cycle. It's difficult to calculate the volume of this niche today. For various reasons, Antonov used to abstain from expanding; it did not enter into relations with any Western companies and, accordingly, it saw no new orders.
But what about the other areas of Ukrainian defense sector?
Take armored vehicles. Dozor armored vehicle is almost four times cheaper than any U.S. or European model of such type.
What is the estimated price of Dozor?
I can't name a price, because it varies depending on the contract. But I can say that our nearest competitor costs EUR 350,000. Again, the positive thing is that we have a hryvnia product, while we sell it in foreign currency.
BTR-3 and BTR-4. It's also modern equipment. Even the head of the National Security and Defense Council said after the inspection that we don't have anything better than this technology. Besides, we have Oplot tanks, high-precision weapons: Stugna, Korsar, and Kombat missiles. In technical specifications, they even beat U.S. Javelins, while they are 10-15 times cheaper.
However, everyone in Ukraine is waiting for Javelins...
You know, it's a type of an action movie legend. It's just that Stugna was not produced until recently. When we gave our missiles to be tested by professionals, they were super excited, asking whether it is possible to increase their production. We said, of course, it is possible. Luch Design Bureau has now boosted their production to a maximum.
What else can get into the export list?
There are the most unexpected positions, for example, cars. Porsche, Mercedes, and Audi are good cars, aren't they? Did you know that the electric components for these brands are produced at our Ivano-Frankivsk-based Karpaty factory? They make the whole electric sets and sell them to their foreign partners. I've asked the factory director, whether they can produce wiring for Dozors. He says they can't. It turned out that they just have not included Dozors when developing technical documentation.
We also have optical and firepower upgrades for combat modules. Shkval combat module. You can take any armored infantry carrier or multi-purpose light-armored tracked tower and set up this module. And the price of Shkval is much lower than any Western analogue. However, this product is now being finalized.
We are not only talking about the products of Ukroboronprom. Ukraine-made weapons are sold abroad through our special exporter companies. And at the same time, we also earn on these deals. Even helping related businesses to develop, we are able to develop the whole group.
The philosophy of the approach to exports has also changed. Previously, we just took some tank, no matter in what condition, sell it and make some money. Now we can provide upgrading services. There are countries that can't afford new hardware, so they will buy older equipment. For example, it's the Eastern European countries that have joined the European Union.
Drones, which are now being developed at our facilities, are much cheaper than the Western types, and there's a 100% probability of high demand.
The needs of the internal market and the situation in the country are another thing. Most of the products that will be produced in the next few years will remain in Ukraine.
The importance of competition in foreign markets with Russia was named one of the reasons for the need to maintain exports even in wartime...
How can the market be conquered? First, due to the most modern production facilities. I must admit that we do not have them now and they won't emerge in the near future. Second - due to certain market conditions. So, we came up with something unique like Stugna. I am sure that this niche is not going anywhere. And the third – due to taking advantage of problems that a competitor has. Russia is now under sanctions, and we understand that they are our main competitors in our core markets. For example, take the aircraft manufacturing and repair. It is also developed in Russia, but given the fact that Russia is under sanctions, a number of aircraft equipment is ready to be brought to Ukraine. There is an Aviacon plant in Konotop [Sumy region], where helicopters are repaired. Almost all enterprises in Eastern Europe have signed contracts with this plant, instead of going to Russia. This is their position of principle, so the plant is in overload mode, and is constantly expanding.
Let's go back to one "export item." It's  BTR-4 APC. There was a scandal regarding the supply of defective APCs to Iraq. How will this situation affect the potential interest of foreign partners in the Ukrainian hardware?
"As for the Iraqi contract, unfortunately, the picture was obvious. APCs were delivered and they just did not drive. What happened now is that our hardware was tested in combat in the east of Ukraine. It may appear cynical, but in terms of competition it is very important," he said .
The second point is transition to NATO standards. Our major enterprises received ISO 9001 certificates, which gives us the opportunity to be represented in foreign markets.
Another question on the quality of BTR-4. If you look at how it is assembled at the Kharkiv plant, it looks like an anthill. There's a large number of people in a very small area. We are now solving the issue of new production capacity.
With the increase in the production of these APCs another problem arises. The body has been manufactured at one particular private factory. When we needed few APCs, there was no problem. The APC bodies were brought and sold to us. We estimated that the cost of manufacturing them at our own production capacities will be 2.5 times lower. We have experimented with manufacturing them from metal that had undergone all necessary quality tests. This makes it possible to save on costs and produce more of them.
RELATIONS WITH NATO
Regarding Ukraine's integration into NATO. Earlier, the group's management stated that this process will take three years. How will this affect the structure of Ukroboronprom, the defense industry and the Ukrainian army in general?
We can't look at Ukroboronprom as a company isolated from State. Today, the vector of Ukraine's development is clear – it's toward the European Union. We have also removed restrictions on membership in any alliance. NATO is a prospect for us. We really like the example of Sweden - they are not members of NATO, but they have all brought under NATO standards. If you look globally at our opportunities in this cooperation, you can see that back in 2014, Ukroboronprom was mainly engaged in repair works. In 2015, the focus has shifted towards modernization and new technology. But it is necessary that the State clearly shape our development program. We have plenty of armored vehicles in production today: BTR-70, BTR-80, BTR-3, BTR-4, plus Dozor, armored infantry carriers, and multi-purpose light-armored tracked towers.
But half of the said equipment is obsolete...
If it was decided at the state level, what format does the army transfer to (for example, the BTR-4 format), then the rest of the equipment could be sold or modified. The APCs must be compatible with NATO standards in terms of communication system, combat power; it also has to correspond to NATO calibers. It's also about thermal imagers and crew protection.
For example, there is a T-72 tank. In Poland, it has NATO standards, in Ukraine it doesn't. There is only one difference - the caliber of its barrel. If you take all the rest, these are two identical tanks. But today, we must honestly say - we only have large amounts of Soviet-era ammunition in stock. It would be wrong to give up on it. On the other hand - what is easier: to make 300 tanks or order 300 tank barrels?
In the beginning of this year, the management of the group reported that Ukraine will establish its own production of artillery barrels...
We already have 120mm mortars made at Mayak plant, which are now being tested. It's impossible to produce large-caliber guns in current circumstances. We simply don't have such technological capabilities. There is one plant, we made an order and we have the first batch arrived.
What is this plant? Is it not part of the group?
This is a private factory. By the way, it produced a barrel for a 120 mm mortar which was praised by the military after testing.
Can this company provide NATO-standard barrels for T-72 tanks?
Yes, there is no problem. We have a choice: invest some millions of dollars in a new plant, or order from a private company. We are now at the stage of formation of the required product catalog. That is, any private trader can take a catalog and offer production of concrete products. And due to this, we can move forward.
Are you working with such companies only in the format of private partnership, or is there a prospect of their involvement as part of your group?
There is no sense in doing it. Private companies may engage in different types of business. It may, for example, sell wheat, or engage in cargo storage, while also making guns. Only nationalization can be a form of involving private companies in the structure of any state-owned enterprise. On the other hand, even at the minimum profitability private companies will realize that they have a steady package of orders from the State.
Continuing with the NATO topic. At the beginning of the year, Ukroboronprom got access to the logistics catalog of NATO for the program of import substitution. What are the results?
Access to the catalog was given to a number of our companies as an experiment. For example, there is some node that was previously produced in Russia. We know that it is not produced in Ukraine, and it is unknown in what other places it is manufactured. In this catalogue you can enter the item code and get a list of all manufacturers. We are actively working on the program of import substitution, and 30% of the plan has been fulfilled. Now we have something that used to be produced in Russia now manufacture in Poland, for example.
PRODUCTION PLANS
This year, Antonov aircraft design bureau was handed over under Ukroboronprom's control. Are there any other companies of the defense industry, which can enter your group?
The State sees us as a better owner than the other structures. In addition, handing over of some companies under our control was not only associated with the concept of efficiency, it was also logical in terms of production cycle. For example, the aviation industry was earlier divided into several parts. Antonov used to be under the Ministry of Economic Development, while the bureau was at the same time dependent on our design institutes. We gave the companies involved in servicing engines for Antonov. So, it turned out that it's impossible to move anywhere without merging.
How is the 2015 state defense order fulfilled?
We are moving on schedule. In terms of new and modernized equipment, we have at least 50% fulfillment, because the contracts were concluded in March-May, and their completion is due in October-November.
Ukroboronprom has no systemic problems with the implementation of schedule of repairs. Almost every week, the process is monitored by all services - from the prosecutor's office to the Presidential Administration.
What is the situation with the plans for 2016 and further development of the group?
Unlike last year, in a few months we will get a program of development of the defense industry, weapons and military equipment, which will facilitate our task. Today we have a number of factories which are engaged in repair of military hardware, but they could be restructured to perform modernization services. We haven't done it yet just because we don't understand whether, there will be demand for, let's say, BTR-70 tomorrow.
Ukroboronprom will probably not live long in its current form. We are drawing a prospect of clusters. We want to go the way of combining core businesses in several conventional "Ukroboronproms," to deal separately with aircraft, armored vehicles, etc. Cooperation will be set up between them, so that they move in the same direction.
Vladyslav Shvets (UNIAN)
If you see a spelling error on our site, select it and press Ctrl+Enter