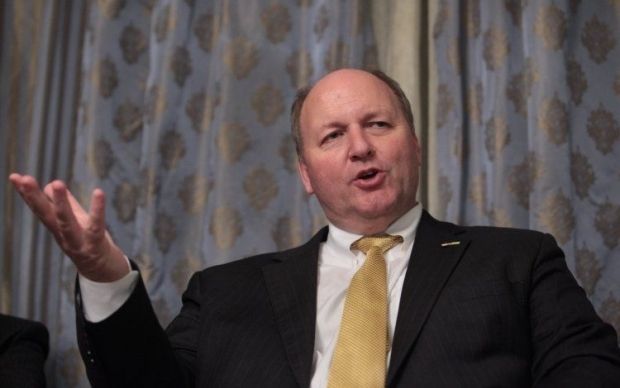 Westinghouse CEO: We are ready to put our fuel in all of Ukraine's NPPs
14:57, 28 October 2015
6 min.
380
Interview
Ukraine is expanding cooperation with the world's biggest nuclear fuel producer, Westinghouse. President and CEO of the U.S. industry giant, Danny Roderick, has told UNIAN, what opportunities he sees in the Ukrainian market, whether his company may substitute the Russians in Ukraine, and whether there is any sense in completing construction of the new power units at the nuclear power stations, and a plant for production of nuclear fuel.
Westinghouse Electric Company LLC is a U.S.-based nuclear power company, founded in 1886 by George Westinghouse.
The company has been operating in Ukraine for nearly 15 years. Today, it remains the only nuclear fuel supplier to Ukraine, alternative to Russia. The test batch of Westinghouse fuel has been put in one of the power units of Yuzhnoukrainsk nuclear power plant (NPP) and has already been used for a year. State-owned Energoatom plans to also put this fuel in Zaporizhia NPP.
An UNIAN correspondent met with Westinghouse chief Danny Roderick during his Ukraine visit as part of the delegation led by the U.S. Secretary of Commerce Penny Pritzker.
You came as part the official delegation led by U.S. Secretary of Commerce Penny Pritzker, What is the purpose of your visit?
I've met with the Ukrainian delegation in Washington D.C., and that's a follow-up to that delegation. As I've been working here over the last several years and as Westinghouse has been here actually for several decades, it is important that I've seen a lot of change, and I continue to see things improve over the last several years… If the commerce continues to improve here I think you'll continue to draw investors. That discussion we had today about the need to stay in the IMF that it takes discipline and I understand that's hard for people. But you made a lot of progress and that's going to draw international investors, like Westinghouse, to be able to make long-term support in the country.
Ukraine is ready to use Westinghouse fuel in Zaporizhia nuclear power plant. Also, your fuel is already being used in one of the power units at Yuzhnoukrainsk NPP. Could you elaborate, how well the usage of your fuel is going right now?
It went perfectly. What we have installed here is a culmination of a lot of experience of Westinghouse over the last 50 years we've been making fuel. Over half of the world's reactors are based on some form of Westinghouse technology. We make more fuel than anybody else in the world… The extension that we make the fuel for Ukraine is something that we took very seriously. We are very pleased with the technology. It ran, and we've inspected it… It performed extremely well. So the Westinghouse product that we put out here we're ready to deploy across the rest of the fleet, and we're very excited about putting it in more and more reactors here in Ukraine. We can put them everywhere. We're certainly working with the Czech Republic, with Bulgaria, and everywhere that there's VVERs [VVER-type reactors].
Does Westinghose have a target for the market share it would like to achieve in Ukraine?
I think that's when it's up to the customer. We have to produce a product that is high quality and competitive in price. As long as we continue to do both of those, I think we'll continue to gain market share here. And this is true around the world, you know. The number one reason we're the world's largest fuel manufacturer is because the quality of our fuel.
Is your fuel better than Russian?
I'm not to judge, that's what the customers judge. What we do is we take all of our engineering experience and our technology, and we put that together for all the different kinds of fuel that we make. We put that into the best technology product we can and deliver it. The results always end up speaking for themselves when you look at the performance. Our fuel, if you look at true performance results, has outperformed most of our competitors.
In a very short period of time, Ukraine has diversified its natural gas supplies and decreased the amount of gas it imports from Russia. But in Ukraine's nuclear energy Russia still has a monopoly status.  What do you think hinders Ukraine's diversification of its nuclear fuel supplies?
I think we're on the first step of the journey. Two years ago we had nothing. Now we have one unit, and another set of units starting, next year we'll have five units… We're making progress. This fuel diversification is very important for the entire government.
In your opinion, how diversified a country should be in terms of nuclear fuel supplies?
In most countries we compete constantly for the fuel supply even if we build a reactor.This is a start. In addition to fuel, there are other things that also we think should be diversified. Even in the support of the plant. We very much want to work with the Ukrainian companies to bring global technology to them so that they can deploy it into these plants. What that would do is we believe if you look at the relative opportunities to improve the performance of a [nuclear power] plant, those are the cheapest Mega Watts that can be provided to the people of Ukraine.
***It's about enhancing the initial projected capacity of nuclear reactors, which allows increasing volumes of electricity production. There are programs providing for enhancing capacity of power units by 4%. As usual, such procedures are carried out without re-equipping the nuclear reactor.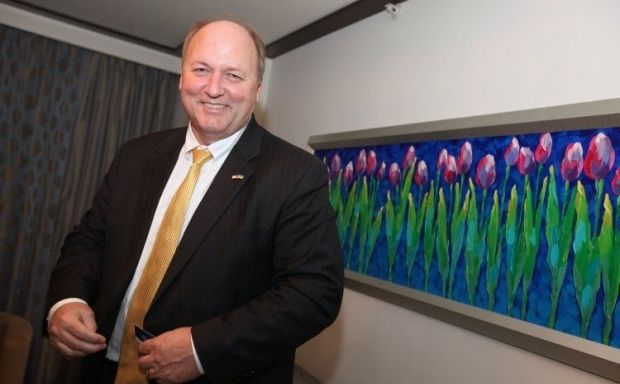 Photo from UNIAN
Ukraine does not have its own nuclear fuel cycle. Most of the services in this regard are provided by Russia. Does Westinghouse see itself as part of this cycle?
We want to be in that whole dialogue. We want to be a full service partner for the things that we can add value to.  There are some things we don't do, but for all the things that we do, if we can add value and it helps in that fuel cycle, we want to participate.
As you may know, Ukraine recently denounced its agreement with Russia on constructing two power units at Khmelnitsky NPP. Should Ukraine complete the construction in the near future? Maybe, your company will be interested…
I think that the most important thing right now to Ukraine is to fulfill the rest of the IMF requirements and get its credit and get financial things in order. You made great progress. And I think now it's not the right time for that discussion. I think that right now the right discussion is about getting the most electricity out of the existing plants you have and this is where I really think the focus should be. And then, down the road a few years, as the growth is expected to go up 2% next year, and you're starting to see economic growth, and your financial situation improves, and the industry starts coming back, that's when I think it's the right time to talk about it.
We have a similar situation regarding construction of a plant for production of nuclear fuel, which we intended to complete in partnership with Russia. Today, the project is suspended. Is it worth for Ukraine to complete it?
We have a lot of fuel plants around the world, and so do some other companies. A lot of the fuel plants are struggling financially right now, and the ones that are doing well are the ones that are completely full on capacity.  The key is that if we decide to build one, than it almost has to have so much capacity… It would take more than just Ukraine's supply. It would have to be building for other places, in addition to Ukraine. So when the time is right to consider that we would also need to consider the other fuel types that we build in that facility.
What about your plant in Sweden? Is it working to full capacity right now?
Our Sweden plant is working probably in the neighborhood of 65% to 70%. But right now the fuel plants in Japan are all offline, we have plants in the UK that are on reduced load…
Where do you see the most competition for Westinghouse in terms of global markets?
The biggest growing market is obviously in China. The competitive markets right now, I think, are still in this part of the world right now. We're seeing a lot of competition in what used to be Eastern Europe. They are still trying to figure out how they want to replace their old energy sources in countries like Poland, or the Czech Republic. Those countries try to figure out how they're going to replace their energy resources to satisfy the carbon taxes from the EU. Those are going to create a lot of competition.
Talking about Eastern Europe, don't you think that it's time for Westinghouse to be more aggressive when entering this market where Russia is also active?
We went head to head in bid against Russia in the Czech Republic. At the time the tenure was cancelled we were ranked Number One. That was the first time in history that we'd actually been head to head with Russia. What it told me, as the CEO of Westinghouse, was that if we are given a fair market, in pricing, commercial, quality and technical terms, we have the ability to win a bid.  And that's a private company competing against the government-owned Russian company on a level plain field.
Part of Ukraine's population is worried about the use of the American fuel in the Ukrainian power stations. They think of Chornobyl…What can you say in this regard?
Well, that was Russian fuel in Chornobyl, not the American fuel…
You know, Westinghouse fuel is used extensively around the world. As a matter of fact we [produce] the most used fuel around the world. Our fuel design is such that it takes in the world's most rigid standards and world's most rigid engineering from not just one source, which is how Russian fuel is designed. We take international standards, we make lessons learned from all fuel designs we make. There's never been a basis to that fear. It [speculation on the issue of the use of the American nuclear fuel in Ukrainian power units] is purely a propaganda issue.
Artem Belousov
If you see a spelling error on our site, select it and press Ctrl+Enter