Ex-minister Abromavicius: "Politics interests me, I am a curious person"
11:00, 25 April 2016
11 min.
287
Interview
The former head of the Ministry of Economic Development in an interview with UNIAN said that he will stay in Ukraine and that he is interested in politics, ready to help the country in the development of civil society.
Aivaras Abromavicius was one of the "foreigners" in the Cabinet of Ministers of Arseniy Yatsenyuk. In December 2014, he became head of Ukraine's key ministry. The author of the term "regulatory guillotine," which sparked ironic comments by President Petro Poroshenko, has worked in the government for one and a half years, and then he left.
The final step of Abromavicius at his civil servant's post was the recommendation on appointment as CEOs to Ukrzaliznytsya [Ukrainian Railways] and Ukrposhta [the State Postal Service] of the businessmen wit experience in leading the Western companies, one of them – the Polish reformer of railways Wojciech Balczun.
The newly appointed Cabinet led by Volodymyr Groysman  has already supported this move. Abromavicius was notably enthusiastic about the actions of his successors.
Aivaras, the new Cabinet has agreed to give Wojciech Balczun and Igor Smelyansky the authority and resources to manage the country's largest infrastructure enterprises – Ukrzaliznitsya and Ukrposhta. As a minister, you recommend these people, and they get appointed as early as May. Is this a good sign?
Undoubtedly. This is a very strong signal. I took it positively. It was a test. The new Cabinet and the new prime minister passed it easily. Well done. Well, however, a new CEO of Electrotyazhmash [the state holding, which specializes in the design and manufacture of turbine generators for thermal and nuclear power plants and mines] was "lost" somewhere along the way. But according to the procedure, after the decision of the Nomination Committee, the regional state administration in the area where the company is registered must also give its consent. Vitali Klitschko as the mayor of Kyiv very quickly agreed the nominations for CEOs of Ukrzaliznitsya and Ukrposhta, but Ihor Rainin – Head of Kharkiv Regional State Administration [the region where Elekrotyazhmash is located] has not yet agreed the nomination. Well, maybe it took longer for the papers to get to him. I hope that this will happen soon. Perhaps as early as at the next government meeting.
Will the new people be able to do what they claim? There are plenty of plans, but it is not clear, whether it's possible to fulfill them...
If someone plants obstacles for the process deliberately, then, of course, it will be difficult.
What kind of obstacles are you talking about?                                                                                   
Appointing the winners of staff competitions is one thing. But let's see whether they will be allowed, for example, appointing their deputies, form their own teams. For example, the previous director of Electrotyazhmash had 15 or 19 deputies. They represented  all clans, parties and groups interested in the enterprise. It is clear that all of this must be cleaned up, these people must go.
What other obstacles can there be?
The law enforcement agencies – from the Ministry of Internal Affairs to the SBU, the prosecutor's office... It is necessary that law enforcement authorities be strongly advised not to interfere where they objectively can't help.
Wait, but Interior Minister Arsen Avakov at one of the last meetings of Yatsenyuk's government advocated most vigorously the appointment of new people to the state-owned companies and noted the fact that there is no mechanism to fight those who slows down the update process of updating the top management.
That's right, but I still get from the newly appointed CEOs the lists of problems that they face. The already dismissed top managers still have opportunities to penetrate the state companies to conduct all sorts of subversive actions – from direct ones like cutting power to production facilities to targeted dirty PR. There are plenty of tools and examples. Of course, if there is a political will to overcome everything, then it all can be overcome.
But how?
It's worth doing in a centralized way – using communications offices, which would coordinate all the work, and help in resolving various issues. Most of them are actually similar. There is no need to invent anything special, the key structure is already out there. We have established an effective management Office, BRDO, in which the "godmothers"  are my deputy Julia Klimenko and Ksenia Lyapina (head of the State Regulation Agency). BRDO is funded with grant money and works on the same principle as the similar office with the UK Government.
Should we expect more staffing wins of the Cabinet in the near future?  Ukrspirt and Centrenergo are in line, aren't they?
Here the situation is more complicated - the courts have blocked competitions. Nothing is impossible to predict. But we can talk about other state-owned companies. We have 1,824 of them, and the top management must be changed in all of them, too.
Besides personnel issues, what would call a priority for the new government? What should be the subject of special attention?
Today, everyone understands that the biggest barrier to development - is corruption. The economy can't show a major breakthrough given today's corruption component. That's what should be in the focus. I believe, reducing the role of the state in the ongoing processes may allow solving this problem. How should this be done? Through privatization and deregulation. These two topics that have been and must be a priority.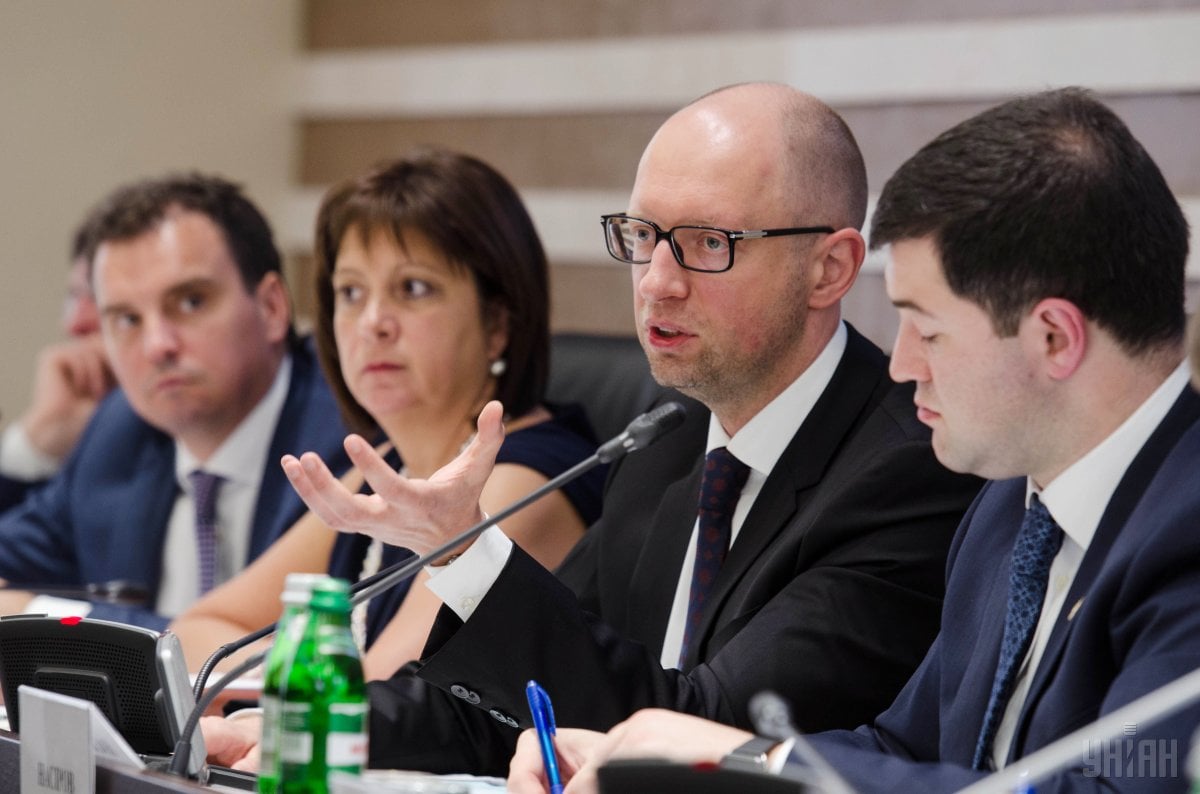 Aivaras Abromavicius, Natalie Jaresko, Arseniy Yatsenyuk and Roman Nasirov / Photo from UNIAN
But your Cabinet had the same tasks as well, and all of them stuck in Parliament at the stage of discussion...
That's right. The Verkhovna Rada has accumulated more than 40 bills on deregulation alone. At some point, we realized that the Cabinet will not be able to have them passed in the Rada. This would last too long – for various reasons, including political motives. But there is a solution. At the end of my cadence, we started using the other way to get the needed result – through the aforementioned BRDO office. It has a powerful enough expert staff. Their legal assessment in conjunction with the government and deputy initiatives give the desired effect.
However, over the past two weeks, President Poroshenko repeatedly reproached your team is that many tasks remained unfulfilled. "Regulatory guillotine" which you had announced  did not fall upon the heads of bureaucracy. How did you react to criticism from the Head of State?
It seems to me that we have done a lot, anyway. Frankly, I'd like to see how other ministers will deal with the deregulation in the current situation. Over the past four months, the Parliament has not adopted any government bills on deregulation. Let's see how the Rada will be voting in the future.
And I would like to recall that Ukraine has already witnessed several attempts to set up a "deregulation guillotine" – in 2005 and 2010. My team and I – we were not pioneers. But it was we who accomplished the most with the tools we had at our disposal.
In this context, I would also like to point out that any abolition of any norms implies some kind of inventory process, to understand what we have. And the "regulatory guillotine" is no exception. To carry out deregulation, we had to study around 14,000 existing regulations. According to our foreign partners, to reread and reconsider this array of data, it would require at least three years of work and about $10 million of loan funds. To get the $10 million for the "regulatory guillotine," we would have to go through more than 20 different procedures, including the approval of the loan in the Verkhovna Rada. In order not to take a loan and go to the parliament, we have come up with another way to start the process: we've found grant money in Europe. And have set up a BRDO office, which now performs, among other things, functions of evaluation of regulations and the development of amendments to the legislation.
Prime Minister Groysman is also creating his office – a reform support council (or 'office'). It will be headed by Ivan Miklos. Were you offered to work there?
I was not invited, and there were no negotiations with me. I think this is a good initiative. Of course, advisers are needed. Due to the attraction of people with expertise, we can implement the most advanced ideas in many areas. The main thing is for this new group not to become a "set of big names" who gather rarely and is not counted with.
In addition, it is necessary to understand something else: there must always be people to actually follow the advice. The working hands are needed as always. It's fine to give pieces of advice, but the advice alone is not a panacea.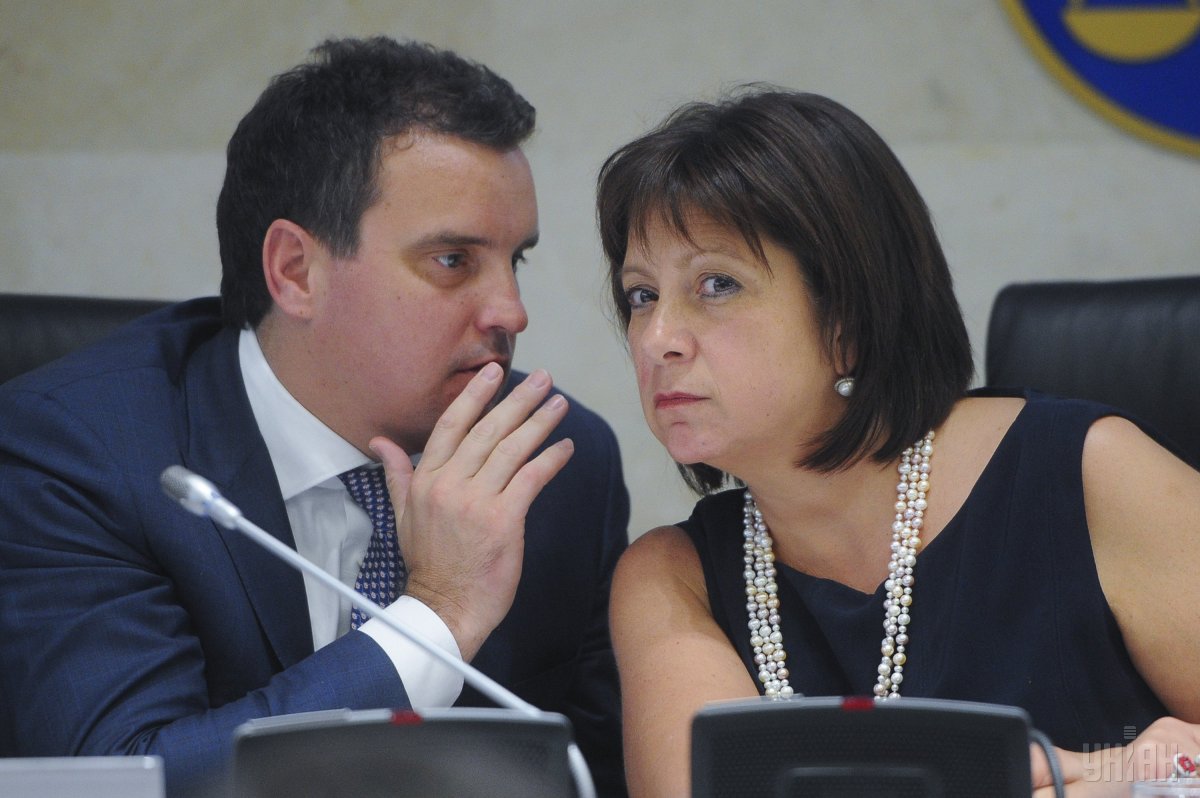 Aivaras Abromavicius and Natalie Jaresko / Photo from UNIAN
Speaking of those who need to "implement advice" I can't but mention the fact that your team has remained in office. You are not there, there are no negotiations with you, while your people continue to work there. Are you OK with this?
Why shouldn't I be? How can I be offended? On the contrary, it is yet another proof of the fact that I had set up a good team. I think this is thanks to me. We are not short of [qualified] staff in Ukraine. We just have a strange staff selection. The attention is often paid as they say, to the wrong things.
And as for my colleagues, they are great. They have already done a lot and continue to work on their projects. How could they give up on the procurement or the reform of state-owned companies?
Do you keep in touch with your former subordinates?
Of course.
And what about your successor Stepan Kubiv? Have you met?
We have not met because at the time of his appointment, I was abroad, in Stockholm. But an hour before his presentation [in the ministry], he called me. We had a long conversation. I told him how I ran the ministry, what relations developed within the ministry. He tried to let me know that he will continue with the initiatives that we had announced. I believe that I handed the ministry over to him in a good condition, in a much better condition than that when I took office. Then ministry back then and the ministry now – is like night and day.
You used to say that it would be right for Ukraine if it had a technocratic government, and if it was headed by Natalie Jaresko. This did not happen. Why do you think it didn't?
We were close to forming a technocratic government. Probably, we should have maintained communication more actively: telling who would have joined the government, what tasks it would have had. But whatever happened, happened. And look: the current Cabinet is not dubbed "technocratic," nonetheless some decisions have already been taken – both regarding the medication market, and the appointment of CEOs of the state-owned companies. I wish such pace prevailed!
The next test will be the appointment of teams - the deputy ministers. Before we came, each minister had a "team" of deputies, who not only represented various groups and clans, but also didn't talk to each other. Each of them had their own story, was dependent on someone, had their own goals and objectives. There was no teamwork whatsoever. We started breaking these schemes. Let's see what happens next.
How fast should the new people be appointed for the country to understand that "all is going well?"
I think, it's within about three months. There is a certain protocol, so the basic requirements should be observed to the candidates and of the candidates. Let's not forget that the summer is coming – everybody wants to relax. In addition, it is not clear yet how long this government will last, whether the ministers will be given an opportunity to implement reforms. Everyone is also living in anticipation of the upcoming elections, this is obvious.
Are you ready for the elections? Are you thinking about any political future for yourself?
Let's just say I'm interested in different areas: history, politics. I am a curious person. I am concerned, why there are so many people in politics, in Ukrainian politics, who are unworthy of the country. Over the past year and a half, I have personally met a lot of good, thoughtful, patriotic people. Why are they not in politics?
Have you been called to join any political parties?
I won't be concealing this – yes, I have.
Who called you?
This I cannot say, because I have not agreed, and I am not sure whether I need to join such projects. Working as a minister was a positive experience for me, and I am ready to continue to promote our country, but I prefer business at this stage.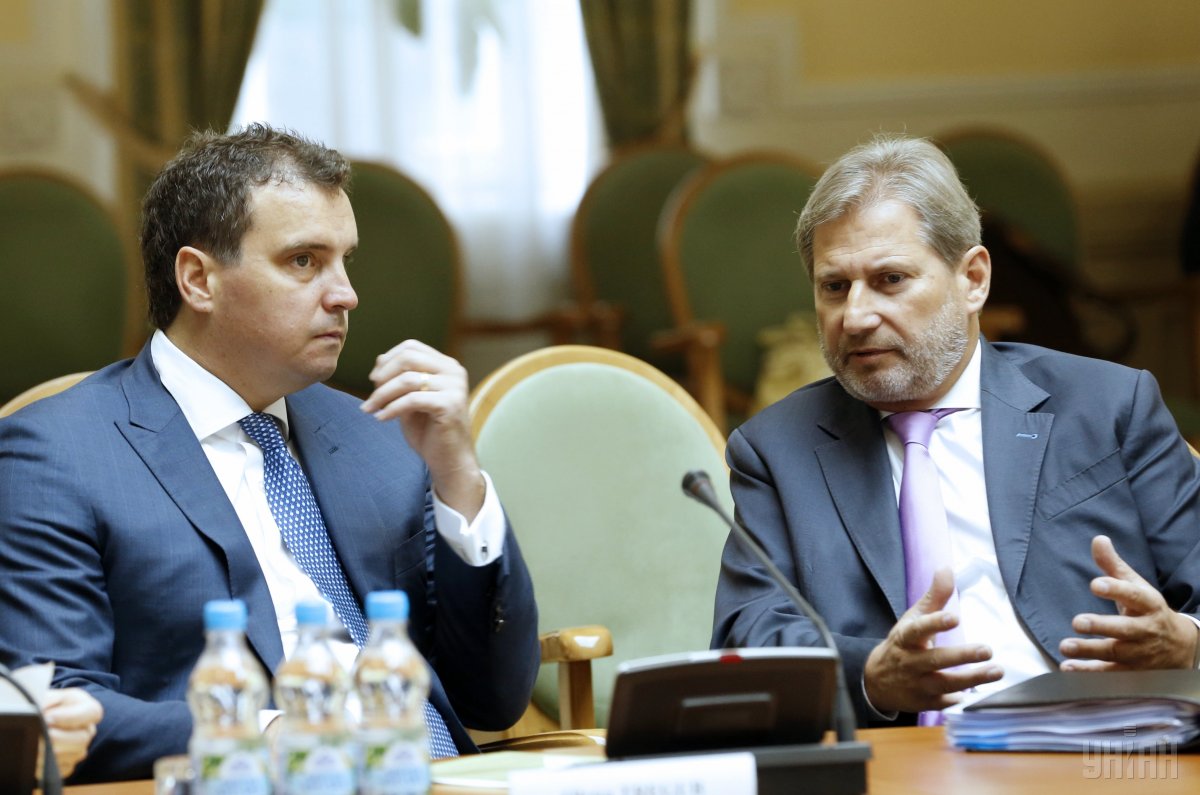 Aivaras Abromavicius and EU Commissioner Johannes Hahn / Photo from UNIAN
That is, you follow politics, but just as a voter and an ordinary citizen, don't you?
As a former minister, who felt this state machine from the inside. I have shaped an opinion what needs to be done to make it work differently.
Speaking of voters, have you retained your Ukrainian citizenship?
Yes, nothing has changed in this regard since my retirement.
And what about your Lithuanian citizenship? The Ministry of Interior of Lithuania officially considers you a citizen of Lithuania...
According to the Lithuanian law, you automatically lose your citizenship as soon as you obtain a new one. I expected that it would be this way when I was given a Ukrainian citizenship. Even though I did not ask for it, the Lithuanian state has found an exception to let me keep my citizenship based on the fact that my ancestors had left Lithuania before 1940, I believe.
Let's get back to the present days. At what stage is the NABU investigation into your charges against Andriy Pasishnyk and Ihor Kononenko [the probe was launched following accusations by Abromavicius of imposing the third people's will upon the issue of ministerial appointments], who were actually the reason you filed for resignation?
I came to NABU on April 19. Going there is already like a job for me. I signed the papers confirming that I had read two volumes of a case file on Pasishnyk. I was originally branded as a "witness," but now my role is reclassified to a "victim." Although, in my opinion, it is a state, which is a "victim" here, rather than an individual citizen.
And now the investigators are submitting the case to the court. I think that it will end with a verdict. Moreover, it seems to me that it will be completed soon enough.
Have you met Kononenko and Pasishnyk after resignation?
Yes, there was a legal procedure of "confrontation" – both with Pasishnyk, and Kononenko. It was the only time we met lately.
Did they seek to meet you? Were there any threats?
All the troubles were back in the time when I was still minister. Just one month before the resignation, my guards from the SBU reported that they had been instructed to leave and take the agency's vehicle. And this was explained by the fact that their expertise and experience are allegedly needed in the Anti-Terrorist Operation. I was surprised to see my guys later guarding one of the MPs. But it all calmed down now. I do not feel that I am in any danger.
What are your plans, what do you think you'll be doing in the near future?
I want to stay and work here for the benefit of Ukraine. After all, Ukraine is interesting. And I am willing to travel the world and tell people what is going on in Ukraine. It's OK when the former members of the government are involved in various public events, promoting some things. I wish a happy future for Ukraine, and so I will talk about this country to attract investment.
Many people are doing it these days, but only few succeed. Do you think you'll succeed?
I am absolutely convinced that Ukraine is very underestimated. Given all of our threats – internal and external ones – the amount of aid we get is very small compared to what we could be given. This amount is not comparable with the tasks and challenges the Ukrainian authorities face.
It is clear that in many respects, it's us to blame. They simply don't trust us yet. But this can be changed. Ukraine needs a Marshall Plan.
And you are ready to draft it?
I don't rush with decisions. Ideally, I would like to do business and attract investment to Ukraine, while paying my dues to the civil society as an expert.
Do you think the changes achieved by you and your team are inevitable? Is it possible for someone to "roll back" everything?
Of course, it is possible. But I do not think that the structures that we have broken – such as Ukrekoresursy company – will be restored, and the certificates that we have canceled, just like that quarantine certificate, will be re-introduced.
Of course, we can keep saying that fighting corruption is like fighting the windmills, because corruption has no beginning and no end – it is everywhere. But something has been done the right way, and everyone felt that it was done the right way. We have laid a good foundation. We have shown the direction of development.
Yes, the previous government had to take a lot of unpopular decisions. Yes, we have raised tariffs, it was inevitable, but at the same time, we implemented a subsidy program that I consider a huge success. We have given an impetus to the development of the energy industry. New production capacities, new jobs can be created in this area; it's just that the work must be started.
What would you wish to the new prime minister and the new Cabinet?
To form a team, to optimize the government's work – ideally on the Canadian model – and, most importantly, to listen to businesses and hear what they say. We must not forget about those who actually get the economy going.
My expectations for this Cabinet are insignificant because this government was formed as a result of a certain political compromise. Their credibility is objectively minimal. But this can become their advantage, they can become a surprise.
Olesia Safronova (UNIAN)
If you see a spelling error on our site, select it and press Ctrl+Enter