Dep. Head of Presidential Staff Shymkiv: 9,000 IT professionals have left Ukraine over 2 years
19:30, 03.08.2016
8 min.
526
Interview
Deputy head of Presidential Administration of Ukraine, Secretary of the National Reform Council Dmytro Shymkiv has told in an interview with UNIAN about the main directions of development of the country's IT industry, elaborating on the ways to increase the share of innovative services in the national IT market and revealing how many IT professionals have left Ukraine in recent years, why most startups created by Ukrainians are registered abroad and what should be done to change this situation.
What is the position of Ukraine's IT sector on the world map? How is our market interesting?
We see quick dynamics in the development of the Ukrainian IT industry. The export potential of the national IT business accounts for nearly 3% of GDP, or $2.5 billion. There are over 90,000 IT developers more than 1,000 IT companies and over 100 R&D centers in Ukraine. We hold one of the leading positions in Europe and in the whole world in creating innovative products, therefore investors consider Ukrainian IT market as very promising. Last year, our IT industry has attracted $132 million in investments, of which nearly a half came from international investors. Key global manufacturers, major venture capital funds are willing to cooperate with our country since it's a place where new ideas are born. Our main competitive advantage is the people, their ability to think outside the box and create the unusual. This is what innovation is.
Meanwhile, despite the obvious potential of Ukrainian IT market, last year it fell by 42% - to $1.4 billion, that's according to IDC research firm. Why is that?
Now you're talking about domestic consumption of IT – this is a matter of equipment, services and software. The situation in this area is associated with the declining GDP and purchasing power. The dynamics of the market is also influenced by the tense situation in Ukraine's east, the Russian aggression, annexation of Crimea. All these factors affect the dynamics of our domestic market. Therefore, the industries, requiring significant investments for its further development, have been shrinking.
Domestic IT market depends on investment by organizations in various industries. Given the limited availability of financial resources, the organizations attract operational capital, which is limited. In addition, not all owners are willing to invest in IT using operational funds. Accordingly, the amount of funds in the internal market available for IT distribution and services is reduced. The reduction of funds available leads to the decline in the market of domestic IT consumption. This situation is common during the crisis.
At the same time, the industry directly connected with digital technology, have been developing rather dynamically. It should be noted that the export potential of Ukrainian IT sector is growing – there was almost a 30% growth in 2015. Internal e-commerce market grew by over 50%. That's why the dynamics of Ukrainian IT market is a complex issue. IDC in their analysis only consider how much "hardware" has been sold and how much services have been consumed within the country.
What is the structure of the domestic IT market?
Unfortunately, in Ukraine, innovative services and software development account for only about 20%, while the remaining 80% is hardware (computers, machinery, equipment). For comparison: in Europe, the share of services covers more than half of the total IT market, some 55%, while hardware has only 45%.
It's high time for Ukraine to understand that we cannot buy hardware indefinitely. We must work hard to make infrastructure work and not let it stay idle. I am convinced that our IT industry is on its way to the point where the services are something that are in higher demand on the market and in the society.
Ukrainians create plenty of promising projects, but almost all of them are registered abroad. Therefore, taxes paid are paid beyond Ukraine's borders. What does the state budget get then?
In a structure of investments that are allocated for startups, the lion's share holds the labor payments – people get the money in Ukraine. And they spend the money mostly in Ukraine. Accordingly, they partially finance the domestic economy.
The projects get registered abroad because, firstly, Ukraine has an imperfect system of protection of intellectual property, copyright and investment. Moreover, international practice for IT companies is to provide bonuses to their employees in the form of shares and options -  this is something that Ukraine lacks. Corporate models that operate in the venture capital business in the West, particularly in Poland, the United States, Germany, the Baltic States and Scandinavia, are beyond our legal framework. Therefore, innovative start-ups are mainly registered in those jurisdictions where it is easier for the entrepreneurs to set up proper management of corporate property, because all companies are created with the prospect of further capitalization and sale.
What should be done to make Ukraine more attractive for entrepreneurs and investors?
First of all, we need to enhance confidence in the market. It's about the protection of intellectual property. We must understand that respect for copyright should be the same as for ordinary property. Today, the government and Parliament have already taken some steps in this direction. Ukrainians are very fond of consuming unlicensed product, but if we want to attract investment, this outlook must be changed.
Another task of the state is the promotion and development of education needed for employment in high-tech industries, where the wages are higher and working conditions are much better.
What is the average salary of employees in the IT industry and how much tax do they pay?
IT industry today boasts one of the most highly paid jobs. According to Developers of Ukraine (DOU), the average wage in the industry is $2,500 a month. Project managers and heads of divisions make some 5,000 per month. At this, start-ups are registered in the shape of small businesses or individual entrepreneurs, which is a tool allowing them to pay very little tax and still receive high salaries.
In your opinion, is it necessary to enhance the system of taxation for Ukraine's IT sector, so that the state could receive more money?
Today, IT salaries in Ukraine correspond to the European standards. If we raise taxes, the entrepreneurs will receive smaller net income, and therefore they may ultimately just move to another country that offers more favorable tax conditions. The state should find a model in which the industry will become a bigger contributor to the state budget through taxes. But we must also understand that we need to create conditions so that the industry continues to evolve.
Our politicians have several different views on this issue. Some believe that equal tax conditions should be set for everyone and all benefits should be canceled. There are also those who offer to establish super special conditions, without explaining where the budget will get a compensation for this.
Indeed, unified rules in the market will promote the creation of adequate conditions for other industries. But we must understand that the creative engineering industry has its own specifics. Today all countries are vying for IT talent, so one of our main objectives is to keep these talents in Ukraine. IT professionals get high wages, spend it, and create jobs – that's a whole ecosystem.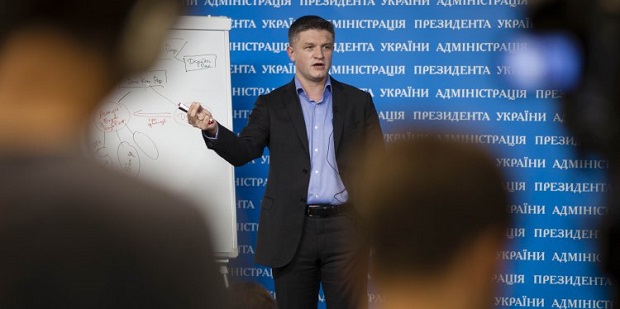 Shymkiv: It's high time for Ukraine to understand that we cannot buy hardware indefinitely / Photo from UNIAN
So what do you suggest?
Once we have conducted an experiment. We offered the IT professionals the model in which, if they register their business in Ukraine, they will pay less taxes. But through this model, the state has lost significant amounts of financial revenue from IT companies. Will these revenues increase if we raise taxes? Yes. But will the industry keep growing in Ukraine at the same pace? I'm not sure it will. So I am very cautious on this matter. We have an actively growing industry that is significant for the country. But at the same time, it is very mobile. IT professionals have no factories, land, ports and so on, which would keep them stuck to some certain place. They can just get up, move somewhere and settle there. And believe me, we are now in a global competition for talent. Over the past two years, some 9,000 IT professionals have left Ukraine. This is why the state should be aware in its race for filling the state coffers not to incidentally kill the goose that lays the golden eggs. There should be precise calculations. We must find a compromise. We must stop looking at the current state of the economy through the eyes of 1960's or 1970's. We must look at it through the eyes of the XXI century.
Some MPs propose to establish a single central body which would deal with the development of the IT industry. This can be either the ministry or the agency. What do you think of this idea?
I support it, but this is not really the thing. We should have one institution which would take care of the development of modern technologies. This applies to both the industry and the issue of building the information infrastructure, or e-government. Using modern technology within the state will contribute to the optimization of any structure. And in order for this position the state on the use of these technologies to be coordinated, it is necessary to have a single body.
The amount of online services that the Ukrainian state offers to its citizens has been growing continuously. What should be done to fully switch to e-government?
First, a single system of citizens' authentication should start operating. We don't have it yet. When it starts operating, we will be able to talk about the launch of certain services, such as getting online certificates or any information through an online resource.
Another important question is where data are stored, and who protects these data. The views on this issue in the government circles are divided. I belong to a group that believes that the state does not need to reinvent the wheel, and it would be best to use global services from reliable and certified providers. For example, the construction of a data center costs around $20-25 million and takes an average of one or two years. That is, the construction of the state data centers is a very expensive and long process. At the same time, we could use ready-made solutions that are available today from worldwide industry giants and Ukrainian data centers. This way, we wouldn't need to waste time and money on state infrastructure. The success of a Prozorro system [of e-procurement] was due to the fact that it had not been created by the state. Had we been building it at the state level, it would have still not been completed.
What bills for the development of the IT industry do you consider a priority?
First, it's the bill on the use of cloud technology. I don't mean that state institutions must be obliged to use them. I propose to give the right to those officials or heads of departments, who seek to use modern technology, to do this with full responsibility for such decision. Another priority is a bill on electronic communications. It concerns the Ukrainian regulator, the prospects of introducing 4G and 5G, and so on. This is a very important bill that defines how a regulator should be created and financed, etc.
Other laws are related to the protection of intellectual rights. And we must understand that it is not the international companies, Americans or anyone else who needs this, but us – if we want to have a strong creative industry, which makes money on royalties.
Now the Ukrainian IT market is experiencing a serious problem – searches in IT companies that have received wide publicity. How can this situation be resolved in the legal framework?
The bill was already drafted to address this issue. It has been submitted to the Verkhovna Rada, and the Ukrainian president supports it. The problem is that our law enforcement agencies do not understand how digital technologies are working. When they come in search of specific information, they do not even know where to look for it – on some server or maybe in the "cloud." Why seize the equipment and thus paralyze the companies' operations? Besides, there were many interesting cases when security forces seized the companies' servers and it turned out that the owners used virtualization and encryption. So, the server is seized, and then the law enforcers sit there scratching their heads, how to read the data…
The question of expert analysis of equipment or technology systems used in criminal proceedings is a complex subject. Given the global and Ukrainian cyber security, this is quite an urgent issue, and seizure of servers does not solve the problem. Moreover, there were reports of misconduct of law enforcers, when privately-owned hardware was seized from people who have worked in organizations. There were no apologies so far.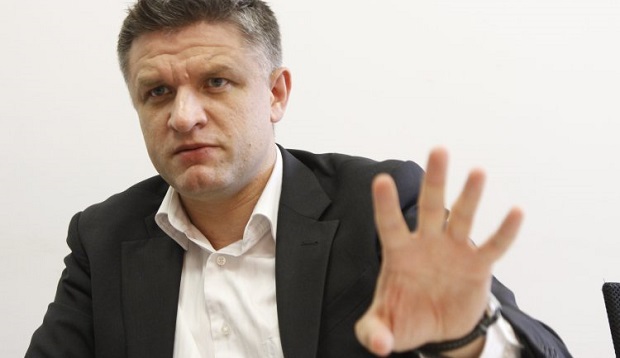 Shymkiv: The State does not need to reinvent the wheel / Photo from UNIAN
What are the prospects of the Ukrainian IT market in the medium term?
The dialogue with the State is always a long process. Each of the said bills treads on someone's interests, so we have to fight. But I am confident that the industry will develop. Digital technologies are moving very quickly. Ukrainians are among the key developers on the world map of engineering and inventions. I believe that innovation in space exploration, robotics and 3D-printing is our future.
A year ago, my friend showed me a project, which virtually repeats the model of a Pokemon GO application, except that there were no pokemons involved. This model was a product of a team that works in Ukraine. Unfortunately, they failed to find proper funding and that start-up did not get a ticket to the future. But this is a concrete example showing that the ideas, which capture the world's attention, are born in Ukraine.
When will Ukraine become a digital state?
We have done much in this direction, but not as much as we would like. We created a bunch of services, we start introducing them, we experiment. Creating a digital state is a very long process. Many countries in the European community moved much slower on their way than we are now. So everything will be fine, and all the difficulties that we have been talking about can be overcome.
Nadia Burbela (UNIAN)