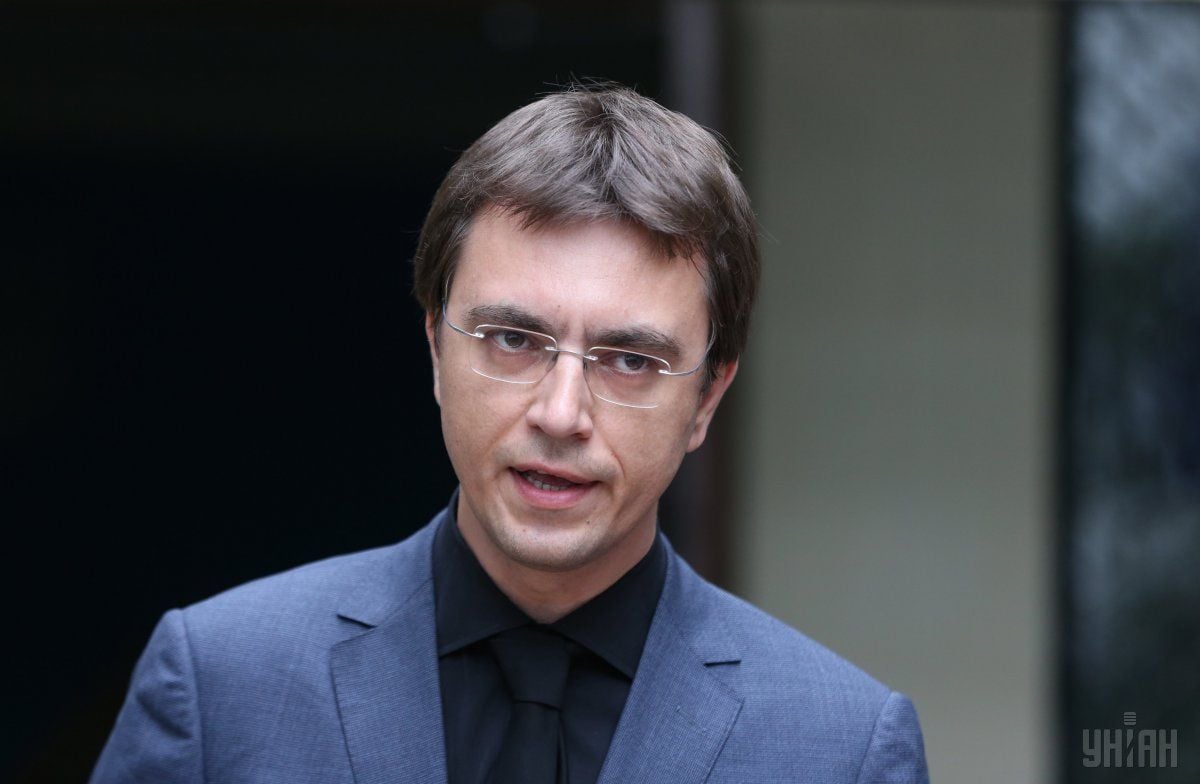 Infrastructure Minister Volodymyr Omelyan: I have a lot of "why's" to Ukrzaliznytsia
19:40, 13 October 2016
473
0
Interview
Ukraine's Minister of Infrastructure has told in an interview with UNIAN about projects that will see funding from a $1 billion loan, plans to increase rail fares, and performance of CEOs of Ukrainian Railways [Ukrzaliznytsia] and Ukraine's State Postal Service [Ukrposhta].
Volodymyr Omelyan was appointed Minister of Infrastructure April 14 on the quota of Popular Front faction. Until that time, for almost 18 months as Deputy head of the same ministry. Mr Omelyan has been in the civil service since 2000 and starred in various ministries, including the Foreign Ministry, Ministry of Economy, Ministry of Environment, and the Finance Ministry.
He says one of his current priorities is corporatization of Ukrzaliznytsia and Ukrposhta as well as the reform of road and maritime industries.
Mr Omelyan, you have been in office for almost six months. What can you recon as your success and what issues are being resolved the hardest?
Time is running really fast. During this period, I was able to secure the appointment of new CEOs at Ukrposhta and Ukrzaliznytsia, selected in transparent competition, as well as to launch a competition for the selection of the head of Airport Boryspil. Today we already have 25 candidates for the post, and the selection is to have been completed by the end of October. I have plans to make the IT revolution in the ministry through introduction of the ERP (Enterprise Resource Planning System), which will allow online control over what is happening not only in our ministry, but also in state enterprises. This is a large-scale project that has to increase significantly both the operational efficiency and accuracy of data.
Among the things already done, I should note that we were the first ones to launch a technical office for reform with the support of the EU, and now it is already operational. We finally launched the procedure for the use of European sectoral funds that will be allocated for the purchase of 80 systems to control overloading on our roads, repair of shipping locks, and the introduction of an electronic system both in the Ministry and in SOEs under our control. In addition, the Ministry of Infrastructure is planning to renovate the most problematic areas of shipping locks along the Dnipro River at the expense of this UAH 105 million. This is the first time such sum is allocated for repairs. I hope that the other tranche will give us an opportunity to disburse more and to finally put an end to this problem.
When will the overload control systems be purchased?
First, we need to get the approval of the Ministry of Finance. Then we will meet with specialists from ProZorro e-procurement system's team, the Ministry of Economic Development, also inviting potential manufacturers of this equipment in order to discuss all tender conditions and successfully hold a tender so that we don't see any scheme to favor some particular company, because there have been such attempts, indeed. It such conditions satisfy all parties of interest, we will make them public and launch the procedure.
It should be noted that roads are being constructed. The efforts of the previous government aimed at determining the sources of financing of road repairs are already giving result this year. It's been a long time since so many roads were being repaired at once. Undoubtedly, there are many problems, most of which are of a legislative nature. We are working to resolve them, trying to eliminate the shortcomings of the Soviet-style road management. In addition, there are problems with the reluctance of some companies to absorb such funds, with low quality, problems in local management. Unfortunately, the head of Ukravtodor [SOE dealing with road management] has not been appointed yet but I hope that this issue will be resolved soon, as early as October. Although I thought it would be done earlier.
Who is hindering the process?
Let's just say, there is an ongoing political debate. But if there was no appointment, then there are reasons for this. Perhaps someone is OK with the status quo we have today, when the company has no CEO appointed.
What are the ministry's legislative initiatives to promote reforms in the transport sector?
We have seen significant developments in the legislative process. In particular, we are working on a batch of bills on road reform, and I hope that in November, the Parliament will hold an "infrastructure day", when we will be able to have the MPs consider some of the key laws on roads, inland waterway transport, and railways. We are currently finalizing the document, because in the end we want to have systemic things done so that people are able to rely on systemic things that really work rather than on some hero-ministers.
Does this mean that in November, you plan to submit to the parliament the bill on railway transport?
We withdrew the bill in order to make some significant changes proposed by businesses and supported by the ministry. I hope that somewhere in October, we will be able to re-submit it to Parliament and therefore to put it to the vote in November. The deadlines were set together with the Parliament's Transport Committee, and I have no doubt that we will make it on time.
Ministry can't reach an agreement on this bill with the key players in the market of railway transport for quite a long time. What provisions of the document is of the most concern for the businesses?
There were contradictions on a technical level, there were concerns about a tariff component, questions regarding ownership of certain companies - whether they would be left in state ownership or not. In order to remove these concerns, we  withdrew the document and we are finalizing it now.
At what stage is another important bill on the National Commission to regulate transport fares?
This bill is a logical continuation of the law on railway transport. We are drafting this document as well.
Separately, I would like to note that we have begun a large-scale reform of the maritime industry. In late September, I tabled the document on establishing the maritime administration for the Cabinet's approval. Also in cooperation with the experts from the U.S. and the Netherlands in October we begin our work on the reform of the maritime industry, which envisages reforming the Administration of seaports. I think that by the end of this year, we must have completed these processes, and in the next year, we should deal with a completely new management structure of the maritime industry.
We also launched a number of projects for a public-private partnership, working out concession issues. However, aviation is lagging a bit due to the lack of "open skies" deal with the EU. However, we showed very good growth rates of air traffic, indicating that Ukrainians began to fly more. In addition, we see interest of new companies to the Ukrainian market of air transportation.
Aviation market liberalization with the European Union will contribute to an even bigger growth. To this end, it is necessary to sign the Open Skies Agreement between Ukraine and the EU. However, terms of such signing were postponed several times. When will this document be signed at last?
I always raise this question. And I don't do it unilaterally. The last meeting on this issue was held September 20 with the EU Commissioner for Mobility and Transport Violetta Bulc. She told me that this was the  issue number one, kept in a "red folder". I do not doubt the sincerity of her words. In parallel lines, I communicate with people from the capitals of leading European countries for them to also raise this issue with Brussels. I believe it is simply irresponsible that such a little problem with Gibraltar actually stops the development of more than twenty European countries. See, we have plenty of lowcost airlines wishing to enter the Ukrainian market, but they are hindered by the absence of an open skies agreement between Ukraine and the EU.
Recently, Ukraine and Lithuania signed a similar agreement. What other countries are the next for Ukraine to liberalize air travel with?
We are working it through with all European countries. But the situation is that even when we are talking about European lowcost airlines mostly owned by the capital of one state, then, for example, Ryanair can fly from Ireland to Ukraine without any problems. But when we speak of Ryanair flights from Italy or Germany, questions arise. That's because, say, Italy wants to have its national air carrier, so this does not solve the global issues. They will only be solved by the open skies deal with the EU.
That is, until the agreement with the EU is signed, large-scale entries of new airlines to the Ukrainian air transportation market shouldn't be expected, should they?
No, why? We are now preparing for this, consulting with new market players and working out a model at the expert level for us to understand clearly what these companies want. For example, one time Georgia held talks with what I believe is one of the best lowcost airline, but then the country deliberately abandoned this intention and it is now cooperating with Wizz Air. That's because Georgia is believed that the proposal, which came from the Europeans, did not meet the economic development model of Georgia. That is, whatever way we decide to do business, so be it.
Let's talk about the budget for 2017. What proposals of yours were considered and what suggestions were ignored?
I think that none of the ministers are satisfied with this budget, including the Minister of Finance. So I can not say I'm thrilled with the draft budget for next year. I'm a little concerned about the level of budget funding for road maintenance. But I believe that we will find the right solution in Parliament, first of all, through a positive vote for the road fund. The corresponding bill has already been passed in the first reading. I hope it will also be adopted in the second reading. In parallel lines, we are holding intensive talks with the World Bank, EBRD and EIB to allocate additional funding for Ukrainian roads next year.
Is it about that $1 billion of loans from international financial organizations on the development of roads?
Approximately so. But we have to work hard to get this $1 billion, and that's what we are doing now. For a few years, we had a very low level of the actual usage of funds in a number of international projects on road construction. Now we are building it up, the trend is positive, so this can lead to the allocation of additional funds for Ukraine.
On what projects will these funds be aimed?
First of all, we are talking about the Lviv – Kherson highway.
The draft budget for 2017, besides more than UAH 7 billion for Ukravtodor debts repayment, provides only UAH 6.6 billion for the development of roads, which is almost identical to the figures in the Budget 2016. So, it appears that the financing of Ukravtodor remains as usual instead of being supplemented at the expense of the road fund revenues from excise taxes on fuel, of which the government was speaking eloquently. How is that?
Everyone said so and I did, too. In fact, we understand that Ukraine is in a difficult situation today, however I am pleased to see that the government finds some room for road construction. I repeat, I hope that we will find the best solution with the parliament to increase road funding. The draft law on the road fund has already passed its first reading. Now the situation is bad because we expected to get 50% or more of the excise taxes be sent to that road fund in 2017. In reality, we have some 25%. But I still harbor hope that we will find the resources to see 50% of excise taxes in the fund in 2017, 75% in 2018 and 100% in 2019.
It is about UAH 20 billion for road development in 2017, right?
It's a little bit more. According to Finance Ministry estimates, next year we expect to collect more than UAH 50 billion from excise taxes, and if it's so, we will have UAH 25 billion in the road fund.
Why hasn't the prime minister insisted and persuaded the Ministry of Finance to allocate an even greater sum for road repairs?
It's to the great merit of the prime minister that the roads are now being built and that the road fund is being created. It was Groysman who found the right words to convince the Finance Ministry, which finally agreed to establish it. Last year, we failed to do it, so I think that we will be consistent in our actions and create the road fund with appropriate financing.
Do you have support of the people's deputies?
Basically, the proof of such support was a positive vote in the first reading of a draft law on the road fund. As elected representatives of the people, they clearly understand this direct link between the Road Fund and the voters. They understand clearly that at least 35% of the money in the road fund will go to local roads, which will be in control of communities and another 5% will focus on how to make our roads safe.
Let's talk about roads in the regions. Over the past three-four months, you've visited almost all western and south-eastern regions. Tell us what is actually happening on the ground?
The real situation on the ground is significantly different from the reports that I regularly receive. Because the people who write them, they want to maintain their position, so reports are always "decorated". We have a big problem with the fact that there are very few companies left that are ready to efficiently repair roads. It so happened that after 2012, many road maintenance companies have gone bankrupt because of the irresponsibility of the then government, when they debts to them for roadworks were not repaid. We have about 20 companies in the market, of which maybe four or five are still active. I hope that once the outside world believes that we've introduced a systematic approach to roadworks, increasing the budget, we will have competition between at least 10-20 powerful companies in the market who value their reputation.
You recently said that the Israeli road construction company Shapir intends to open a representative office in Ukraine and participate in tenders for the repair and construction of Ukrainian roads. You also announced the arrival of more foreign road maintenance companies. What are these companies?
Shapir is the largest road maintenance company in Israel. It has built not only roads but also airports and other complex infrastructure objects. Their intention to open an office in Ukraine and participate in road tenders is an expression of confidence in the Ukrainian government. It is important that they are willing to participate not only in tenders funded by international donors, but also the public ones. Also by the end of this year, the arrival of other companies is possible, but I can't name these companies now.
Ukravtodor and Ukrzaliznytsia in recent years accumulated a lot of debts, and the lion's share of them is in foreign currency. Do the companies make timely payments to their creditors, and are there threats regarding servicing these debts in 2017?
There are no such threats because the debts are paid on time. No questions to Ukravtodor here, since the loans were attracted under the state guarantees and annual government budget provides funds to repay them. Ukrzaliznytsia is now in a permanent technical default, but the talks with creditors continue. It is important to me that the conditions of debt restructuring must be transparent, with an appropriate discount.
It's been several months since Ukrainian Railways are headed by Wojciech Balczun. How do you assess the work of the new management?
Comparing with the success of Ukrposhta CEO Ihor Smilyanskiy, I see Balczun's progress as moderate. But I also understand that in reality, Ukrzaliznytsia is a larger company and it has a much more complex hierarchy of relations in the Ukrainian establishment. These are the tasks Balczun is facing and I am ready and willing to help when he needs advice. However, I believe that the model, when the minister is also the head of the Ukrainian Railways, Ukravtodor and several other enterprises, is inefficient. In that case why should we hire western specialists and pay them so much?
Maybe Balczun is disappointed and he has lost enthusiasm?
It is difficult for him, but I see no frustration. He tries hard, some things go well and some don't. But I'm not ready to say that he is failing. In fact, the amount of problems he faces is very high.
How do you measure success of Ukrposhta CEO Ihor Smilyanskiy?
Ihor's approach is right. He quickly resolved the problem with wages, he quickly formed a team, which quickly integrated into Ukrposhta. This is a real dream team - professionals, each of whom achieved quite good results in previous endeavors. I think that in six months we will see a completely different face of Ukrposhta, when postmen receive higher wages and have greater responsibility.
What about Ukrzaliznytsia?
When we finally get a detailed development plan, and not just a nice presentation, then we will see clearly what need to be done. We have agreed with the leadership of Ukrzaliznytsia that by the end of October, a five-year plan of modernization of their rolling stock will be developed. This plan is very important, because once we have it, we can have a serious conversation with foreign companies and domestic manufacturers so that they clearly understand that they can expand their production for the needs of Ukrzaliznytsia.
What is the need for Ukrzaliznytsia to upgrade their rolling stock, including locomotives?
Almost 90% of it is worn out. I strongly oppose the idea of our basic resources being aimed at modernization of locomotives, instead of purchasing new ones. In my opinion, modernization leads to the fact that we throw vital resources in while the lifetime of locomotives is not increased significantly. This is just investing big money in scrap metal, while we actually need to just sell it and forget about it. There are various financial mechanisms to solve this issue. There is willingness of world manufacturers to participate in this process, because in the end we will get a new generation of equipment that consumes 30-40% less oil and diesel than the types we have. For example, locomotives by General Electric, which they brought in September for a test drive on the Ukrainian railways can replace a two-section locomotive of Ukrzaliznytsia.
By the way, how much does such a locomotive cost?
It's expensive. This will depend on a contract, but the money can be recovered much faster than if we go for permanent repairs of locomotives that consume a lot of fuel.
Why can't we just write off these old railcars?
I have a lot of "why's" to Ukrzaliznytsia but we must clearly define that if the minister manages Ukrzaliznytsia, then it's just the minister. If it's Wojciech then he is the one to address these issues together with his team.
Does Ukrzaliznytsia with its status of a joint stock company intend to enter foreign loan markets?
Now it's too early to talk about it. Ukrzaliznytsia is a profitable company, but only in local currency. When we go out to borrow in foreign currency, it will adversely affect its financial position and create additional problems. So I believe we don't need to do it yet. Simply attracting financial resources I find inappropriate. It can only be seen only in the case of opening of credit lines for the rolling stock.
How much additional money has Ukrzaliznytsya received by raising tariffs and for what purpose has this money been used?
In June, there was about UAH 5.5-6 billion in company accounts, now it's about UAH 7 billion. But the money should not lay idle, it should work. We announced tenders for the purchase of 1,000 freight cars. At the moment, I must admit that the factories and depots are loaded only at 50-60% of their capacity. This is also a big question: why in such a poor condition of our rolling stock and the money present in the accounts we have not downloaded the factories and depots at 200%?
At the level of various Ukrainian state companies, there is visible progress with the issue of introducing market salaries to employees. What is the situation with salaries in the ministry?
At the level of CEOs of state companies, there is progress, indeed. They already get market salaries, according to their contracts. There is also a bonus system, if they do their job efficiently and fulfill KPI. We are also moving forward on this issue even for the middle tier management. In the ministry, the situation is still tragic. We experience serious underfunding and the people's enthusiasm is quenching.
What are the salaries of heads of departments and yours, personally?
Heads of department get roughly UAH 8,000-12,000. I get a little over UAH 18,000 (previously it was UAH 6,000 and it was a nightmare). I am only saved by the fact that I do not have time to shop and I don't eat much. My deputies get a little less than I do.
What salaries are promised to candidates who will work in the technical office of reforms at the Ministry, which will be supported by the EU?
There will be conventionally market salaries but I have no right to disclose them. But some requirements for candidates are very high, such as at least a 10-year experience in the field. We are now slightly reducing these requirements because a successful highly specialized manager makes several thousand dollars on the market, but our funding is not as substantial.
Oleksandra Danko
If you see a spelling error on our site, select it and press Ctrl+Enter