Federica Mogherini: We would like OSCE SMM to have full access to Ukrainian territory, incl. along Ukraine-Russia border
12:25, 11 March 2018
7 min.
1042
Interview
Prior to her visit to Ukraine, High Representative of the European Union for Foreign Affairs and Security Policy Federica Mogherini has told UNIAN what messages she will communicate to the Ukrainian authorities, whether the EU's more active participation in the settlement of the Donbas crisis is possible and whether the EU is considering proposals concerning the deployment of a UN peacekeeping mission to Donbas.
High Representative of the European Union for Foreign Affairs and Security Policy Federica Mogherini is visiting Ukraine on March 11-12. According to the European Commission's press service, she is scheduled to meet with Ukrainian President Petro Poroshenko, Prime Minister Volodymyr Groysman, as well as OSCE representatives. UNIAN interviewed Federica Mogherini before she started her visit.
What is the purpose of your visit to Ukraine? What will be your main message to the Ukrainian authorities?
The European Union stands with the people of Ukraine. We stand with them in their aspirations to build a stronger, fairer, more democratic Ukraine, with opportunities for all. We stand on the side of Ukraine's sovereignty, territorial integrity and independence. This is the message I will bring with me during my visit next week. I will be there within a few days of the anniversary of the illegal annexation by Russia of Crimea and Sevastopol, and in a crucial moment for the Ukraine's ambitious reform agenda.
Since 2014, the European Union has supported Ukraine's reforms with more than 10 billion euros, on top of our political and technical assistance. We have helped create jobs; we have helped Ukraine be more independent in the energy sector; we have assisted the people most in need and most affected by the conflict in eastern Ukraine.
I will discuss the way forward with the Ukrainian government and administration, but also with civil society organisations and university students. I will pay particular attention to the situation in eastern Ukraine, meeting with the minister of temporarily occupied territories, with the chief of the OSCE Monitoring Mission and the OSCE representative in the Trilateral Contact Group.
In March, there will be a discussion on Ukraine at the Foreign Affairs Council meeting. It will take place on the 4th anniversary of the occupation of Crimea and just after the presidential elections in Russia on March 18. Are there plans to discuss the security situation in the east of Ukraine and the occupied Crimea? Will Council Conclusions on Ukraine be adopted (the last one was in early 2015)?
Of course the timing of our meeting is not a coincidence. We want to send a strong signal that the European Union does not forget the illegal annexation of Crimea and the conflict in eastern Ukraine. For me it will also be an opportunity to brief the ministers on my visit. We will discuss the situation in Crimea and in eastern Ukraine, and the progress achieved by Ukraine on its reform agenda.
Do you see a change in the EU position towards Russia as more and more EU leaders visit Moscow; which looks like a hidden normalization of relations despite the fact that Russia has done nothing to return to the framework of international law? Can you, please, comment on visits of European politicians to the Crimea? Do you plan to go to Russia?
There is no change to our very clear EU policy as regards relations with Russia: for any substantive change, the Minsk agreements need to be fully implemented and the illegal annexation of Crimea has to end. This is the first of five principles that currently drive our relations with Russia, agreed unanimously by all EU governments. And our economic sanctions are also linked to this outcome. The visits of some politicians to the illegally annexed peninsula do not reflect our common position and should not cast any doubt over our commitment to Ukraine's territorial integrity and sovereignty. By international law, Crimea is Ukraine.
Among the five principles there is also selective engagement with Russia on topics where there is a clear EU interest to do so: restarting the Middle East Peace Process, preserving the nuclear deal with Iran, denuclearising the Korean peninsula, finding a political solution to the war in Syria. It's important that these contacts continue while at the same time we are clear in our expectation that Russia meets its international obligations and respects international law, including on eastern Ukraine and Crimea and Sevastopol.
What is your assessment of the reform process in Ukraine especially in the field of fight with corruption and judiciary? How is Ukraine implementing the Association Agreement?
The Association Agreement was a great success. Together we have achieved important results, including through the free trade area, in very difficult circumstances. Last year, exports from Ukraine to the European Union grew by almost one third: this was the main driver of economic growth in the country, and the agreement still has to fulfil its full potential.
We know that some crucial legislation for the Association Agreement still has to be adopted. Work needs to be doubled in some crucial areas: anti-corruption is one of those and here we expect the law setting up an independent and efficient High Anti-Corruption Court to be passed, bringing the draft fully in line with the recommendations of the Venice Commission. Another important step would be to make sure that the asset declarations of officials and high-profile public figures are actually analysed. We also expect a reform of the e-declarations system, so that it allows civil society and NGOs to do their work. This is what the people of Ukraine need and expect – and we will continue to be on their side, with our support to Ukraine's reform agenda.
Will it be correct to say that there is Ukraine fatigue in the EU and weariness with the Ukrainian leadership?
Not at all. Our political and diplomatic engagement is more intense than ever. Since last year Ukrainians coming to the European Union don't need a visa anymore, and our trade with Ukraine is going up. Last November we had a very successful Summit with our Eastern partners, including Ukraine, and we committed to twenty ambitious political goals to achieve by 2020. It is true that some of the reforms are not moving forward as quickly as we would like them to: yet we remain as committed as we always have been to the reform process, because our commitment is to the Ukrainian people.
Mogherini is visiting Ukraine on March 11-12 / Photo from UNIAN
The Minsk agreements do not work. Will the EU review its sanction policy?
The Minsk agreements have not yet been implemented in full, and we still believe that they should be. This is the aim of negotiations in the Trilateral Contact Group and the "Normandy" format discussions. The Minsk agreements did manage to halt a dangerous escalation of violence, as was desperately needed. Secondly, they have provided the blueprint to resolving the situation we are faced with, in a way that fully respects Ukraine's territorial integrity and sovereignty.
We know that fighting continues with terrible consequences: 10,000 lives lost, over 25,000 people wounded, buildings and livelihoods destroyed. We are working to build the conditions to guarantee that a full ceasefire holds and quicker progress is made in parallel by all parties in implementing their commitments. We are consistently making this point in our contacts with both the Ukrainian authorities and in particular Russia. This is also why our sanctions are important; they are in place to add political and economic pressure, to dissuade from further escalation and eventually help bring about a change in Russia's behaviour and in its approach to the Minsk process.
Recently the Hudson Institute released Richard Gowan's report "Can the United Nations Unite Ukraine" with concrete proposal regarding a peacekeeping mission for Ukraine. Is this something you also will consider?
A decision for such a mission would be for the United Nations Security Council to take, not the European Union as such. We would like the OSCE Special Monitoring Mission to have full access to the whole territory of Ukraine, including along the Ukrainian-Russian border, in line with its mandate. If a UN Security Council-agreed mission could facilitate all this, and help to advance the implementation of the Minsk agreements, we would of course be in favour.
Don't you think it is time for the EU to become more proactive in the settlement of the crisis around Ukraine? How will you determine Russia for the EU's external policy – a partner or a threat?
Our engagement is close and constant – through our Member States France and Germany, with Ukraine and Russia, with the OSCE, the UN, and the United States. Not only we are the largest contributor to the OSCE Special Monitoring Mission: we are now stepping up our contribution. And we are supporting the negotiations in the Trilateral Contact Group.
Russia used to be a strategic partner for the European Union, but that is no longer the case. It is clear that our relationship with Russia is not what it was, nor what it could be: the full implementation of the Minsk agreements is a key element for any substantial change in our relations. But we as the EU know that selective engagement with Russia is also necessary, where there is a clear EU interest.
Let me add that Russia is more than its current government: we also engage with the Russian people through support to civil society, particularly on human rights, and independent media, and we invest in opportunities for our people to come together, particularly our students and researchers.
What do you think about Russia's actions in Syria?
The people of Syria have been dying and suffering for seven years now, and the war is far from over. Russia is actively engaged in the military conflict, and it is now a guarantor of the Astana process – together with Turkey and Iran. They have a responsibility and they have to fulfil it. Last week I sent a letter to the foreign ministers of Russia, Iran and Turkey – urging them to take all necessary measures to ensure that the fighting stops, and that urgent humanitarian access and necessary medical evacuations are taking place. We, the European Union, have decided not to bring death and destruction to Syria, but humanitarian aid and diplomatic support. On April 24-25, we are hosting the second Brussels Conference for the future of Syria, to gather more humanitarian support and to help resume the peace talks in Geneva. The only solution to the war is a political solution, and all roads must lead to Geneva.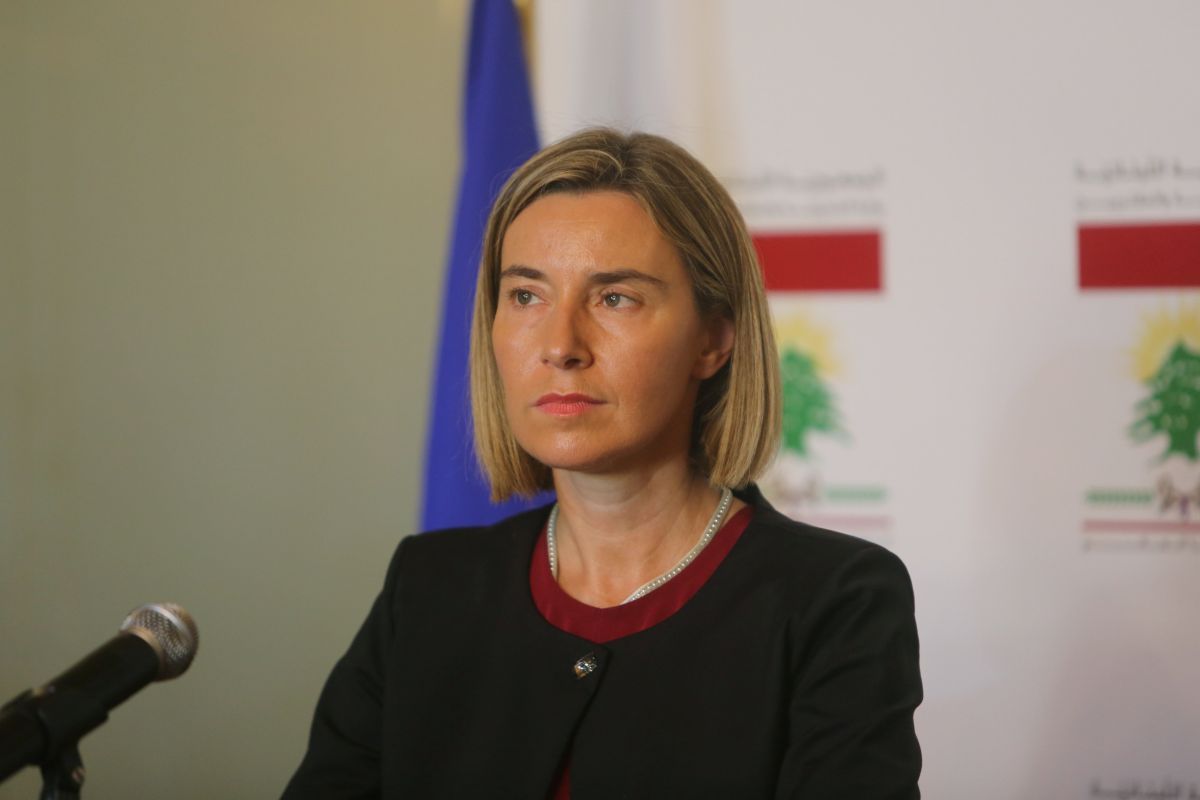 REUTERS
Talking about the East StratCom Task Force, what kind of disinformation trends do you see? Are there strategical changes or targets?
There is sometimes a misperception that the work that the East StratCom Task Force – our strategic communications team that focusses on our eastern neighbourhood, including Ukraine – works only to highlight, analyse and counter disinformation. This is not the case. The reality is that the European Union needs to better communicate what it is and what it is doing, not only to its citizens but also beyond our borders. Taking Ukraine as an example: the Ukrainian people and our own citizens need to know about the work we do together to support reforms, to create opportunities for youth, to increase business growth, in support of human rights and fundamental freedoms, and of course the EU's commitment to your country's independence and territorial integrity. While I am in Kyiv, I will launch a new communication campaign called "Moving Forward Together", which is precisely aimed at illustrating what our Association Agreement means for Ukrainians and why we are committed to it. People need to be aware of the false information that is out there about our relationship, but we also must be – and are being – proactive in making sure that people have access to the facts in the first place.
Iryna Somer, Brussels
If you see a spelling error on our site, select it and press Ctrl+Enter