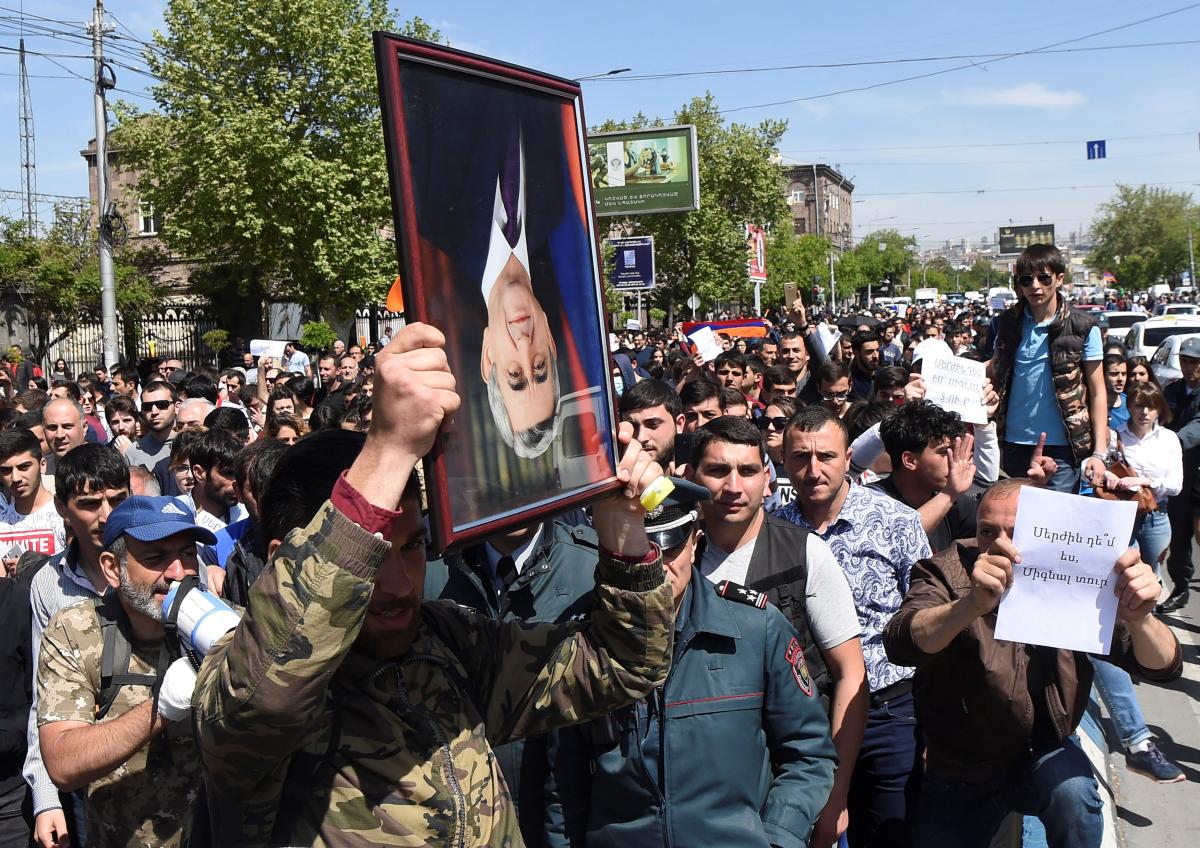 Ukrainian interest. Sargsyan's fall, PACE dialectics and foreign ministries' positioning
11:10, 30 April 2018
2 min.
350
Serzh Sargsyan resigned as Prime Minister of Armenia, which did not stop the political crisis in the country. Alexander Lukashenko delivered an annual address to the nation. Emmanuel Macron and Angela Merkel each had meetings with Donald Trump. PACE failed to pin down it members with alleged corruption trace behind them, but also chose not to go for rapprochement with Russia. The European Commission announced measures to combat fake news. Johannes Hahn made a tempting offer to Ukraine. The two Koreas held a summit in an idyllic atmosphere. G7 and NATO foreign ministers (with the exception of Hungary) showed support for Ukraine.
Mass protests are part of the political culture in Armenia. It is all the more strange that such an experienced politician as Serzh Sargsyan seemed to have forgotten about it, underestimating the good memory of his fellow citizens who quickly reminded to their ex-president, who had switched office to that of prime minister's his own promise not to do so. Sargsyan did not even have enough time to take advantage of the expanded prime ministerial powers, as he resigned under the pressure of the street, without resorting to force. But even if a professional opposition politician and protest leader Nikol Pashinyan becomes a new PM, we should not expect that Armenia will try to break out of the sphere of Russian influence.
In his annual presidential address, Alexander Lukashenko tried to habitually combine two roles - "father of the nation" and a contributor of stability for Europe. It turned out not very convincing, frankly speaking, except for a number of the president's foreign policy assessments.
Leaders of leading EU powers took turns visiting Washington. Not only the formal status (Emmanuel Macron was accepted at the state level, while Angela Merkel was there on a working visit), that the tone of the negotiations with Donald Trump differed. Mutual affection seen between the U.S. and French leaders was not the case with Trump and Merkel. The U.S. leader just couldn't hide differences with the most powerful European politician. I wonder if Trump is able to drive a wedge between the European leaders with the assistance of a freshly appointed Secretary of State Mike Pompeo.
REUTERS
A special investigation into corruption in PACE, conducted in an atmosphere of secrecy, not only revealed the names of former and current parliamentarians, fond of Caspian black caviar, but also showed that the Old World is not really eager to punish their "scoundrels," replacing the punishment with the pathos of self-purification. On the other hand, PACE did not dare to continue rapprochement with Russia, so Russia's Leonid Slutsky, whom Russian journalists accuse of sexual harassment, returned to Russia with nothing. Recognition of Russia's "effective control" over the certain areas of Donbas, passing a resolution calling to stand against Russian propaganda and Kremlin's hybrid war proved to be in Ukraine's favor.
The European Commission's intentions to counter fake news across the continent today fairly resemble Sisyphean labor. European Commissioner for Neighborhood Johannes Hahn was more pragmatic, offering Ukraine an investment package of EUR 50 million if three conditions are met that do not imply national humiliation but require consolidated efforts on the part of Ukrainian authorities.
Leaders of the DPRK and South Korea spent several hours on April 27 in a touching atmosphere of the underlined mutual understanding. The very meeting of Mun Je Jung and Kim Jong Un is of great importance in the context of the recent nuclear muscle playing by the North Korean dictator (he promised not to disturb Mun with nuclear tests) and in the light of the developments on the Korean Peninsula that has been divided by the 38th parallel for more than 60 years. It is hard to tell, what the situational idyll will bring. It is possible that the South Korean president was creating prerequisites for negotiations between Kim Jong Un and Donald Trump.
Meanwhile, Hungary with perseverance worthy of a better application continues to block the Ukraine-NATO Commission, ultimately demanding that Kyiv revise its education law. Against this background, the meeting of the foreign ministers of the Alliance, where the invariability of their policy toward Russia has been confirmed, is only a weak consolation for Ukraine. Much more important was the participation of Pavlo Klimkin in the meeting of G7 foreign ministers, who agreed to closely and coherently monitor Russia's actions.
Yevgeny Magda
If you see a spelling error on our site, select it and press Ctrl+Enter