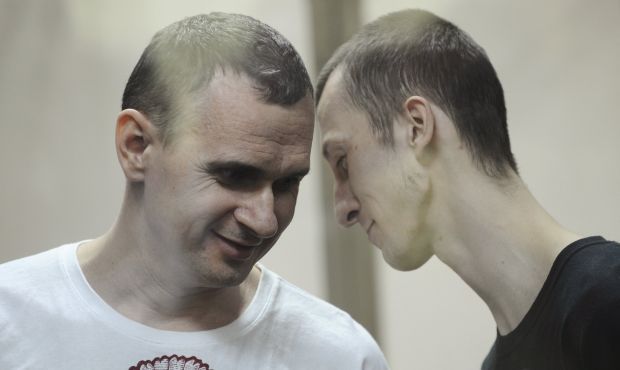 Worse than serial criminals: Why Ukrainian political prisoners in Russia receive huge terms
09:40, 06 June 2018
6 min.
252
Ukrainian political prisoners in Russia face with "public flogging," being handed down verdicts on far-fetched charges way harsher than those to outright criminals or even serial killers. UNIAN tried to find out why Ukrainians in Russia face huge prison terms, and who else can be a "person of interest" to Russian security services and find themselves in a risk zone.
On Monday, June 4, the Moscow City Court "went easy" on a Ukrainian journalist Roman Sushchenko, illegally detained in the Russian Federation, and, instead of sentencing him to 14 years in prison as requested by prosecutors, handed down a verdict to imprison him for 12 years in a high-security penal colony on "espionage" charges. The France-based Ukrinform correspondent was detained on September 30, 2016, upon his arrival in Moscow, where he arrived from Paris to visit a relative. A week later, ignoring international law, Russian authorities charged him with "espionage." The FSB claimed that Sushchenko was a Ukrainian military intelligence operative and, according to Russian media, allegedly collected data on a possible offensive on Mariupol by Moscow's "DPR" proxy forces.
Severe verdicts
According to the reports by Ukrainian human rights organizations, there are 17 Ukrainian captives being held in the Russian Federation, and the figure just keeps growing. Sushchenko was not the first political prisoner to receive such a long prison term. In particular, a Ukrainian director Oleh Sentsov, whom the Russian court sentenced to 20 years, has been serving his sentence in a Russian colony called "Polar Bear" for three years already.
As UNIAN reported, Sentsov was detained by FSB operatives in Crimea in the spring of 2014. He was then transferred to Russia, where he was tried on trumped-up charges of plotting terrorist attacks and arson of political parties' offices on the peninsula. Twenty-three days ago, Sentsov announced an indefinite hunger strike demanding the release of all Ukrainian political prisoners. Doctors who monitor the Kremlin prisoner's condition believe his organs will start failing by the 30th day of the hunger strike – that's when they are expected to interfere.
"When this happens, he will be intubated and fed nutrient mixture through his nose. However, if he does not stop refusing food, then the end will be fatal. It was not a threat, the doctor simply warned Oleh. In general, he looks generally well... They did an ultrasound and examined him. Internal organs are okay, their condition is now satisfactory," said Sentsov's lawyer Dmitry Dindze.
Together with Sentsov, a Ukrainian activist Oleksandr Kolchenko was sentenced to 10 years in a high-security penal colony and recently joined Sentsov on a hunger strike while doing time in a distant town of Labytnangi. Now people try to dissuade him from his hunger strike and to give him intravenous injections. According to human rights activist Mykola Shchur, on Monday, Kolchenko was in the colony's medical unit. They constantly bring him food, but he always rejects it. "After that, he is taken to a doctor who measures his blood pressure, pulse, and blood sugar. Sasha drinks water. He said: 'I will keep going as long as I have strength.' His demand remains the same: the release of Oleh Sentsov," he wrote in a social network.
Another Ukrainian, serving a 20-year sentence for allegedly participating in the Chechen war against the Russian military, is Stanislav Klykh. He was detained in August 2014, during the crossing of the Russian border, to be immediately thrown behind bars. According to his mother, to extort from him a confession in crimes he never committed, he was subjected to torture. After the release in 2016 of Nadiia Savchenko, Hennady Afanasyev and Yuriy Soloshenko, Klykh was also offered for a swap. But Russia categorically refused to hand him over to Ukraine. Last year, protesting against his sentence, Klykh already resorted to a hunger strike that lasted 12 days, after which he applied for medical assistance because of low blood pressure and hemoglobin levels, and was later transferred to a psychiatric ward in Magnitogorsk.
One of the coordinators of the "Media Initiative for Human Rights," Maria Tomak, told UNIAN that Klykh's condition is deteriorating. "The further, the less chance that it will be possible to return him to an adequate state," says Tomak.
Punishment for citizenship
According to the human rights activist, the terms that Ukrainian prisoners get in Russia formally depend on their charges, but all of their cases are extremely politicized.
The Kremlin's former political prisoner Hennady Afanasyev echoes her opinion: "When the administration in the penitentiary where I was serving reviewed my case, they openly told me that they realize that my case is purely political and that they have an order they cannot fail to perform."
According to him, Russia acts on the principle of the former USSR, and such huge terms for Ukrainians are designed for propaganda. "On the eve of the Russia World Cup, it is important for them to raise the degree of hatred toward Ukrainians in this way. Thus, the punishment should be showing," Afanasyev is convinced.
He reminds that in the past two years, only two people - Ahtem Chiyhoz and Ilmi Umerov - were liberated through secret political agreements rather than the swap process: "However, they were handed over to Turkey in violation of all kinds of laws - both Russian and Ukrainian."
At the same time, according to Tomak, it's not only purely political prisoners from Ukraine who receive huge terms in Russia. Any Ukrainian is at risk of inadequate punishment for crimes they never committed. "For example, Russia has very serious terms for drugs distribution. For discriminatory reasons, Ukrainian nationals who are victims of human trafficking face additional charges of the creation of an organized criminal group. Then they face 19 years in prison. This is absurd, since even for the murder, the terms are much lighter," says the human rights activist.
According to a deputy head of Situation Modeling Agency, political strategist Oleksiy Holobutsky, the ranks of "Kremlin prisoners" can significantly expand after the Russia World Cup, which, according to the press service of FIFA will be attended by about 5,000 Ukrainians. The expert is convinced that some of them may well end up being convicted of "spying" or "plotting a terrorist act."
Exchange for salvation
Returning to the Sushchenko case, according to Deputy Speaker of the Verkhovna Rada and Ukraine's Humanitarian Envoy in the Minsk Trilateral Contact Group, Iryna Gerashchenko, the verdict to Sushchenko, even such a cruel one, can in principle speed up the negotiation process for his release. However, it is not worth expecting that these will be quick negotiations. "I'd like to remind you that everyone we managed to liberate from Russian prisons got their chance after they were handed down a pseudo-sentence. Therefore, on the one hand, Roman's sentencing gives us more space for maneuver in our negotiations with Moscow on his release," Gerashchenko said.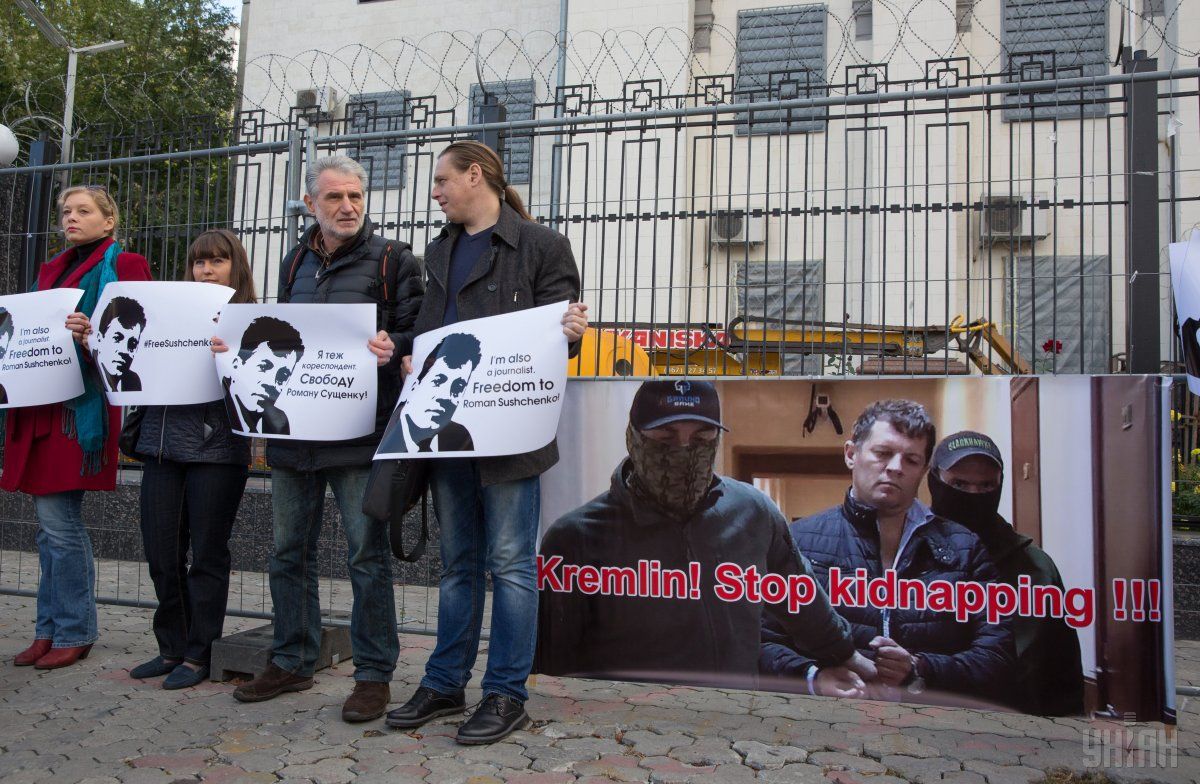 Photo from UNIAN
In general, in exchange for Ukrainian prisoners in Russia, Kyiv is ready to hand back to Moscow 23 convicts sentenced for their involvement in terrorist acts, preparation of terrorist acts, and committing crimes against the territorial integrity and sovereignty of Ukraine.
In this context, it should be noted that earlier, the Ministry of Foreign Affairs of Ukraine assumed that Oleh Sentsov could be the main contender for the nearest exchange round. Ukraine could swap him for the chief of RIA Novosti Ukraine, Kirill Vyshinsky, who recently stated that, despite having a Ukrainian passport, he will continue to consider himself a Russian citizen.
However, according to Oleksiy Holobutsky, there is a higher chance Vyshinsky will be exchanged for Sushchenko, not Sentsov, because it would suit Russia more. "Russia regards Sentsov a Russian national because he is a Crimean resident, and he has been charged with terrorism, unlike Sushchenko, who is sentenced for espionage. Putin acts according to his own logic. He does not focus on anyone's opinion. And the exchange depends entirely on him - it could take place before the World Cup or during its holding," he said.
Unfortunately, so far, Ukraine appears powerless in the issue of liberation of its citizens from Russian prisons, because four years after the start of Russian aggression, amid constant reports that Ukrainian nationals have been arrested or already convicted in Russia, there is still no mechanism for the release of Kremlin prisoners. According to a diplomat, Ukraine's former representative in the Trilateral Contact Group in Minsk, Roman Bezsmertny, there are several ways to move the situation from a standstill. "First, [we need to] further alert the international community and political leaders. Literally, every representative of the Ukrainian leadership and opposition who are in contact with the administrations in Washington, Paris, Berlin, etc., must speak up about this, at every meeting. Secondly, [we need to] appeal to the International Court of Human Rights - in this campaign it is possible to cooperate with other states whose citizens are also aware of how it is to be held in a Russian prison. Thirdly, [we need to] limit the supply of goods from Ukraine to Russia. For example, Ukraine supplies huge volumes of titanium ores to Russia, daily. We need to stop this and put pressure on Russia from this position," he said.
In addition, Bezsmertny recalls that many Russian nationals have been detained in Ukraine, of whom Moscow has never officially spoken anywhere. "The topic of their exchange for our citizens is absolutely appropriate," the diplomat is convinced.
While Ukraine is only thinking about the ways to have its nationals released from Russian prisons, the Kremlin captives are forced to make international community and their own compatriots pay attention to them pay attention to themselves and their compatriots and the world community. The hunger strike, which four Ukrainians started while being held in Russian prisons and colonies, is an extreme measure, the last resort to defend their rights to be released and justice – to be restored.
Anastasia Zaremba
If you see a spelling error on our site, select it and press Ctrl+Enter