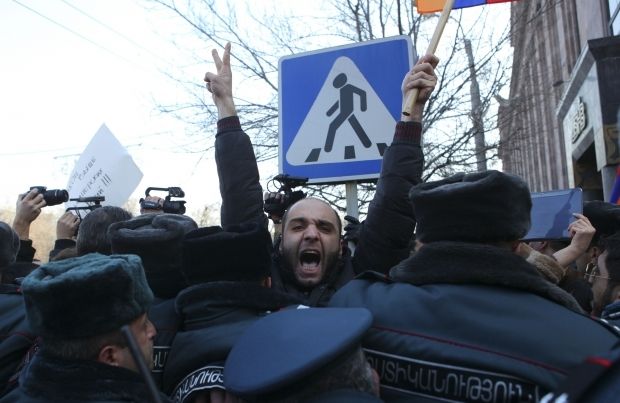 The week in numbers
15:10, 21.01.2015
5 min.
197
Three stages of mobilization are planned to be held in Ukraine in 2015; about 20,000 people went on a march in Kyiv for solidarity against terrorism and in memory of the civilians killed near Volnovakha, and the country's foreign exchange reserves decreased to $ 7.5 billion.
One family of six persons, including children, was shot in the Armenian city of Gyumri with a machine gun by a soldier of Russia's 102nd military base Valery Permiakov who had gone on unwarranted dismissal. Doctors struggled for life of the youngest family member – a toddler – in an intensive care unit, but he died. Protests and scuffles with police sparked in Yerevan after the deserter was arrested and confessed to the crime, but Russia refused to hand its soldier over to Armenia law enforcement.
1.5 times is by how much more than previous year the cost of servicing Ukraine's public debt now is. In the 2015 state budget, the cost is projected at $74.66 billion, which is 49.95% of total public spending.
2.3% economic decline is predicted for Ukraine for 2015 by the World Bank. According to a study of the Global Economic Prospects Bank, the decline of Ukraine's economy in 2014 was at 8.2%. The bank stressed that the economic situation in Ukraine, largely due to geopolitical tensions and Russian military aggression, continue downward pressure on the economic development of the whole eastern Europe and central Asia.
3 stages of mobilization are scheduled in Ukraine for 2015. According to the President's Decree, the first stage will kick off on January 20 and will last for 90 days. The second stage will start around April and is expected to last for 60 days. The third stage is to begin in June and will also last for 60 days.
UNIAN
3 mobile operators - MTS Ukraine, Kyivstar and Astelit (TM life :) - applied to participate in a tender for the purchase of 3G connection license.
10 civilians were killed in an artillery strike on a government forces' checkpoint near Volnovakha when a passenger bus was hit. 18 people were hospitalized with various injuries. By the end of the week, a few more people had died in hospital, as the death toll rose to 13. Immediately after the attack, just as in the case of a downed MH17 jet in July 2014, the rebels boasted on social networks of destroying the enemy checkpoint. Later, their posts were edited.
15 days in jail and a fine – this prosecution measures are now faced by a Russian civil activist for her listening to Ukraine's anthem in a motor vehicle via amplifiers near a detention center in Moscow, where a Ukrainian female pilot Nadia Savchenko, now on a hunger strike for over a month, is being held.
A 29.1% reduction in the transit of Russian natural gas to the European Union countries via Ukraine was recorded in 2014 by Ukrtransgas, the operator of the Ukrainian gas transporting system.
41 citizens of the Russian Federation have been charged with terrorist activity and espionage, according to the Security Service of Ukraine. Some cases have already been brought to court.
54 criminal cases of "propaganda of terrorism" were opened in France following recent terrorist attacks. In particular, 11 cases were opened for the distribution of anti-Islamic leaflets, 18 cases are related to the attacks against security forces, and 14 to cyber-attacks. Furthermore, another 15 criminal cases were opened for "shooting firearms and setting off bombs in mosques and Muslim places of worship for Muslims."
62 positions of chief managers of public companies, including key state monopolies, will be filled as a result of an open and transparent competition held by the cabinet. According to the Prime Minister, the government intends to recruit professionals in hopes to pull the companies away from losses and produce transformations.
127 – that is Ukraine's place in the ranking of freedom of expression, moving one position down comparing with the previous year. According to the annual World Press Freedom-2014 report by the international organization Reporters without Borders, Finland topped the rating, with the top five also including the Netherlands, Norway, Luxembourg and Andorra. Russia remained at its last year's  position of 148th in the ranking.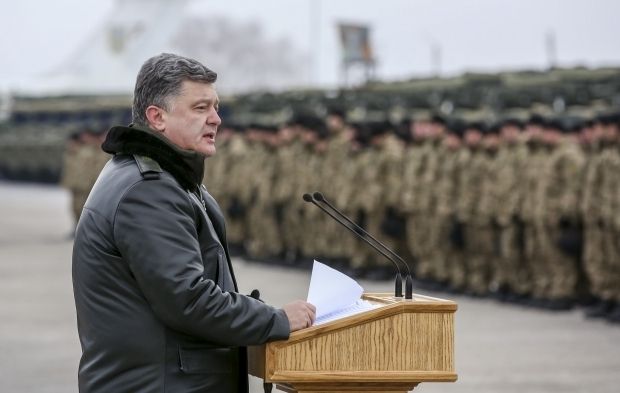 REUTERS
200 of the 3,500 people who were granted status of a "participant of the anti-terrorist operation" never took part in combat, according to Ukraine's Ministry of Justice. The Ministry of the Interior has opened criminal proceedings against the deputy minister of regional development, construction and housing, Dmitry Isaenko, on suspicion of illegally obtaining the status of an ATO participant.
$240 - this is the approximate amount of the fee planned to be introduced in Belarus for "parasitism." The draft decree provides for the annual collection of said fee from able-bodied citizens who do not participate in the financing of public expenditure. Evasion, untimely or incomplete payment of the fee will be considered an administrative offence. However, a number of categories of citizens who are exempt from paying the fee are yet to be determined.
600 Ukrainians, at least, are being held captive by Russia-backed insurgents in eastern Ukraine in violation of Minsk peace agreements, according to Ukraine's President Petro Poroshenko. He stressed on the need to intensify efforts of the PACE for the release of Ukrainian hostages held by terrorists.
877 incidents of firing at the positions of government forces by militants have been reported by Ukraine's military headquarters since the introduction of the "silence" regime on December 9, 2014. Committing to the obligations of the Minsk protocol, Ukrainian troops deter enemy aggression and ensure the safety of civilians, only striking back in response to attacks from insurgents, suppressing their firing positions.
1,405 local budgets of different levels, representing 11.9% of the total, have been approved in Ukraine as of mid-January. According to the Finance Ministry, most budgets were adopted by villages, while only 10 regional budgets have been approved.
1,600 applications for obtaining biometric passports were filed on the first day of their introduction, according to the State Migration Service, mostly in Kyiv.
4,808 people, including 298 onboard downed Malaysian Airlines passenger jet, have been killed in the conflict in eastern Ukraine, according to the report of the UN Office for the Coordination of Humanitarian Affairs. Another 10,468 people have been injured.
20,000 people in Kyiv and about 5,000 people in dozens of other Ukrainian cities came on Sunday, January 18, on a march for solidarity against terrorism and in memory of the civilian victims of the Volnovakha bus atrocity.
REUTERS
52,000 Russian troops in full tactical alert, with considerable offensive potential, are located along the eastern part of the Ukrainian-Russian border, according to the National Security and Defense Council Secretary Oleksandr Turchynov. Besides, according to Turchynov, Russian-terrorist forces in the Donbas are equipped with 542 tanks, 990 armored vehicles, 694 artillery systems, including four Tochka-U missile launchers and up to 57 anti-aircraft missile systems.
3.7 million people in France took part in a march for solidarity with the victims of terrorist attacks in Paris. In Paris alone, 1.5 million people took to the streets. Meanwhile, the country's administration brought in 10,000 military personnel to protect civilian objects against possible terrorist attacks.
$7.533 billion was in the foreign exchange reserves of the National Bank of Ukraine as of January 1, 2015, which is 24.4% less than on December 1, 2014. Thus, foreign exchange reserves have hit a nearly 11-year low after the last crash, down to $7.634 billion in February, 2004.
UAH 45 billion of additional resources for battling urgent problems of the regions will be received by local budgets following fiscal decentralization, according to Ukrainian Finance Minister Natalia Jaresko. However, obtaining more financial resources means higher responsibility for local administrations with regard to spending of these funds.
UAH 293.836 billion in government loans is scheduled in the 2015 state budget, with domestic loans – at UAH 112.866 billion and external loans – at UAH 180.970 billion.
UAH 365.600 billion of state budget revenues generated by tax revenues are allocated in the country's main financial document for 2015. Tax payments for 11 months of 2014 amounted to UAH 301.9 billion in state tax revenues, with an overall UAH 26.7 billion index of arrears of taxes, mainly due to the war in eastern Ukraine.
Margarita Andreyeva