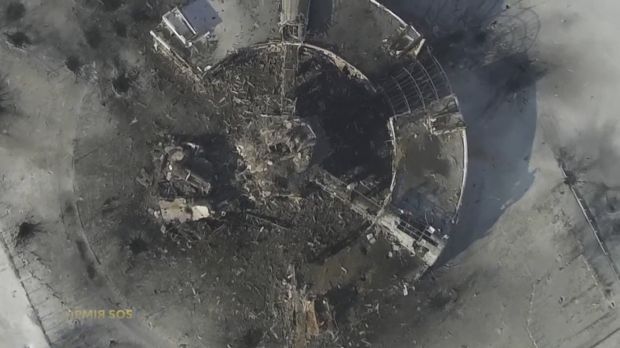 Operation Escalation: What Putin is up to
15:15, 23.01.2015
6 min.
553
For a week all of Ukraine has been anxiously awaiting new reports from the eastern front: the militants' attacks on the Ukrainian forces are becoming more frequent day by day. UNIAN has asked experts to explain what Putin could be up to
At a recent meeting with Polish Prime Minister Ewa Kopacz, Ukrainian President Petro Poroshenko said that the militants had increased their shelling attacks in eastern Ukraine from 10 to 90-100 per 24 hours. Heavy fighting in the new terminal of Donetsk airport has become incessant, and the separatists blew up the overhead cover on the second floor, wounding and perhaps killing many "cyborgs" - as the Ukrainian defenders of Donetsk airport were nicknamed.
The ATO headquarters reported that the pro-Russian terrorists had continued to shell and to attack the Ukrainian front-line troops on the outskirts of Donetsk. The pro-Russian militants have also stepped up their activity in Luhansk region. Donbas battalion troops reported that Russian regular troops had destroyed the 31st checkpoint on the strategic Bakhmutka Road.
The militants also said that they had set up their own air force, consisting of two aircraft: a Su-25 air support jet and an L-29 military jet trainer. The ATO headquarters interpreted this announcement as a start of an information campaign to mask the possible use of Russian military air power.
Putin wants to impose his rules of the game
Head of the Penta political research center Vladimir Fesenko thinks that the new escalation of unrest in the Donbas indicates Putin's intention to use militants to gain control over Donetsk airport and to push the Ukrainian forces further away from Donetsk and Luhansk, where fierce fighting is currency taking place.
"Putin's strategic aim is to push the ATO forces in strategic places as far as possible, and to force the Kyiv government to agree to draw a new demarcation line for troops and to withdraw heavy military vehicles," he says.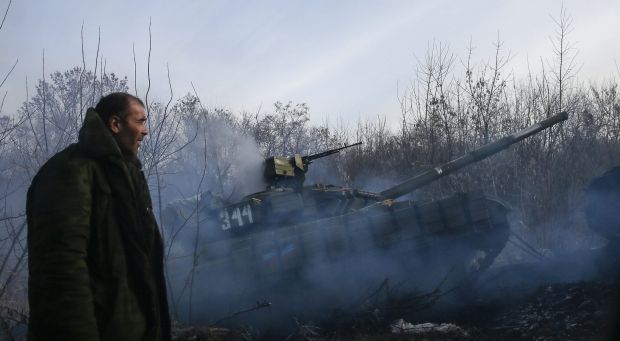 REUTERS
He also believes that Putin's more serious strategic aim is to force Ukraine and the EU to accept peace arrangements on Russia's conditions by escalating the military conflict in eastern Ukraine. The first step here is to achieve the acknowledgement of the Donetsk and Luhansk People's Republics as independent entities, which can enter talks on their own behalf. Another step will be a revision of the Minsk peace agreements on Russia's conditions.
However, talks to resolve the Donbas conflict can only be held if there is a ceasefire.
"The parties have voiced their desire to hold talks, but no talks can be held without a ceasefire. If the parties do not agree on a ceasefire, I strongly doubt that there will be any talks at all. Both parties have to show that they are willing to reach a compromise. Russia, however, has made no attempts at compromise so far."
Another prerequisite for going to the negotiating table is Ukraine's ability to defend its positions in the east of the country.
"Ukraine's defensive capacity and ability to stand up against Russian aggression and the separatist movement are crucial for resuming talks. In this case, Russia will not be able to implement its strategy and to force Ukraine to talks on its conditions."
Fesenko says that the separatists need their own air forces to overpower the Ukrainian troops in the conflict zone. It is clear that the militants can procure aircraft only from Russia. Russia's decision to support the militants with air power will ultimately dot the i's and cross the t's for Europe as to whether or not Russia is involved in Ukraine conflict.
"If the separatists get aircraft support, this will mean Russia's direct involvement in the military conflict. It will no longer be participation in a hybrid war or the engagement of some Russian servicemen who are 'spending their leave in the Donbass'; it will be Russia's direct involvement in a military conflict, which will entail new sanctions."
Although Europe is considering imposing new sanctions on Russia, many political leaders are against that move.
"They say: if Russia does not escalate the conflict, there is no need for new sanctions. Supporting the militants with military jets, however, will qualify as escalation, which will make sanctions inevitable," says the expect.
Fesenko also thinks that if Russia escalates the conflict further the United States might decide to provide full military assistance to Ukraine. "U.S. President Barack Obama will have to support Ukraine - American politicians said earlier that the United States would supply weapons to Ukraine if there was further escalation of the conflict. Current events warrant military support. U.S. military leaders are to visit Ukraine in the days to come to discuss the issue."
Prove that we are guilty
Liliya Shevtsova, a Russian politician and a leading research officer at the Carnegie Endowment for International Peace, says that the Ukraine crisis has reached a stalemate: "All parties involved in the Donbas drama, Ukraine, Russia and the West, are unable to reconcile their interests and find a solution.
She believes that the West and Ukraine, who have a common interest in this matter, have failed to convince Moscow to come over to their side.
"I'll be frank. The Kremlin's idea of victory and a peaceful settlement is that Ukraine remains a grey zone and that the DPR and LPR, which erode Ukraine away, become an integral part of it.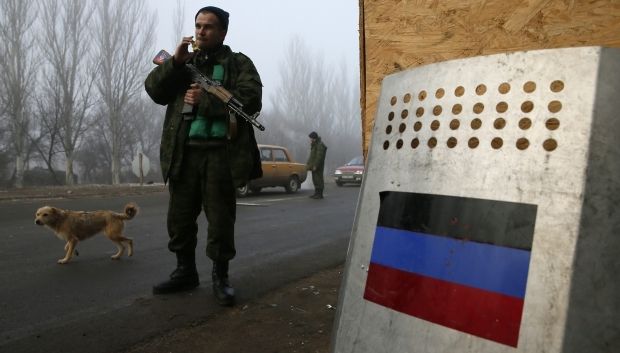 REUTERS
In this light, escalation of unrest was inevitable. "The Minsk agreements could not be implemented because of the different visions of how the crisis should be ended that Kyiv and Moscow have. That is why the Kremlin seems to have chosen to escalate unrest in the hope to achieve a settlement on its terms and conditions.
"Moscow aims to impose its own peaceful settlement, together with constitutional reform and other things. Lavrov has repeatedly said that. Putin seemingly hopes that Western countries will get tired of the ongoing conflict, and that some Western players will be willing to make new compromises with Moscow. However, the escalation of unrest by Russia, if it's really taking place, will probably result in Western countries coming down harder on Russia."
REUTERS
"The Kremlin has adopted a very simple logic: prove that we are guilty. 'Prove it!' says the Russian Foreign Ministry, while trying to convince everyone that Ukraine is responsible for the escalation."
The West has already grown tired of trying to find out who first started to escalate the conflict.
"I think that in the end German Councilor Angela Merkel and U.S. President Barack Obama will say 'A plague on both your houses," Shevtsova said.
"Be it as it may, we won't have to wait long to hear what Merkel and Obama will really say. It looks like, as Federica Mogherini said last week, the West won't ease the sanctions imposed on Russia.
Military program director at the Razumkov Center Nikolay Sungurovskiy thinks that Putin will continue to destabilize not only the east of Ukraine but also other regions. "Putin is most like to destabilize all regions. Putin is fighting a hybrid war. He'll try all means to destabilize Ukraine socially, after which he will turn to terrorist acts and other large-scale crimes."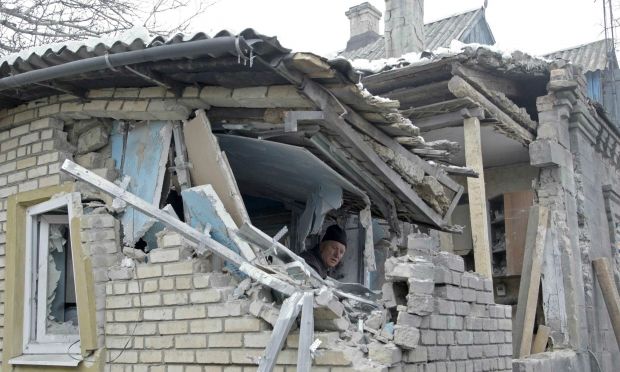 REUTERS
He believes that the escalation of unrest signifies Putin's attempts to expand his area of influence.
"Putin wants the militants to push Ukrainian troops beyond the current demarcation line, and to force Ukraine to talks on conditions that are favorable for Russia. After that he will freeze the conflict and will use the areas under his control to further destabilize Ukraine."
In fact, this plan could also entail supporting the militants with air power. Aircraft could be deployed in the Crimean direction – Mariupol and Berdiansk are likely to be hit by air strikes. The Kremlin needs this to set up a land corridor with Crimea.
"The current power balance is preventing Putin from launching a major land offensive. Such an operation could only be possible with aircraft support. The announcements recently made by the DPR and LPR that they are now in possession of aircraft confirm this."
Russia can only be stopped by non-diplomatic means
There is no consensus among Ukrainian diplomats about recent events in eastern Ukraine. Former Ukrainian consul general in Istanbul and chairperson of Maidan of Foreign Affairs Bogdan Yaremenko believes that the current escalation of unrest in eastern Ukraine is nothing more than Russia's new approach to its strategic aim of destroying Ukraine.
"How exactly Putin will use this escalation is hard to say because the logic of dictators, especially such self-confident ones, is difficult to analyze. However, Putin's aim to ruin Ukraine as a state capable of operating its own policy has been unchanged. He could try two ways to achieve that. The first way is to inflict a devastating military defeat on Ukraine. The second one is to inflict a political defeat if Ukraine is victorious militarily. In this case the Kremlin will try to return the Donbas to Ukraine as an entity that has the right to veto any internal and external policy decision the Kyiv government may make.
REUTERS
"However, this will be hard to achieve especially in light of the position the United States have taken regarding Ukraine. Increasingly more people [in the United States] stress the need to support Ukraine with defensive weapons. Russia's refusal to seek compromises and to take others into account will ultimately result in theU.S.  presidential administration's decision to supply weapons to Ukraine. The Ukrainian armed forces becoming stronger and gaining international partners' recognition and confidence will make it easier for Ukraine to obtain military assistance in the future.
"Talks to resolve the crises in eastern Ukraine will be held in any event. What can be different is issues to be discussed. If the rebels raise the issue of withdrawing Ukrainian artillery, there is no need for Ukraine to go to the negotiating table. Now is a good time to increase the stakes and to raise new issues. This has already been partly done in a letter to the European Commission presenting Ukraine's understanding of what has to precede the lifting of sanctions off Russia – the letter also talks about Crimea and possible compensation. To ensure its own security, Ukraine could demand that Russia withdraw its 14th army from Transnistria."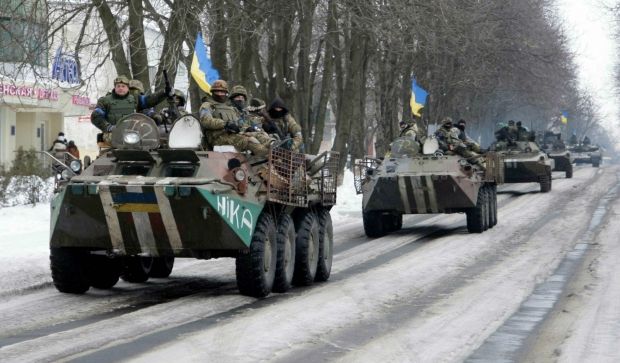 REUTERS
Former Ukrainian foreign minister Volodymur Ogryzko says that Putin has the same aim, which is to destabilize Ukraine on a continuous basis.
"I see nothing new in the current escalation of unrest. I also see no point in holding talks with the terrorists, who won't keep to any agreements anyway."
"The single way to stop the Russian-backed militants is not a diplomatic one. Ukrainian forces are in fact demonstrating that."
"Some members of U.S. Congress are stepping up political pressure on the presidential administration to support Ukraine with weapons. I wish this would bear fruit, because resistance is the only means to force the aggressor to leave Ukraine."
Konstantin Goncharov