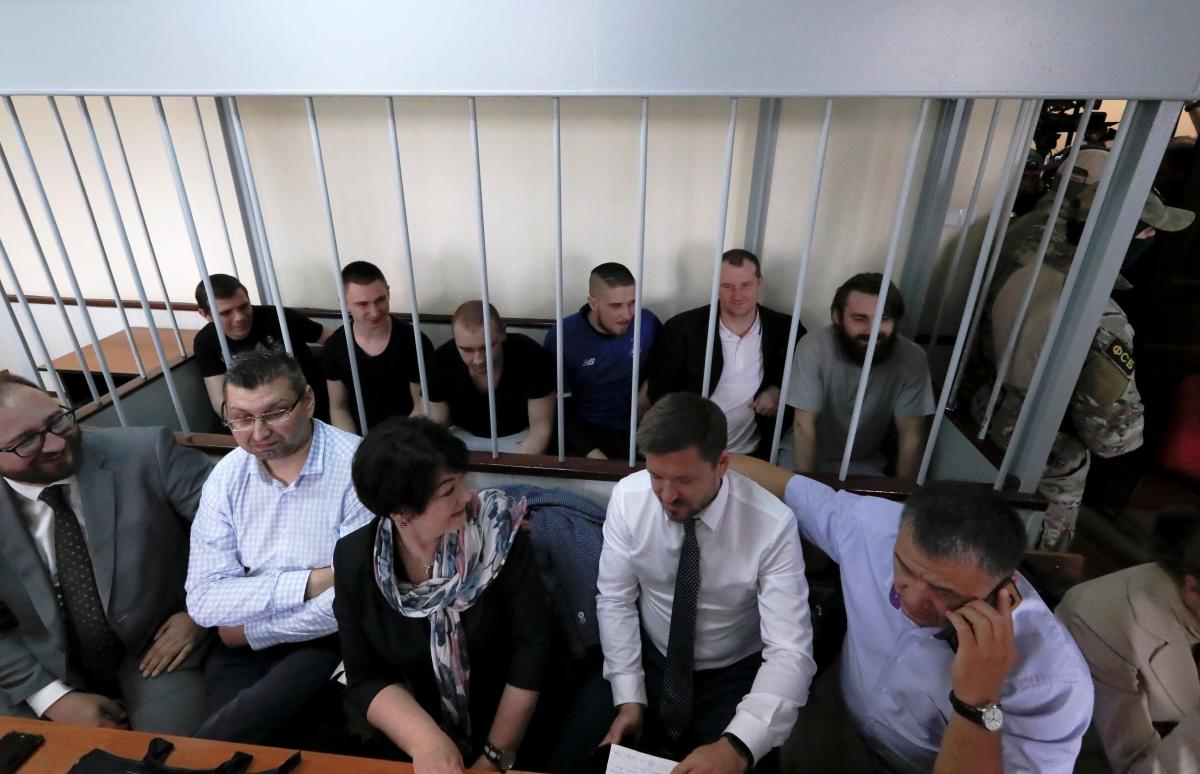 People as bargaining chips: Russia using Ukrainian POWs to get concessions from Ukraine
11:55, 18 July 2019
3 min.
600
Russia is further upping the stakes on the issue of releasing Ukrainian POWs. The latest episode in the dramatic story is the extension of custody term for Ukrainian sailors captured near the Kerch Strait on Nov 25, 2018.
On Wednesday, July 17, the Lefortovo District Court of Moscow ruled that the Ukrainian POW sailors shall be remanded in custody until October. Thus, the Kremlin once again demonstrated that the demand of the International Tribunal for the Law of the Sea (ITLOS) to "immediately and unconditionally" release Ukrainian ships and their crew, is just an empty sound for Russia.
"The decision of the Moscow Court is another violation by Russia of international law and further aggravates the dispute between Russia and Ukraine," the Foreign Ministry of Ukraine commented on the news.
According to Deputy Minister of Foreign Affairs for European Integration, Olena Zerkal, the ruling is "another Russian shot in its own foot."
"Pressure on Russia with demands to release sailors unconditionally will only increase. As long as Russia unlawfully holds the sailors, the issue will remain on top agenda of our partners in all formats of dialogue with the Russian Federation – from bilateral summits to statements at the UN Security Council," she assured.
Zerkal added that in the weeks that have passed since the ITLOS handed down its award, work has been ongoing to ensure that it was ultimately executed. "Now we are confident that the Russian side knows how this could be done," the deputy minister noted.
snap from video
Several details are evidence of this suggestion. Firstly, the issue of the sailors' release was recently discussed by the Ukrainian and Russian ombudswomen. Shortly after the last week's telephone conversations of the two presidents, Zelensky and Putin, Russian Ombudsperson Tatyana Moskalkova arrived in Kyiv, on the day a hearing was set to be held of former RIA Novosti-Ukraine chief editor Kirill Vyshinsky. Before heading to the courtroom, Moskalkova met with her Ukrainian counterpart Liudmyla Denisova. Following their meeting, a statement was made saying that the parties were exchanging the lists of citizens who are being held in Russia and Ukraine. Denisova clarified that Ukraine had included in those lists its POW sailors.
Secondly, Russia already has the experience of retreat while saving face in a similar situation. "From history, we remember that this is not the first time that Russia defiantly refused to execute (the award of the international court), and then did it just as demonstratively," Deputy Head of the Presidential Office, Vadym Prystaiko, reminded.
It is about Russia's failure to comply with the UN tribunal's decision regarding Greenpeace activists, whom in 2013 Russia accused of piracy over their attempts to hold a protest action against oil production on the Russian drilling platform in the international waters of the Arctic. The activists were able to return home only under the conditions of... amnesty.
In other words, says an expert for international and domestic politics program at Ukrainian Institute of the Future, Igar Tyshkevich, Russia may try to complete the trial of the Ukrainian sailors, regardless of the position of other states. And then, just as in a case with Arctic Sunrise, grant amnesty. At the same time, even for such a scenario to be implemented, Russia will demand all kinds of concessions from Ukraine, including, at international platforms, such as Normandy Four talks."
"Such a game is dangerous from the perspective of negotiations on Donbas and Crimea, since formally Russia will then count on mirror steps on the part of Ukraine. And this means that we will be forced to make unilateral concessions to Russia," says Tyshkevich.
Possible concessions on the part of Ukraine are, in fact, the main reason for Putin's "generosity spree."
"He understands that for Zelensky, the question of sailors' return is a priority, since, both before and after elections, he will be assessed on how he implements this promise. And therefore he [Putin] hopes to get more than we are willing to offer. He expects Zelensky to go for strategic-level concessions in negotiations on Donbas and Crimea, positions of pro-Russian forces that are returning to Ukrainian politics," said Oleksandr Khara, a Ukrainian diplomat and expert at the Maidan of Foreign Affairs Foundation.
Collage by UNIAN
However, in his opinion, Zelensky is unlikely to go for it. "He understands that there are some red lines that he, as president, can't cross. Since there is discord in Ukraine's patriotic wing, such a move [concession] would be a red rag for such people. And even a possible majority in parliament will not protect him from this," said Khara.
In general, the whole plot around the return of Ukrainian sailors is now extremely beneficial to Putin. Volodymyr Fesenko, Chairman of the Board of Penta Center for Applied Political Studies, by raising the topic of Ukrainian sailors, Putin poses as if he demonstrates a "goodwill gesture", but in reality, this is pure blackmail. "For example, an option is being proposed that only several sailors will be returned. But this situation is extremely dangerous. This is a game on contradictions – freeing some and keeping others in custody," says Fesenko. "But even if one or two sailors are released in this format, they [Russia] could demand not just concessions but as much as, for example, amendments to the Constitution on the special status of Donbas." Thus, the political scientist believes, Putin demonstrates that the exchange is possible, but only on Russian terms.
In this case, Ukraine finds itself in a very disadvantageous position. On the one hand, Kyiv cannot refuse to take even one or two prisoners. On the other hand, Ukraine must not play by Russian rules, otherwise the EU and the U.S. will accept the Kremlin's demonstration of "goodwill" at face value, and then no further strengthening of Russia sanctions can be expected.
Anastasia Zaremba
If you see a spelling error on our site, select it and press Ctrl+Enter