"NATO stands by your side": Stoltenberg addressed Ukraine's parliament
18:30, 31 October 2019
4 min.
2823
NATO chief Jens Stoltenberg's speech from the rostrum of the Ukrainian parliament lasted a little over ten minutes, met with several rounds of applause from people's deputies. UNIAN made a short "summary" of his recommendations for Ukraine.
NATO Secretary General Jens Stoltenberg is in Ukraine for the second day as part of his visit at the helm of the NATO North Atlantic Council delegation. The last time he addressed the Verkhovna Rada was the summer of 2017. And this was, in principle, the first speech of the NATO Secretary General delivered in the Ukrainian parliament. Then Stoltenberg quoted a poem by Taras Shevchenko: "It makes great difference to me that evil folk and wicked men attack our Ukraine, once so free, and rob and plunder it at will. That makes great difference to me." The quote heard a loud cheer at the parliament hall. During today's address, Stoltenberg heard deputies applauding his words more than once.
The Secretary General started his speech with a reminder that a new president and a new Parliament open "new opportunities for all Ukrainian citizens". That's including to "take the difficult decisions needed to make a success of reforms: "Many of you are newly elected. New to parliament, and new even to politics. This is your opportunity to be bold."
Stoltenberg recalled the time when he was a legislator, too, explaining he is aware of how hard and demanding it can be to be a member of a parliament.
He emphasized that on this Ukraine visit he is joined by the 29 members of the North Atlantic Council, and North Macedonia, soon to be NATO's 30th member, so "all the NATO Allies are represented here in Kyiv today. Each ambassador representing their home nation. Each nation standing with you. So whatever the future may hold, know this... NATO will be on your side."
Also, Stoltenberg recalled that with the illegal annexation of Crimea, Russia dealt a cruel blow to Ukraine and "undermined peace and stability in all of Europe."
"NATO does not accept Russia's illegal and illegitimate annexation of Crimea. We call on Russia to return control of the peninsula to Ukraine. And to stop its destabilising actions in eastern Ukraine. All NATO Allies, from Europe and North America, are united in their condemnations of Russia's behavior," he said.
The NATO chief said he believes the exchange of held persons, together with efforts in the Normandy format, could contribute to the full implementation of the Minsk Agreements. Also, Stoltenberg stressed that"Russia bears significant responsibility for the implementation of these agreements" and must "end its support for the militants and mercenaries in the east," as well as "withdraw its forces and equipment from Ukrainian territory."
"OSCE monitors must be given full and unhindered access to the whole of Ukraine. And there must be accountability for the downing of flight MH17 and the 298 people who died," said Stoltenberg.
Separately, the NATO secretary general welcomed President Zelensky's commitment to a peaceful resolution of the conflict in eastern Ukraine: "For five long years, this conflict has been destroying lives […] Over a million people have been forced to flee their homes. Others are trapped with no hope of a normal life. This suffering must stop."
Besides, Stoltenberg noted NATO's continued practical support for Ukraine. Most recently through the Comprehensive Assistance Package, NATO has been helping Ukraine implement crucial reforms, improve command and control within the military, increase military education and training, encourage the adoption of NATO standards, and be more resilient against hybrid threats, cyber-attacks and disinformation campaigns.
"We have increased our support to the Ukrainian navy in the Black Sea, including cooperation with your navy," Stoltenberg noted.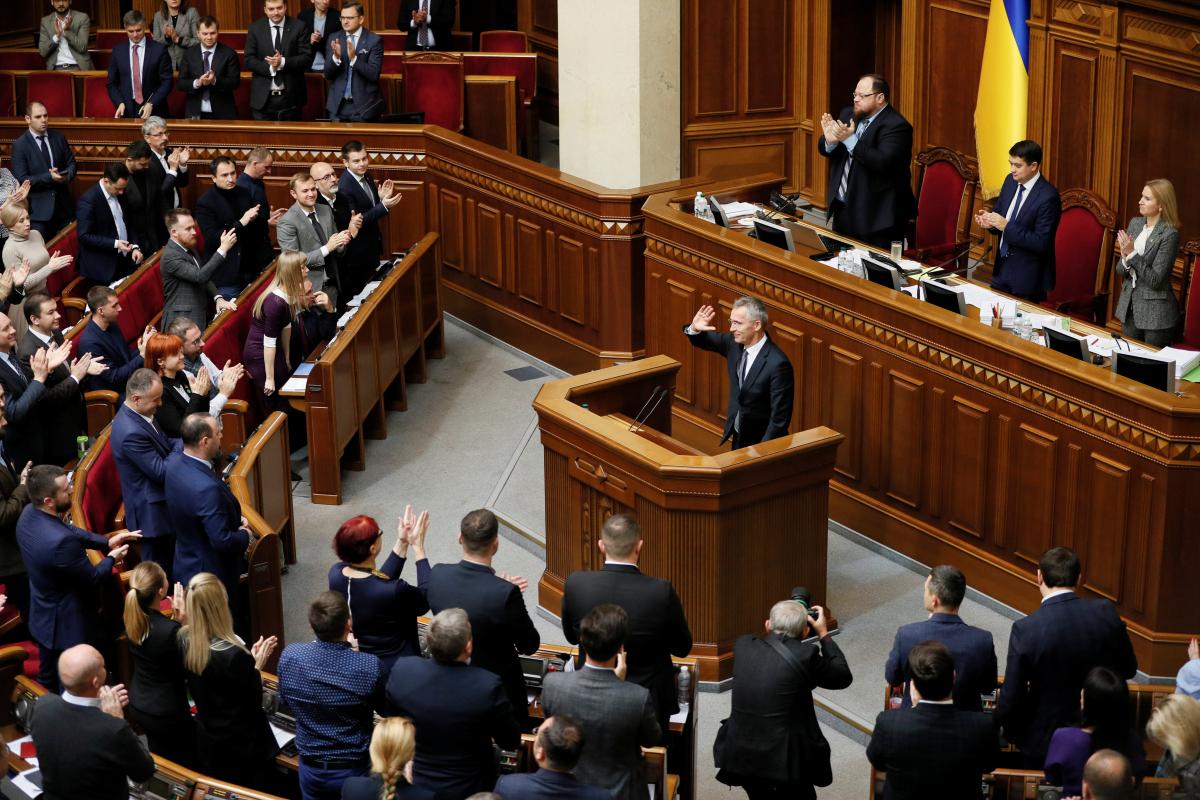 REUTERS
"But our partnership is not a one way street. Despite facing challenging circumstances at home, Ukraine has, over many years, proven to be a strong and effective partner to NATO. Taking part in NATO missions around the world. From our training mission in Afghanistan to deploying a heavy engineering unit to Kosovo. It also contributes to the NATO Response Force. And is preparing to contribute to NATO's training mission in Iraq. Ukraine helps to improve Euro-Atlantic security. And I thank you for that," he said.
The secretary general has said he is convinced that the newly elected parliament has "an historic opportunity to change Ukraine to the better."
"And you have already made a strong start. I look forward to the implementation of the Law of National Security, passed last year. With parliamentary oversight over the security agencies and defense institutions.  And the reform of the Security Service," Stoltenberg said, adding that the reform will support Ukraine's aspiration to one day join NATO.
"As a sovereign nation, Ukraine has the right to choose its own security arrangements. NATO's door remains open," Stoltenberg stressed.
He also spoke of his Wednesday's visit to the National Maritime Academy of Odesa, which "NATO has supported since the illegal annexation of Crimea."
"And yesterday we also had four NATO ships in the harbor of Odesa, demonstrating the strong commitment of the NATO Allies to this country," he said. "The future of this country rests with its young people, like the many cadets I had the pleasure to meet. Their intelligence, their passion and their professionalism shone through. Speaking with them, gave me tremendous hope for Ukraine's future. Ukraine has come a long way, and there is further to go. NATO stands with you because we share the same values. A love for freedom and democracy. Respect for human rights and the rule of law."
As in his previous address to the Verkhovna Rada, Stoltenberg quoted Taras Shevchenko's poem: "It's terrible to lie in chains, to rot in dungeon deep, but it's still worse, when you are free to sleep, and sleep, and sleep."
Stoltenberg concluded his speech with words about freedom, which he says is "not only a right" but an "obligation to act not simply in our own self-interest, but in the best interests of all people."
The NATO chief has called on people's deputies "to work together across party lines, for the benefit of all citizens of Ukraine."
"NATO stands by your side," said Jens Stoltenberg.
Iryna Shevchenko
If you see a spelling error on our site, select it and press Ctrl+Enter