Ukrainian interest. Soldierly Turchynov, escalation in Donbas and exchange of sanctions
09:00, 17 August 2015
2 min.
398
Ukraine's Security and Defense Council Secretary has traditionally stricken an aggressive, warlike pose. The Donbas conflict remains far from settlement and stabilization. Ukraine and Russia have exchanged the announcements of upcoming sanctions.
Donbas saw the increased intensity of shelling and the attempts by militants to find weak spots in the Ukrainian defenses. NSDC Secretary Oleksandr Turchynov went on a mission to voice forecasts of the further conflict developments, warning that, if Russia invades, Ukraine authorities will introduce martial law and will seek to mobilize enough forces to repel aggression. It is unlikely that he meant general mobilization; rather, it is necessary to change the attitude of all branches of power to the Donbas issue. Turchynov complained that Ukraine the West had not provided Ukraine with lethal weapons and military technology. He is right, but there are also other facts: for the past 10 years, our country has been in the world's top ten exporters of arms, while the bet on non-alignment status, made by Yanukovych puppeteered from the Kremlin, was a losing one.
John Kerry may further persuade Russian Foreign Minister Sergei Lavrov to observe the Minsk ceasefire agreement, and Frank-Walter Steinmeier - encourage both parties to the conflict to observe truce in the east of Ukraine. But so far, while the Western powers seek to freeze the conflict at the expense of the Ukrainian interests, Russia will keep acting with its hands untied. The economic sanctions, reinforced with Russia's patriotic fervor, will indeed be effective, but this is unlikely to happen instantly.
Speaking of sanctions, the Ukrainian Government has submitted to the NSDC a new package of sanctions against Russian businesses and individuals. In turn, Russia promised to expand its countersanctions against Ukrainian food products if the economic part of the Ukraine-EU Association Agreement comes into force. Kremlin strategists continue blackmailing Ukraine and at the same time putting forward demands to the EU, stressing that Russia is "concerned". However, for some reason they do not take into account that the Russian-Ukrainian trade turnover has been steadily declining, while Ukraine's dependence on Russia in all areas ceases to be critical.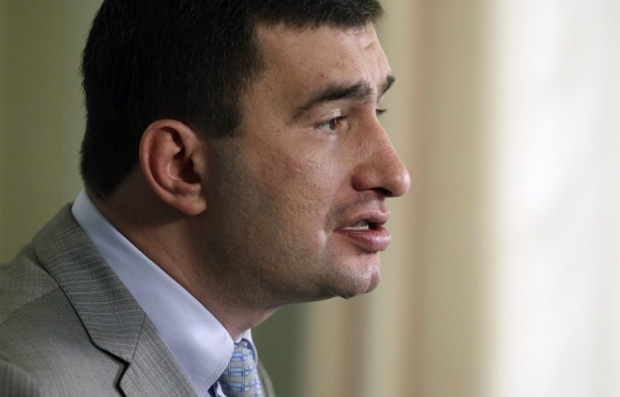 Markov to be held in custody, that is unlikely to add any points to "the Ukraine saviors" / Photo from UNIAN
Member of the Ukraine Salvation Committee Ihor Markov was arrested in Italy on an Interpol warrant. The odious Odesa-bound politician arrived from Russia was unlikely to arrive in an Italian resort to set up organize anti-Junta underground movement… The law enforcement officials found two Markov's travel documents: an expired Ukrainian diplomatic passport and a valid Russian passport. The local court ruled to keep Markov in custody, which is unlikely to add points to the "Ukraine saviors."
Well, if there was one person seeking to find ways for Ukraine's salvation lately, this would be Natalie Jaresko, US-born Ukrainian citizen who has been leading hardline negotiations on the restructuring of part of Ukraine's sovereign debt. Even the heavy artillery was involved last week, with George Soros approving actions of the Ukrainian authorities. However, the tough talks have not been finished yet.
Yevgeny Magda
If you see a spelling error on our site, select it and press Ctrl+Enter