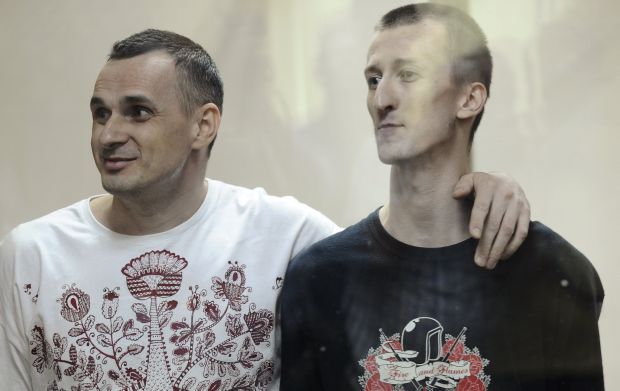 Ukrainian interest. Evil grin of Russian court, Poroshenko's European voyages, and Jaresko's exploit
13:00, 29 August 2015
2 min.
256
The trial of Oleh Sentsov and Oleksandr Kolchenko has ended with an expectedly brutal sentence. Poroshenko tries to find common ground with the European officials on Donbas conflict issue. Natalie Jaresko managed to win a 20% write-off of Ukraine's commercial debt.
The inquisition-style trials are an important element of any totalitarian state. Russia has succeeded in this, accusing Ukrainian filmmaker Oleh Sentsov and activist Oleksandr Kolchenko of terrorism on ridiculous "evidence." They were actually convicted for different reasons: Sentsov had enough courage to help the Ukrainian military during Crimea's annexation, not hiding his pro-Ukrainian stance. Kolchenko was just a second-line figure in this case. Incredibly harsh sentence is aimed at intimidating anyone who dares question the fact that Crimea now belongs to Russia. It's just that the defendants were anyting but timid: they embraced their conviction by boldly singing the Ukrainian national anthem right in the courtroom.
Interestingly enough, Russian Foreign Minister Sergei Lavrov made a smooth speech on  the end of the era of Western domination at a youth forum "Territory of senses on the Klyazma," just ahead of the announcement of court ruling. Lavrov has pledged that Russia would not flirt with the U.S. had the latter tried to start restoring contacts with Moscow. Indeed, with such covictions, there's no place for flirting.
Poroshenko has tried to get the most out of the current situation, not without success. However, his Berlin visit for talks with Angela Merkel and Francois Hollande were hardly a diplomatic breakthrough.
It was rather an element of the exhausting confrontation with a more powerful state, which attacked Ukraine. In the German capital, Proshenko had the opportunity to present his arguments, without wasting time on refuting those of the Kremlin.
It should be noted that the rapid emergence of Andrzej Duda in the Donbas equation has  found no understanding, not only among the participants of the Normany format, but also within the Polish elite, which questioned timeliness of their president's offer. Nevertheless, Warsaw will attempt to influence the process of Donbas settlement more actively, while the Ukrainian issue will stay on top agenda of Poland's upcoming election campaign. Poroshenko will need to find common approach to many issues with Duda, as Kyiv desperately needs as many allies as possible.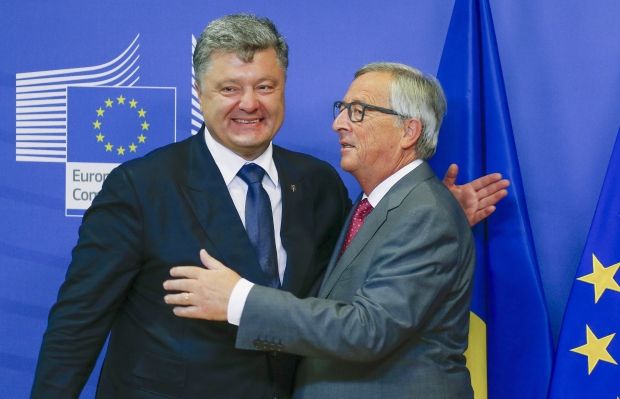 REUTERS
During a visit to Brussels the Ukrainian president made it clear that there will be no Minsk-3. He expressed hope that the EU will synchronize its actions with Ukraine on introducing sanctions against Russia. Jean-Claude Juncker was cautiously optimistic about the possibility of lifting a visa-free regime, which Donald Tusk, somewhat awkwardly, linked to implementation of constitutional reform and fulfillment of the Minsk agreements. It is obvious that in Europe is tired of the Donbas conflict. It is only trying to stop it from spreading further, not particularly caring about preserving the rules of political decency.
However, the West does not completely give up on Ukraine.
A 20% write-off of Ukraine's debt and restructuring of the main body of the loan is the evidence backing such statement. Finance Minister Natalie Jaresko achieved what seemed to be almost impossible: she has reached a compromise with the creditors on behalf of the state, suffering serious economic losses, while a large-scale financial crisis might only be starting.
Yevgeny Magda
If you see a spelling error on our site, select it and press Ctrl+Enter