Week's milestones. Klitschko's consolation, Yatsenyuk's somersault and constitutional mess
08:45, 02 September 2015
2 min.
187
Vitaliy Klitschko got a consolation prize after his political downshifting. Yatsenyuk exchanged his status of party leader for an opportunity to remain Prime Minister. First reading approval of constitutional amendments saw some serious bargaining in parliament.
Ukrainian politicians must study the art of consolidation. In this case, it is not about amending the Constitution, which our Western partners insist on. It is much more important to learn how to speak up together in the defense of our fellow citizens. A case in point is about Oleh Sentsov and Oleksandr Kolchenko convicted in Russian Rostov. Repressive machine of Putin's regime tried to crush two strong and confident Crimean guys. The priority issue for our politicians and Ukraine as a whole should be opposing this machine in all possible ways.
Meanwhile, the pro-presidential party welcomed a famous newcomer - a heavyweight boxer, who did almost a half-year stint in the post of the capital's mayor. It seems that Klitschko's desire to retain power in Kyiv at all costs was his main motive when taking decision to join the BPP-Solidarity [Petro Poroshenko Bloc – Solidarnost], which he is now heading. This is evidenced by his "speech from the throne," mainly devoted to Kyiv problems. Yuriy Lutsenko made a much brighter appearance, so he will continue to claim the role of the major pro-presidential tribune.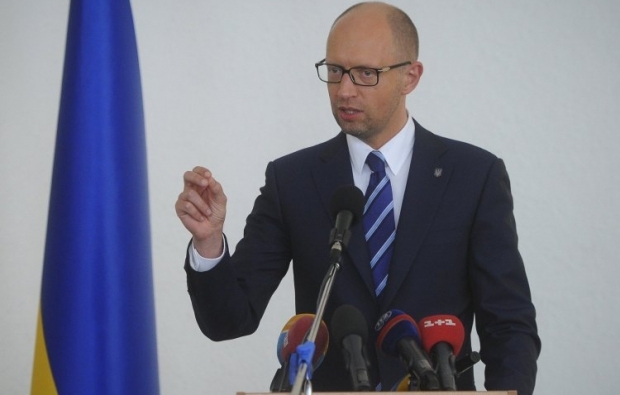 Yatsenyuk / Photo from UNIAN
Popular Front leaders decided to act in a more cunning way. Realizing that they will hardly get desired conditions of association with the president's party, Yatsenyuk announced that his political force will not run for the local elections, stressing that he intends to focus on reforming the country. Those party members who will run independently will be later welcomed in the ranks of the pro-presidential party. What contributed to Yatsenyuk taking such a difficult decision was certainly Natalie Jaresko reaching an agreement on a 20% debt haircut. Head of Government was happy to inform the public of raised pensions and salaries to state employees, which should help him in holding to his prime minister's seat.
Mykola Azarov and Volodymyr Oliynyk, who had earlier made an announcement in Moscow on the establishment of Ukraine Salvation Committee, finely tuned their move with the Kremlin's spin claiming that the United States spent $5 billion on EuroMaidan. Interestingly, this money is exactly what has been allocated for support of democracy in Ukraine since 1991. Meanwhile, the Prosecutor General Viktor Shokin assured that he would not leave his post amid rumors of his soon-to-come resignation. Moreover, he says he is going to demand stripping of immunity of some yet unnamed MPs from both the coalition and the opposition.
Serious political bargaining flared up ahead of the vote for constitutional. The President personally stressed the need for their approval, not only at the BPP-Solidarity congress, meetings with representatives of the public, but also in an "intimate" conversation with oscillating lawmakers. Samopomich faction has split under the pressure of circumstances and political expediency, so changing its internal rules is unlikely to be of any help. By the way, shortly after Andriy Sadoviy, the party leader, voiced his allegations of pressure on his MPs, he was summoned for interrogation to the Prosecutor General's Office.
Yevgeny Magda
If you see a spelling error on our site, select it and press Ctrl+Enter