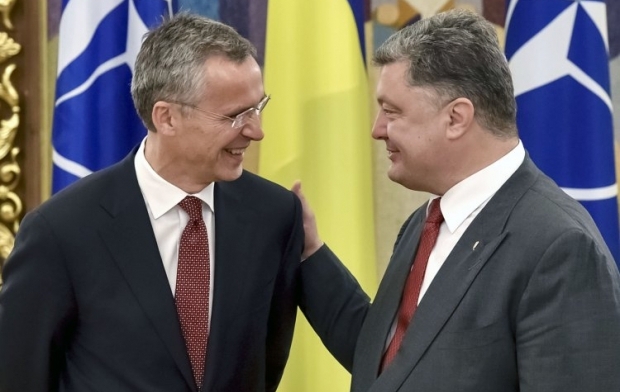 Ukrainian interest. Unprecedented rapprochement, blackmail in Minsk, and autumn in New York
13:00, 28 September 2015
2 min.
228
Ukraine and NATO brought their positions unprecedentedly closer together, stressing their partnership. Representatives of the militants in Minsk peace talks decided to use the tactics of ultimatums. The international community is awaiting the political debate at the UN General Assembly.
More than 60% of Ukrainians support the idea of ​​Ukraine joining NATO, according to a survey conducted by the Razumkov Center and the Democratic Initiatives Foundation. This figure is the highest recorded throughout the whole period of Ukraine's independence. The positive dynamics in this issue allowed the Ukrainian leadership to go for an unprecedented step: NATO Secretary General Jens Stoltenberg attended a meeting of the country's National Security and Defense Council. The Ukrainian authorities revealed new details on the Russian military presence in Donbas, while the NATO chief noted that the "local elections" planned by the self-styled "DPR" and "LPR" are a fake.
Russia's reaction to Ukraine-NATO rapprochement was exemplary. However, it must be noted that Ukrainian President Petro Poroshenko declared that our country is not yet ready to join the Alliance, although it intends to pursue the necessary reforms.
Aleksandr Zakharchenko, leader of the DPR militants, threatened Kyiv with war in Donbas in case of Ukraine's further rapprochement with NATO.
Interestingly, the position of the self-proclaimed leaders of the breakaway eastern Ukrainian territories in the Minsk peace talks has become much tougher. They began blackmailing the Ukrainian side on various issues - from refusing to release the hostages to calling Ukraine to recognize their "local elections" conducted amid Russia's military presence in Donbas. However, these claims by the militants were adequately rebuffed by the Ukrainian delegation, while the OSCE representatives also expressed their negative attitude toward such demarche by the separatists.
REUTERS
Actually, there is nothing strange in such diplomatic somersaults. The militant leaders have no personal position whatsoever. They only serve the interests of Vladimir Putin, who really wants to regain the status of the leader of a superpower. Seeking such possibility, Russian President urged his American counterpart to hold a meeting during the UN General Assembly. His efforts were successful, although the U.S. officials stressed that among the main topics of discussion would be the situation in Syria and in Donbas. The addresses by the state leaders during the political debate at the 70th session of the UN General Assembly will also be in the spotlight.
The Kremlin's willingness to reduce the price of gas for Ukraine for the winter period to $227 per thousand cubic meters is a convincing answer to the question whether the sanctions affect Russia.
Although the Vienna tripartite gas talks resulted on Friday in initialing a binding protocol on Russian gas deliveries, this does not diminish the need for a political solution by the European Commission of issue of the Nord Stream-2, which Gazprom plans to use to deprive Ukraine of its current "gas transit state" status.
Yevgeny Magda
If you see a spelling error on our site, select it and press Ctrl+Enter