Week's milestones. Multi-vector Themis, blow to Coalition, and Euro-gentility
08:45, 10 November 2015
2 min.
97
The servants of Themis tried to demonstrate their multi-vector nature, without much success though. The conflict between MPs Kuzhel and Teteruk cannot destroy the parliamentary Coalition due to its lack of unity. The situational constitutional majority failed to pass the bills required to obtain the visa-free regime.
The prosecutors and the Security Service of Ukraine (SBU) were in the spotlight last week. Hennadiy Korban's lawyers have exhausted the judges, or let's call them "servants of Themis," in Chernihiv and Kyiv, managing to push through a lighter restraining measure for their client, which is house arrest. Manwhile, Viktor Shokin, Ukraine's Prosecutor General, "shined" on a state-wide scale. Shokin seems to demonstrate his ability to ignore the flood of criticism coming from various directions. However, a sniper shot at an armored window of his office can hardly be called constructive criticism.
While Korban's lawyers celebrate their procedural victory regarding the choice of restraining measure, the prosecutors tend to depict as own success the detention of Olena Lucash.
Ukraine's former Justice Minister and a legal advisor to Viktor Yanukovych, Lukash has considerable amounts of useful information, but she is unlikely to share it while in jail. Given what Lukash is suspected of, with her being a mother of underage children, she can't stay behind before trial according to the Code of Criminal Procedure. Anyway, on Monday, following her bailout by Vadym Novinskiy, MP from the Opposition Bloc, she was placed under house arrest, provided she wears an electronic bracelet.
The relations within the European Ukraine Coalition are such that the public conflict between Oleksandra Kuzhel and Andriy Teteruk, whatever inconvenience Ms Kuzhel from Batkivshchina Party suffered, will not be able to destroy this Coalition. There's just nothing to destroy as everyone has long been trying to play their own game within the parliamentary majority. Batkivshchina has been pulling the banner of optimization of tariffs; Samopomich has been blackmailing the rest of the Coalition with leaving it, with persistence worth a better usage; while the Bloc of Petro Poroshenko and the People's Front are forced to carefully count each vote before each important session.
Yuriy Lutsenko may urge the deputies as sincerely as he can to work as slaves in the galleys, still everyone in the Rada would row with different efficiency.
Ukraine's Prime Minister Arseniy Yatsenyuk revealed plans of government reform, calling the minister of education and science among those to be dismissed. Of course, later he tried to explain that he had actually meant the minister of environment, but an unpleasant aftertaste is still there.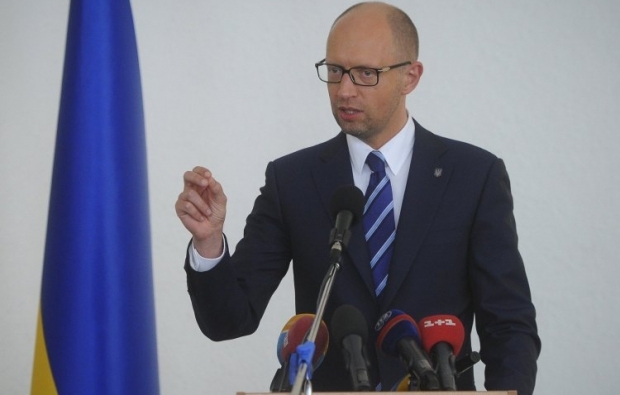 Yatsenyuk revealed plans of government reform / Photo from UNIAN
A new post of deputy prime minister on European integration, announced by Yatsenyuk, would not be a fifth weel, even in the context of a careless failure of the MPs, who had come to the Rada along with the the ideals of the Maidan Revolution, to pass the package of bills required for Ukraine to obtain a visa-free regime with the European Union.
The cold-blooded MPs, "burdened" with diplomatic passports and Schengen multivisas, have forgotten that politicians are sometimes required to take the not-so-popular decisions, if they want the country to move forward.
They chose Euro-gentility, showing that they are desperately distant from the interests of millions of citizens. Situational, but solid, majority in the current parliamentary convocation seeks no major changes, whatever they may say about Ukraine's "fresh" legislative branch. But it's not even the saddest thing. It seems the even early parliamentary elections, which are being discussed more and more intensively, may worsen the situation, rather than improve it.
If you see a spelling error on our site, select it and press Ctrl+Enter