Say Hello to U.S. arms
On November 25, U.S. President Barack Obama signed the Congress-approved U.S. defense budget for 2016 authorizing allocation of funds to provide military assistance to Ukraine.
U.S. assistance includes training, equipment and material support / Photo from UNIAN
In particular, the document says that the funds in the amount of $300 million shall be provided for in the 2016 fiscal year for the assistance to the Ukrainian army and all sectors of Ukraine's defense to ensure security. This includes training, equipment and logistical support. Budget officers noted that the objective of this support is to increase the capacity of the army and other security forces of Ukraine to protect the country against further aggression, develop capabilities to protect sovereignty and territorial integrity, support the Government of Ukraine in protecting the state from the actions of Russia and pro-Russian separatists who have been violating the ceasefire agreements of September 4, 2014, and February 11, 2015.
To achieve this goal, the U.S. defense budget, among other things, provides for a $50 million worth of lethal aid as well: the anti-tank weapons, mortars, military vehicles with weapons and ammo, grenade launchers, small arms and ammunition. It's quite a substantial assistance, given that Ukraine's state budget 2015 had only allocated UAH 7.5 billion (a little over $300 million) for these purposes.
Besides, Ukraine may get medium and long range counter-artillery radars able to detect and locate the enemy's long-range artillery. Tactical unmanned aerial surveillance systems may also be provided, as well as secure communications equipment and other electronic security systems.
20% of the funds can be used for the training of the Ukrainian troops: training in planning, command and control of military operations, mine clearance drills, training in providing first aid on the battlefield and medical evacuation.
The ice is broken
It is worth noting that the U.S. defense budget approves the President's right to provide such assistance, but does not require him to do so. So far, Barack Obama's position on granting Ukraine lethal aid, even that of defensive nature, has remained negative. In particular, last year the Ukrainian Freedom Support Act 2014 was adopted. It actually gave the opportunity to the President of the United States to provide military assistance to Ukraine. However, for the time of the Russian aggression against Ukraine, the United States, as one of the guarantors of Ukrainian territorial integrity in accordance with the Budapest Memorandum, has failed to arm Ukraine with defensive weapons to deter another "guarantor" of Ukrainian territorial integrity.
According to political scientist Taras Chornovil, Obama's position on the possible arms supply to Ukraine has changed dramatically. "We need to realize that the circumstances tread on him. He will never be president again, according to the U.S. Constitution, but his political power is really interested in winning the upcoming elections. It is understood that in Obama's last year of cadence, when the U.S. president was largely criticized for his "weakness," there is a certain shift in accents and decision-making process," he said.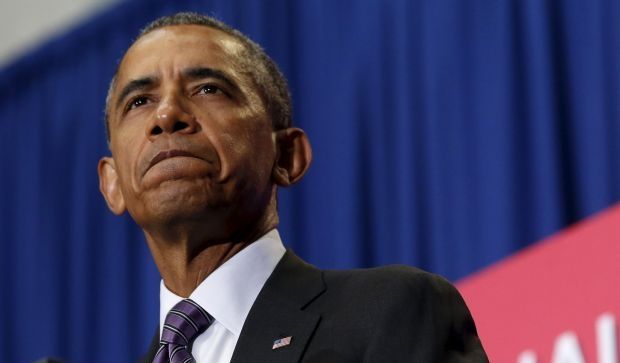 REUTERS
According to Chornovil, the role of the pro-presidential parliamentary faction in decision-making is growing. To date, neither the Democrats, nor the Republicans changed common position on the need for full support for Ukraine. Moreover, it has become more serious, and the influence on Obama on this issue of providing defensive weapons to Ukraine has increased among Democrats. "The fact that any concessions to Russia play against the image of the party, which represents the U.S. authority, can't be ignored," said Chornovil.
In his opinion, the U.S. president has long accepted the need of military support for Ukraine. This can be confirmed with the fact that, when vetoing the draft defense budget Obama, had made clear statements on what he was not happy about. At the same time, he expressed no concern regarding the provisions of the budget regarding provision of arms to Ukraine, although he could. Accordingly, Chornovil believes there is a sufficiently high probability that Ukraine will see U.S. defensive weapons next year.
Military necessity
The fact is that the $300 million aid will not be transferred to Ukraine in cash, so to speak. Allocation of these funds requires certain technology supplies and means of protection, including defensive ones. "This means that we will have modern equipment we could never get before. Including counterbattery artillery systems, able to detect any launches and artillery attacks in our direction in a very long range, and refute them. This would be really necessary for us if the conflict escalates," said Chornovil.
Another important factor for Ukraine is that military-technical assistance from the U.S. confirms military cooperation between Ukraine and the United States beyond NATO framework. "This is a factor of deterrence for many aggressors. America is ready to invest in the Ukrainian army, particularly in the Ukrainian defense against Russia. This, among other things, is a signal Obama has long hesitated to send, but he finally has. To a certain extent, it is a deterrent, which will force the aggressor to think twice. Of course, if the Kremlin takes some completely "crazy" decision, it won't play a key role. But the very understanding of the fact that Ukraine has U.S. weapons and U.S. instructors who train the Ukrainian troops should alert a potential aggressor," he said.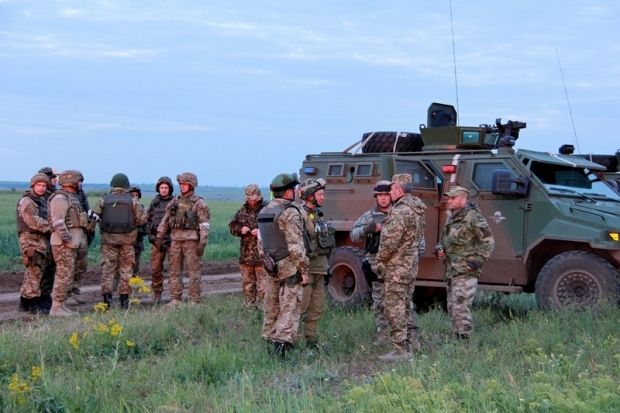 America is ready to invest in the Ukrainian army / mil.gov.ua
In turn, co-director of foreign policy and international security programs at Razumkov Center Oleksiy Melnyk said that, despite U.S. support and training of our military, which certainly leads to increasing the country's defense capabilities, there are other key issues that must be dealt with by the Ukraine's political leaders. First of all, it's about the management of the armed forces. "For example, there are several factors that may influence the decision or non-decision on granting Ukraine the Javelins, high-precision anti-tank systems. One of the principles that the Western states are guided with in decision making is the appropriateness of such supplies – whether they will contribute to de-escalation of the conflict. And if Ukraine convinces its partners that these weapons are truly needed and will contribute to de-escalation and reduction of casualties, the probability of such supplies increases," says the expert.
Another question that has been raised repeatedly by Ukraine's Western partners is trust. "Ukraine's partners have issues from time to time, which are not raised in a publically. That is, they consider whether the Ukrainian leadership is truly guided with national interests. In particular, it relates to the fight against corruption, which directly affects the decision on arms supplies," says Melnyk.
The deterring factor
In any case, obtaining defensive weapons by Ukraine will become a deterrent to Russia, experts say. And, according to Oleksiy Melnyk, it shouldn't be considered that such supplies could provoke Russia to a new round of escalation. "As of today, especially in the wake of Russian-Turkish developments following the incident with the downing of the Russian bomber, it seems to me that the fundamental conclusion the West should make is that the only language that is clear and convincing to Russia is [the language of] decisive force," said the military expert.
The sooner Russia understands that any aggressive actions will lead to paying a high price, the faster certain adjustments will be made in Russian politics, according to Melnyk. "Counterbattery systems recently supplied to Ukraine really are a deterrent. In case they are successfully applied (that is, if they detect positions of the battery shelling the Ukrainian positions, and provide for returning fire immediately), the probability of attacks will be reduced significantly. It will be reduced for two reasons. First, there will be less mortars and mortar crews. And, second, the commanders will start considering whether it's worth firing a mortar if a single shot threats the battery with extermination," he argues.
"If Ukraine gets Javelins, then, if ten militant main battle tanks are deployed in offensive positions, all ten of them will be, in fact, destroyed. The next ten MBTs won't be as decisive, losing the feeling of impunity," says Melnyk.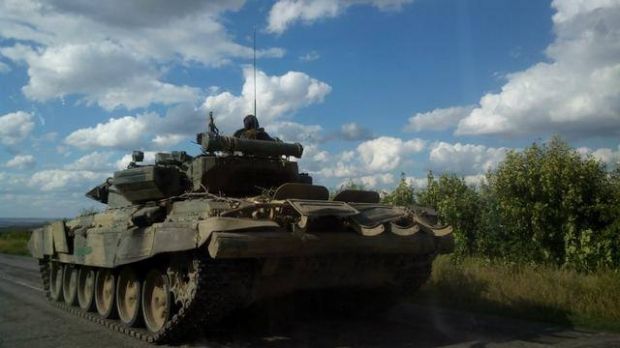 Melnyk believes that the Javelins will effectively destroy militant tanks / facebook.com/EuroMaydan
In turn, the director of the Institute of Global Strategies, Vadym Karasyov, believes that the signing of the U.S. defense budget once again demonstrates that the world enters into a phase of militarization. According to him, Ukraine needs certain time, from the perspective of its national interests, to launch its military-industrial complex and produce weapons. During this period, Ukraine needs assistance, and the Americans know it. "They will act very carefully, but, nevertheless, they are aware of Putin's unpredictability, of which they learned on a Syrian example, that may affect the situation in Donbas," he said.
"Russia has already shown its military capabilities, and they are much more significant than those of Ukraine. In order to reduce the degree of militarization of the situation in Donbas, reduce the possibility of an escalation of the military conflict, Ukraine's defense capabilities need to be strengthened now. After all, when the likely adversary understands that you have no military capacity, it only encourages his military offensive," the analyst says.
According to him, this way the Americans demonstrate a willingness to take care of Ukraine's defensive capacity, as not all solutions can be found in the Normandy format. In addition, NATO is also reoriented toward deterrence of Russia.
Kostyantyn Honcharov
If you see a spelling error on our site, select it and press Ctrl+Enter