Israel - Ukraine: Support impossible to ignore. Punctuation matters.
21:30, 29 January 2016
5 min.
549
The advice to look out for the Israel's experience has been the most prominent one since the start of hostilities in eastern Ukraine. However, despite somewhat similar relations with its own neighbors, Israel is in no rush to support Ukraine.
Despite the fact that Ukraine is likely ready to take advantage of not only Israel's experience in conducting large-scale anti-terrorist operations, but also of the weapons that Israel could supply to strengthen the Ukrainian army, the main object interest,  the Israeli drones, remains a distant dream for Ukraine.
Israeli Ambassador to Ukraine Eliav Belotserkovsky in his recent comments to UNIAN said that "Ukraine and Israel have very good prospects in many areas, and we will implement them to the maximum." However, he refused to specify how real is the possibility of strengthening military-technical cooperation between the two countries. According to him, this topic is not for media discussion.
"We fully support the territorial integrity of Ukraine, is the consistent position of Israel ... We stay one hundred percent in support of Ukraine's integrity, but at the same time, we cannot jeopardize our relationship with Russia," said the diplomat.
In fairness it should be noted that, while declaring support for Ukraine's integrity, Israel does not endorse anti-Russian sanctions, and a number of Israeli companies continue their trade with the Russian-annexed Crimea. However, according to the Ambassador, the Israeli government cannot point to private companies, what they should or should not do. "We have a clear position on Crimea - we support the territorial integrity of Ukraine. Our task is to bring to their attention that it is punishable. We do not give advice to private companies," said Belotserkovsky.
Russian blackmail
Former Consul General of Ukraine in Istanbul and Edinburgh, chairman of Maidan of Foreign Affairs Foundation Bohdan Yaremenko believes that in Russian-Ukrainian conflict, Israel is guided by nothing else but its own national interests. According to him, Israel is trying to maintain a position that would support Ukraine's territorial integrity, at the same time carrying out no practical measures to implement their position. This may be related to Russia's policy of blackmail against Israel. "Russia has warned Israel that these, or other, steps against the Russian interests will be "compensated" with supporting terrorist organizations like Hamas, Hezbollah, and others, providing Israel's adversaries with weapons that can change significantly the security situation in the region, destabilizing it," said the diplomat.
The expert names Russia's military intervention in Syria among other destructive actions of the Russian Federation, which threaten the security of Israel. "Destabilization of Syria threatens Israel's security. Russia understands the futility of direct threats to the U.S., and bullies its allies instead, trying to create a split between them. Using threats against European countries, Russia "hints" that they should better move away from the U.S. The same is with Israel. Russia uses destabilization in Syria to put pressure on Israel so that it does not make certain steps, including, in favor of Ukraine," he said.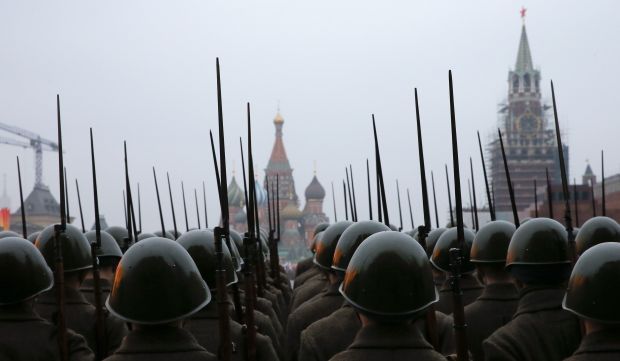 REUTERS
However, the diplomat believes that, despite Russian pressure on Israel, Kyiv should further seek to strengthen military-technical cooperation with Tel-Aviv because there are such opportunities. Bohdan Yaremenko is positive that, if Ukraine is interested in such cooperation, it must consistently and persistently pursue its policy of gaining access to resources and technologies. As a result, it will actually happen at a certain stage, the diplomat believes. "Russia's pressure will not forever remain the main argument... The water wears away the stone: Ukraine should pursue attempts to achieve its goals, without any public announcements," said the expert.
Geopolitical dynamics
In turn, the political scientist, director of the Institute of Global Strategies, Vadim Karasyov, notes that Russia, regardless of the position of Israel on Ukraine, may continue supplies of military equipment and weaponry to Israel's enemies. However, Tel-Aviv's careful line of conduct in relation to the Russian-Ukrainian conflict is a justified position from the point of view of the country's national interests. "Israel is in the shade, because Israel needs stability in the Middle East. The geopolitical dynamics of the region is very volatile, it is risky, that is why Israel is interested in stabilizing factors and influences. It is no coincidence that Israel, just like the United States, which is also interested in regional stabilization, has to coordinate and cooperate with Russia in the Middle East – not on a full scale, but nonetheless, at the level of intelligence and military agencies. In Syria, in particular," the expert says.
According to Karasyov, the key factor of policy in the Middle East is military prowess. And, despite becoming an "economic dwarf," Russia still remains military superpower, "a military giant." As a result, Israel must be alert to monitor relations between Russia and Iran, Russia and Syria; the possibility of Russian supplies of anti-aircraft missile systems to Syria or Iran... Thus, according to the analyst, the role of Russia in the Middle East is incomparably greater and more important for Israel than cooperation with Ukraine.
"As there is no Middle East policy of Ukraine as such, the country can't be a player in a big game, which is getting into a full swing in the Middle East, and will largely shape the image of the 21st century, not only in this region but also in the world's geopolitical dynamics... Israel should take into account Russia's interests, so it has been balancing between the Russian and Ukrainian viewpoints, without taking anyone's side entirely," says Karasyov.
"There are 8 million people living in Israel, surrounded by Arabs, numbering more than 100 million people. The country is forced to maintain a careful diplomatic line and conduct cautious foreign policy, including toward Russia," he says.
Simple "gesheft"
Taras Chornovil, a political analyst on international affairs, does not rule out that one of the reasons for the lack of support for Ukraine in Israel may be internal pressure. "There is an internal problem. Israel is a country of immigrants... A huge number of people living in Israel are originally from Russia and Ukraine. But the latter have never perceived themselves as citizens of the Ukrainian state, and despite the fact that they have always been in certain opposition to the Soviet regime, they are still a bit nostalgic for the Soviet Union," says the expert.
REUTERS
The expert adds that, as a result, the people who were skeptical about Ukraine as an independent state after the collapse of the Soviet Union "made great careers." "And today, they are not only voters but also members of parliament, ministers... and they seriously affect the foreign policy of Israel," he says.
In addition, in his opinion, many Israelis have strong economic ties with Russia, besides the mental links. "Many Israeli businessmen have certain contacts and ties in Russia. However, those who want to do business in Russia are subject to certain control and remain under certain influence. They know that their business may either be closed down, strangled, or appropriate conditions for normal activity and special preferences may be introduced. They just need to create certain political influence in Israel in return," he said.
In addition, Israel's position regarding the anti-Russian sanctions is affected by the fact that the economies of the countries that have adopted restrictive measures in economic relations with Russia, also suffer. "Of course, Israel does not want to incur losses. Although the margin of safety of the Israeli economy is sufficiently high, and the country would have survived these losses not worse than any European economy. But what is the point of suffering losses because of a problem which Israelis perceive as distant and alien? Especially considering that Ukraine is not able to offer anything in return for Israel anti-Russian sanctions, while Russia can repay in some way for non-introduction of such sanctions. Therefore, a simple 'gesheft' comes into play," he says.
In this regard, considering that it's Ukraine that needs Israel more than Israel needs Ukraine, the official Kyiv should think hard, what mutually beneficial joint projects we could offer Israel.
Kostyantyn Honcharov
If you see a spelling error on our site, select it and press Ctrl+Enter