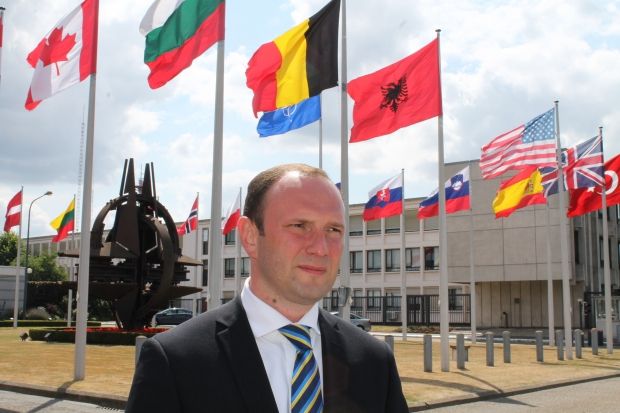 "Russia accepts no other signals than those of strength and economic pressure" - Acting Head of Ukraine's Misson to NATO
Yehor Bozhok, Acting Head of Mission of Ukraine to NATO, has told UNIAN in an exclusive interview about the new stage of cooperation with the Alliance, explaining what Ukraine expects of the NATO summit in Warsaw.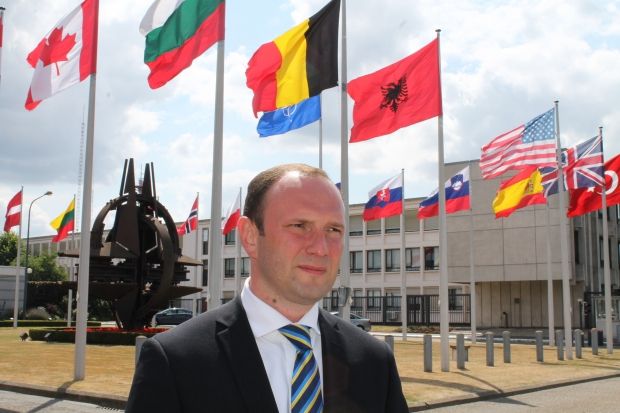 Acting Head of Ukraine's Mission to NATO Yehor Bozhok / nato.mfa.gov.ua
Last year, Ukraine and NATO have started a number of joint projects, among them a new concept of command and control over the Ukrainian army. At what stage is its implementation now?
Having started with command and control system, we have moved much deeper with NATO over this period. Today, we are talking not only and not so much about the command and control system as such, it's about the reform of the command and control system as an element of a comprehensive reform of the Armed Forces of Ukraine in line with NATO standards. In this regard, our key task this year is to achieve concrete agreements, implement our plans and projects with the Alliance.
Now we're not talking about situational issues, not about emergency aid, but the medium-term assistance of strategic nature. Do you remember that the President of Ukraine had a separate element in his "Ukraine 2020" program concerning the Ukrainian army, which by 2020 is expected to have reached NATO standards. To achieve this goal, we, together with the alliance, are developing a comprehensive medium-term reform of the Armed Forces of Ukraine for the period up to 2020.
Is this the document the Chief of General Staff was talking about late January?
Absolutely right. The detailed plan in this document, jointly drafted with NATO advisers working in Ukraine, was introduced January 21 by Ukraine's Chief of General Staff here at NATO headquarters, and it has received positive reviews. The next step is the development of a so-called Strategic Defense Bulletin, which is now being completed.
This document must be submitted early in March here at NATO by Ukraine's Defense Minister. According to our agreements with NATO, the state program of reforming the Armed Forces for the period up to 2020 should be developed in line with the Strategic Defense Bulletin before May of this year.
Why May if the Chief of the General Staff announced that it would be presented by the President at the NATO summit in Warsaw?
The draft program must be finalized in May, at a meeting of Ukraine-NATO Military Committee. We hope that during the NATO summit in Warsaw this July, a highest-level meeting of the NATO-Ukraine Commission will also be held.
In addition to the political importance, we are laying a serious practical meaning into this summit. That is, the President of Ukraine is expected to present at this summit a comprehensive state program of reforming the Armed Forces of Ukraine for the period of up to 2020, designed – I emphasize – in close cooperation with NATO. And the outcome of the NATO-Ukraine Commission meeting will hopefully be the adoption of a comprehensive assistance package for the development of Ukraine's defense capabilities.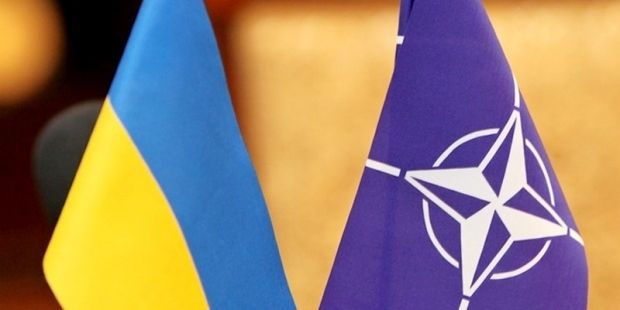 A meeting of the NATO-Ukraine Commission will be held in Warsaw in July, 2016 / mil.gov.ua
If we are developing the state program of army reform together with our allies, and the document is to be finalized in May, what is the reason to present the program, which everyone is aware of, at the NATO Summit in Warsaw?
Fair enough. This work has already started. Our plans are even more ambitious this year. That is, having started with some individual issues like command and control systems, logistics systems, medical support, the things that were most urgent for us at the time to restore the ruined army and be able to resist Russian aggression, we have now come to the point that we need more.
You mean, for the implementation of this program?
There are formal procedures. Now there is NATO's formal decision to help Ukraine against the background of unprecedented aggression by the Russian Federation to restore the most critical and most important defensive capabilities. Now we are saying that we need a more strategic assistance – to build a new model army. This is a medium-term assistance, which includes budgeting and funding. This is serious money: investments of the Alliance as a whole and of the individual Allies. It's up for the heads of state and government to take such decisions, of course.
That's why we need to have this comprehensive package of assistance adopted at the NATO summit. First, we need to back it with political will at the highest level, and, secondly, with the necessary financial resources.
Can you name the approximate amount of funding needed? Will it come in the shape of trust funds? What will be the form of all this assistance?
It will be quite diverse. We expect that this comprehensive assistance package will include both existing programs and projects, including trust funds, as well as further initiatives on which we are currently negotiating with our friends and partners in NATO. You already know of some of them – like the Special Operations Forces.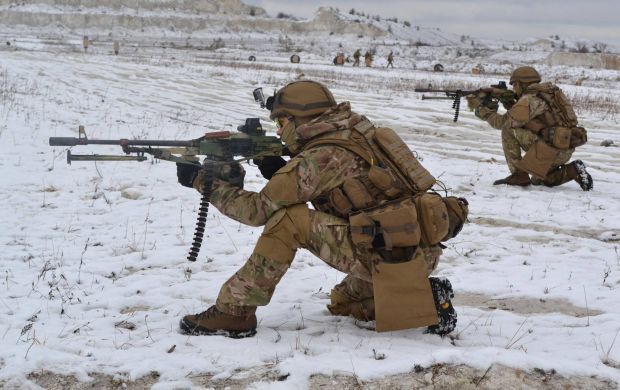 One of the NATO initiatives is the development of special operations forces / facebook.com/ato.news / Andrey Ageev
Very interesting… And where are with this project now?
Tangible progress has been achieved in this project. In the near future (I don't want to jump ahead of ourselves, but it will be in the near future) you will see the results and the concrete accords we will strike with the Alliance upon the outcome of Petro Poroshenko's meetings here at NATO Headquarters as well as at the Supreme Headquarters Allied Powers Europe in Mons held in December last year.
Has soon can it be expected?
We are talking about weeks.
Will the document be signed here?
No, the document will be signed in Ukraine. It will be an agreement on cooperation between Ukraine and NATO in the area of the creation of the Special Operations Forces, which will determine the number of specific areas on which we will get advice, training and logistical support of NATO.
That is, there will be a group of consultants or instructors who will come to Ukraine and train...
There will be more than that. I would not reduce it to the consultants or instructors only. Cooperation will cover a very wide range of issues, starting with the doctrinal base, ending with specific training and equipping the troops.
What about NATO assistance in the reconstruction of Ukraine's Naval Forces?
This is another project we are talking about.
But we've been talking about it for quite a long time...
This is correct. But, as in any international organization, which has a sufficiently large number of members, there is a decision-making procedure. This procedure has now being completed, and we expect that an agreement will be reached in the near future on the launch of the NATO project to help Ukraine in the reconstruction of its Navy. We are talking about restoring it in line with the new standards and examples, which, de facto, means building the new Naval Forces.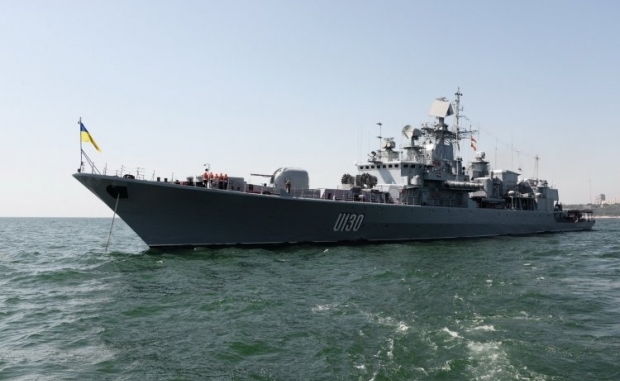 Ukrainian Navy will be restored in line with the new standards and examples / Photo from UNIAN
And what are the approximate terms?
All the things we're discussing now are oriented toward the summit.
Then it will be a very interesting summit...
We want this summit to be decisive.
Every summit is crucial to us...
This time, it's not only about us. Our friends and partners in NATO want it [to be decisive] as well. Therefore, we do expect and hope that the NATO-Ukraine summit in Warsaw will be decisive in terms of laying a political framework and a foundation for the specific practical medium-term cooperation with NATO filled with real content. A key objective of such cooperation is the development of the Ukrainian defense capabilities in accordance with NATO standards. Besides, among the practical projects that we expect to bring to the level of specific agreements at the summit is demining of the areas in eastern Ukraine.
But this project has already been working...
It has, but we'd like to make it work on a larger scale. The volume of problems that we are facing and that we need to solve require a substantial enhancement of cooperation with NATO in this area. This will be a wide scope of cooperation, ranging from logistical support to an advisory-consultative training of personnel, etc.
By the way, at what stage is the implementation of the project for the production of 3D mine detector (a joint Ukrainian-Norwegian project worth EUR 450 million)?
We are now at the stage of approval of the project with the Allies, with the respective committee of NATO. We expect that in about a couple of months, we can talk about the beginning of a practical phase of this project.
And where will the device be manufactured?
It must be produced in Ukraine. Our philosophy is that all the aid in research and development that we request and receive from NATO should be aimed at the development of domestic capacities. That is, it's not about just getting something, or buying from someone, we need to create our own capacities, which would ensure self-provision with necessary equipment in the long term.
After the illegal annexation of Crimea and Ukraine's loss of air space control over the Black Sea, we were talking about Ukraine joining NATO air traffic control system...
Now, under the NATO's Air Situation Data exchange, to which we have access, we get assistance to ensure the airspace control over the Black Sea and near the south-eastern borders of Ukraine. It is already working, but we move on. There is one of the projects implemented within the framework of one of the trust funds regarding the accession of Ukraine to NATO's air traffic safety system. That is, the Ukrainian radars will be upgraded allowing us to share data with our friends and partners in the Alliance, as well as receive data from the radars that are installed in the NATO member states.
How many radars will be upgraded?
Now we are talking about the two locations.
What are they?
That I cannot tell you.
We see substantial developments in the direction of cooperation with NATO in the area of strategic communications. Now, with the help of experts from the Alliance, we have finally conducted a so-called gap analysis and developed a perspective diagram of the national strategic communications system that would have to be implemented in Ukraine. We expect that we will manage to complete the draft joint NATO-Ukraine project before the summit on the construction of a concrete national strategic communications system on the basis of that perspective system. There are a lot of plans and a lot of work to do.
Then why is there still no Permanent Representative of Ukraine to NATO?
Only the President of Ukraine has the exclusive prerogative to comment on this question. For my part, I can assure you that from a practical point of view, and in terms of content and the results of our cooperation with NATO, the absence of the Ambassador has not yet led to negative consequences. But from a political point of view, the presence of the Ambassador at such an influential organization, which is one of our active supporters, is important. I am convinced that in the near future, this issue will be resolved.
On February 10-11, a meeting of NATO Defense Ministers will be held. But Ukraine's presence at this event is not planned, isn't it?
We are not present at the ministerial events because, firstly, as I've already mentioned, over a certain period of time of cooperation with the Alliance, it's the meaning, not the looks, which is more important. We did not have enough time to prepare, together with the alliance, a substantive content of the meeting of the NATO-Ukraine Commission in the framework of the NATO ministerial event in February. Therefore, such a meeting will be held later. As I said, during the next meeting of the Commission, Ukraine's Defense Minister shall submit a draft Strategic Defense Bulletin. It's simply not ready for the dates when NATO holds its ministerial meeting.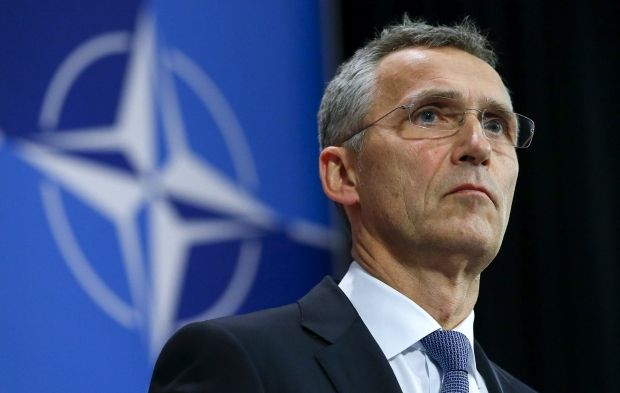 REUTERS
Don't you think that it might send a signal to the Russian aggressor about a relative weakening of Ukraine's positions?
It sends no such signals. Because, firstly, we have noticed that the Russian side would not accept any signals other than the signals of strength and economic pressure. And the second thing – we had a meeting of the Commission at the ministerial level a month ago. The situation has not worsened, but, alas, it has not improved, either. Therefore, I consider it inappropriate to hold a ministerial meeting a month after the previous one in order to reaffirm the support. Because this support is evident, and everyone is aware of it, even our Russian "partners," who don't understand many things when they are told for the first, or even the second, time.
In order to send a really powerful signal to the Russian Federation that they can decipher, each of our meetings at the high, and highest, levels should have practical meaning. There were times when, as you remember, even a ceremonial event at a high or the highest political level was very important for us, because they simply didn't wish to talk to us. Now they do, moreover, it's on a daily basis and on serious issues. Therefore, if we are planning an event at the level of ministers or higher, we need to have a serious practical outcome. But if we are not ready to ensure it, we can hold such meeting a little later. They are ready to meet and talk with us, I assure you.
Iryna Somer
If you see a spelling error on our site, select it and press Ctrl+Enter