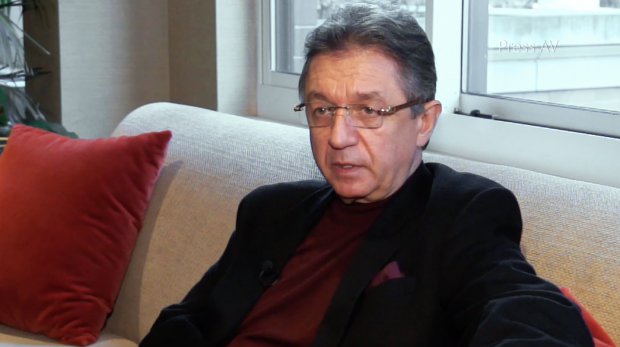 Ex-Envoy to UN: When you only tell the truth, you start earning trust"
19:10, 09 February 2016
317
0
Interview
In his first interview after the resignation from a post of Ukraine's Permanent Representative to the UN, Yuriy Sergeyev has told UNIAN when he had cut personal contact with his Russian counterpart Vitaliy Churkin, and how just a few Ukrainian diplomats had managed to refute the Kremlin's aggressive policy.
United Nations is a strategically important diplomatic platform for Ukraine. It is here where the partners and vigorous opponents are defined.
It was at the General Assembly session in March 2014 where the world has called Russia's annexation of Crimea illegal. Today Ukraine, together with its partners, is trying to find a diplomatic solution to this conflict, stop the war in Donbas and put an end to the Russian aggression.
For eight and a half years, the Ukrainian mission to the UN has been led by Yuriy Sergeyev. The last two years was a very difficult time.
Since his dismissal, Yuriy Sergeyev has not spoken to the reporters until this interview. This the first interview where the ambassador recalls his long-standing conflict with Moscow, telling when he has cut personal contact with the head of the Russian delegation, Vitaly Churkin, and his team, and how the Ukrainian team, which was ten times smaller than the staff of the Russian mission, confronted the Kremlin's aggressive policy.
You have held the post of Permanent Representative of Ukraine to the UN for eight years. Can you describe in a few sentences the evolution of the Mission? What was it like eight years ago, and what has it become now?
Eight and a half years, Andriy. Yes, it's a long time. There were always professionals at the Mission, at all stages. Now there is a young team, and I was a witness of its renewal and rejuvenation. They are good experts in various fields.
Ukraine's issues have evolved. When I arrived, there was a difficult situation and the first clash with the Russian Mission around the recognition of the Holodomor as genocide. It was in the year of 2007. We spent a few months to eventually adopt a declaration that told clearly of what exactly happened in 1933. But then there came resistance from both the incumbent Russian Ambassador Vitaly Churkin and his entire team. It was the first fight which gave us a hint that not all is going to be simple. And so it has evolved ...
The second battle regarded Russia's draft resolution, which indirectly accused Ukraine of allegedly supporting neo-Nazism, things like that.
And then it came to the more serious things – Russian aggression and occupation of Crimea. But, in fact, the very background of this story and moral readiness of our staff helped us to shape an unambiguous response in February 2014, as we all knew what to do.
In two years of roaming the sidelines of the UN Security Council, I was faced with a situation when the staff of diplomatic missions often asked me "off the record": "What is really going on in Ukraine? What is your personal position? " How important is your personal communication, such as with the ambassadors? How important is it in decision-making and in situation assessment?
Live communication is always an important factor of establishing not just relationships, but also trust. When you hold position of telling the truth exclusively, you start earning trust... And whatever you'll say officially will be perceived just as like you say it in the everyday life.  If they taste a lie, you won't be trusted.
So throughout these years, we (not just I, but the whole team) have been building up our relations with the diplomatic corps, with the United Nations Secretariat by speaking only the language of facts, only the language of the heart, not just the way we that would favor us or the way we would like to be perceived. That's why they believed us in a critical moment. They believed, and they supported us.
Is it true that all important decisions are taken during informal meetings?
They are being prepared. A decision is only taken when there has been a vote – a secret or an open one. But preparing decisions positive for us indeed comes through personal communication. But personal communication, like any human communication, means that they either trust you, or not. Either you share the ideas your partners bring up, or not. That is how any dialogue is set and developed.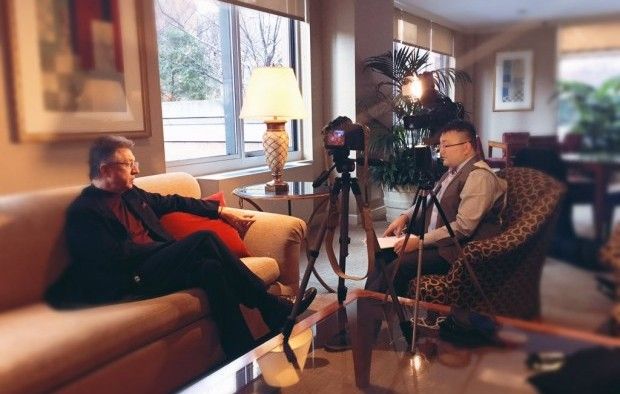 Sergeyev said that preparation of positive solutions comes through personal communications / Photo from UNIAN
How has your relationship with Vitaly Churkin evolved?
It was not easy. I paid him a visit when I came here, just like any other permanent members of the Security Council and the heads of some other missions. It was in May of 2007. Since then, I realized that we are ideologically different, although both of us come from the Soviet Union. That is, our ideological assessment has shifted. Even then, in May of 2007, he reacted quite sharply to my suggestion to draft a document that would commemorate Holodomor victims. We also confronted each other quite often on various topics of ideological nature that concerned our shared history and the present time. Including publically, when misunderstandings arose and completely different value assessment of certain facts of our history. In fact, it has been like this every year since 2007 to my last day at the Mission.
Have you had any informal communication with Vitaly Churkin since February 2014?
The Security Council was convened at my request on February 28, 2014. When it became clear that the Russian delegation has chosen lies and manipulations with facts as the basis of their position at the Security Council and at the UN in general, it was obvious that he will play the game that is not just unpretty, it is disgusting, it is shameful. So there was no reason for informal communication, when you realize that the actor does not listen to anyone, he hears only what he needs to do.
There was no need for informal communication.
But your successor Volodymyr Yelchenko still harbors hope to make Vitaly Churkin change his ways...
This is a different situation because, being part of the Security Council, we become part of the solution to global problems. This is 99% of the agenda. There we will have to communicate either at the consultation table, or in some other form, in order to understand and predict, for example, the position of the Russian delegation.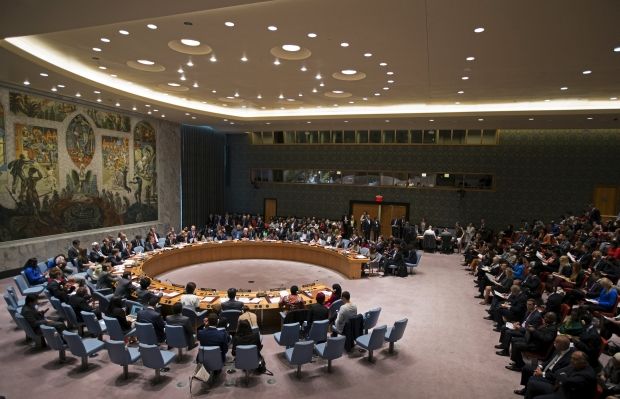 REUTERS
How many people were employed at your Mission? Was it 12 diplomats if I'm not mistaken?
The number of employees changed. When Ukraine chaired the OSCE, as you remember, our Mission was cut, just as the other missions and embassies, to transfer staff to strengthen our delegation [to the OSCE]. Then these people were not transferred back, ant by the beginning of the crisis we had eight diplomats in 2014. In late 2014, we had six. Then there was an increase due to Ukraine entering the UN Security Council [as a temporary member].
Is it possible to conduct an effective diplomatic dialogue with such a small number of personnel, whereas, for example, the Russian Mission has an almost ten times larger staff?
Yes, they have more than 100 diplomats. It is not easy... But on the other hand, the work of a smaller team is easier and more dynamic. Because everyone knows their area, or areas, of responsibility, because my colleagues had to perform multiple functions ranging between those at the General Assembly, the main committees, plus everything beyond the United Nations, plus the Security Council, of course, where we had to fight for our issues. This is collective work, and everyone knew what they were doing.
What about the future – will you stay in the system of the Foreign Ministry?
*The interview was taken before the news was announced on Yuriy Sergeyev's retirement on February 09, 2016.
At the time of our interview, I remain a civil servant in the system of Ukraine's Foreign Ministry (smiling).
Will there be any clarity regarding your further appointment?
I am wrapping up my period of stay in New York and my vacation. I am setting for Kyiv, and then we'll see. At the time of our conversation, I have not yet received offers in the system of the Foreign Ministry and in the system of civil service.
But rumor has it you might be appointed Deputy Minister of Foreign Affairs...
Well, rumors are rumors... (smiles). There are proposals from non-governmental organizations, including from scholars.
I never broke my bonds, my relations with the University, my heart has always been with it. By the way, this pushed me to join the protests over the beating of students in December 2013. This was an impulse of a man who bound the big part of his life with the university. So I have an emotional attraction to university life. Anyway, I will return and then we'll see.
REUTERS
You have spent eight and a half years in New York. In terms of everyday routine, will it be difficult for you to return to Kyiv?
You know, diplomats – they are like nomads. My wife counted that we had changed locations 17 times over the past 20 years. So we are used to it, unfortunately. But always have a place to come back to. We have a small but cosy apartment in Kyiv which we never put for rent. When we come back, all our friends come to pay a visit.
Psychologically, being on foreign businesss trip is always difficult. Because at home, you have friends, relatives, after all, you can hide from some of the problems just  by going out somewhere. But it's more complicated overseas. Therefore, it is psychologically difficult.
And of course, every rotation is physically difficult. Everything falls on my wife's shoulders. Her role is invaluable - she is my guide through this life, and I am very grateful for that.
Over these eight years, you have established friendly relations with many ambassadors. How do you plan to maintain them in the future?
Even those who have already left, we keep writing each other… You know, it's difficult to communicate in person, meet, because we are all scattered. My friends are now heads of the ministries. There is one friend in Indonesia, one in Thailand; one former ambassador is now an adviser to the prime minister in the United Kingdom... and it is difficult, but life shows that our ways can cross one day. The main thing is not to break up the ties. And we don't. We continue writing each other, as we have here.
Whom of the ambassadors can you point out among those you have worked at the UN?
This is a difficult question. Why? Because I had good relations with everyone. You know, I knew by name and face every representative of the 193 UN member states. And they knew me. Because I had to communicate a lot, and because of our crisis, and due to the fact that they turned to me to get our support. I can elaborate continent-wise...
What about Ukraine's partners?
Ukraine's partners, those who stood up for us and was never afraid, by continent:
Nigeria. Ambassador Joy Ogwu [since 2008], a woman who has been extremely emotional in defending Ukraine, with her faith in God. The Ukrainian media covered this. Extremely powerful personality. [It was she who stated at the meeting of the Security Council in April 2014 that Russia's perception of spheres of influence at the level of 19th Century is impossible in a complex modern world]
Jordan. Ambassador Prince Zeid, who is now the UN High Commissioner for Human Rights, and his successor, Dina Kawar, she also got on the pages of Ukrainian media as one who protects the interests of Ukraine at the Security Council. Yes, we became friends.
And of course, there is U.S. Ambassador to the UN Samantha Power, the whole delegations of France and Great Britain. I had a very good relationship with all China's ambassadors... They say different things about China's position at the Security Council, but it's worth a lot that the Chinese delegation has been holding to its individual position on the Ukrainian issue, supporting the country's territorial integrity in all of its addresses.
Chinese Ambassador Liu Jieyi lasted the longest at a chess tournament with children / Photo from UNIAN
I remember well my conversation with Ambassador of China Liu Jieyi after a children's chess tournament you were hosting... Just a week later a meeting of the Security Council was held, and his position on the annexation of Crimea has changed dramatically...
Basically, his position was clear even before the chess tournament, which you mentioned ... (smiles) I'm very proud that we have organized it. And he [Liu Jieyi] was the one who lasted the longest among the ambassadors. 24 ambassadors were taking part playing against 24 children from local chess schools...
He lost against a nine-year-old girl...
He lost against a nine-year-old (laughs). Well, there were those who lost against the six-year-olds. I play well, but I lost somewhere near fifteen minutes into the game. A girl played against me. She was eight. But it was a pleasant event, thank you for recalling it.
Over the long period of your stay in New York, you have talked to the Russian-speaking diaspora plenty of times. What is the attitude of those who have come from the USSR to the conflict with Russia? Do they support Putin?
Starting March 2014, people started collection signatures in Brooklyn and Brighton, the areas with a dense population of former Ukrainian nationals, Russian speakers, in a protest against Russia's actions. There was a big wave. And I tell you honestly, people from Ukraine, the Russian speakers, they supported us. They did and they still do. They send supportive e-mails, expressing their feelings about what is happening. So this is the part of former citizens of Ukraine who don't break away from our problems.
And since you mentioned the Russian language, at one of the first meetings of the Security Council, I believe, in the middle of February [2014], Ambassador Churkin raised the question that "everything that happens there, in Crimea, is aimed at protecting the Russian speakers..." Then I said to him in Russian that neither I, the Russian speaker, nor hundreds of thousands, millions of Russian-speaking Ukrainians need protection… We don't need this protection! Otherwise, you create a very dangerous precedent, because, according to your formula, you might as well come and protect the Russian-speaking population in Brighton in Brooklyn. Is that right? You are giving yourself this right of expansion anywhere where you find the Russian-speaking population.
This thesis was picked up by the Russian-speaking diaspora from Ukraine, and they repeated at their rallies that this is a contrived and dangerous argument used to justify aggression. This is distortion of the right to self-determination, not even on ethnic, but on linguistic grounds!
By the way, this topic later became one of the key ones in our conversation with representatives of the states from the African continent. Because they've also seen and still see processes when those who provoke conflicts do so through manipulations with the right to self-determination.
So your question about the Russian speakers has developed in the legal field here, in the debate on key issues in the United Nations.
*** From January 1, 2016, the principal issues will be raised at the United Nations by Ukraine's newly-appointed Ambassador to the UN, Volodymyr Yelchenko. For the next two years, Ukraine will be part of the UN Security Council, and now a dialogue with Russia is necessary because Russia is a permanent member of the Security Council.
Does this mean that Ukraine will be able to stop Russian aggression? This is a question for the new leader of the Ukrainian Mission, Volodymyr Yelchenko.
Andriy Vasyliev, reporting from UN Headquarters in New York
If you see a spelling error on our site, select it and press Ctrl+Enter