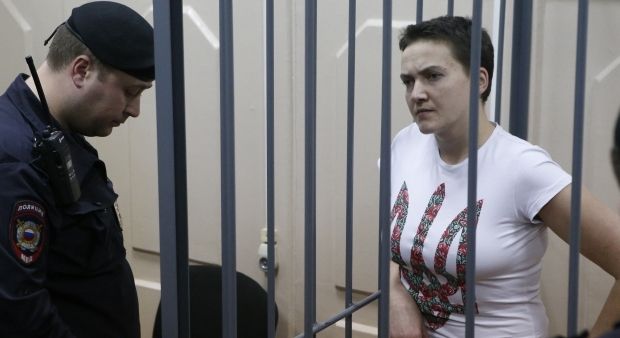 Prisoners of conscience: Why Kremlin needs Ukrainian hostages
17:50, 25 March 2016
549
0
Sentence of Nadia Savchenko is not the end of a story of the Kremlin's Ukrainian hostage. This sham trial should launch a series of steps aimed at the release of the rest of the Ukrainians, who are being held illegally in Russian dungeons.
Savchenko's case and the ridiculous, and at the same time cruel, trial have been in the global focus for months. Her sentence has caused a real uproar: 22 years in jail for the alleged murder of two Russian journalists, who were illegally staying in the east of Ukraine for the information support of pro-Russian militants, as well as a fine for "illegal border crossing," given that Ukrainian pilot was forcibly transported to Russia.
At the same time, other cases of the Russian "justice" being applied to several dozen Ukrainians illegally held in the Russian Federation cause just as much indignation. "There are at least 25 people of whom we are aware. Of them, 13 are held in captivity in the territory of Russia, and another 12 – in the Russian-occupied Crimea," said the human rights activist, Euromaidan-SOS initiative coordinator, Chairman of the Centre for Civil Liberties NGO Oleksandra Matviychuk.
And, unfortunately, the list is not shrinking – there were new arrests of activists in Crimea in February this year.
There is one common thing about all Ukrainian citizens who have gotten under the steamroller of Russian judicial system: the Russians crave to present them as enemies, with trumped-up charges wheeled out by torture – of terrorism, extremism, sabotage, or espionage. As a result, it was innocent people who fell victim to the Russian "law enforcers" in almost all cases known to the human rights activists.
The most famous of them are Oleh Sentsov (20 years' imprisonment in a top security penal facility), Alexander Kolchenko (10 years in top security penal facility), Hennadiy Afanasiev, Oleksiy Chirniy (seven years in top security penal facility each), who are all part of the so-called "Crimean terrorists" case. Not only have they been charged of setting up a terrorist cell in a fabricated case and then transferred to Moscow for further investigation, the Russian "law enforcers" also told the Ukrainian diplomats not to worry about the fate of the suspects, as Russia considers them Russian citizens (as residents of Crimea).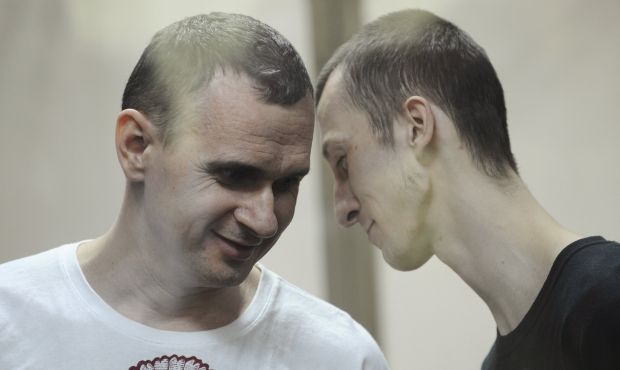 REUTERS
Stanislav Klykh and Mykola Karpyuk are tried in a so-called "Chechen case," where Ukraine's Prime Minister Arseniy Yatsenyuk, believe it or not, is also among the accused. Russian law enforcers argue that Klykh and Karpyuk in the mid-90s, along with Yatsenyuk, took part in the first Chechen war allegedly killing Russian soldiers. Despite the fact that, regardless of the absurdity of the charges, the statute of limitations expired in 2010, Ukrainians are being tried in Chechnya anyway.
Matters of jurisdiction
In addition, among the victims of the Kremlin there are some Ukrainians who have indeed committed a criminal offense, but their cases don't fall under the Russian jurisdiction. For example, Hayser Dzhemilev, son of the leader of the Crimean Tatar people Mustafa Dzhemilev. Hayser committed a crime in 2013, was arrested and held in a pre-trial detention facility in Crimea's Bakhchisarai. However, after the occupation, he was not handed over to the penal authorities of mainland Ukraine, like some of the other detainees and prisoners. Instead, he was transferred to Russia's Krasnodar region. Human rights activists called Hayser's case politically motivated precisely because they believe – the way Crimean de facto occupation authorities put a tight grip on this particular case suggests an attempt to pressure the detainee's father.
In this case, the Kremlin ignored Russian law, which states: "foreign citizens who have committed a crime outside the Russian Federation are subject to criminal liability under Russian law only if the offense is directed against the interests of the Russian Federation or a citizen of the Russian Federation." Moscow also turned a blind eye to the ruling of the European Court for Human Rights, which obliged Russia to ensure Dezhemilev Junior's right to freedom. According to the Ukrainian human rights activists, Hayser is being held at a penal facility in Astrakhan, while Mustafa Dzhemilev is banned from entering Russia.
According to Oleksandra Matviychuk, it's not an isolated case over the past two years when Russia has extended its jurisdiction over offenses committed in another state and against the citizens of this state. "For example, the case of Euromaidan activist Oleksandr Kostenko. He is charged of throwing a stone at Crimean Berkut police special forces during Euromaidan protests," she said.
Although there are no witnesses and no evidence in this case, anyway the alleged "crime" in fact occurred on the territory of Ukraine (besides, both the accused and the victim are citizens of Ukraine), the Russian court, in violation of its own laws, sentenced Kostenko to almost four years of imprisonment in a penal colony.
Crimean factor
Another striking example of Russia's non-compliance with its own legislation is prosecution of the Crimean Tatars in the so-called February 26 case. On this day in 2014, mass rally was held in Simferopol for the unity of Ukraine as well as a pro-Russian praising the prospects of Crimea's accession to the Russian Federation. Several dozen protesters were injured in clashes between the opposing camps. After the annexation, when the occupation authorities gained confidence and a sense of impunity, a series of criminal proceedings was launched. Moreover, the criminal cases were opened exclusively against those who had rallied for Ukraine.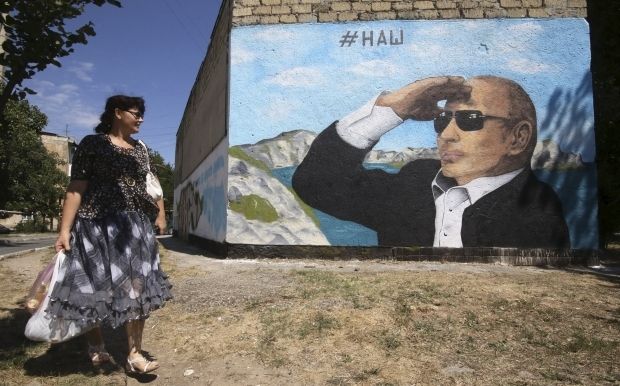 REUTERS
In particular, nearly a year after these events, deputy head of the Mejlis of the Crimean Tatar people Akhtem Chiygoz was arrested as well as a farmer Ali Asanov and Mustafa Dzhimendzhi, who only took part in the rally, without breaking any of the laws of Ukraine. Prosecutors use the term "unsanctioned rally," although there is no such thing in the Ukrainian legislation whatsoever.
The defendants in this case face a prison sentence between eight and 15 years. Will they be convicted? It's a rhetorical question, given that there has already been the first convict in the February 26 case: the cameraman from the Crimean Tatar ATR TV channel Eskender Nebiyev, who was sentenced to 2.5 years of imprisonment with a two-year probation period.
"In fact, Russia has launched an extensive campaign against the citizens of Ukraine, pursuing several objectives. First is to plant is Russian mass consciousness an image of the Ukrainian enemy. Second is to punish any active citizens of Ukraine for their public activities, by fabricating cases against them. Third is to send a clear message, including to the Crimean Tatars, that any of them can be affected if they refuse to stop fighting," said Oleksandra Matviychuk.
According to the activist, no holder of a Ukrainian passport can feel safe while traveling to Crimea or to the Russian Federation, for example, to visit their relatives as they can't be "immune from prosecution in trumped up and fabricated cases."
No one is immune
As another example, Oleksandra Matviychuk notes a so-called "spy" case of a 73-year-old Yuriy Soloshenko. In August 2014, he was arrested while on a business trip in Moscow and accused of "spying for Ukraine." According to human rights activists, Soloshenko's case and the similar ones are "classified", so the details of these proceedings are unbeknownst to the relatives or representatives of the Ukrainian Consulate, who, in this case, were denied access to the detainee for 10 months. "It so happened that in this case, and in the others too, there is a course toward isolation, immediately after the arrest. No independent lawyers are allowed, and the authorities try to prevent meetings with consuls. Only in several months, as it was with Yuriy Soloshenko, do the relatives get to know what happened with their loved ones," said Oleksandra Matviychuk.
According to the Russian human rights activist Zoya Svetovaya, in December of last year, Yuriy Soloshenko, whom a Russian court sentenced six years in prison, was transferred to serve his sentence to a top security penal colony.
A similar story, when Ukrainians get detained on trumped-up charges, happened with Yuriy Yatsenko and Bohdan Yarychevskiy. The two men were entrepreneurs engaged in shuttle inter-border trading and, being the Western Ukrainian Lviv region natives, they frequented in Russia. In May 2014, they were detained under the pretext of identifying in the territory of Russia the extremists from the Right Sector organization. "They claimed that "junta" has already come to Russia and is now plotting terrorist attacks, the activist explained. "Therefore, the Ukrainians are often branded saboteurs, spies and assassins."
However, it can be assumed that the case of Yarychevskiy and Yatsenko had a positive outcome – having violated every possible deadlines set up by Russia's migration legislation, the Russians actually deported both men to Ukraine after holding them illegally for four and 12 months, respectively.
Rightless prisoners
However, there is another category of citizens of Ukraine, who are victim to the worst part of the Russian judiciary. It is the Ukrainians who had been convicted in Ukrainian Crimea before the "Crimean Spring" and, by fate, were serving sentences in penal institutions of the peninsula at a time of the annexation. According to the lawyer, Dmytro Sotnikov, despite the fact that many prisoners refused Russian citizenship, the Russian courts, in violation of international principles of justice, "brought their sentences in line with the Criminal Code [of the Russian Federation]" In other words, the people were "convicted for the second time for a crime they has already been serving sentences according to the Ukrainian law."
Prisoners were also transferred to serve their sentences to mainland Russia. But those were not the only mishaps. When the amnesty was launched in Ukraine, the Ukrainian convicts demanded this law be applied to their sentences. But the appeals were denied. "Russia refused, citing the fact that the Ukrainian amnesty can't be applied to them, as they have new sentences now, they have been convicted in Russia and must obey its laws, not the laws of Ukraine," said Sotnikov.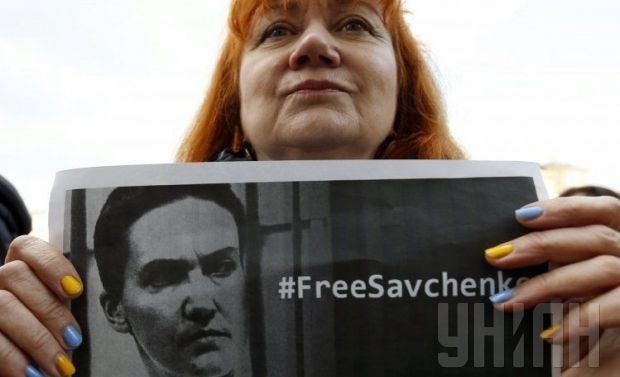 Photo from UNIAN
It is unlikely that what is happening in Russia and occupied Crimea in relation to the citizens of Ukraine can be called justice, human rights activists believe. Almost all cases against the Kremlin's prisoners were falsified. Almost all of the citizens of Ukraine, whose fate is being monitored by the coordinators of the Center for Civil Liberties, were subjected to severe torture ranging from forcible sleep deprivation to torture with electricity. The majority of those who "confessions" were being extorted in the course of weeks or even months, while the detainees' relatives, independent lawyers and the Ukrainian consul were denied access to them.
"Actually, the abuse is continuing today," says the activist of the Center for Civil Liberties and a #LetMyPeopleGo campaign, Maria Tomak. "For example, the Ukrainians do not receive adequate medical care, which is a fundamental violation of their rights."
Nadia Savchenko is in the most difficult situation, according to human rights activists (due to prolonged hunger strikes), along with Yuriy Soloshenko who is diagnosed with cancer, Stanislav Klykh who has a severe mental condition... "He screams could be heard as far as from outside the court's gates," said Maria.
"But we believe that everyone must be released, regardless of their condition," she said.
According to human rights defenders, the Ministry of Foreign Affairs of Ukraine, the Ombudsman's office, and public organizations have been working on this issue. "But the diplomatic approach does not work. It's Russia. International norms are ignored. What diplomacy can there be?" says Maria Tomak.
According to her, after Savchenko was sentenced, the situation can and must change. "This is a turning point for the start of serious negotiations for the release of all. And the factor of international pressure may perhaps be a key one. Ukraine must clearly signal that these are our citizens. And we will demand their release and return to Ukraine until they come back," she is convinced.
It should be a matter of Ukraine's dignity.
But we should not be ruled out that Russia's response will be asymmetrical. Instead of exchanging the prisoners, Moscow may require the easing of sanctions. Meanwhile, the Ukrainian citizens remain powerless hostages in Russian jails, unfortunately.
Tatiana Urbanskaya
If you see a spelling error on our site, select it and press Ctrl+Enter