Hopelessness and anticipation of Normandy Four meeting
On Wednesday, President of Ukraine Petro Poroshenko will have to use all the eloquence he's got. During the Normandy Four meeting, the sides will encourage Russia to implement Minsk agreements in terms of security.
REUTERS
The agenda for the Ukrainian foreign policy sector on October 19 was expected to be more than full. Ukraine-EU high-level political consultations were scheduled in Brussels while the Normandy Quartet was supposed to meet in Berlin. However, the announcement of a mini-summit in the Belgian capital appeared last week, while the prospects of the four leaders gathering in Germany have long remained unclear.
Despite media reports that German Chancellor Angela Merkel has invited the three other Normandy format leaders for dinner on October 19, the Kremlin for some time said they saw no reason to meet up.
Finally, the arrangements were complete on Wednesday to meet the next day in Berlin. While on an official visit to Norway, President of Ukraine Petro Poroshenko had a phone conversation in a trilateral format with the participation of French President Francois Hollande and German Chancellor Angela Merkel. Putin's participation was confirmed by the Kremlin shortly. At the same time, political consultations between Petro Poroshenko and EU leaders were canceled.
There are no instruments to put pressure on Russia
According to Poroshenko's press service, the Normandy Four meeting will be held to encourage Russia to fulfill part of the Minsk agreements relating to security. It is noteworthy that a meeting was agreed on the eve of the EU summit on Oct 20-21, where the introduction of new sanctions against Russia would be discussed, according to German media.
However, the Ukrainian president shows little optimism about tomorrow's meeting. "If Russia is ready not to just sign off [the road map of Minsk deal implementation], but also to fulfill and implement it, it will be a very positive thing. I am very optimistic about the future of Ukraine but, unfortunately, I am not so optimistic about the upcoming meeting [in Normandy format]. But I would be very happy to be surprised," said Poroshenko.
Ukrainian experts are also skeptical about any practical effectiveness of the Berlin meeting. Former Foreign Minister of Ukraine Volodymyr Ohryzko believes that we shouldn't expect any rapid concrete proposals to strengthen sanctions against Russia. "Unfortunately, many European capitals still dream of "engaging" Russia in resolving some global problems. This is a great illusion and lack of strategic thinking, but so far, it's a fact," says Ogryzko.
Head of the "Maidan of Foreign Affairs' Charity Foundation Bohdan Yaremenko shares these views. He believes that the parties are unlikely to succeed in increasing pressure on Russia and forcing it to negotiate. "Obviously, the Europeans are now at a crossroads. It's when they realize they can't trust Russia in anything – neither on Syria nor on Ukraine, but they can't find an effective tool of pressure on Russia," says Yaremenko.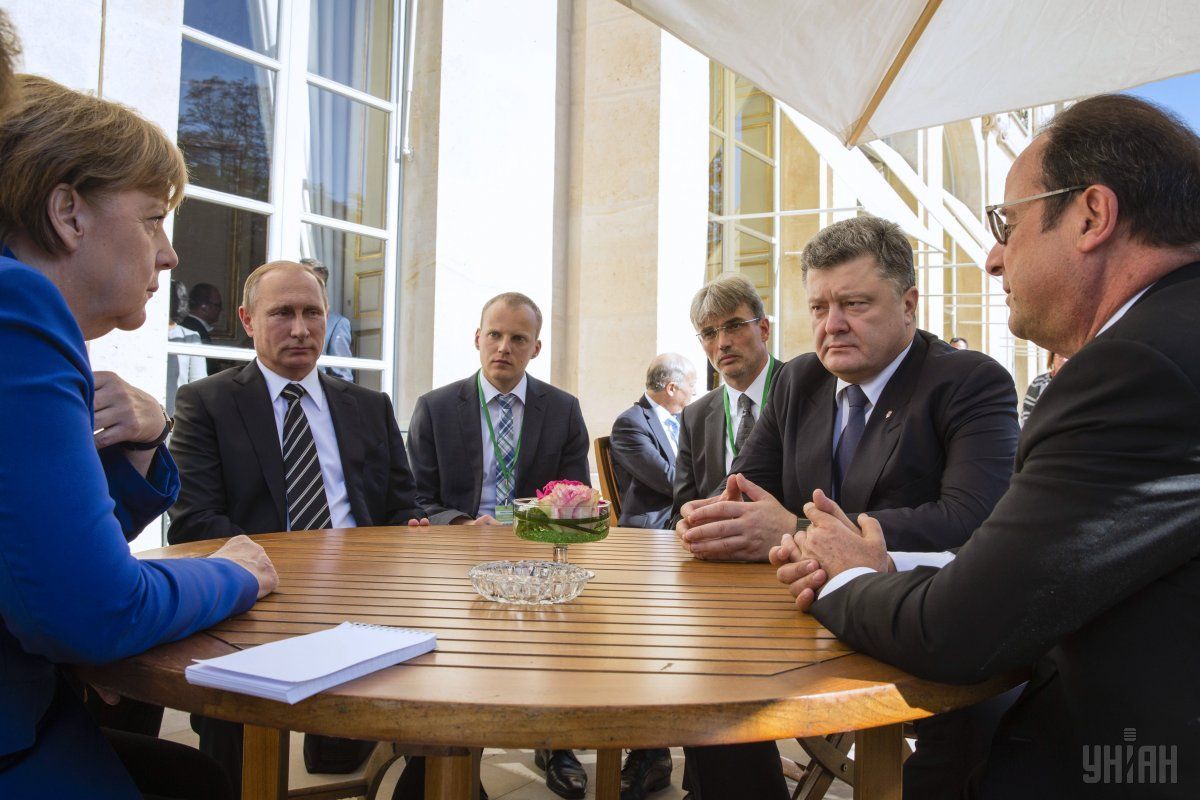 President of Ukraine is not too optimistic about tomorrow's meeting / Photo from UNIAN
It should be noted that some European countries generally prefer to cancel the anti-Russian sanctions because they allegedly suffer economic losses. We recall that about a month ago during his speech at the Council on Foreign Relations in New York, U.S. Vice President Joe Biden called on President Poroshenko to carry out actively the political and economic reforms, otherwise there was a risk that some countries of the European Union would lift sanctions against Russia.
In turn, in an interview with UNIAN former NATO Secretary General Anders Fogh Rasmussen, a non-staff adviser to President Poroshenko, has said that the position of some EU countries for lifting sanctions is political rather than economic.
According to him, "the countries that are most vocal in favor of lifting sanctions – like Italy and Greece – also happen to be those that are among the states that suffered least due to sanctions against Russia."
And this is no news. Bohdan Yaremenko claims that Greece, during the period of anti-Russian sanctions, has on the contrary increased its trade with Russia. Meanwhile, countries like Poland, Latvia and Lithuania really lost economy-wise. That is, the states that do not call to cancel the sanctions, supporting the idea of their strengthening instead.  "Statements on their 'unprecedented' losses are nothing but a speculation on the part of certain European countries. In this position, there is a desire to increase trade. They do not take into account the political realities that Russia is the aggressor state which violated international law. Of course, behind this stand the economic motives, the desire to promote trade and increase cooperation," said Yaremenko.
"This evidences the fact that the Russian fifth column has been working very actively. If we look closer, the cells of Putinophilia exist in many countries of Western Europe, and the reason is a long-standing work of Russian special services," says Volodymyr Ohryzko.
According to him, the idea of prolonging the existing sanctions for 12 months instead of six and persecution of those who try to circumvent them, voiced by Rasmussen, is a quite reasonable proposal that will allow avoiding for the next six months any debate on what to do with Russia. "No clear displays of change to the Russian position are observed, and it is unlikely that we will see any. Therefore, the proposal is very sensible and right. Meet up once a year and, depending on what is happening in Moscow, take an appropriate decision," said Ohryzko.
However, in his opinion, the European leaders lack political will to strengthen sanctions.
Vague prospects
The experts don't think Ukraine should perceive Putin's sudden change of mind and his readiness to participate in the Normandy Four meeting as a "breakthrough". "It only means that Putin does not want to appear isolated from the global diplomacy," political analyst Serhiy Taran wrote on Facebook.
Political expert Olesya Yahno-Bielkovska is also convinced that the Russian leader just couldn't resist going for a meeting in Berlin. "Russia has long delayed the meeting anyway. The last such excuse on the part of Russia was, as we recall, before the G20 summit, allegedly because of "Ukrainian saboteurs" in Crimea ... Refusing to meet in the Normandy format once again, even if Putin wanted to, would further drive Russia into the logics of isolationism," she said.
According to Taran, the main issue on the agenda of the Berlin meeting will be the order of implementation of the Minsk agreements, where, as a minimum, security must come first, and the political part  should follow. "It increasingly seems that Ukraine's position will be determined by the principles laid down in the latest pro-Ukrainian PACE Resolution [Russia is an aggressor state, he Kremlin is responsible for the occupied territories] that leave no room for the Kremlin to speculate on approaches, sketched out in Minsk-2 in 2015," says Taran.
We recall that last week, October 12, the Parliamentary Assembly of the Council of Europe adopted two resolutions in support of Ukraine. In one of them, PACE expressed deep concern over the situation with human rights in the occupied Crimea and Donbas and urged Russian authorities to guarantee the protection of fundamental rights and freedoms for all residents of these areas. The second document once again denounces the illegal annexation of Crimea by Russia and calls on Moscow to withdraw its troops from Ukraine.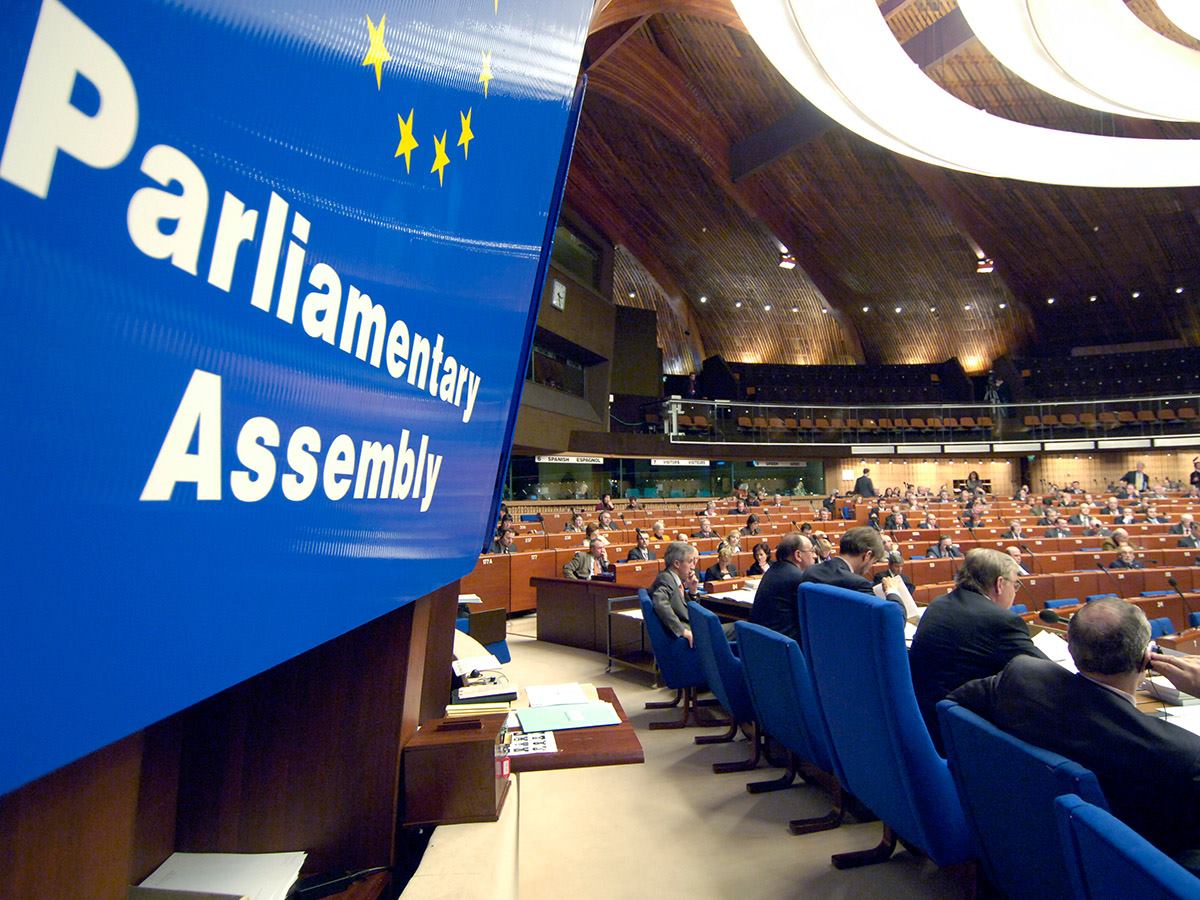 PACE called on European countries to retain sanctions until Ukraine's sovereignty is restored / facebook.com/petroporoshenko
In addition, PACE adopted an amendment to one of its earlier resolutions on Ukraine, which called on European countries to maintain anti-Russian sanctions until Ukraine's sovereignty is restored.
Olesya Yahno-Bielkovska is convinced that despite the fact that the Minsk agreement is far from ideal, in the current situation they are still better than the hot phase of hostilities. "Maybe Minsk will not result in full peace, but at this point, it serves a function of restraining pseudo-separatist units [actually, the Kremlin's instruments aimed at making Ukraine collapse], deters active hostilities in Donbas and provides an opportunity to strengthen the army in all directions. Minsk has also allowed to turn down mobilization, moving to contracted military service. Even if we have this "freezing" today, in the current environment it is still better than the hot phase," she said.
The expert believes a complete rejection of the Minsk agreements will mean the risk of full-scale war with Russia and the loss of allies for Ukraine, as the sanctions and the path of disciplining Russia through negotiations are all tied to the Minsk process.
In turn, Bohdan Yaremenko is convinced that the Minsk agreements will result in nothing. "Minsk agreements are no plan to get out of the war, no plan to return territories. They are Russia's cunning political and diplomatic provocation. Therefore, the only important thing is whether the discussions will regard some unrealistic dreams or some plans of what can really be done," said the expert.
In general, everyone agrees on one thing. The very fact that the EU is discussing Russia's behavior in general is a positive signal for Ukraine. It means that the EU has finally begun to realize that Russia threatens not only the Ukrainian borders, it is also a threat to the internal stability of the united Europe. "Undermining the internal unity of the EU – this has been and still remains Russia's key objective, because it is easier to deal with individual states than with all of them at once. I think Europe it has already become clear to Europe. And if it's so, they will act," said Ohryzko.
The main thing is that the European leaders should find that political will to do it quickly.
Iryna Shevchenko
If you see a spelling error on our site, select it and press Ctrl+Enter