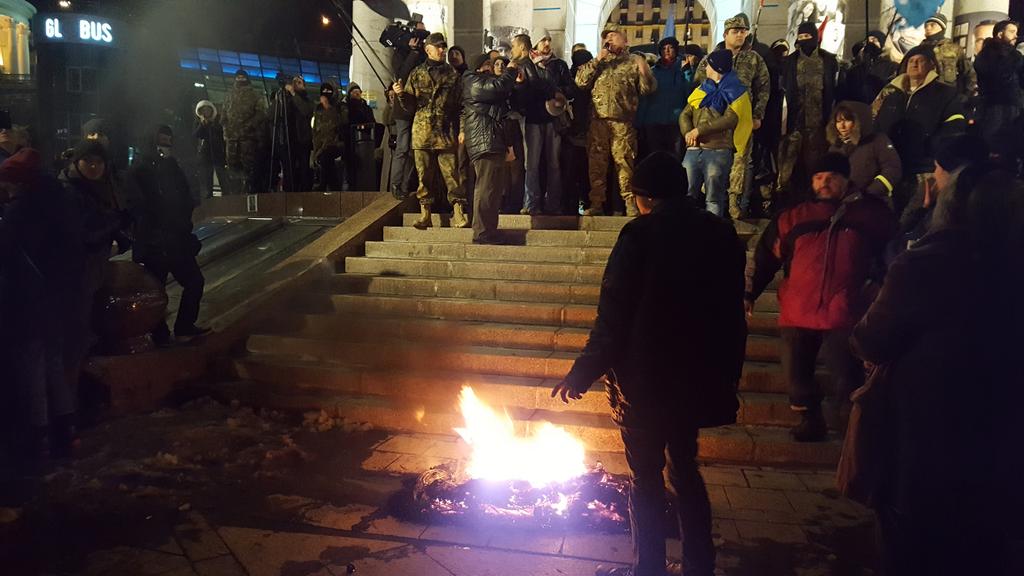 Week's milestones. Achievements and dignity, encouraged emigrants, and sociological showdown
Anniversary of Revolution of Dignity became a good opportunity to contemplate over its achievements. Sociological data on the results of the upcoming presidential elections gave space for political maneuvering. High-ranking fugitives in Russia have reminded of themselves.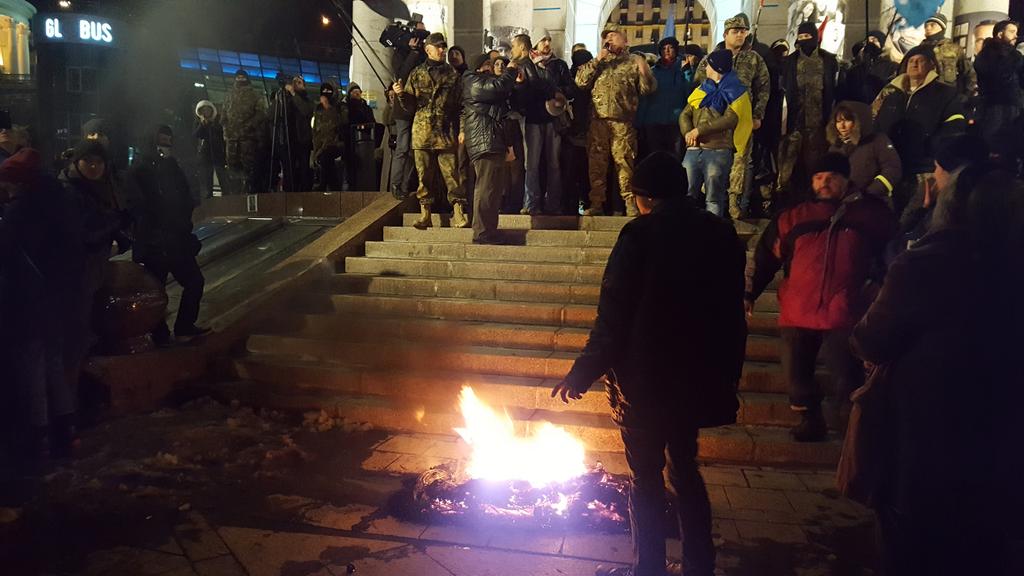 twitter.com/berdynskykh_k
November's third decade is inseparably linked with the revolutionary events for the millions of Ukrainians. Both the Orange Revolution and the Revolution of Dignity seriously changed our country and the prevailing attitudes. Kyiv held no grand ceremonies on the third anniversary of protests against the refusal of the Azarov government to ratify the Ukraine-EU Association Agreement, however tight security measures were up in place. However, the increased concentration of law enforcers did not prevent "professional patriots" from presenting an image so desired by Russian propaganda by attacking a beauty salon near the office of Viktor Medvedchuk's Ukrainian Choice party and a branch of Russia's Sberbank. However, even some more respectable Ukrainian politicians are also keen on scoring auto-goals. A striking example was an inappropriate argument of Culture Minister Yevhen Nyshchuk on genetics of people living in eastern Ukraine.
Petro Poroshenko was able to do without too much pathos during the celebration of the Day of Dignity and Freedom, while the conferring of the title of Hero of Ukraine to the two 18-year old defenders of Ukraine killed in action was an adequate demonstration of involvement in the transformation process. Parliament Speaker Andriy Parubiy stressed that "the Maidan is continuing", noting the urgent need for new reforms in the country.
Yulia Tymoshenko distanced herself from the general festive tone, opting for an unfolding political struggle. The leader of Batkivshchyna Party hastily linked NBU Governor Valeria Gontareva and President Poroshenko in their alleged desire to "siphon UAH 350 billion of banks closed up by the NBU to offshore jurisdictions". Key statements of Tymoshenko suggest she is in a sort of political crisis of ideas, which can't even be compensated for by the polls of the Kyiv International Institute of Sociology, predicting an easy victory for Lady U in the presidential election, had it been held in the near future. Razumkov Center adheres to an alternative opinion, and a showdown between sociologists has become one of the highlights of the past week.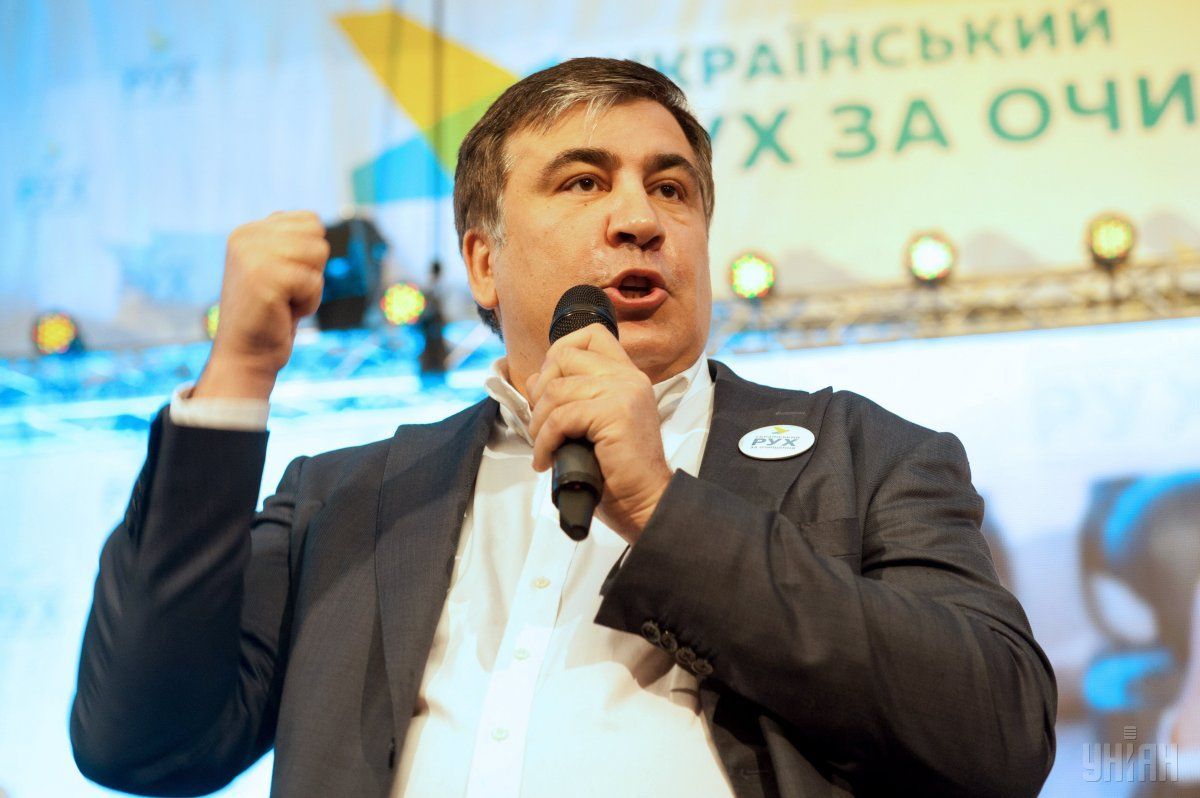 Saakashvili demands re-election / Photo from UNIAN
Mikheil Saakashvili's active stance was notable last week as he used vigorously a word "Rukh" [Movement] in his new political project. Former head of the Odesa Regional State Administration, surrounded by a thousand of supporters, loudly demanded from the government to hold early parliamentary elections, in accordance with a new electoral law and with a new composition of the Central Election Commission. His colleague David Sakvarelidze talked about the will to register the party from a clean sheet and adhere to right-liberal ideology, which in Ukrainian realities does not always give a generous electoral outcome.
The fact that Saakashvili cannot be directly involved in parliamentary elections for the next two years adds some piquancy to the situation. In this context, an alliance is possible with Andriy Sadoviy, who two years ago took the position of a coach of the parliamentary team of Samopomich rather than took to lead it. Of course, that's if the Lviv Mayor deems it possible to leave his comfort zone. Recent statements by Sadoviy are evident of growing tensions in relations between Lviv and Kyiv.
The lack of new episodes of high-profile success of the Ukrainian authorities and the persistent will of many politicians to see early parliamentary elections held at any cost have pushed the Kremlin to revive a puppet theater involving Viktor Yanukovych and Mykola Azarov. Yesterday's companions in exile are reluctant to talk to each other, but each of them tried to remind of themselves. Former president not only appeared on cameras during an interrogation attempt but also held a press conference, where he sounded an updated version of his "revelations of a legitimate president" first voiced in spring 2014. In turn, the former prime minister surrounded himself with little-known "political refugees" from Ukraine and vowed to return home. It seems that the competition for the use of highly-promoted Ukrainian characters has boosted in the Kremlin, which can lead to a rise of the anti-Ukrainian campaign.
Yevgeny Magda
If you see a spelling error on our site, select it and press Ctrl+Enter