Week in numbers
09:00, 05 December 2016
1 min.
260
Two-day Ukrainian missile drills near the occupied Crimea made the Kremlin throw fits; 100 years of safety in a "radioactive burial ground" will be provided by a new 36,000-tonne confinement, which now covers the fourth unit of Chornobyl nuclear power plant; 8.5 million pensioners saw an increase in their pension.
Two-day guided surface-to-air missile exercises were held by Ukrainian armed forces in proximity to the occupied Crimea.
Five law enforcement officers were killed in a bizarre accident involving friendly fire between the police and the state guard service. Most likely, the tragedy is caused by a lack of coordination during a police raid, and the fact that other law enforcement agencies were unaware of a covert operation.
A 6-hour interrogation via a video conference was held by he Svyatoshinsky court in Kyiv of former Ukrainian president Viktor Yanukovych. The Prosecutor General's Office used the moment to announce suspicion of treason.
27% of Russians believe that it is preferable for Russia to keep Ukraine under economic and political control, according to a poll by Levada Center. At the same time, 63% of Russians believe that Ukraine should be an independent state and have good neighborly and mutually beneficial relations with Russia.
42.3% of Ukrainians believe that the status of the temporarily occupied territories of Donetsk and Luhansk regions should be decided at a national referendum, according to a survey by Razumkov Center.
UAH 69.8 is now the lowest price allowed of vodka in Ukraine. The alcohol got more expensive after the entry into force of a relevant resolution of the Cabinet.
100 years of safety in a "radioactive burial ground" will be ensured by a new 36,000 confinement, which covered the fourth power unit of the Chornobyl NPP.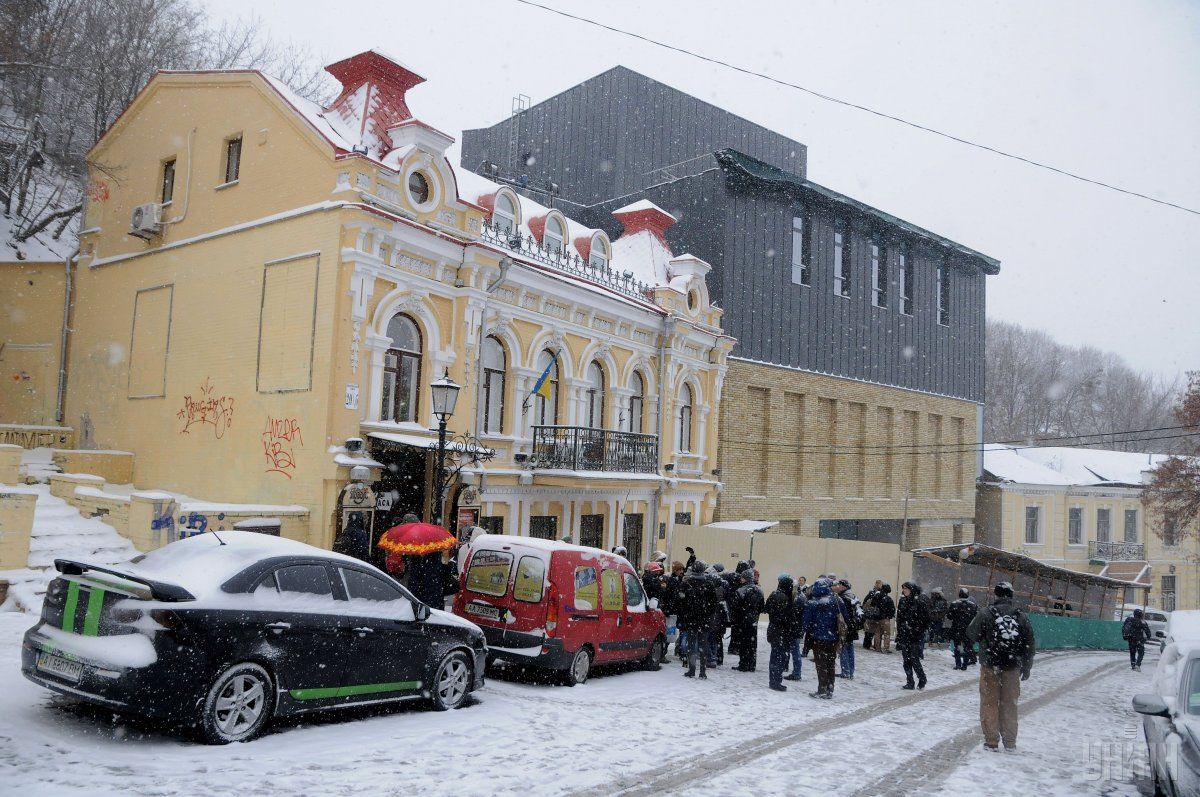 Photo from UNIAN
6,084 signatures of the required 10,000 was collected in Kyiv in support of a petition petition to the city authorities calling for the demolition of the new facade of the Theater on Podil.
55,000 troops have been amassed by Russia near the Ukrainian border, Deputy Minister of Defense of Ukraine Ihor Dolhov reported. The Russian military presence within Ukraine's borders amounts to some 5,000 to 7,500 troops. In Crimea, the figure is 23,000 Russian soldiers.
8.5 million Ukrainian pensioners from December 1 saw their pensions increased from UAH 1,130 to UAH 1,247, said Deputy Prime Minister of Ukraine Pavlo Rozenko.
$350 million in military assistance to Ukraine is provided by a draft U.S. defense budget for 2017, according to the Ukrainian Embassy in the United States.
1 billion cubic meters of gas has been used by Ukraine since the beginning of the heating season, according to the state-owned operator of the gas transportation system Ukrtransgaz.
Margarita Andreyeva
If you see a spelling error on our site, select it and press Ctrl+Enter