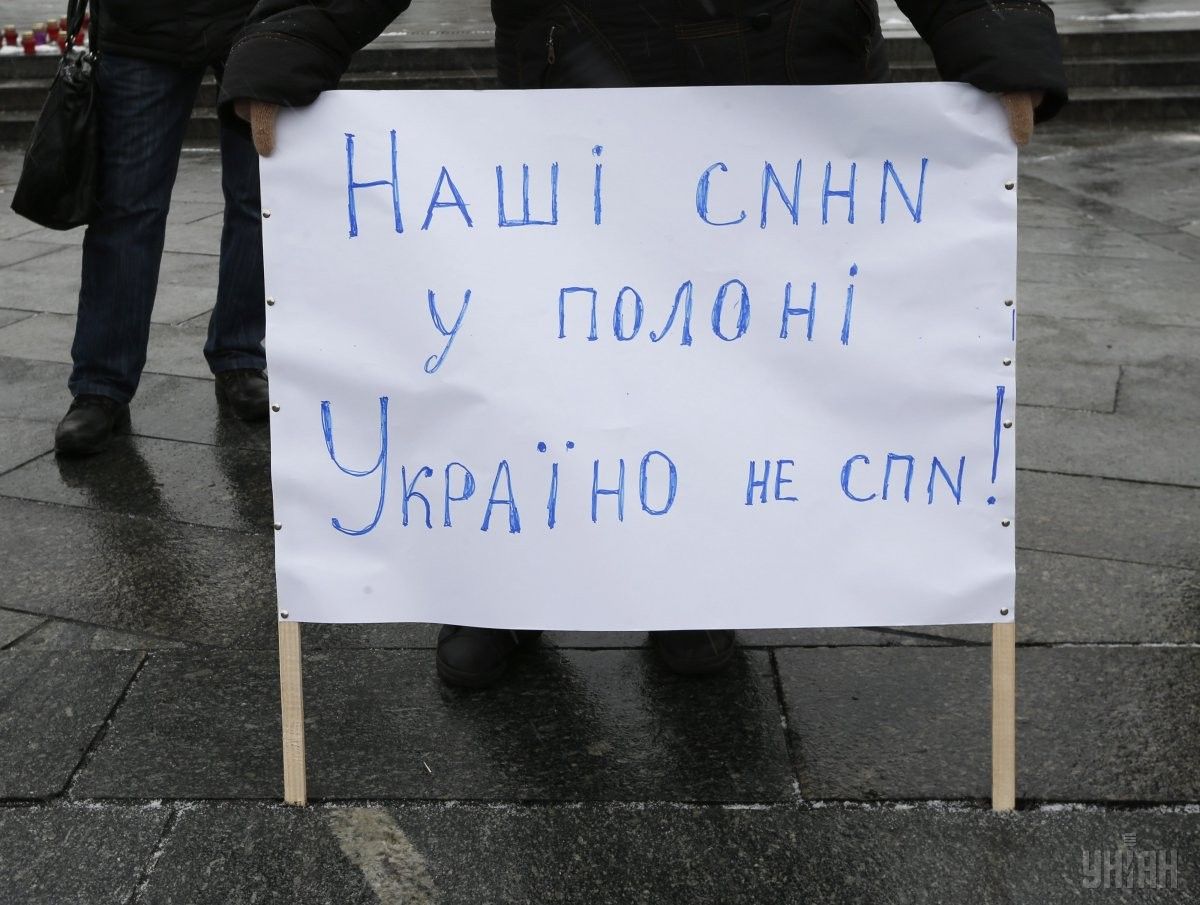 Releasing Ukrainian hostages
Ukraine has for several years been struggling to liberate its prisoners from Russian prisons and dark basements in "DPR" and "LPR". The scandal with Nadia Savchenko, who tried to become another "negotiator" in this process, has highlighted the problem. But, unfortunately, it does not solve it.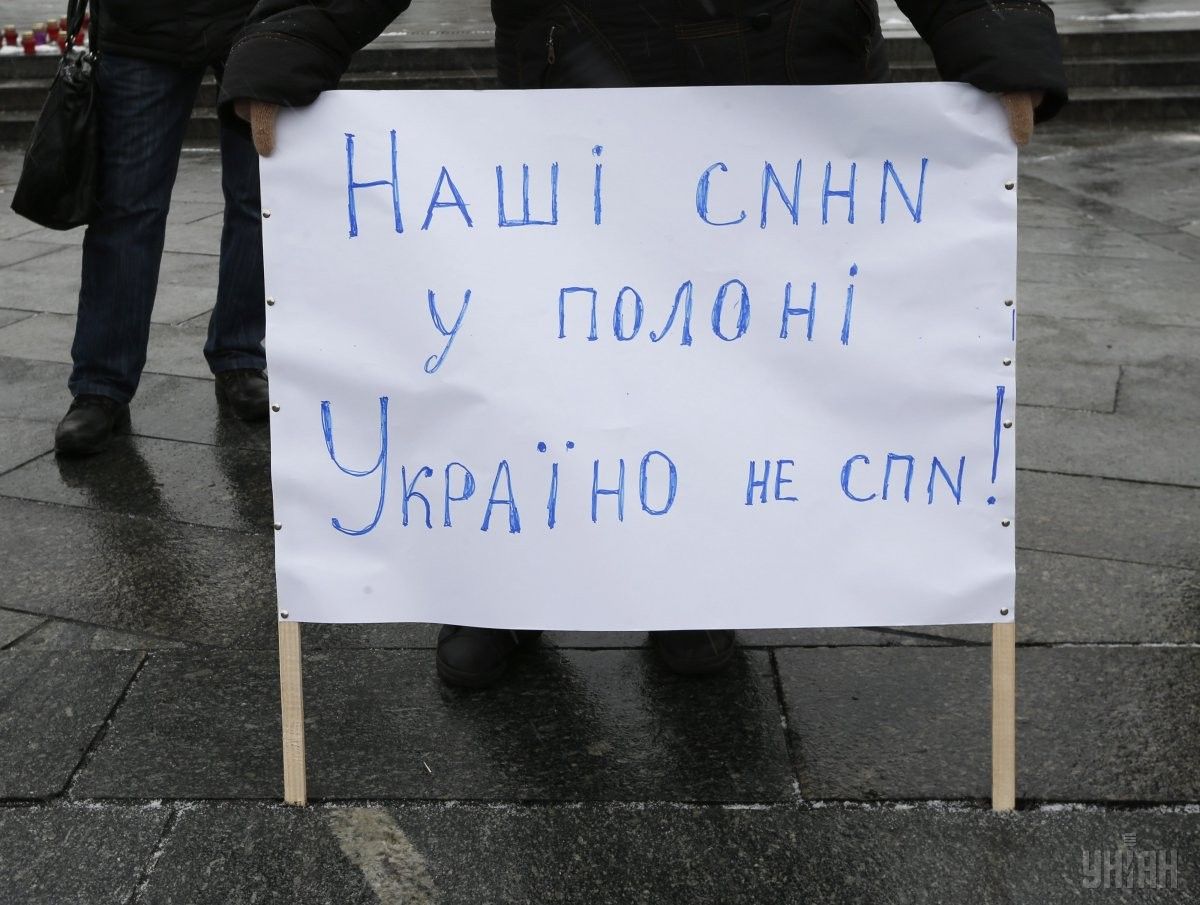 Photo from UNIAN
Throughout December, the information space was full of news about the Ukrainian citizens who are held hostage by the Kremlin and its satellites in Crimea and Donbas. A few days ago, the UN General Assembly adopted a resolution on the violation of human rights in Crimea by the Russian Federation, branding Russia the occupier state. In particular, the document calls on Russia as an occupier state to adhere to obligations under international law and immediately release the Ukrainian citizens who were illegally detained and sentenced in violation of basic norms of justice.
Crimean "safari" against Ukrainians
Unfortunately, the resolution includes no exact data on how many citizens of Ukraine are subject to this requirement. After all, when it comes to the Ukrainian captives, we often recall the names of those who are "prominent": political prisoners illegally convicted in Russia – film director Oleh Sentsov, or his "accomplice" in a trumped up case of "Crimean terrorists" Oleksandr Kolchenko, or a journalist Roman Sushchenko, recently arrested in Moscow. However, according to human rights activists, more than three dozen citizens of Ukraine, who have been convicted for political reasons, remain in Russian and Crimean prisons. And it is only those of whom we know for sure. In fact, the number of the illegally detained may be much bigger.
According to the Ukrainian human rights activists, Russian security services in Crimea have literally launched a "safari" against the citizens with the pro-Ukrainian stance. They are being abducted from their homes, illegally trafficked to Russia, where cases are being fabricated against them...
For example, on December 16, the FSB in the occupied Sevastopol arrested Ihor Movenko, trying to force him into pleading guilty of extremism. His wife reported to the Crimean advocacy group that on the same day their home was searched. The FSB told Valentyna Movenko that if her husband did not plead "guilty", the court could choose arrest as the restraint measure. They also promised the measure would be downgraded to house arrest if he played along.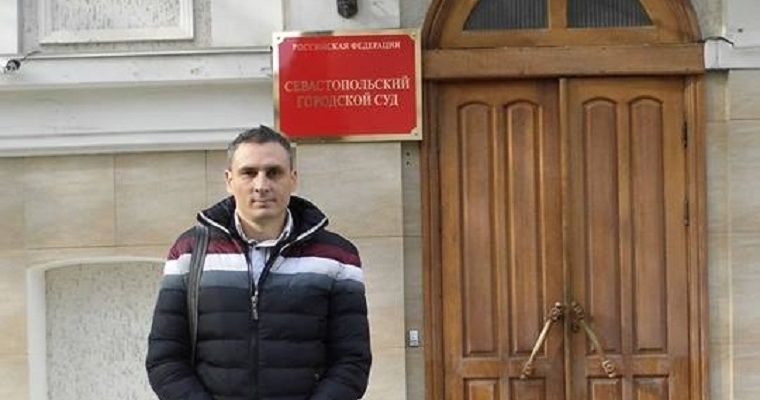 Pro-Ukrainian activist Ihor Movenko / 15minut.org
According to the coordinator of the Crimean human rights, Olha Skrypnyk, after "conversations" with the FSB, Ihor Movenko was released. But we can only guess how the situation will develop.
Extremism, involvement in or plotting terrorist acts, and illegal possession of firearms are the most common accusations that the FSB uses to prosecute citizens of Ukraine in Crimea and Russia. According to human rights activist, coordinator of the public initiative Euromaidan-SOS Oleksandra Matviychuk, at least 19 Crimean Tatars were jailed on unproven facts of their affiliation to the Muslim organization Hizb ut-Tahrir, which is banned in Russia.
"Not a single crime related to any terrorist activities of the organization has been proven... But there is a court order [in Russia], which finds formal membership in this organization a criminal offense," says a lawyer Andriy Sabinin, who deals with criminal cases against citizens of Ukraine in Crimea.
"Often, the number of the arrested citizens may be much greater than the size of a prison cell. 15-20 Crimean Tatars are kept in a cell designed for 10 prisoners. Then they have to sleep in shifts or simply on the concrete floor," says the coordinator of the campaign Let My People Go! Polina Brodyk.
"A new detention center is being urgently built in Crimea because the existing ones are already overcrowded," adds Oleksandra Matviychuk. According to her, this year more than 2,000 convicted Ukrainian citizens were transferred to serve his sentence from the annexed Crimea to the most remote regions of Russia. At the same time, it is simply impossible to gain access to the detainees and to find out whether they really committed those crimes.
It remains unknown, whether any negotiations for their release or exchange, like in the case of Nadia Savchenko, are held, since Russian authorities either do not respond or respond vaguely. For example, when in early December, Russian film director Alexander Sokurov appealed to Russian President Vladimir Putin with a request to release Sentsov, Putin said that "the issues of this kind must be dealt with by the judicial system": "There are certain rules and regulations that we can use, but the appropriate conditions must ripen".
Hostages of pseudo-republics
While dozens of Ukrainian citizens serving sentences in Russian prisons on trumped up charges with no hope for a speedy release, an uproar was caused in Ukraine by the one who was lucky not to have a "taste" of all the charms of the Russian penitentiary system – Nadia Savchenko (after all, after the "court" ruling, she was not sent somewhere to Siberia). At some point, it almost seemed that the scandal provoked by "negotiations" between Savchenko and the militant leaders on the alleged release of the Ukrainian prisoners from the "basements" of pseudo-republics was more high-profile than the actual release from nearly two years of captivity of a Ukrainian "Cyborg" Taras Kolodiy...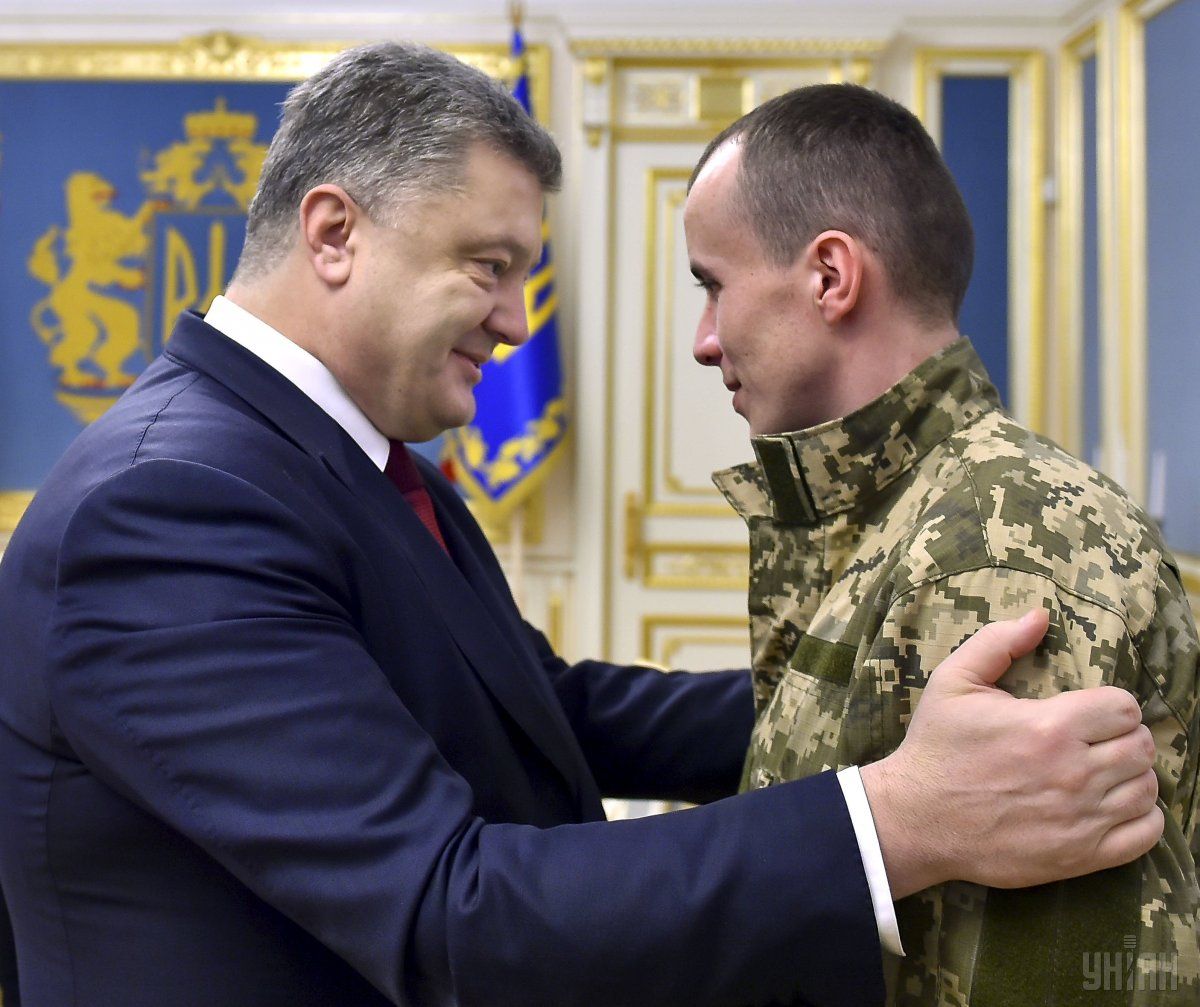 Photo from UNIAN
"Taras's release was made possible due to the efforts of dozens of people," said first vice-speaker of the Verkhovna Rada, Ukraine's representative at the Minsk talks Iryna Gerashchenko. "We are using every opportunity to get our guys out... Families appealed to the church, to the embassies of other countries that can make some difference... It is very important that we act in coordination with the Security Service, and then we see a result."
In fact, on the eve of the release of the "Cyborg", a humanitarian subgroup in Minsk, together with the Security Service of Ukraine and with the support of the President of Ukraine, has taken another step toward the release of prisoners. So to speak, it was a good will gesture – it promised to convey to representatives of breakaway areas of Donetsk and Luhansk regions 15 individuals from the list they had drafted for an exchange. "We expect that this will unlock the process of hostage release. We call on the Russian Federation and the breakaway areas to show humanism and free the captives... Ukraine has long made a proposal - to transfer 228 people, and take back 58 hostages. We are waiting for an official response," said Gerashchenko.
This proposal was supported by the representatives of Germany and France. In particular, according to Foreign Minister of Germany Frank-Walter Steinmeier, the release of all Ukrainian hostages in early January "would be more than a glimpse."
But even under such conditions, the representatives of the so-called "DPR" are ready to release only eight Ukrainian prisoners. The situation is even worse with the hostages of the "LPR": the militants confirm the presence on "their" territory of only six prisoners, and in return for their release they require amnesty for 440 militants and separatists. Is it connected with the fact that Russia does not come up with any specific instructions? Or is it because, as some say, the Kremlin lost control over Igor Plotnitskiy [LPR self- proclaimed leader]? It may be so. The Russian side continues to shy away from any specifics on this issue.
In addition, representatives of the self-proclaimed republics claim that they have in captivity much fewer hostages than Ukraine states. According to the militants, only 58 Ukrainians are being held in the "DPR" and "LPR". However, the Ukrainian side considers it a breakthrough anyway - this summer, militant leaders claimed that they only have 20 Ukrainians held as "prisoners".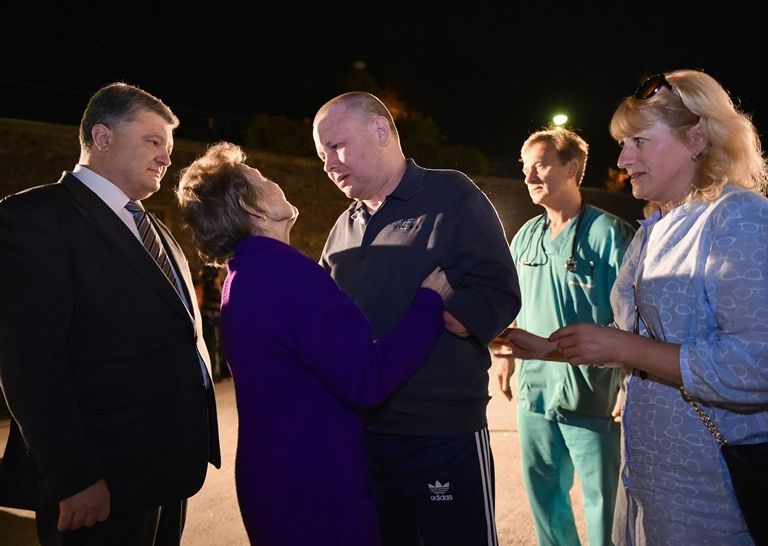 Former captive of militants Volodymyr Zhemchuhov / day.kyiv.ua
Unfortunately, it is impossible to verify any statements on the number of people captured by militants, as well as to check on the conditions of their captivity - the Ukrainian side to the humanitarian subgroup in Minsk is given no access to the hostages. Only some international missions, in particular, the International Committee of the Red Cross (ICRC) can provide some scarce information on the conditions of captivity. Sometimes, they manage to visit locations in the occupied territories, where the prisoners are held.
However, according to human rights activists, such "visits" are very rare, since the militants from "DPR" and "LPR" are not interested in international missions seeing those terrible conditions of imprisonment. "Captivity does not look like a regular jail or prison. The conditions in which hostages are kept are crueler. It is hard to survive there... The people are being tortured, bullied, and humiliated," said human rights activist from East-SOS Yulia Krasylnikova.
Actually, it is also one of the reasons why the exact number of hostages in the occupied Donbas can't be determined. Besides, according to her, there are a lot of civilians held in captivity: "In the last two months alone, 10 civilians were captured. They are accused of spying, adjusting artillery fire, sabotage, and treason.
The number of imprisoned civilians is also unknown, including because the relatives of the detainees often try to deal with the problem on their own, without requesting assistance from the Ukrainian authorities. Some of them don't believe the Ukrainian government can help, while some just don't know where to go with their problem. People are used to live within a system that has evolved around them, according to Yulia Krasylnikova.
Besides, once freed, many of the former prisoners prefer not to go public with the fact that they had been thrown into the "basement".
Deprived of rights
The most powerless hostages of the invaders are those convicted before the turmoil, those who had already been put into penitentiary facilities at the time of the annexation and occupation. As UNIAN reported earlier, there were 14 and 15 such facilities in Donetsk and Luhansk regions, respectively, and another five in Crimea as of the end of 2014. 9,511 convicts served their sentences in in Donetsk region, 6,426 in Luhansk region and another 3,295 people in Crimea.
Volunteer Olena Povidaychik (prisoners call her "Mama Lena") tries to monitor the situation in these "lost" prisons and penal colonies. According to her, the convicts suffer from cold, while prisons often come under fire. Most of them do not have enough food and medication.
In addition, the prisoners in those penal colonies in breakaway "republics" are often used as slaves – they are forced to dig trenches and demine the area. Those who are ready to fight on the side of separatists are released.  Those who defy the militant rule can be used as "cannon meat".
But what has Ukraine been doing in order to help them? According to Verkhovna Rada Human Rights Envoy Valeria Lutkovska, a total of 676 convicts serving sentences in "DPR" and "LPR" have appealed for their transfer to Ukraine-controlled prisons. However, over the last two years, Ukraine only managed to transfer 133 convicts, including 84 people in 2016. All of them did time in Donetsk region.
At the same time, none of the applicants (some 100 people) were transferred from Crimea.
As UNIAN reported earlier, the evacuation of Crimean prisoners came to a standstill when Russia hinted that Ukraine can take them, using the standards of the European Convention on the Transfer of Sentenced Persons. However, the Convention requires that such movement cannot take place within one State. And, according to international standards, Crimea is a temporarily occupied territory of Ukraine.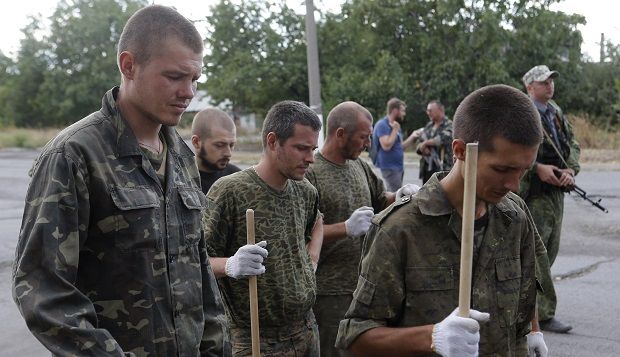 REUTERS
While Ella Pamfilova held office of Russian Ombudswoman, the requests from the Ukrainian side were simply ignored. When in 2016, Tatiana Moskalkova took up the post, it seemed the situation would get moving. But it was not the case. According to Valeria Lutkovska, Ukraine sent to the Russian Ombudswoman a list of 17 people, who could become the first ones to be transferred from Crimean prisons to the Ukraine-controlled territory. But Russia continued to seek "appropriate legal framework" for the possible transfer...
The worst situation is with prisoners serving sentences in institutions under the "LPR" control. According to the Ukrainian Ombudswoman, 339 people wish to be transferred, but not a single prisoner has been moved over the past two years. UNIAN was able to contact one of these powerless hostages. Serhiy Sabodash is serving his sentence in a penal colony No.38 in Sverdlovsk (Luhansk region). "It so happened that my hometown is now in a "republic", but I want to go to Ukraine," he said.
However, he faced the fact that the "LPR" does not even accept transfer appeals.
His will to be transferred to Ukraine is also due to the fact that here he can be released through reducing the duration of his sentence by four years under the "Savchenko law."
There are a lot of people with the same fate as Serhiy's, and all of them are Ukrainians, but no one is talking about them on live TV, including the "MPs-negotiators"…
Tatiana Urbanskaya, Tatiana Kuznetsova
If you see a spelling error on our site, select it and press Ctrl+Enter