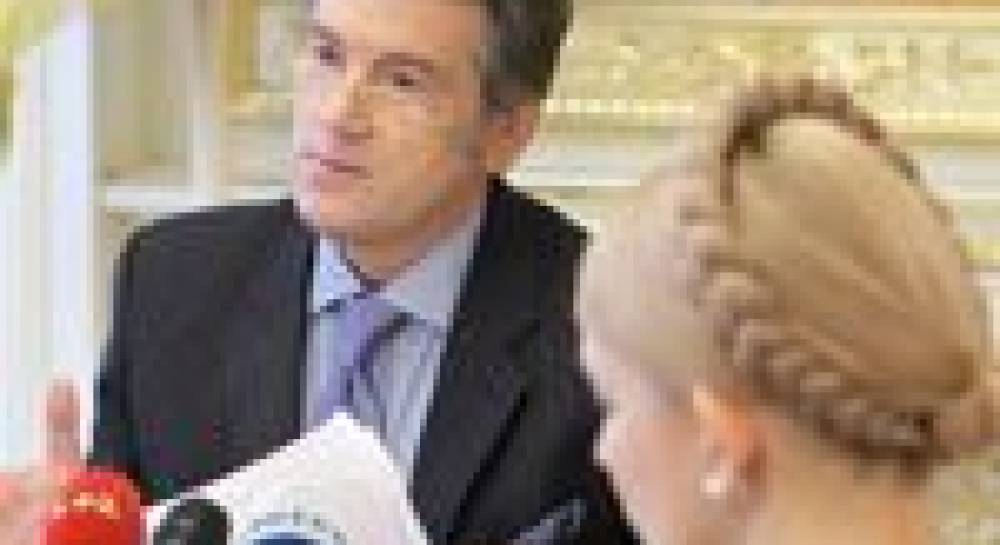 Ukraine risks unrest as ills worsen
12:08, 03 March 2009
3 min.
2956
Olexander Pavlenko, a young computer programmer, is one of tens of thousands of Ukrainians who cannot get their money out of the bank. He stood in line in Kyiv at two big troubled banks...
Olexander Pavlenko, a young computer programmer, is one of tens of thousands of Ukrainians who cannot get their money out of the bank.
He stood in line in Kyiv at Nadra Bank and Ukrprombank, two big troubled banks, planning to withdraw more than $10,000 (?7,950, £7,125). But like many others, he was told the cash was not available.
"I stood in line a couple times with other bank clients who were protesting, crying and screaming. But the bank told me: 'Sorry, we simply don't have the money now and can't help you.'"
With about nine banks now under the central bank's special control, Ukrainians are increasingly worried.
Even those with their money in apparently solid banks, including those controlled by west European banking groups, are concerned because the central bank has banned the early redemption of term deposits, the most popular form of saving in Ukraine.
Altogether, hryvnia bank deposits have dropped 20 per cent since September and those in foreign currency 10 per cent.
"This is very serious," said Olexander Suhonyako, president of the Association of Ukrainian Banks.
The growing discontent among bank clients is matched by other signs of public anger at the impact of the global crisis – and at the seeming inability of the country's divided leaders to respond effectively.
Recent weeks have seen protests by truck drivers complaining about taxes and the dramatic decline of the hryvnia, which has complicated the repayment of foreign currency vehicle loans.
Meanwhile, the owners of street kiosks in Kyiv successfully demonstrated against the city's plans to take over their stalls.
But with demonstrations drawing only up to 5,000 people, the authorities are confident there is no serious threat to stability.
They say Ukraine is remarkably calm given the country's economic problems. Gross domestic product growth is forecast to contract 5-10 per cent in 2009, while unemployment is rising and non-payment of wages is becoming more common.
But with political leaders focused on the forthcoming presidential elections due before the end of the year, some observers fear that the protests will become bigger.
Oleksiy Haran, a political science professor at Kyiv's Mohyla University, says: "If [the economic situation] worsens, if more banks run into trouble, and if more layoffs pile up, then I would expect large crowds to materialise. This will be dangerous for a country that is struggling already to deal with the economic crisis."
There seems to be no end to the disputes between Viktor Yushchenko, president, and Yulia Tymoshenko, his prime minister.
Much now depends on the implementation of the $16.5bn package assembled by the International Monetary Fund, including money for bank refinancing. After disbursing $4.5bn last autumn, the IMF suspended further loans after a policy disagreement with Kiev.
But Mr Yushchenko and Ms Tymoshenko pledged at the weekend to co-operate with each other and the IMF on implementing reforms.
Meanwhile, the IMF agreed to relax its desired deficit target from less than 1 per cent of GDP to about 3 per cent, in the light of the deepening recession.
Co-operating with the IMF will allow Ukraine not only to secure loans but also support from other international institutions including the World Bank and multinational banks, which have pledged to back their local subsidiaries.
On Monday, Austria's Raiffeisen International promised to support Aval, its Ukrainian affiliate.
Hryhoriy Nemyria, deputy prime minister, insists Ukraine "is not a basket case". Ceyla Pazabasioglu, the IMF's Ukraine mission chief, agrees, saying the country's difficulties are not "insurmountable".
But investors are not so sure. Ukraine's credit default swap rate – a risk measure – stands at around 3,700, compared with about 1,000 for Latvia and 560 for Hungary, two other east European states on IMF support.
Every week seems to bring a new crisis – the next could come this weekend, when Kiev is due to pay a $400m bill to Gazprom, the Russian gas monopoly.
.................................
Road from the Orange revolution
Jan 2005 Viktor Yushchenko sweeps to power in the Orange Revolution
Sept 2005 Mr Yushchenko sacks Yulia Tymoshenko, his prime minister, after repeated disputes
March 2006 Parliamentary elections and appointment of Viktor Yanukovich as prime minister
2007 Efforts by Mr Yushchenko and Mr Yanukovich to co-operate collapse and new elections are called. Ms Tymoshenko returns to power
2003-2007 Strong growth, with GDP rising at an annual average of 8 per cent
2008 GDP growth slows to 2 per cent. Gloom spreads into property and banking
March 2009 Economy worsens, with a decline of at least 6 per cent in growth predicted this year
By Stefan Wagstyl and Roman Olearchyk, The Financial Times
If you see a spelling error on our site, select it and press Ctrl+Enter