Ukrainian tourists robbed at the Switzerland-based Lindner Alpentherme
14:10, 08 April 2009
2830
0
Leukerbad's most respectable health spa center Lindner turned out to be really popular not only among Ukrainian tourists, but also all kinds of con-men...
Traveling around the country of the world's most trusted banks and luxury resorts, we fell prey to fraud more than once. Leukerbad's most respectable health spa center Lindner turned out to be really popular not only among tourists, but also all kinds of con-men.
The most luxurious of Swiss ski and thermal resort Leukerbad's spas is the Alpentherme spa center of the high-end hotel Lindner. That's exactly where cons come to hunt tourists. We have recently seen a story on the hotel and spa center on one of Ukrainian channels. With all its exquisite attractions praised, the hotel was called highly respectable and reliable. Such TV coverage must mean the Lindner is interested in Ukrainian tourists. But if you are actually planning to stay there and enjoy a swim, we have to warn you – the reality is very different, and the attitude to Ukrainians is unfortunately far from perfect. We enjoyed the Lindner Alpentherme services quite often and once witnessed Chinese tourists having problems with unlocking their locker with their own key. When they finally managed to get their stuff, they looked really unhappy searching through their pockets, obviously missing something.
The following day, as we came to the Alpentherme, we were careless enough to leave our money in the pockets of our clothes. We locked our locker, took an individual (!) key and left to enjoy a swim. Half an hour later we returned to find the locker open and our pockets empty. No money left. We didn't waste any time and called a hotel manager and police. The very first question they asked us was where we came from. The moment we told them we were Ukrainian tourists, they seemed to lose any interest in the incident and we really had to do our best to force them to the crime scene. One of the policemen finally used his torch to examine the lock and said it had not been broken and had  been unlocked with another key. Both, the police and the hotel manager had nothing more to tell us. We called our lawyer in Ukraine who recommended that we should demand a police report with details of the incident. The policeman told us though we could not have the report as it was supposed to be signed by a number of officials. When asked how we could receive a document to confirm the fact of the theft, the hotel manager just shrugged her shoulders. She agreed to continue the discussion only after we took her photo and showed her our press cards. She would talk to us only if we deleted her photo, she said. We actually had to force her to call the hotel general manager and arrange a meeting. As we said good-bye, we left our address to the policeman, who assured us we would receive the report in a week.
The following day we had a meeting with the Lindner general manager. He said we should not expect any reparation. All he could do for us (since we had no money left to stay at the hotel) is let us stay for free. We refused – who would be willing to stay at a place like that? We told him we were journalists and promised to publish a story on the incident. We left Leukerbad on the same day, having had lunch at a small restaurant first. We told the host our story and he didn't seem to be surprised at all. It happens all the time, he said. Last week, another tourist was robbed of 2 thousand
Francs at the notorious Lindner Alpentherme, he added.
What are the conclusions? It is obviously a great risk to take money to the spa, even if you leave it in your locker locked with an individual key. If anything of that kind happens, consider it a good lesson for yourself and a test for a hotel. A test to show how it takes care of its guests, reputation and security issues, which tourists are charged quite a lot for, by the way. We have traveled the world and seen a lot. We've seen Turkish and Dubai luxury hotels going out of their way to please tourists in similar situations just to save their reputation.
Swiss hotels don't seem to bother about their reputation in the Ukrainian market. By the way, tourists from post-Soviet countries, especially Russia, seem to love Swiss hotels, which is a major reason behind a high crime rate. This category of tourists normally has lots of cash on them. If we were Austrians, we would have probably been treated in a different way. But what's worst, the situation shows the spa has been picked by one criminal or a group of criminals, obviously staff members, who have had the locker keys made and check lockers on a daily basis with no security cameras watching them. The hotel with suites 530 Euros per night each could afford a couple of those, I should say.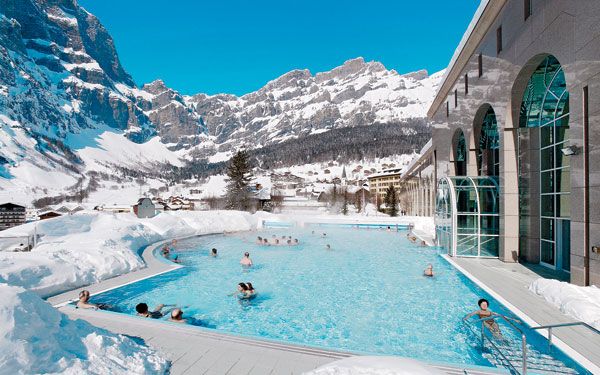 What's left to say, it was not the first time we had been cheated in Switzerland. We were overcharged in restaurants several times – they probably think tourists from post-Soviet countries cannot count their money. Once a waiter, who had taken the money, but saw us checking the bill, gave us back 20 Francs he had overcharged. At a ski rent, our friends were charged 90 Francs more than us for ski gear. When they asked for the reason behind the difference, they had their 90 Francs back.
The Swiss are extremely good at money matters when it goes about tourists' money. Switzerland is undoubtedly a beautiful and interesting country. But our story is just another example of a hotel's marred reputation ruining the whole country's image. Even if only a couple of journalists and their friends know about it. Plus hundreds of people we've already told and are going to tell the story. And thousands of our readers.
If you see a spelling error on our site, select it and press Ctrl+Enter