Operation "Embarrassment"
18:30, 07 December 2017
8 min.
820
Transcripts and audio obtained through wiretapping, made public on December 5 in the Verkhovna Rada session hall by Prosecutor General Yuriy Lutsenko, delivered a hard blow not so much to their very target, Mikheil Saakashvili, but his associates and allies who have long been struggling against corruption and constant delays in required reforms. UNIAN asked some of them, how they reacted to the latest developments.
Since the Ukrainians have already grown weary of declarations about the need to tackle graft, allegedly a legacy of the former government, which today's authorities fail to even reduce in their own high offices, it is not surprising that very few still harbor trust in the representatives of this government. Constant corruption scandals involving high-ranking officials stir the pot even more. After all, instead of resulting in actual verdicts and prison sentences, they lead to a bitter bickering between the law enforcement agencies, which hinders evidence collection and thus gives rise to suspicions of collusion between today's political elite and their predecessors - at least, on the issues of the recovery of assets withdrawn from Ukraine in previous years, or the preservation of the assets of fugitive ex-officials and politicians until their future, perhaps even a triumphant, return to their Homeland ... Therefore, the Ukrainians tend to perceive with a fair amount of skepticism all those accusations against the leader of the "Rukh Novykh Syl" [Movement of New Forces] Mikhail Saakashvili of his collaboration with a young tycoon from Viktor Yanukovych team Serhiy Kurchenko that Lutsenko voiced from the parliamentary rostrum December 5, despite compelling recordings presented.
Some don't believe that such things can be discussed over the phone, some doubt that it was actually the voices of Saakashvili, Kurchenko and their representatives on those tapes, while some focus on the fact that, judging by the quality of recorded voices of interlocutors, the eavesdropping efforts were made from the side of the runaway oligarch. This timidly suggests that, since this was the operation by the Ukrainian security forces, it could only succeed happen if certain agreements had been reached with Russia's FSB (As we know, Kurchenko has fled to Russia following the Revolution of Dignity), etc ...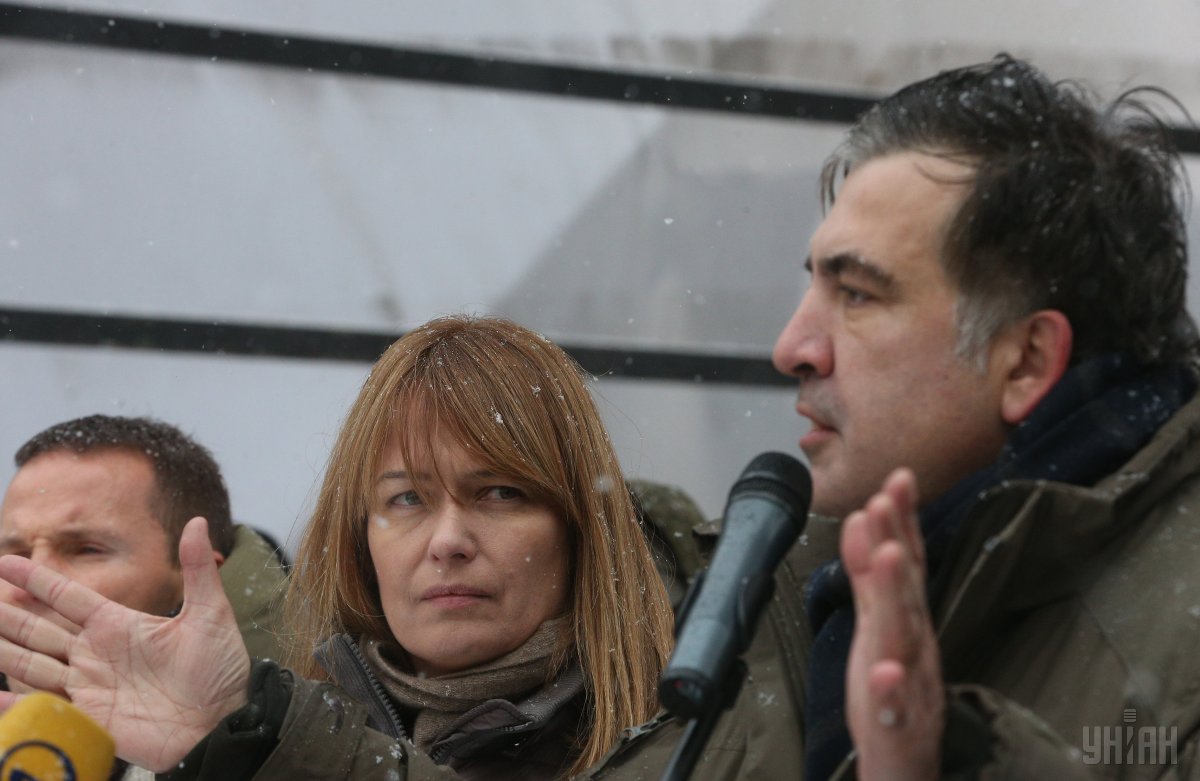 Saakashvili's supporters are inclined to justify the actions of their leader / Photo from UNIAN
Of course, there can be different attitudes to those revealing tapes. Some of Saakashvili's supporters are inclined to justify their leader, claiming that taking money from Kurchenko was not actually a crime, and besides, Saakashvili could personally not have been aware that someone was going to go for a kill. However, the tapes dealt a serious blow not so much to Saakashvili himself (his logic is basically simple: if someone is willing to give money for promotion, why not take them), but to many of his associates and allies, who have actually consistently opposed Kurchenko and in general stood against the very idea of cooperation with the Yanukovych "family" and the people from his entourage. That is, those who, for various reasons and at different periods, in any way supported the movement organized by the ex-president of Georgia, or individual slogans and demands voiced during those rallies.
Actually, this is confirmed by the reaction to the latest events of Mikhail Saakashvili's temporary allies, the "new blood" in parliament, the so-called Euro-Optimists. For example, People's Deputy from the Bloc of Petro Poroshenko faction Svitlana Zalishchuk noted that "if the tapes of the prosecutor's office are confirmed, it will be a great blow to the democratic forces and the people's confidence in peaceful protest." In her opinion, Saakashvili should provide "exhaustive answers to all questions". "In particular, elaborate on the financing of his force ... Kurchenko's money would mean not just betrayal, but a complete undermining of the prospects for anti-corruption struggle in this country, which is so beneficial for the president. People's distrust in politicians is disastrous. And in conditions when the authorities cannot increase this confidence in themselves, the situation with Kurchenko's money will distract attention from the country's key corruption cases: Rotterdam + [coal pricing formula], NAPC [alleged supervision of a supposedly-independent anti-corruption watchdog's actions by the presidential administration], destruction of NABU, investigations into embezzlement at the Ministry of Defense, creeping return of various corruption schemes and distribution of [dirty money] flows , [head of Tax Service Roman] Nasirov  case, "minister's backpacks" [a probe into possible corruption in public procurement], and so on," she said.
In turn, her fellow party member Mustafa Nayem stated that "Mikhail Saakashvili and his team should answer all the questions that arise. Remaining silent about the charges put forward by the prosecutor's office is no option. It is possible that the materials promulgated by Yuri Lutsenko are fabricated. But 'being funded by Kurchenko" is the case where you do not want to take a wild guess. Was Dangadze Mikheil's confidant? Did he or his entourage have contacts with Serhiy Kurchenko? Has the Saakashvili team received any support from the Russian Federation? Silence, slogans, or evasive answers are all unacceptable. In a situation of war with Russia, any unanswered questions, suspicions, and facts that cannot be explained would be deadly," he wrote on Facebook.
Similar questions were voiced by Automaidan activist Oleksiy Hrytsenko: "It is important for me to hear whether there has been any cooperation with Kurchenko, what are the sources of funding for the activities of the Movement of New Forces, and what has the leader [of the movement] now live off."
The Prosecutor General has already branded many of Saakashvili's allies as those who obstructed the law during the detention of ex-president of Georgia. "We consider as criminal acts (and in this regard criminal proceedings have already been launched) the acts by all persons who interfered with legal actions to protect the Ukrainian state by law enforcement bodies, the Security Service. Among them are the acting People's Deputies: Ihor Lutsenko, Yuriy Derevyanko, Svitlana Zalishchuk, Mustafa Nayem, Oleg Petrenko, Yuriy Levchenko, Serhiy Leschenko, and Viktor Chumak," Yuriy Lutsenko said, adding that the investigators will have them all questioned and assess their actions.
Serhiy Leshchenko and Mustafa Nayem said they hoped to be excluded from the faction / Photo from UNIAN
The pro-presidential faction went even further - the BPP Council appealed to Zalishchuk, Leshchenko and Nayem, calling on them to "repent". "We demand to publicly explain to all Ukrainian society and those who voted for you, your position and motivation when inciting Ukrainian citizens to protests... We call on our colleagues to repent and admit their mistake," the faction's statement says.
In response, Serhiy Leshchenko and Mustafa Nayem stated that they were hoping to be excluded from the faction. However, they have been asking for this for a long time, and it is unlikely that the BPP leadership will give them such punishment-shaped gift (in Ukrainian legal realities, deputies who leave their faction are deprived of their mandate, while the ones who are kicked out retain their status, becoming an independent MP no longer bearing responsibility for the moves of political force they had once been part of when entering the Rada).
In addition, Saakashvili's supporters point out that the authorities, having taken up arms against him, simply fail to notice plenty of other figures who are much more harmful to Ukraine. "For me, the situation with Saakashvili did not come as a surprise. I knew that this would happen, the question was when and in what form. As for the conversations with Kurchenko, it seems to me it's politically incorrect to comment on this before an official statement, which Saakashvili himself should offer. Nevertheless, all this looks like a planned fight with dissidents, the ones who make open statements against Poroshenko. At the same time, the SBU obviously ignores the Russian citizenship of [Odesa Mayor Hennady] Trukhanov, the oligarch from the Russian Federation [Vadym] Novinsky, Putin's friend [Viktor] Medvedchuk, and a number of separatists in Donbas. All of them enjoy freedom, although proving the "Kremlin trace" in their case would not require any tapes," former MP Yehor Firsov told UNIAN.
"[The authorities] need to understand that people do not take to the streets for Saakashvili but against the system, against total corruption. And I am sure that the rallies will continue, while the authorities with their own hands are making them more radical," he said.
At the same time, some of Mikheil Saakashvili's allies hastened to disown him. According to People's Deputy from the Samopomich faction Yehor Sobolev, at the latest rallies he has been representing the Liberation Movement, not Saakashvili's force. "We are standing in a separate camp. And we've been trying to explain this to you from the very first day," he told UNIAN.  "We came there by ourselves, we were the initiators of the rally on October 17."
According to him, representatives of the Liberation Movement have never supported Saakashvili. But they always opposed political repression. Therefore, regardless of who were targets - journalists, volunteers or social activists - "we always came and we will come to help these people," and if the repressions are directed against Saakashvili, "we come and help him, too." "But do you understand the difference between support and help?" the parliamentarian said, digging into the semantic subtleties.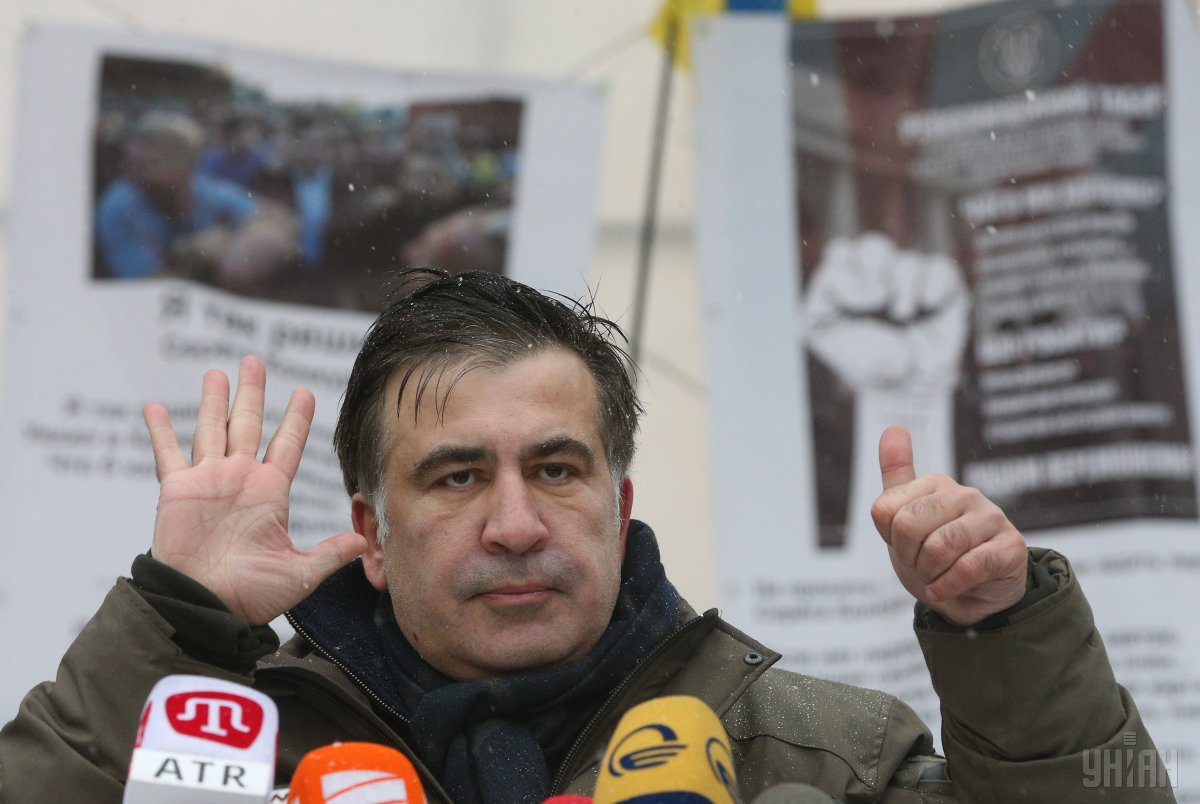 Some of Mikheil Saakashvili's allies hastened to disown him / Photo from UNIAN
He noted that since the authorities had never complied with the demands of the Liberation Movement (the law on lifting parliamentary immunity was only sent to the Constitutional Court, the election code was adopted only in the first reading, while the impeachment law was never brought to the session hall, and the law on the anti-corruption court was not even introduced to the Verkhovna Rada,) "there can be no question of any 'going home'."
"Time will tell, what will happen with the Saakashvili case. By and large, I don't care about him as a politician. If he took Kurchenko's money, he should be held responsible, both politically and under the Criminal Code," an independent MP Oleh Petrenko wrote on Facebook. "But every time when I witness confrontations between the people and security forces, I will always stand side to side with the people without hesitation, and only later will I reflect and analyze. And I couldn't care less about possible reputational losses and criminal persecution."
"No matter how hard they try to destroy us, we will move on. They try to scare us off with criminal cases, but we don't have any activists against whom there are no administrative or criminal cases launched anyway. We are not going to get scared and give up. We have fought with this mafia from high offices, and we continue this fight. We will remain [at a rally] outside the parliament," said another non-factional deputy Yuriy Derevyanko.
According to him, the protest outside the Rada will not be wrapped up. In addition, activists intend to appeal to foreign organizations "so that this whole story is not reported only in the light that is beneficial to Lutsenko and Poroshenko".
Now everything looks like a dead end. Mikheil Saakashvili himself is swinging from intending to explain himself to the law enforcers to changing his mind and hiding in tents, although it's most logical and in the politician's interest, it seems, for him to provide the exhaustive answers about the tapes. On the other side, the law enforcers first fail to get him transported to a detention facility, then seem to not pay attention to his public appearances outside the Rada, and then start searching for him among protesters' tents, thus provoking clashes with the activists. Deputies seem to have distanced themselves from this whole situation, while protesters find it difficult to explain "what they are rallying for". In general, all this looks like another performance in the spirit of "we have fooled them all like kittens" [a phrase by an already-late Ukrainian politician from the Yanukovych team].
But even given the ridiculous nature of this freak show, with all those sluggish protests, there is an obvious real problem arising. Reforms are failing to be implemented at a proper pace, lustration of officials from the Yanukovych entourage has stalled, while the fight against corruption seems to be making a U-turn at times. Therefore – people can and should put forward their demands to the authorities. But such demands must be tangible and feasible. Moreover, the protests should have some ultimate goal. Today, the ideas voiced by Saakashvili, unfortunately, have neither a goal (removing the "power of mafia" is understandable, but what next?), nor a clear mechanism for implementation. For example, the impeachment law needs 300 votes to pass the Rada, and to this end it is necessary to apply to the Constitutional Court for clarifications, and then the deputies could argue for weeks on a real mechanism for implementing such an initiative ... Therefore, even several hundred thousand take to the streets in support of such a demand, they will probably have to sit in their tents until the next election.
A political action that does not result in a victory is a defeat for those who deservedly criticize the authorities, trying to encourage officials to work better ... And the authorities are perfectly aware of this.
Tatiana Urbanskaya, Tatiana Poliakovskaya
If you see a spelling error on our site, select it and press Ctrl+Enter