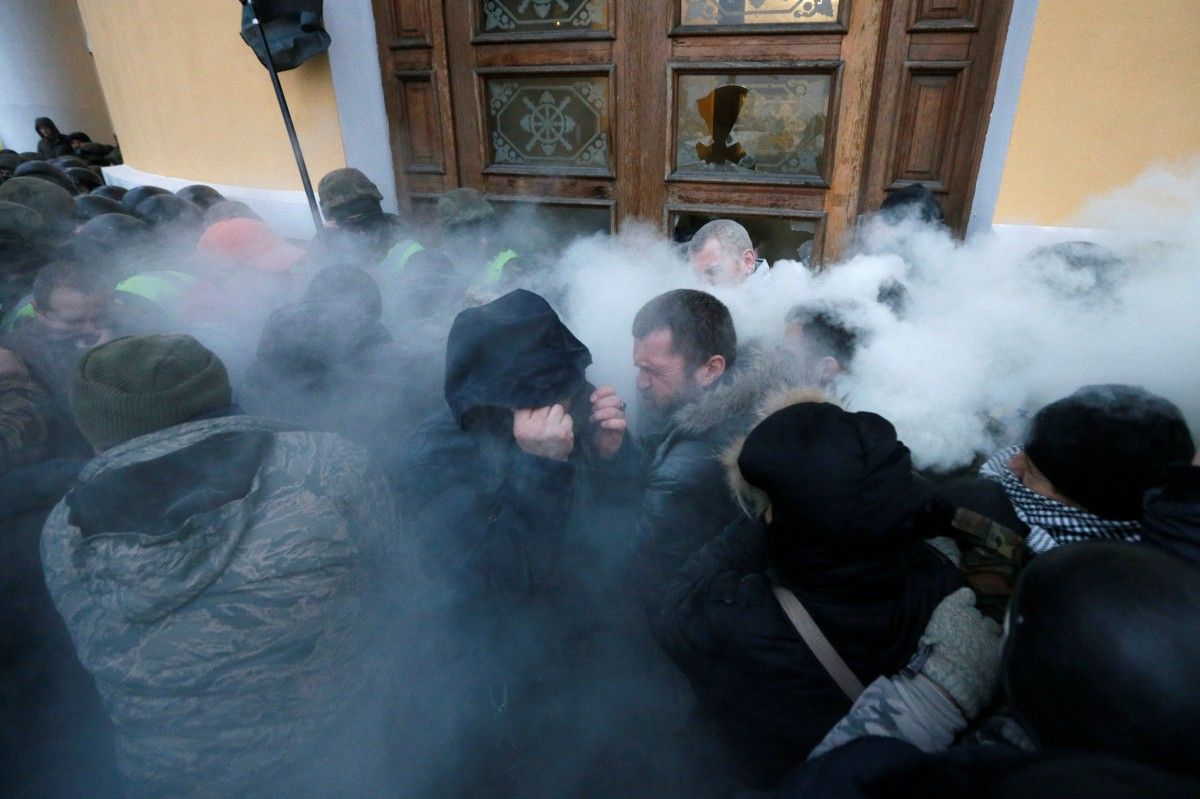 Week's milestones. Saakashvili's metamorphoses, Tymoshenko's record, and Samopomich's drift
23:10, 18 December 2017
2 min.
607
Mikheil Saakashvili went a path from a "war prisoner" in a courtroom to the one who led the crowd storming the Zhovtnevy Palace concert hall. Yulia Tymoshenko set a record, which she can hardly be proud of. Petro Poroshenko has launched the new Supreme Court. Volodymyr Groysman has sharply reduced his public presence after the Rada adopted the 2018 Budget. "Samopomich" party seems to be getting engaged in a presidential race.
The peculiarities of Mikheil Saakashvili's political behavior can make him be left alone at the most inappropriate moment. While the leader of the "Movement of New Forces" remained a detainee in a courtroom, about a dozen parliamentarians led by Yulia Tymoshenko came to support him, noticeably not expecting that he would be released the same evening. However, after Sunday's "freak show" with the storming of the Zhovtnevy Palace, which could not bring any political dividends, the number of Saakashvili's allies has diminished considerably. What's most surprising is the constant shifts to extremes in his rhetoric: within just a few days, ex-Georgian president can first sound a bit too arrogant toward Poroshenko, and then write him a letter offering to settle the political crisis. The ex-head of the Odesa Regional State Administration is like a rogue bear, who seems to be too confused while the rest of the "forest dwellers" have already taken a pause in their political activity. A bit surprising though was the ironic stance of Interior Minister Arsen Avakov, who in most cases offers to first obey law enforcers and only then challenge their decisions.
Quite an astonishing record set by Yulia Tymoshenko was recorded by researchers at VoxUkraine: they found unreliable data in 91% of statements by Batkivshchyna party leader they've analyzed. She deftly manipulates, refrains or distorts facts, forcing fellow citizens to believe her words and twisting public opinion. Tymoshenko knows how to please her voters and say what they actually want to hear. She preferred not to publicly comment on the research data, but she is unlikely to be able to change the manner of her political behavior anyway. Practice makes perfect, they say. By the way, TOP 3 "leaders" in this research also included Vadym Rabynovych and Yuriy Boyko.
Petro Poroshenko, whose rating growth allows him not to boost preparations for the presidential campaign, swore in the judges of the newly-established Supreme Court. It is too early to claim that the judiciary reform will bloom to the pleasure of voters soon, but there is time to form an image of an incorruptible and fair Themis, at least on the upper floors of this judicial system....
PM Groysman has noticeably shrunk his media presence. The prime minister, apparently, is satisfied with the adoption of the country's main financial document, and chose to confine himself to the assertion that a 3% GDP growth next year may be the minimum target to enter a new orbit. It's time for the premier to reflect on his role in the future presidential campaign, at least on his affiliation to some particular team.
Representatives of Samopomich party, as follows from the interview with Andriy Sadovyi and Yehor Sobolev, will also take part in the presidential race, and are already sharpening their opposition rhetoric. However, Sadovyi's political moves cannot ensure his direct participation in the presidential race. The thing is that he is trying to do big national-scale politics out of a regional center, and this can hardly be called a productive option.
Yevgeny Magda
If you see a spelling error on our site, select it and press Ctrl+Enter