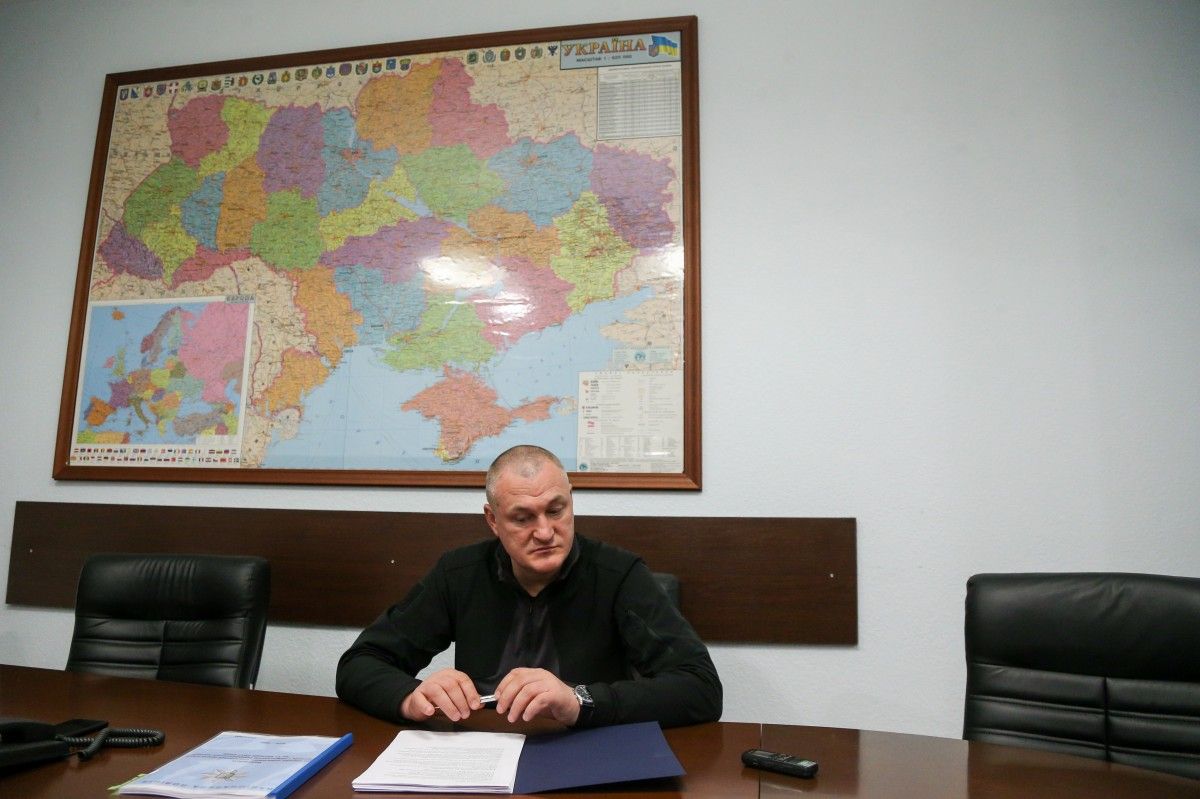 National Police Chief: Number of mob bosses in Ukraine has increased many-fold... Russia's FSB is often behind this
14:40, 29.12.2017
15 min.
1583
Head of the National Police of Ukraine Serhiy Knyazev in an interview with UNIAN told why protesters managed to erect tents on Hrushevskogo Street but failed to occupy the Zhovtnevy Palace, why current times should not be compared to 1990s, and whether Ukrainians should beware of a higher crime rate in 2018.
Ukraine's top cop, Serhiy Knyazev, comes from the so-called "old school" of law enforcers. He is now leading a structure undergoing a reform process, a complete transition from Soviet-style "militsia" to police. Naturally, changes never come without some mistakes on the way.
Over the year since Knyazev took office, there have been many resonating events in Ukraine - from high profile killings to a wave of protests. However, when journalists inquire some updates on prominent probes, he usually cites secrecy of the investigation. Therefore, during the conversation, UNIAN focused on the general assessment of the crime rate, asked of the pressing issues of reform, and police tactics during mass rallies (the interview was recorded ahead of the annual press conference by the head of the National Police).
In an interview with UNIAN Serhiy Knyazev spoke about the problems of police reform, the crime rate across Ukraine, and the reasons why tents on Hrushevskogo Street are OK while seizing the Zhovtnevy Palace – not. He also spoke of what kind of force police are entitled to use against protesters and whether officers can act tougher during rallies.
Immediately after your appointment on February 8, 2017, you stated that you do not anticipate a decline in crime rate this year. The year is almost over and it's possible to start summing up preliminary results. Have your gloomy expectations come true?
They haven't. There has been a decrease in crime rate, but not in the entire crime spectrum. In some types of crime, we see a sharp or systemic decline. The main segment of crime remains theft, that is 52%, while the smallest is murder (0.3% ).
In 2016 we recorded 562,372 offenses being investigated as of December 31, 2016. Over the 11 months of 2017 there have been 490,280 offenses. At the same, time the number of crimes we solved increased by 40,000.
But if we look at the types of crimes, then we will see a following picture. In 2016, we launched 6,216 murder cases, and in 2017 there were 5,157 of them. Unfortunately, some people, who are far from being experts, often manipulate these figures. These figures consist, first of all, of deaths reported as murders, because they require a series of examinations. For example, when a young person dies, we launch a case and find out that the deceased was a drug addict. But in order to reveal that, it is necessary to open that criminal case. If we discard natural deaths, we'll see real stats. In absolute numbers, in 2016 there were 1,707 murders, and in 2017 there were 1,397.
There is also a qualification of a crime associated with murders, like an infliction of bodily harm that caused death. It differs from the murder with a narrow qualifying attribute and affects the sentence. For murder, you can get life in prison, while bodily harm that caused death may get you a restriction of freedom for a certain period. So, in 2016 there were 605 cases of grave bodily harm that caused death, and in 2017 there were 548.
But the main category of offenses, according to which the public assesses the quality of police work is theft. This year I paid several official visits to Europe - Poland, the Czech Republic, and Moldova, and I also visited China. It turned out they have long ceased to assess police work through crime rate stats, for example, a number of thefts.  Instead, they use as an indicator the number of solved crimes and cased forwarded to courts. That is precisely what reasoned my pessimistic forecast as I took office.
Photo from UNIAN
However, we managed to reduce the crime rate in this area by almost 50,000 (from 303,000 in 2016 to 254,000 in 2017). Last year we solved 72,712 theft cases and sent them court. This year it was 88,423 cases.
One of the types of theft is breaking and entering. In 2016, some 5,565 corresponding cases were solved, and this year we tackled 8,017 of them. It's 2,500 more! That is, our criminal and investigative police have performed more effectively, which has led to a change in the segment of offenses committed in general. And this, probably, depends not on Serhiy Knyazev as a personality but rather on all officers, each of them just doing their job.
Also, last year there were more than 25,000 robberies, this year it's 16,455. Prevention efforts worked – there was 9,000 cases fewer, however we solved only 280 robberies more than last year. These figures are bothering me, actually.
It should be noted that in B&E cases, it's much harder to identify a culprit than it is a robber. After all, in B&Es, no one sees the perpetrator while in a robbery their face could be seen as they are not always sporting face masks. If they are, they still have some clothes on, some peculiar posture or other distinctive features. Therefore, I'm not satisfied with the performance of our criminal police in this area. But, nevertheless, it is better than last year, though by not much.
Last year, 3,560 group robberies were recorded, this year it was 2,663. That is, 1,000 cases fewer. Speaking of solved cases, last year it was 49% and this year it's 61%.
Better statistics on investigating these crimes was preceded by quality training. In the autumn of last year, the impetus came from Interior Minister Arsen Avakov and Prime Minister Volodymyr Groisman. They convened a meeting of regional police department chiefs and asked: "What do you need? Stop the mess on the streets." Projects and proposals were worked out that had to be implemented.
In general, it's the humanization and democratization of the country that lead to a decrease in the number of convicts. Three years ago, some 160,000 prisoners were kept [in penitentiaries]. Now it's 62,000. What does this tell us? It's not that the police don't work well, it's the courts that have no time to complete all trials fast. And the policy of humanization leads to criminals being served verdicts that don't provide for imprisonment. "Professionals" get conditional terms and just go on robbing people.
Regarding the thefts, there are friends of mine living in Lviv and a village of Stryzhavka near Vinnytsia, who got their stuff stolen from their apartments. So they claimed that, besides the fact that the crimes have not been sold, the police arrived only 2-3 hours after the call. Are these occasional cases or is there a systemic problem here?
We are trying to respond ASAP. And we have a crew arrival control application. Response time in regional centers is very fast. The patrol police arrive, tasked with reporting to confirm the crime and pass information on exactly what exactly happened. After that detectives and CSI arrive.
In Lviv there are two groups of detectives and operatives for each of the two district police units, while there is eight to ten emergency calls incoming simultaneously. So the groups distributed according to priority.
Population in Lviv is over 800,000 people, with a high enough number of crimes per capita. Such number of offenses per day task to the "102" emergency dispatcher to objectively pass relevant data to different teams - patrol police, the investigators or criminal police. If someone reports a rape, we need to respond quickly. When they say there is a robbery underway, we must rush there instantly. If they say there've just been "robbed", we still have to get there fast to determine whether the victim was hurt, and to catch the attacker.
After the theft the victim should try to preserve any traces of the crime, while the police are tasked with collecting evidence for the experts, the criminal police, and investigators to research it...
As for Stryzhavka, let's open a map of the Vinnytsia district and we'll see that the police unit is located not exactly in Stryzhavka. That is, they have no shiny Prius, at best they have a single Mitsubishi, two UAZs, and a Zhiguli. Well, a local police chief also drives a Volkswagen or Skoda...
Are you OK with that?
I'm not, so in 2017 we bought more than a thousand vehicles, which I am now distributing proportionally to regional centers with a single requirement: God forbid some Colonel keeps the car for their own needs. About 500 cars will go for SWAT teams across the country. This is less than one per each police unit, of which we have 680. Therefore, one car will be given to the Vinnytsia district. This will reduce the response time but not much.
If we procure more in 2018 and if we win the war with Putin, then, in theory, we'll be able to double the police budget, or maybe the money will go to other areas. That's for the Cabinet to decide. I just perform my functions.
Many compare today's situation in Ukraine with the 1990s. It is not about the crime rate because as we saw, it's easy to manipulate numbers… It is about the audacity of today's criminals. Can such parallels be justified?
Those who cite analogies with the 1990s don't remember the 1980s. The "1990s" term does not cover the entire decade. In the 1990s, there was both an increase and a fall in the crime rate in different categories. Organized crime was then "the craziest". Then they came up with this racketeering thing, they invented vertically organized criminal gangs at the lowest level, which later started to grow up to the highest level. Subsequently, they merged with local authorities and police.
In 1992, people had nothing to eat, and in 1994 people, including police officers, were not paid their salaries. People remember the 1990s as the times of great mess. Although this was a period of transition and separation from the Soviet system to independence. In 2000s, somehow the system was trying to fight crime, units were set up to combat various types of criminal activity. At the same time, there was a rise in the economy. See, the crime rate depends not only on the police segment...
Now the untimely "Savchenko law" played its role, allowing an early release from prison of a number of brazen criminals. They were freed into a warring country, not into a peaceful life. They had the choice: to go to the front line where they could get killed, they could get a job making some UAH 3,000 a month to get by, or to continue robbing people. They opted for their old craft.
Both police and the public said [to the Verkhovna Rada]: "What are you doing? This is a wrong move. You did not provide any social support to convicts, you didn't send them to some educational facilities, and they did get in line to be employed by factories or coal mines." The legislators, apparently, failed to predict this error, since the law was adopted amid illegal political arrests of Ukrainians in Russia. However, dozens, even hundreds of murderers were freed. They would have been released anyway, but not in this extremely important period for our state.
Another factor for comparisons with the 1990s is the emergence of a large number of mob bosses. Police often report on their detention and therefore there is a suspicion that there are some grounds for such assessments...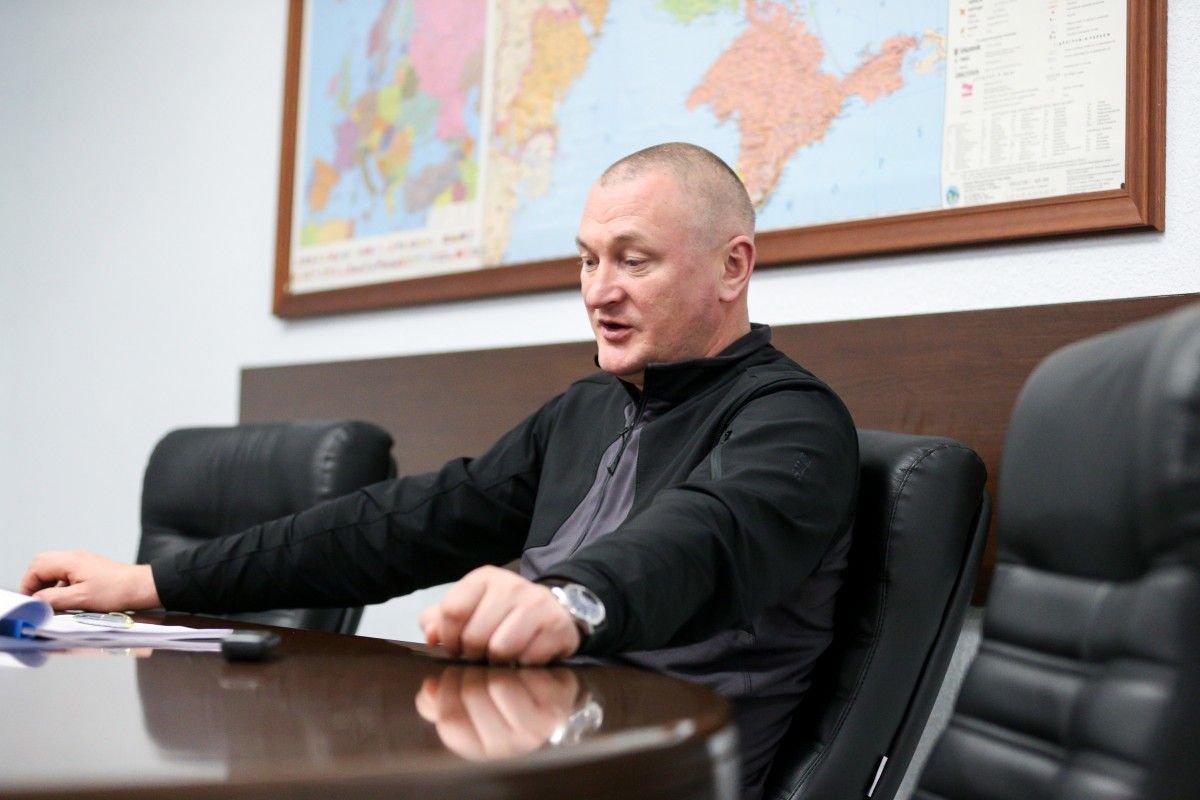 Photo from UNIAN
Probably until around the middle of last year, the police in their reports, or Police chiefs in their addresses very rarely reported to the public on any prominent arrests or the investigation of crimes where the so-called "thieves in law" [criminal bosses] are involved.
The number of mob bosses in Ukraine has increased many-fold. It turned out that many of them came from Russia. We saw that it's the Russian FSB that very often is behind this. Some kept silent after their arrest but some spoke, saying they were ordered or recommended to arrive in Ukraine, settle in a certain region and live their normal life. This means, commit offenses, set up criminal organizations, and merge with the weakened state apparatus.
Can you now predict the crime rate for 2018?
The general crime rate depends on many factors: from the economic state of society to the effectiveness of crime-tackling efforts by law enforcers... Now law enforcement agencies are moving from a period of stagnation in the period of the reform. The prosecutor's offices were stripped of the investigation functions. Police won't have fewer cases to probe, that's for sure. The State Bureau of Investigation only has its chief appointed, that's all. I really wish that by January 1, we'd just wake up in the morning and see the SBI fully staffed to unload police investigators. But still, it's the ordinary police officers who are supposed to reveal various offenses – it's all those operatives, investigators, district cops, and patrol officers. But have our courts ben reformed as well as penitentiaries and the system of lawyers (as lawyers are yet another factor influencing law enforcement)?
We hired almost 20,000 young police officers, most of them in patrol police units. A year ago, they were only training, starting from scratch, every week getting into road accidents on those Priuses. Now it's better. Maybe it's one or two crashed Priuses a month… We hire young people who lived a civilian life, to work in all areas of our system. They still need to be trained more, and this process is under way.
Vadym Troyan once claimed that an average investigator's load is some 300 cases...
Let's count. We've been keeping record of every criminal proceeding starting 2012. Each year we open a million cases, that's a sure figure. If we multiply the number of years since 2012, how many proceedings do we have? It's 6 million per 10,000 investigators. And every day the number of proceedings keeps rising.
Is there any solution or idea, how can investigators be unloaded?
I am executing the laws that my legislators adopt for me to implement. That's because the National Police is an executive body. We send our comments or suggestions to the law enforcement committee for consideration (the committee examines export opinions, including ours). And then another body - the Verkhovna Rada - adopts them. Sometimes MPs (who are clearly not legal experts) orally submit to a vote some bills that receive the approval of majority of deputies ... I have no right to assess that. I have one job – to execute.
But there should be proposals, shouldn't they? After all, there are some problems...
I can show you the register of proposals we submitted to the profile committee. The committee takes our ideas into account.
What proposals are you talking about?
On all bills or laws passed, or on draft laws that are being prepared, we provide our position on a mandatory basis.
You have announced plans to introduce before the New Year detective units in all regional police departments. When will these detective units start working in full swing across the country?
We will have a quicker competition for the posts of heads of these units than for our colleagues in the SBI. Apparently, our units are less important (laughs - UNIAN).
I can say that as of today (the interview was recorded December 20 - UNIAN) 167 bids were submitted for 25 unit chief vacancies. That is, the competition is not that tight, it's not 300 bids for each position, but we have placed many restrictions. That is, "philosophers" won't pass. There is a requirement for operative, investigative, and policing experience, as well as a legal degree.
I'm happy to see this many applications this week. If in some region no worthy unit chief is selected, we will announce a new bidding. I believe think that by the end of this year or at the next year-start we will try to have appointed these unit chiefs and set a task together with heads of regional departments to staff these units with operatives from criminal and investigative units on a competitive basis.
Recently, the law was put into force that the public called "Mask Off". Among other things, it provides that the trial and pre-trial investigation steps are automatically recorded using audio and video equipment. Is there enough equipment now?
Of course not. Now it's the end of the fiscal year. We need to transparently announce biddings. If I even announce now, I won't make it before the end of the fiscal year.
The law is enforced, but now law enforcers queue up to conduct searches. It's not that we don't have video cameras at all. If tonight the criminal search team is to conduct 71 searches, this means I've drawn 71 cameras yesterday and the day before from regional PDs. Regional police chiefs complain to me, and I say: "Just give them to me and I'll give them back by lunch." Tomorrow at 6:00, investigators will do searches, and before lunch these cameras will be returned to the regions so that they could also do searches there. That's because the law enforcement machine must never stop.
There has been no announcement on the completion of a higher alert mode for the police in Kyiv and Kyiv region. Is it right to assume that it is being extended?
It is introduced for a specific period. When the term expires, there is such thing as by "default."
High alert mode means working hours are extended. Well, everyone has their private life, too. We are basically made from steel but most of us do have families.
Amid the peak of terrorist attacks, we, like any European or international community, sharply boost police presence. This is one of the most important factors in counteracting terrorism. If you want to know why I decided to introduce a high alert mode in Kyiv and Kyiv region, it was because of the sharp increase in terrorist attacks across the region. And this was a symmetric response.
When the rallies were starting in the government quarter in Kyiv, serious inspections of participants were conducted in the area...
This is a direct duty of law enforcement agencies to filter, screen, and prevent. We remember the bitter experience of the events on Independence Day. It was impossible to set up metal detector frames around the Maidan and Khreshchatyk Street. The criminals took advantage of this. They threw a grenade and it exploded in the crowd...
Photo from UNIAN
Rallies are a normal thing. However, part of the active protesters behaved not quite in line with a peaceful protest routine. Due to the efforts of our criminal police and the SBU security service, plenty of weapons were seized from some radical participants of protests right ahead of the rallies. These weapons belonged to those who called themselves peaceful protesters. And what if we hadn't seized them, set up metal detector frames, and increased police presence?
First of all, we have saved peaceful protesters, Kyiv civilians and onlookers who came by trains or buses to check out the "Maidan-3" or "Maidan-5", whatever. This is their right. We have ensured their safety. Anyone killed? No. Blown up? None. Although there were some who suffered alcohol poisoning...
On November 21, a group of activists, as they referred to themselves, tried to erect a large tent at the Maidan Square. Police didn't let it happen. At the same time, police allowed tents outside the Parliament on October 17. Aren't these double standards?
We did not give a green light to this at the rally outside the parliament, either. If you remember the vicissitudes of how these rallies started, some people's deputies were beaten up and humiliated in public. We are investigating this case.
Photo from UNIAN
We invite the persons involved, politely, as ordered by the Verkhovna Rada. We write 100 summons: "Please, report to our office, we will question you, then we will announce a suspicion". As soon as these suspects, who can easily be identified on videos in mass media, come to us, a whole wave of negative comments falls down on us from online trolls: "These bastard cops summoned the activists..." But if you punch a people's deputy or any other citizen outside the parliament of a European country in the middle of a day, deliberately, and this is filmed on camera... People ask me then: "Are you a cop? What is your response?"
You did not answer the question...
I could choose to not allow erecting these 100 tents [outside the Verkhovna Rada], but this would require the use of physical force. I did not allow the use of physical force. It was October 18, my Birthday, which I spent there as I was supervising the whole operation.
That is, it was your personal decision?
Including my opinion played its role there. And I was responsible for everything that was happening there. You better accuse me of them having put up their tents then of us having broken down 20 heads. This already happened back in 2013. Remember what came next?
By the way, up to this day, the Kyiv City State Administration has not responded to our letters on the fact of the blocked traffic [on Hrushevskogo Street], they have not passed a decision on its unblocking.
Why did the police fail to ensure the transfer of Mikheil Saakashvili by SBU operatives after he was detained in his apartment?
Let's take a look at the video. Plenty of TV stations broadcast these events live. Police did try. They did everything they could.
Were you personally aware of SBU's plans to detain him?
Who cares?
Why did the police not allow the protesters to go into the Zhovtnevy Palace on December 17?
Is it a bad thing?
Well, in 2013, the "militsia" allowed entering the Zhovtnevy Palace...
This question should better be addressed to Zakharchenko [former Interior Minister in Yanukovych gov't], who is now in Crimea.
You wrote that in October "a children's show" was underway. According to the schedule, a show took place on that day but it was not for kids. Perhaps there were children there but it was not a children's show.
Does this really matter?
But isn't it a manipulation?
You overestimate my opportunities. I'm not so advanced in manipulations. I wrote on my personal Twitter page. This is my private page, and I can write anything there, even about apricots growing in summer or winter. The official statement of the head of the National Police is published on the website of the National Police.
The site did spread that statement...
Then I bear full responsibility. But I wrote this on Twitter. The report on the website wrote about how I came to the show, personally photographed children who were already dancing there. I have not put these kids there. I said that what was happening was terrible. A U.S. band that came on tour to a European capital was being surrounded by marginals in a peaceful city. Had I not put the police there, the show would have been disrupted and the building – seized. And then, of course, everyone would have criticized the police. You would have, too. Can you imagine what would have happened? The investigation is underway into the calls for the seizure of public buildings.
During the latest mass rallies in Kyiv, when there were clashes with law enforcers, the police did not hurry to apply special means...
Because we do not have them.
But there are batons...
 Yes, but using batons is forbidden against elderly people, besides you mustn't beat people in the head, neck, abdomen, and pelvic area. But when you see a crowd of beret-sporting grannies and just old guys screaming "I have full right" ... You can run the streets as much as you want but we won't let you seize buildings. If you try, we will defend ourselves. That's what we did. Forty law-enforcers have been injured.
And how many police officers were hurt during the rallies over the past months?
A lot. In the last few rallies alone, 62 policemen were injured. And I talked about this, including with the Prime Minister and the Interior Minister... From year-start, there have been 1,443 such cases.
Last year, the apparatus of the National Police of Ukraine procured special means worth almost UAH 14 million. This year it's UAH 0. Why is that?
We made some small purchases of the equipment that we were allowed to procure and use. Just buying without using it would be a violation of the budget code.
Is it true that the Ministry of Health does not want to approve your bids?
It is. They don't approve our bids.
So they don't approve all special means that were purchased?
Those that we need.
By the way, the regulation on the use of special means was adopted back in 1991, in Soviet Ukraine. Does it need to be changed?
I'd rather them let us buy stuff, that's all. Or let them certify this stuff. They don't ban us from buying but they don't certify it. And I cannot use uncertified means.
How would you assess police work at mass rallies in Kyiv this fall?
I would assess it positively. There are no casualties, and that's the main result.
On the first day of the rallies near the Parliament, at least one's head was broken...
What about [the injuries of] police officers? Do you see the proportionality? I understand that I am a policeman and I have to stand strong, but I cannot hit a cop, either. The cop is also a country's citizen, with the same passport as yours. We have families and want to live a long life, not just until the end of the shift. As for a man with head injuries, one has to investigate how he sustained this injury. I am ready to bring to justice the policeman who has violated the law - disciplinary, administrative or criminal responsibility. There is no difference for me. Deep inside, perhaps I will defend him. But, objectively, I have to make a decision - this is my duty.
Quite often, current events are compared with 2013-2014, when cops were beaten. Were protesters also breaking the law back then when they applied force against the "militsia"?
You see, these are the nuances of war. I know one thing, and that's what this will all lead to. This will lead to our society cooling down. And this is a normal thing.
Whatever money flows in to finance these rallies, no more than 3,000 people attend. If I get 50 people beat while sweeping down their tents, defending the Zhovtnevy Palace or the Verkhovna Rada, then there would be not 3,000, there would be 30,000. You can't imagine how many times we were provoked during this period ... But we stood strong. And by saying "we" I mean our whole team. This is not just one person.
Is there a kind of a "red line" for you to act tougher once it's crossed?
No. We will act the same way, believe me.
Serhiy Lefter