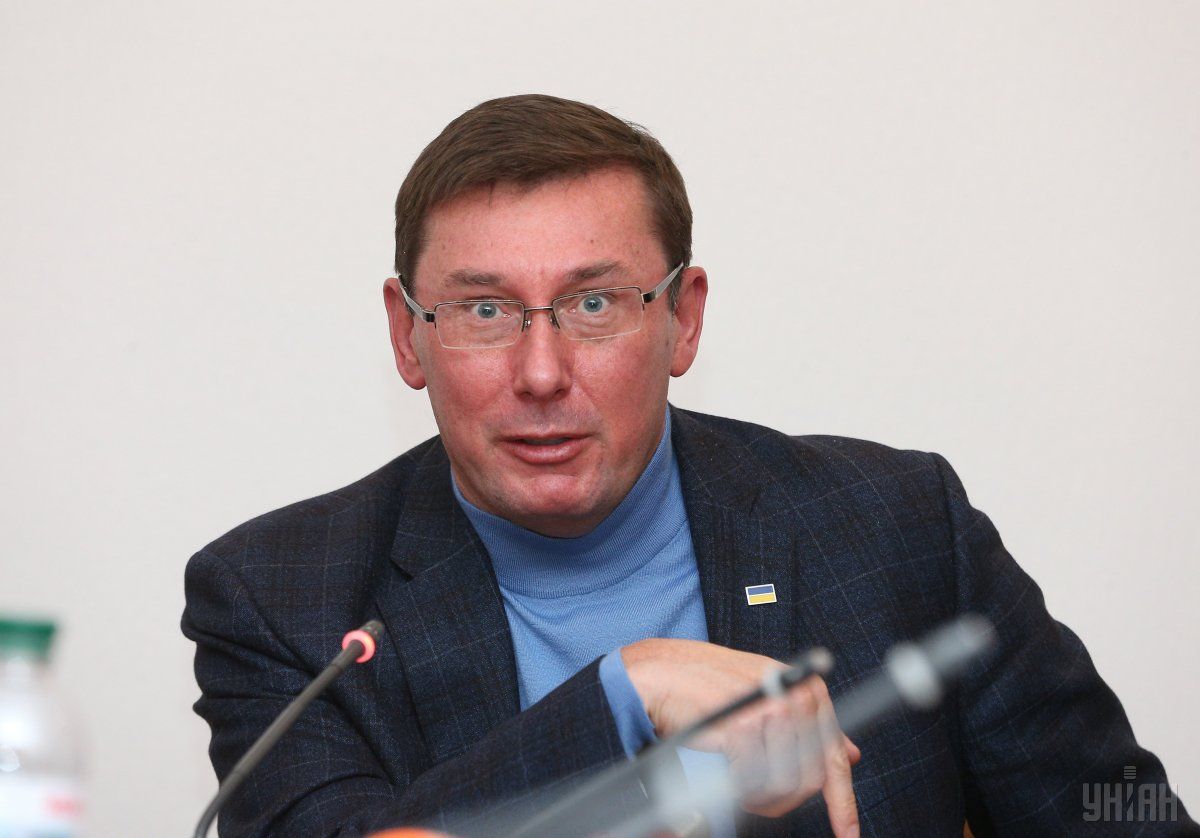 Yuriy Lutsenko: I don't support the "jail three of your friends" formula. I think it's better to choose friends more carefully not to face the need to jail them
17:50, 01 February 2018
13 min.
287
Interview
The Prosecutor General of Ukraine told UNIAN whether the PGO would be opening cases against Russian deputies and judges of the Constitutional Court of the Russian Federation, whose actions led to the annexation of Crimea and Moscow's subsequent aggression against Ukraine. He also spoke about the developments in the cases of Yanukovych allies Kurchenko, Klymenko and Stavytskiy, and whether the prosecutors withdrew tax evasion claims to Finance Minister Danyliuk.
UNIAN has long sought to sit down with Prosecutor General of Ukraine Yuriy Lutsenko – since last summer to be more exact. But up to this week, the country's top prosecutor could not find a gap in his schedule. We managed to "catch" Lutsenko far beyond Ukraine's borders, in Brussels. And, despite the fact that in the past month the prosecutor general broke the long silence and gave several interviews to various media outlets, including foreign ones, UNIAN reserved some questions that had so far remained unanswered. Unfortunately, 20 minutes was not enough to ask them all. However, Mr Lutsenko did tell us something really interesting.
You focus a lot on the Yanukovych high treason case, but at the same time, it's interesting whether the PGO has launched an investigation against Russian high-ranking officials who, by their decisions, "sanctified" the Crimea annexation and greenlighted Russia's aggression against Ukraine? It's about the members of the Federation Council, which on March 1, 2014, unanimously satisfied Vladimir Putin's appeal to deploy troops in Ukraine's Crimea. It's also about the judges of the Constitutional Court of the Russian Federation, which on March 19, 2014, (within a day) unanimously confirmed at Putin's request that the treaty on Crimea accession to Russia was in line with the Constitution, which in fact confirmed the "legality" of the annexation, which is a flagrant violation of international law. And finally, it's about the deputies of the State Duma, which March 20, 2014, ratified with 445 votes the treaty on the accession to Russia of Crimea and the city of Sevastopol… Have you opened such cases?
Of course, the issues of Crimea annexation and occupation of a part of Donbas remain among our top priorities. First of all, I'd like to recall a criminal case against [former Ukrainian president Viktor] Yanukovych on charges of treason, which is currently in its active phase of a court trial. This is not just about Yanukovych, but also about Putin and Putin's top authorities in Russia, who have taken a decision to annex Crimea and occupy part of Donbas. That is why the entire Russian political elites are getting so defensive, trying to discredit our case. At the same time, we are probing the case of war crimes of the Russian leadership committed throughout the undeclared war in Donbas. We have launched a case targeting the Russian defense minister and twenty generals and admirals of the Russian armed forces. We have forwarded these files to International Criminal Court in The Hague, and we remain in constant contact with them, providing certain additions, clarifications, and so on.
That is, if we talk about the annexation of Crimea, specific Russian high-ranking officials appear in the Yanukovych case, is that right?
There is a separate case of Yanukovych, who as president of Ukraine signed the letter [to Vladimir Putin], which opened up the road to Russia's decision to annex Crimea and occupy Donbas. And there is also a separate case of war crimes, an aggressive war (that's a legal term) against Ukraine, where the suspects are the Russian defense minister and about 20 generals and admirals of the Russian armed forces.
There is also a huge array of war crimes committed directly by the occupation forces. Perhaps it's a sad part of history but it must always be kept in mind. For example, we have a case about the torture site in Slovyansk, where some 300 witnesses testified about instances of scalping, casting, dismembering, and executing every third hostage, forcing them into playing football on a minefield… some very disturbing stuff. For example, one of the witnesses was forced to pack body parts and let them flow down the river. Another one was preparing torture tools. This is just one of the episodes. There are a lot of them, unfortunately.
Also, of course, there are direct war crimes. That's about Russian troops invading the rear of the Ukrainian armed forces stationed outside Ilovaysk and, outnumbering them 16 to 1, allowing the so-called "green corridor" for withdrawal and then shelling them as at a shooting range. Moreover, their military equipment was disguised as Ukrainian. And they also killed captured Russian soldiers, not only our several hundred of our heroes.
I can keep listing these things for a long time, but it's probably better to simply say that no one is forgotten, nothing is forgotten. And the assessment of the role of the Russian leadership and the executors of their criminal orders will be given, first of all, in international courts.
Regarding our own courts, we are also seriously working to bring to justice the traitors who, in violation of their pledge of allegiance, turned to the occupation forces in Crimea or in Donbas and thus violated the rights of Ukrainian citizens. Hundreds of such cases have been launched and dozens of them are already in courts.
Lutsenko refused to disclose details of possible proceedings against judges of the Constitutional Court of Russia / Photo from UNIAN
Yet, I should clarify my question - if we talk about specific Russian officials involved in the annexation of Crimea, are they targets in cases or not? If they are not, will they be?
The news of the day will be that now we have received a statement about the crime committed by the judges of the Constitutional Court of the Russian Federation, which, in fact, as the Yanukovych letter, paved the way for the Russian parliament to make a decision against a sovereign state. We are studying this statement, and I think that this case will be registered soon and an investigation will start.
Who made this statement?
No comment. But I will say that it was the head of the Constitutional Court of one of the Baltic countries, a great friend of Ukraine, who called on me to look at it [the events of 2014] from this perspective. At one meeting when we were discussing various issues, he told me: "I follow your actions against Russian officials and politicians who contributed to the occupation and annexation, but don't you think about assessing the role of the Constitutional court of Russia?"
But will the actions of deputies of the State Duma be assessed? Only one of them voted "against" that move...
Yes, probably. But first goes what actually led to that decision. What was the first move? It was the letter submitted by Yanukovych with the invitation of Russia's armed forces into the territory of Ukraine. This case is already in court. What was next? The decision of the Constitutional Court of Russia. And we are currently studying this, and I think that we will open a criminal case against this institution. The next step, in fact, was the vote of the two chambers of the Russian parliament. It will also be assessed.
And the next should be Putin, because he appealed to the Federation Council to allow the troops to be deployed in Ukraine, and then he signed "legislative acts" on the accession of Crimea, right?
It might be the case. Let's not run ahead of the train. I know only one thing - all these crimes, with the exception of those committed by Yanukovych, who is a citizen of Ukraine, should be considered by the International Criminal Court as war crimes. After all, we are talking not only about the political decision of the Constitutional Court of Russia or the Russian parliament, we are talking about the consequences. And the consequences were war crimes, tens of thousands of people killed, hundreds of thousands wounded, millions of displaced persons. That is, I am not inclined to assess the unlawfulness of a decision alone, we are talking about real crimes that inflicted enormous damage to the people and economy, and so on.
I think that this case would be considered more effectively by the International Criminal Court because its jurisdiction extends to those areas where Ukrainian jurisdiction does not work, in particular, to Russia.
When investigating crimes caused by Russian aggression, one should not forget about crimes committed against the Maidan. For example, at what stage are the cases against the former head of the SBU, Oleksandr Yakymenko, and the ex-minister of internal affairs, Vitaliy Zakharchenko? What is the probability that these cases will see a conviction and these former officials will be punished? After all, these people fled to Russia, and Moscow doesn't seem to be willing to hand them over to Ukraine...
First of all, it is not true that there is no progress in the Maidan cases. I am aware of this old myth...
I didn't say there was no progress...
I know, but just in case, I'll pass this message on: the truth is that there are about 280 individuals who have been indicted for various violent actions against peaceful protesters. It is about beatings, killings, illegal arrests, and so on. 280 people are being tried. Yes, these trials take time. There are 100 victims in the cases against Berkut police forces' operatives, there is a huge number of episodes, an incredible number of examinations, so these trials take time. In such cases, any fast trial would mean an illegal trial. We will have a long, legal and transparent consideration. But it will definitely come to a lawful completion.
Of course, basically, these 280 people are executors of criminal orders. The middle and upper levels of those operatives involved in crimes against peaceful protesters fled from Ukraine. Some of them are currently in the Russian Federation, some are in the territory of the occupied Crimea and Donbas. In this regard, we have initiated trials in absentia against these individuals. At the end of last year and this year, we are getting permission from courts to start sentencing people in absentia.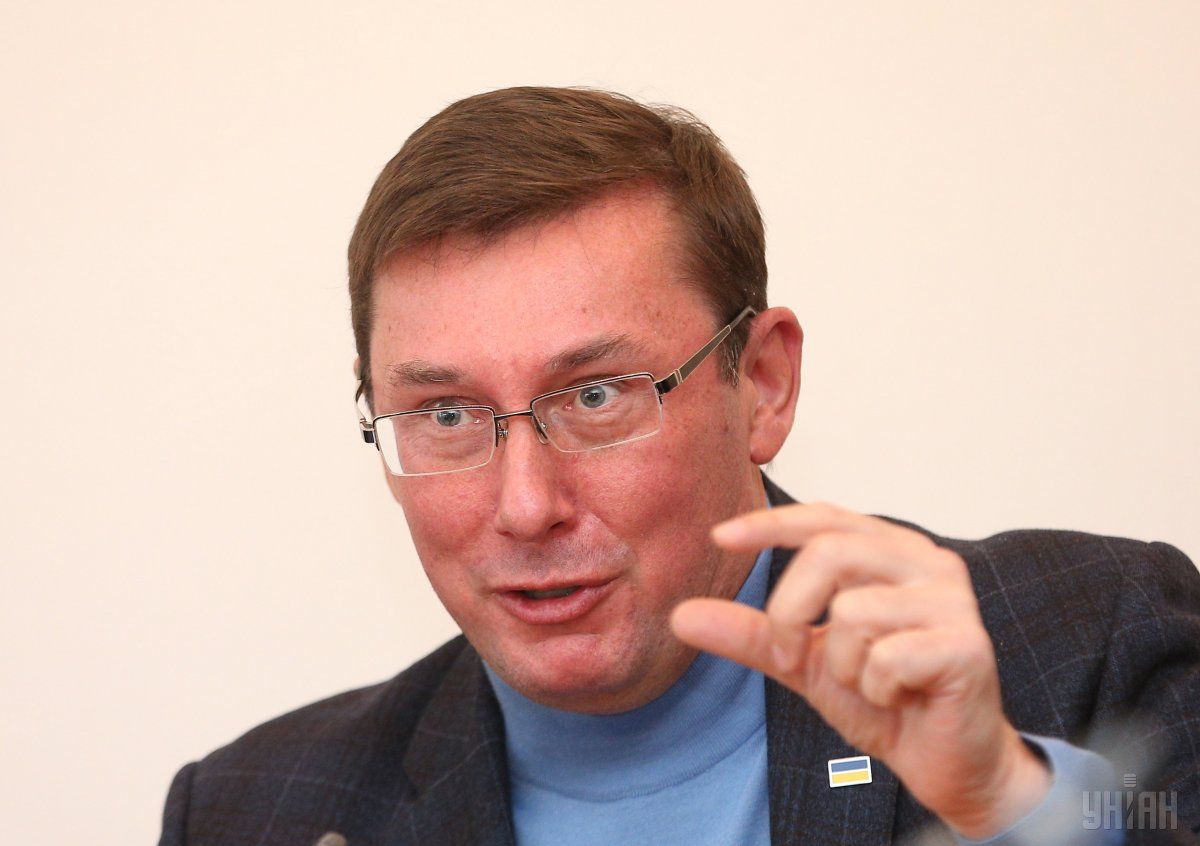 Lutsenko does not agree with the statement that there is no progress in Maidan cases / Photo from UNIAN
The next trial, which is connected with Yanukovych, will most likely be the most important one. As soon as the treason case is completed, we plan to bring to the court another case where Yanukovych, Zakharchenko and Yakymenko are accused of giving a criminal order that led to the execution of peaceful protesters at the Maidan. This will be the very trial that was demanded and will be demanded from the authorities by everyone who feels that unpunished evil can regenerate itself, as Lina Kostenko once said.
I am really proud of the fact that over a year and a half, we managed to complete the investigation this most important case - a very complicated one – and we are now ready to forward it to court as soon as the Yanukovych treason trial is completed.
The same way the members of the Yanukovych team who have committed economic crimes will also be held responsible. We received a court permission for a trial in absentia of many such persons. I'm not used to complaining, but when we have to wait for court moves against Kurchenko, Klymenko, Stavitsky and other individuals for almost a year, of course, it slows down the whole process.
Files are submitted to court where we request, please, allow the pre-trial probe and subsequent trial in absentia because they have been out of Ukraine for more than six months and not cooperated with the investigation. For example, the court has been considering the case of Kurchenko since January of last year. On Klymenko, we received permission at the end of last year, and on Stavytskiy, if not mistaken, just two weeks ago. That is, unfortunately, the courts are overloaded and not very focused on these cases. Nevertheless, such permits were issued against senior officials of Yanukovych era in two-thirds of cases. And this means that this year, trials will start in the territory of Ukraine, albeit in absentia, of general or economic crimes of the Yanukovych team.
That is, only when the Yanukovych treason case, which is now in court, is completed, will a case be handed over to court against this trio - Yanukovych, Yakymenko and Zakharchenko over their criminal orders? Why is there such a link?
The law says that if there are several charges against a person, these cases must be united. If we now file another charge against Yanukovych, the treason trial will be dragged on for a great deal of time. Therefore, we made a decision, which is in line with the law, to go step by step.
There are more than a dozen charges against Yanukovych. Rather, we are investigating cases on about ten areas of his activities. This also applies to state treason, the case that is already in court, and his participation in organizing killings at the Maidan, which will immediately become a second case, and then the next one may be his participation in the illegal use of state funds in the interests of the owners of the privatized Ukrtelecom, or his participation in other illegal economic dealings.
Lutsenko explained why the Yanukovych treason case is dragging for so long / Photo from UNIAN
But in order to ensure that this case does not stay in court forever, we submit each episode separately. And the court will separately hand down its rulings.
Unfortunately, this process will be a long one, but once again I'd like to note that if we care about justice, even applied to such persons as Yanukovych, we must take care of all legal procedures and observance of all rights of the indicted or suspects. That is why the treason trial is dragging for so long. The judge provides for the absolutely legitimate process with the greatest rights to the defense that I have seen in such proceedings. This is very unlike the way political trials were conducted during the Yanukovych presidency. Fortunately, it's different now.
Does the Prosecutor General's Office have questions to the ex-speaker of the Verkhovna Rada, Volodymyr Rybak, who signed the "dictatorial laws of January 16"? Do you know who initially authored this legislation?
The case of the "laws of January 16" is still at a pre-trial stage. It is currently being hampered by the absence in Ukraine of Mr. Kaletnik [vice-speaker of the Verkhovna Rada at the time, who led the "voting" for the laws of January 16], as well as of a few other people who took part in these events, for example, the secretary of the commission, who allegedly counted votes ...
Is Kaletnik still on the international wanted list? Do you know exactly where he is now?
He is in Crimea. We have a good evidence base against the low-level operatives involved in those events, which allows us to get closer to the organizers. At the moment, the investigation has not yet been completed.
And yet, what about Rybak? In 2015, he himself reported that the PGO had no questions to him. It turns out, the person who signed off these laws and forwarded them to be signed by Yanukovych, is now enjoying his retirement period and there really are no complaints against him at the PGO?
At the moment, the investigation has not yet been completed. I will say nothing more.
It would be wrong to announce the results of the investigation. It's one of the rules I follow and therefore it is better to report on the results than to announce the intentions. It seems to me that this is right for any Ukrainian high-ranking official.
While in Brussels, I started off all of my meetings reminiscing on the time I once met the representative of Ukraine to the EU, Mr. Roman Shpek, when I was a young Interior Minister, and he said: "When the first Ukrainian delegation brings at least their first report instead of some kind of a plan, it will be a sensation for the EU." I tried not to forget this phrase and brought a report that shows that over the past year, the Prosecutor General's Office along with other law enforcement bodies not only caught red-handed 9,500 corrupt officials but also saw 1,692 sentences. So, it seems to me, it is better to report on the result, not just say that we want to catch a "big fish".
And where is the "big fish" among the deputies of the Verkhovna Rada against whom you opened investigations?
A good question, indeed. See, 1,692 sentences is more than in any European country, including Romania, which serves as an example of an effective anti-corruption policy, where tens of thousands of people take to the streets defending their anti-corruption institutions because they see their results. Why do not we have such popularity after these 1,692 sentences against corrupt officials? That's because there is no "big fish" among them. Because "big fish" is exclusively in the competence of the National Anti-corruption Bureau, a monopoly, I would say. At present, there are no sentences in their 92 cases concerning acting high officials, in particular, the Ukrainian deputies.
But my position is very clear: as an ex-interior minister, as one of the authors of the law on NABU, as the head of the PGO, I believe that the way to achieve results lies through cooperation. This is probably one of the most important messages of the European Union.
At the end of last year, there was a public row between the PGO and NABU. And this is unacceptable. This was a mistake both on the part of the one who started this debate from across the ocean and the one who got dragged into it. At our meeting with Mr. Sytnyk before the New Year, we came to the conclusion that such things must not be repeated. Yes, of course, the prosecutor general must react to the alleged facts of illegal actions by NABU operatives. The same way I react to the police act - there are about 800 suspicion notices issued against police officers over the past year. As for the SBU, there are also dozens of suspects. We have come to the agreement that if there are signs of unlawfulness in the actions of NABU staff, we will also show principled reaction, but publicity is superfluous in such cases. Firstly, that's in order not to discredit the young Bureau and secondly, in order not to draw international donors into this row. In the end, the only body authorized to make the final decision is the court. And this is the right way.
One of the resonant events of last year was a search at the premises of Deputy Minister of Internal Affairs Vadym Troyan. You are aware of the details of this story [initially, in the presence of the PGO investigator, some UAH 60,000 was seized at the official's apartment. Then the version changed. It was reported that it was not a search, but investigative actions on theft. Then another version was announced – that there had actually been a search but no money was found], so I will not reciprocate. What happened there anyway?
In fact, there was that one crook who was acquainted and friends with Troyan and extorted money from a businessman, referring to the deputy minister. That businessman reported the fact. We recorded the transfer of money to this fraudster. At the same time, given that we had obtained information about his close relationship with Mr. Troyan and the fact that he was referring to him, we could not but search Mr. Troyan. During the search, no marked bills were found. Thus, Mr Troyan's involvement is by no means proven.
Now, voicing my personal opinion, I should say that, unfortunately, there are many crooks in Ukraine who are referring to many high-ranking officials in an attempt to obtain illegal profits. They refer including to Lutsenko, Kholodnytsky [Head of Special Anti-corruption Prosecutor's Office], Sytnyk, and even higher officials. Unfortunately, this is a reality. Over the past year, we have detained some of those who tried to give bribes, for example, to Kholodnytsky, or my prosecutors – there are dozens of such cases - or just those people who referred to high-ranking officials while receiving profit in fraud schemes. So, I'm sorry but when someone says that "Troyan sent me", this cannot be any proof.
Of course, senior officials need to be more cautious with their contacts and friends, because I don't support the "jail three of your friends" formula. I think it's better to choose friends more carefully not to face the need to jail them.
How many cases is the PGO investigating on illegal enrichment? How many deputies are targets? How many high ranking officials? Can you share some high-profile names?
This question is better to address to NABU because it's their jurisdiction.
Lutsenko shared details of the Danyliuk case / Photo from UNIAN
At what stage is the case of Minister of Finance Danyliuk over tax evasion? Has the investigation been suspended or is it being re-investigated? Does the PGO plan, and when, to issue a suspicion notice to the minister?
Regarding Danyliuk, it's as clear as day. The State Fiscal Service initiated an audit into the completeness of tax payments by the Minister of Finance. They signed an act claiming that Mr. Danyliuk probably did not pay all taxes. The difference between the paid sum and the amount he owes totaled about half a million hryvnias. In turn, Danyliuk states that at that moment he had his business in Britain and paid taxes there. In this case, he must provide documents confirming these payments. Within six months he dialed to provide such documents. Therefore, the State Fiscal Service is now in the process, as far as I know, of preparing a so-called tax notice decision, which is passed to the court for a final ruling. It seems to me that Danyliuk has a very good option - either to provide information that he paid money in Britain, and, given that his wife is a British national, this would constitute no problem for him; or the second way - to pay these taxes if he actually somehow  forgot to pay the money at that time. The third option is to go to court and get the result in open hearings. That's it. There are no other options here.
I find unacceptable exposing this in the political plane. After all, such an official as a finance minister should be "cleaner than the Queen" in the matter of taxes. It would be false to claim that he is being specifically persecuted because such audits are conducted in relation to dozens of high officials. Therefore, I just want to remove all political hints from this case, and to say one thing: either there is a document confirming payment of taxes in Britain, or there is a payment done today, and this will automatically close the case. There could also be an open trial to establish the truth.
Iryna Somer, Brussels
Translated by Yevgeny Matyushenko
If you see a spelling error on our site, select it and press Ctrl+Enter